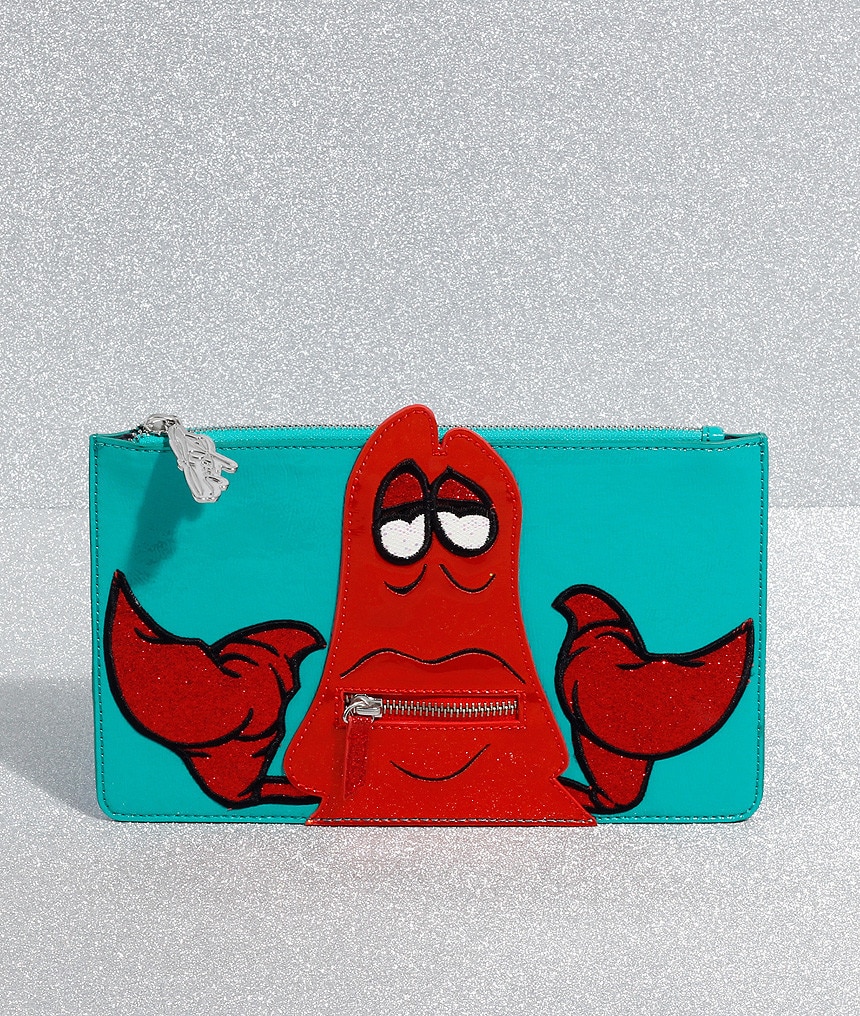 If you (like me), enjoy obsessively following the release of any and all Disney-related products, you might remember that the Danielle Nicole x Disney Handbag collaboration released their first four bags as a teaser a couple months ago. Well, I'm back to tell you that if you've been desperate to get your hands on the rest of the collection, the wait is finally over!
Seven more to-die-for Disney-themed purses are now available on the Danielle Nicole website – all you have to do is decide whether you're feeling a bit more princess-y or a bit more villainous. Here are some outfits to help you out:
Under the Sea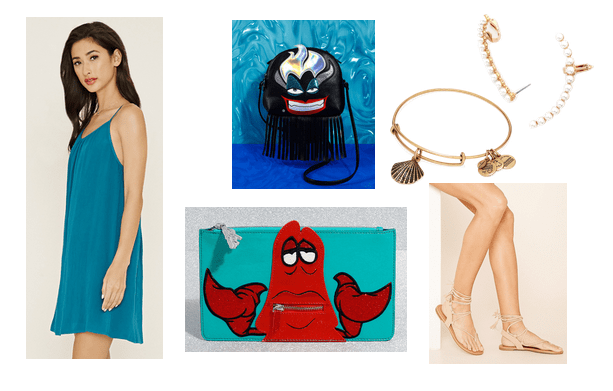 Products: Dress, Ursula Crossbody, Sebastian Clutch, Bracelet, Ear Cuff, Sandals
If you liked the Flounder crossbody included in the original teaser collection, you'll be very happy to know that Flounder has been joined by Sebastian and Ursula in the newly released collection!
These bags are the perfect example of how a purse can change the entire style of your outfit: start with an ocean-blue dress and strappy nude sandals as a base, then accessorize with this fringed Ursula crossbody for a more casual look or this Sebastian clutch to be a little dressier. Finally, add some ocean-inspired accessories with a shell bracelet and pearl cuffs.
Fairest of Them All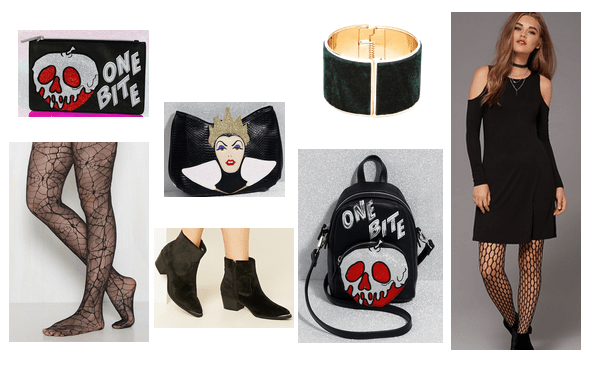 Products: Tights, Shoes, "One Bite" Clutch, Evil Queen Clutch, "One Bite" Backpack, Cuff, Dress
If your style is a little edgier, you'll love the Evil Queen-inspired part of this collection! This section features three wickedly delightful purses, including two clutches and a backpack (that clutch with the Evil Queen's face on it is actually reversible – the other side depicts Snow White!), all of which would look absolutely stunning with an edgy black ensemble like this one.
Try a slinky black shift dress with cutout shoulders paired with spiderweb-patterned tights for a look that's villainous in a modern, trendy way, then throw on some black velvet booties and a matching green velvet cuff for a subtle pop of color.
A Dream is a Wish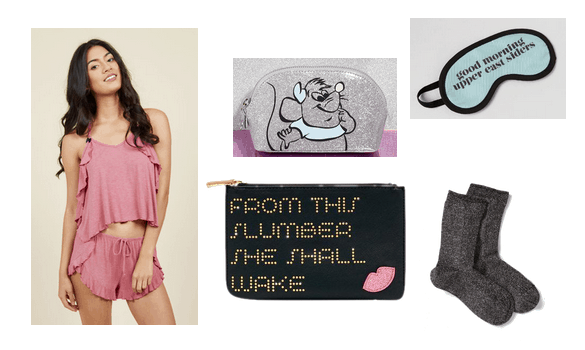 Products: Pajama Set, Gus Cosmetic Bag, Aurora Clutch, Eye Mask, Socks
This collection also features some adorable princess-inspired cosmetic bags. Look at little Gus-Gus! Absolutely precious. Technically the Aurora bag is a clutch, but I would probably use it as a travel makeup bag as well (the quote just screams "Wake up and put your makeup on" to me).
With a bag this cute, the rest of your sleepwear should be fit for a princess too, so treat yourself to a cute pajama set like this ethereally ruffled pink one. Represent everyone's favorite modern "princess," Blair Waldorf, with a "good morning upper east siders" sleep mask, then finish the look off with some cozy grey socks.
Bonus: The "I can't afford these bags"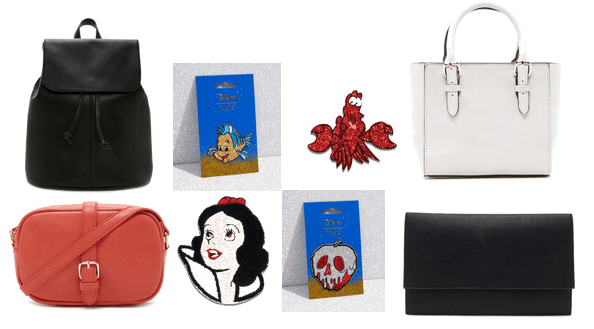 Products: Black Backpack, Red Crossbody, White Purse, Black Clutch, Flounder patch, Sebastian patch, Snow patch, Apple patch
Love these bags but can't afford to drop $60-ish on a new purse? Fear not, friends, for the collection also includes these gorgeous adhesive patches, available at just $8 a pop!
All you have to do is attach the sticker of your choice to whichever faux leather (or other material) purse you like, and you can flaunt your Disney fanaticism and fashion-savvy at a fraction of the price! You're welcome.
What do you think?
So, which Disney bag will you be rocking this fall? Let me know in the comments!