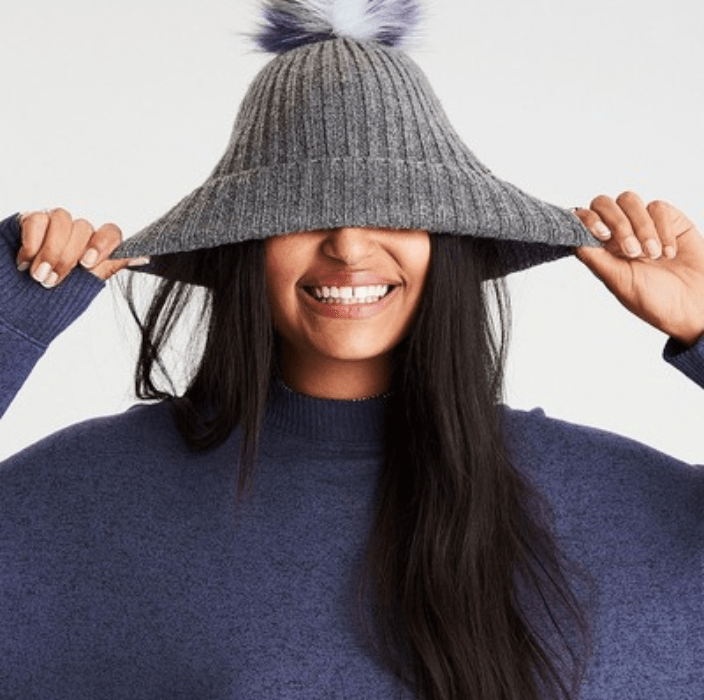 The "Fabulous Find of the Week" column brings you a new style steal weekly that will both keep some cash in your wallet and keep you looking, well, fabulous.
It's officially winter, people, which means . . .'tis the season for hats, mittens + scarves (a.k.a. grab the cutest winter accessories you can find and go to town!).
Thankfully, most retailers know poor college students need to stay warm this season, and heavily discount their cold weather accessories. Heck, I work at Saks OFF 5th in Minneapolis, and our accessories and outerwear have been 50% off for months now!
And, just because we need a nice hat or some heavy duty gloves doesn't mean they can't be cute wardrobe additions, too! And that's why, this week's Fab Find involves a chunky hat, fun pom pom, and 3 sweet colors to choose from.
Drum roll, please . . .
Ta-da! American Eagle is selling an adorable faux fur pom beanie for only 10 dollars. No, your eyes are not fooling you: 10 bucks for a ribbed knit hat that will both keep you cozy and hide your bedhead if necessary.
Because the beanie comes in 3 different colors (light blue, burgundy, and charcoal), I struggled to pick my favorite one. So, I decided to make an outfit for each! Below you'll find 3 looks displaying the chicest winter beanie ya ever did see, and before you know it, you'll be ordering one of your own.
Light Blue Beanie Outfit: Frolicking in the Snow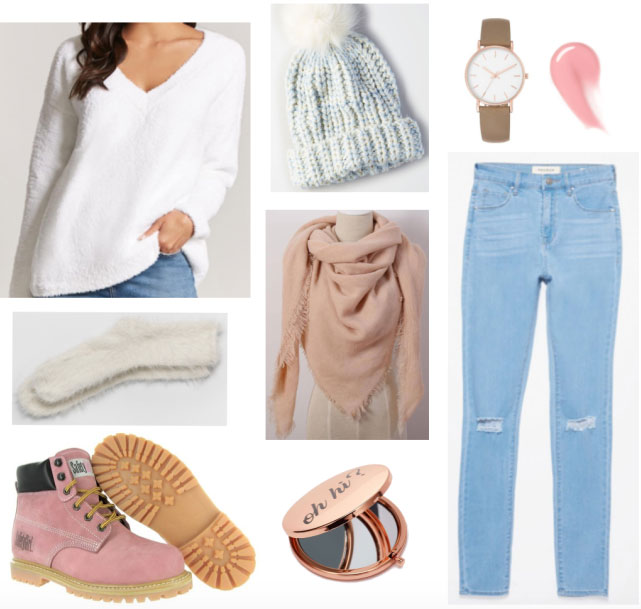 Products: Beanie – American Eagle, Sweater – Forever 21, Jeans – Pacsun, Boots – Safety Girl, Socks – Target, Scarf – Etsy, Watch – Target, Mirror – Miss Selfridge, Lip Gloss – Sephora
For the light blue version of this beanie, I went for a chill, casual, simple look. This outfit is perfect for your daily walk to class, studying for finals in the library, or running some errands.
Pair the beanie with a super fuzzy white sweater and high-waisted, distressed skinny jeans. The light blue wash of the jeans complements the beanie perfectly. Slip on some furry socks for extra warmth and comfort.
Pink Timberland-esque boots come next to give a bit of contrast to the light blue of the hat. Wrap yourself up in a similarly hued pink scarf, too. Always stay on time with a rose gold and brown watch on your wrist, and use this super cute pocket mirror when you need to touch up your pearly pink lip gloss. So chic, so comfy.
Burgundy Beanie Look: A Coffee Date, Perhaps?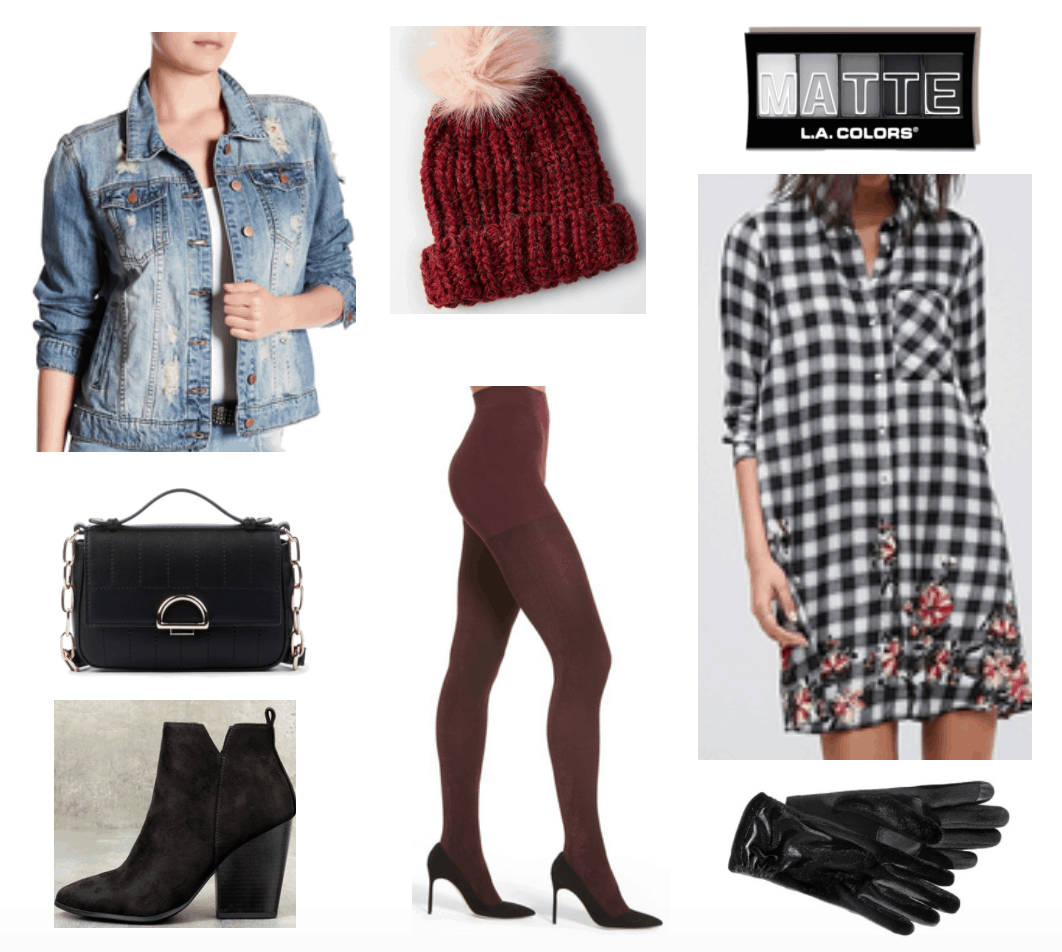 Products: Beanie – American Eagle, Jacket – Nordstrom Rack, Dress – ASOS, Tights – Nordstrom, Booties – Lulu's, Crossbody – Sole Society, Gloves – Macy's, Palette – L.A. Colors
For the second beanie look – the burgundy one – I went for a bit more dressy, but still comfortable, outfit. This super stylin' checked floral mini dress from ASOS is the perfect combo of easy + breezy, yet still fashion forward.
Pair this dress with burgundy tights to match the beanie, then add simple black booties. Throw on a denim jacket under your winter coat, 'cause you never know how cold it'll get. Grab a set of black velvet gloves and a black crossbody bag to keep all your necessities. Before you head out the door, smoke up your eyes a bit with this 5 color palette from L.A. Colors. You are dressed to impress.
Charcoal Beanie Look: Time to Party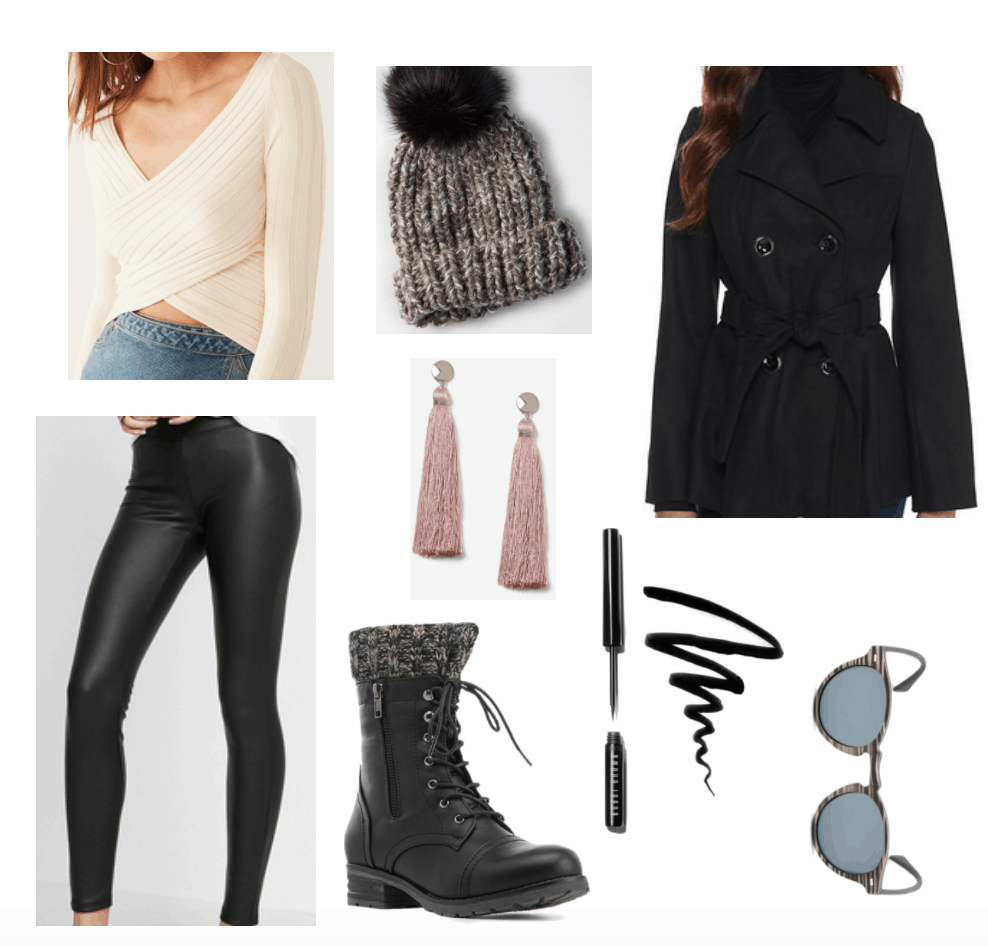 Products: Beanie – American Eagle, Leggings – Express, Sweater – Urban Outfitters, Peacoat – Belk, Boots – Charlotte Russe, Sunglasses – Sunglass Warehouse, Earrings – Topshop, Liner – Saks Fifth Avenue
This final look is perfect for a house party before everyone heads home for the holidays. Grab the charcoal beanie this time and wear it with this charming ivory wrap cropped sweater and equally smart leather leggings.
Pull on these black combat boots for a bit more sass and cozy up in this belted peacoat. To add a bit of color to this look, slip on some baby pink tasseled earrings. And, because you're über edgy, add some funky sunglasses to the mix. Finish this look off with a cat eye, and you are set to jet.
Do you like this week's Fab Find?
Are you a beanie gal? Which color is your fave? What are you most excited for this winter? Start the convo below.