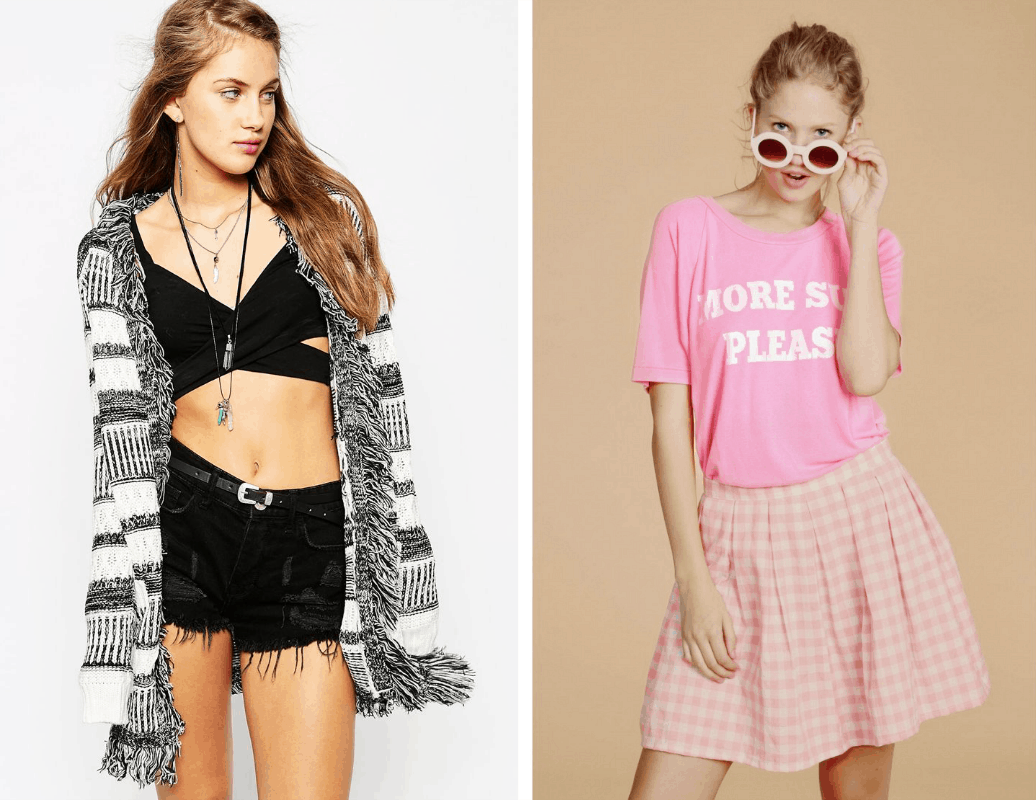 Product Info: MINKPINK and Wildfox
Lately, I've fallen totally in love with two it-girl fave lines: MINKPINK, the trendy Australian brand, and Wildfox, the beachy label know for their cheeky loungewear.
Both fit the style of a similar girl– effortlessly and comfortably cool, but with a little sass and looking to make a major fashion statement. If there's anything these labels aren't, it's boring. I've rounded up everything you need to know about each label, as well as how to get their vibe for less.
MINKPINK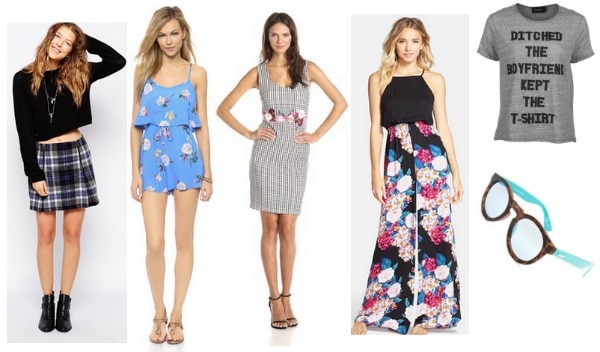 Product Info: Skirt, Romper, Dress, Jumpsuit, Tee, Sunglasses, all MINKPINK.
MINKPINK excels at perfect floral prints, easy summer dresses, boho pieces, crop top sets, bikinis, and rompers. They also make cute sunnies and comfy PJs. Their vibe is romantic, summery, and effortlessly sexy.
Celeb fans of the brand include Jessica Alba, Ashley Tisdale, and Eva Mendes.
I've picked out some of my MINKPINK favorites above. You view the whole line and find a list of stores at minkpink.com, or you can shop the label on sites like ASOS, Shopbop, Zappos, and Revolve. Prices range from around $40 to $150.
Wildfox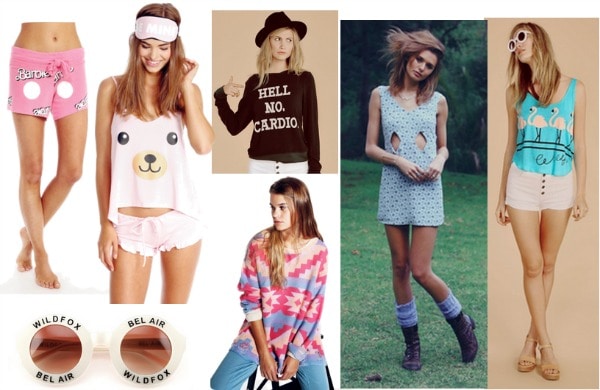 Product Info: Shorts, PJs, Sunglasses, Sweatshirt, Sweater, Dress, Tank, all Wildfox.
Wildfox is all about unique, fashionable comfort. Tons of celebs love their shredded sweaters, and they're the often-copied expert in creative, sassy message tees and sweats. Their pieces are some of the softest things you will ever touch. They also make cool denim and accessories, bold swimwear, and quirky dresses.
If you're looking for your new favorite tee, Wildfox is the way to go. From animal motifs and sassy slogans like "shopping is my cardio" to horoscopes and Shakespearean sonnets, you're bound to find something that screams "you." Not to mention they're the ultimate in comfort.
Celeb fans of the brand include Amanda Seyfried (she has the "Hell. No. Cardio." sweater above), Taylor Swift, and Vanessa Hudgens.
You can shop the line at wildfox.com, Bloomindale's, or ASOS. Their regular line is generally in the $50-$200 range, but their White Label line (which features super-cozy knit sweaters) gets up to $300.
Get the Look for Less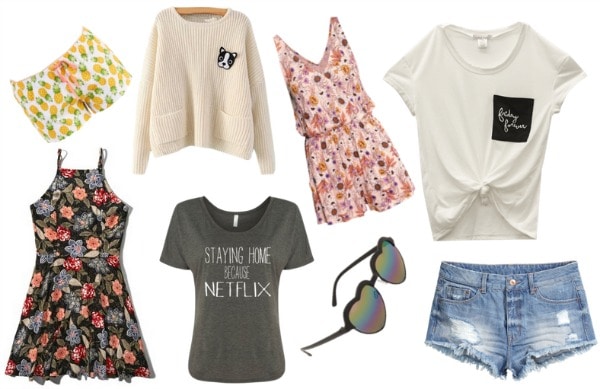 Product Info: PJ Shorts–Modcloth, Dress–Abercrombie, Sweater–Yoyo Melody, Netflix Tee–Etsy, Romper and Denim Shorts--H&M, Sunglasses–Aldo, Friday Tee–Wet Seal.
Love these lines but find them a little out of your price range? Never fear. All of the pieces above have a similar vibe to MINKPINK and Wildfox gear, but cost less than $50!
To get the look of these lines, look for things like:
distressed denim
romantic or moody florals
bold sunglasses
sassy, slouchy message tees
animal motif sweaters
quirky prints
loose-fitting dresses and rompers
matching sets
Happy shopping!
What do you think?
Are you a fan of these brands? If not, are you interested in checking them out now? Did you find this introductory guide helpful? Let me know in the comments!