This post will show you all the best Amazon Prime Day fashion deals for 2020.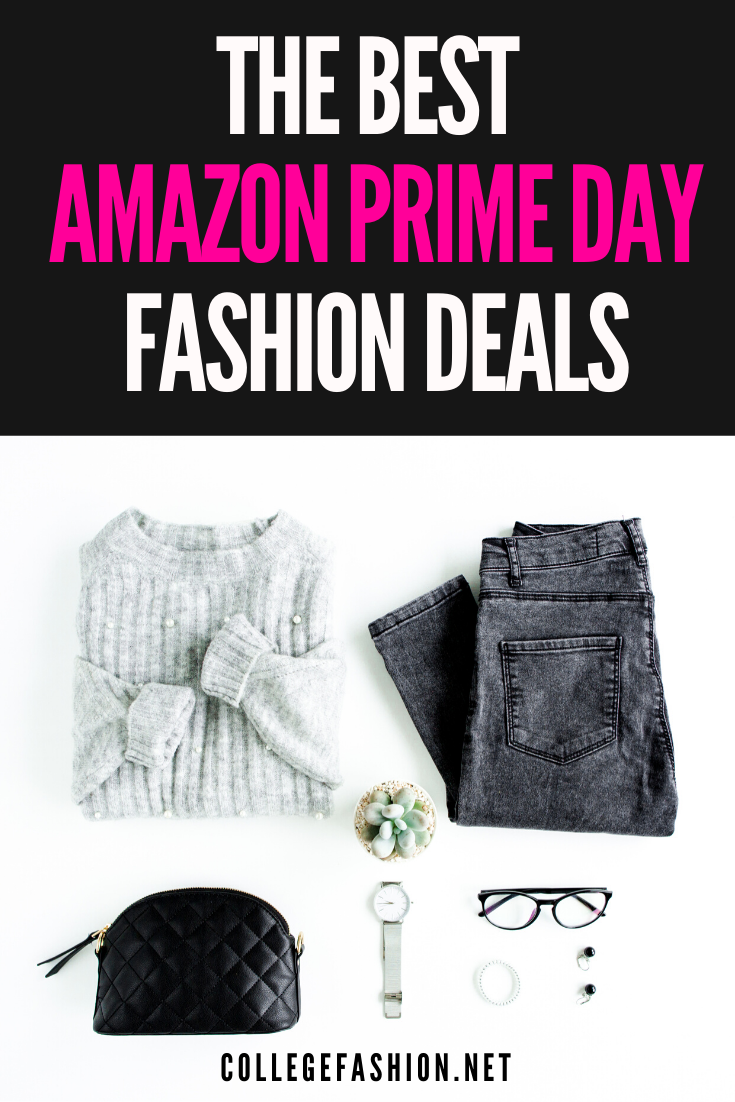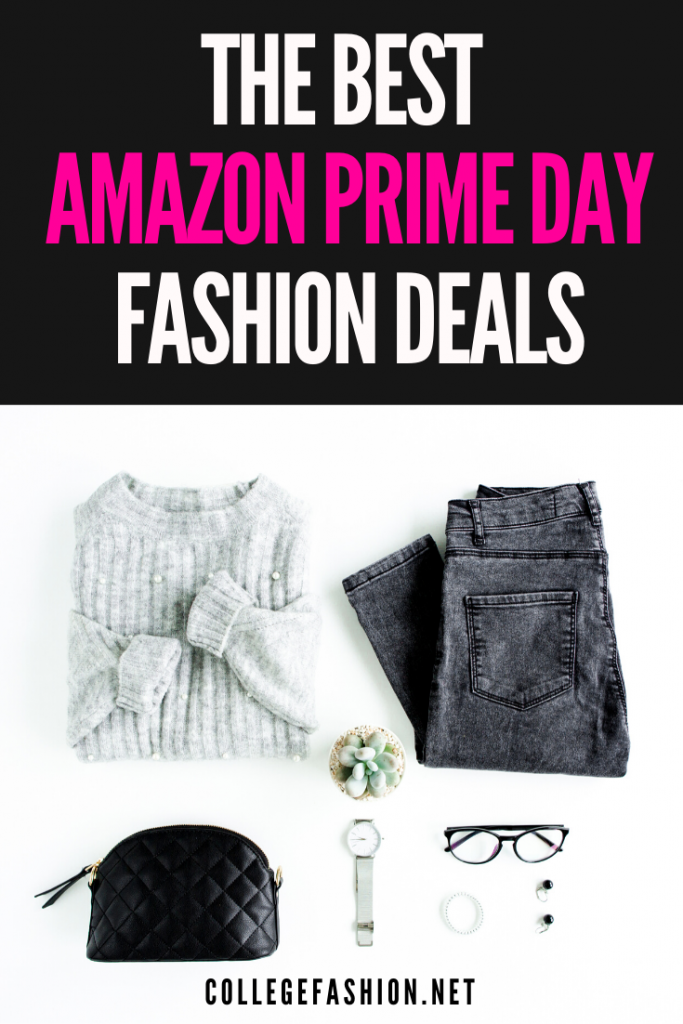 In case you didn't know, Amazon Prime Day starts today, 10/13! It's a huge sale with thousands of items deeply discounted for just two days — and it's only for Amazon Prime members. It's an amazing chance to save money on tons of things — fashion in particular!
I've been an Amazon prime member for two years now and I can't imagine going back. I'm addicted to two-day shipping! It makes life 10x easier and it's a must for college students.
If you aren't a prime member yet, you can get a free six-month student trial here. This will enable you to shop the sale. Or, if you are a parent or not a current student, you can get a 30 day free trial here.
Now, let's get to the prime day fashion deals!
Best Amazon Prime Day Fashion Deals 2020:
Before we get to the deals, please note — these deals are all live as of today, 10/13. Also, be ready to shop quick because things sell out fast!
Levis Wedgie Skinny Jeans (46% off!)
Skinny jeans are a wardrobe essential and the Levi's "Wedgie" skinny jeans are famous — you've probably seen them on every fashion blogger at some point. Today only, they're 46% off which is the lowest we've ever seen them!
I.AM.GIA Teddy Jacket (15% off)
Teddy jackets were a huge trend last year, and I.AM.GIA is one of the brands that pioneered the trend. This brand almost never goes on sale so it's a fantastic chance to try this trend!
Lioness Palermo Blazer (15% off)
Hello, Balmain vibes! This blazer is so affordable and looks like a million bucks — it reminds me of the Balmain blazer you've seen on everyone from Chiara Ferragni to Kim Kardashian.
Free People Sweetheart Sweater (15% off)
This sweater looks insanely cozy and slouchy, and the price is amazing for Free People. I just bought my first Free People sweater this year and I'm obsessed! The quality is 10/10 and their sweaters are pieces you will have for years and years to come.
Herschel Nova Backpack (26% off)
These backpacks are all over college campuses and they rarely go on sale! You can snag this super cute one for 26% off, just for Prime Day — move fast, this one will definitely sell out.
Cupcakes & Cashmere Athena Cardigan (67% off)
This pretty cardigan comes from Emily Schuman's brand, Cupcakes & Cashmere, so it's automatically fashion blogger-approved. The pretty mint color would be great for spicing up your winter wardrobe or wearing into spring.
Hat Attack Windowpane Blanket Scarf (58% off)
It is officially blanket scarf season and I for one could not be happier. This perfectly neutral windowpane scarf will go with everything and is perfect for upgrading any outfit.
Levi's Sherpa Trucker Jacket (46% off!)
'Tis the season for sherpa everything and this wintery spin on a denim jacket is giving me all the '70s vibes. Pair it with skinny jeans and combat boots for an insanely cute outfit that will take you into winter.
Tory Burch Mini Bag (15% off)
How pretty is this little pink Tory Burch crossbody? It's perfect for holding all of your essentials and adding a little pop of color to any outfit. This cute little bag is 15% off just for Prime Day, a great chance to score a designer piece for less.
Core10 Nearly Naked Leggings (30% off)
Amazon's own brand Core10 is legit! I have a pair of these leggings and they are so soft and completely smooth everything out. I love them for loungewear but they would be great for the gym as well — they're definitely squat-proof and not at all see-through.
BB Dakota Got it Twisted Sweater (36% off)
This sweater is the cutest possible way to wear the crop top trend into the winter months. It would look just as cute paired with mom jeans and sneakers as it would with a skirt and ankle booties.
BlankNYC Faux Leather Shacket (30% off)
Shackets and leather jackets are two huge trends this season, so why not combine them with this cute vegan leather option from BlankNYC? Wear it over a cute cropped tank with wide leg jeans and boots for the cutest outfit ever.
Alo Yoga Dimension Hoodie Jacket (30% off)
Alo Yoga is the favorite workout wear brand of every influencer and fashion girl on the planet, and it pretty much never goes on sale this much. This oversized hoodie jacket is the perfect way to give the brand a try (and motivate yourself to exercise).
Rebecca Minkoff Crossbody Bag (15% off)
I've been eyeing this bag forever — it's so classic and chic but still a little bit edgy, plus it will go with everything. I haven't seen it priced much lower than this, ever, so this is a deal I may be scooping up myself!
Amazon Essentials Buckle Mule (30% off)
If you still don't have a pair of backless loafers, these are the ones to get! Insanely low priced (under $20!!), these give me Gucci vibes without the price tag. This is one of those Amazon Prime Day fashion deals you absolutely can't miss.
Goodthreads Shaker Stitch Deep-V Sweater (30% off)
This sweater looks so slouchy and cozy — it's a loungewear must-have. Pair it with your favorite leggings for studying or with mom jeans and chunky sneakers for running errands. It would also be super cute with leather leggings for evenings out.
Amazon Essentials Leopard Joggers (30% off)
2020 has been the year of the sweatpant so obviously I couldn't leave cozy sweats off the list. These leopard print joggers are so cute and much more interesting than basic gray sweats (although I live in those too).
206 Collective Heeled Sandal (30% off)
These sandals are one of the best Amazon Prime Day fashion deals if you need new shoes. They're a must-have for any fall weddings or events you might be attending. They're not too high (only 2.25″) but still look so fashionable!
I'm not usually a fan of low heels but these are a winner, and the price is definitely right — they're under $40 for the entirety of Prime Day (normally $55).
Lark & Ro Little Black Dress (30% off)
If you don't already have a classic LBD in your closet, this one is stunning and so affordable!
It has so many 5-star reviews touting its stretchiness, comfiness, and curve-friendliness, so it's a fantastic choice for a variety of body types (it comes in sizes 0-16). It would be great to wear to work or any professional events you have coming up.
Finally, if you don't need another little black dress, you can get this dress in a variety of colors, from navy to hot pink!
Gorjana Gemstone Dog Tag Necklace (15% off)
I love Gorjana's jewelry and this gold and mother of pearl dogtag style necklace is so pretty and dainty. Plus, it's 15% off today only, so it's a great chance to score a deal on something you'll wear every day.
There you have it! The best Amazon Prime Day Fashion Deals for 2020!
I hope you enjoyed our list of deals. Definitely leave me a comment below and let me know if you picked any of these up! I will definitely be snagging a few for myself. Happy shopping!