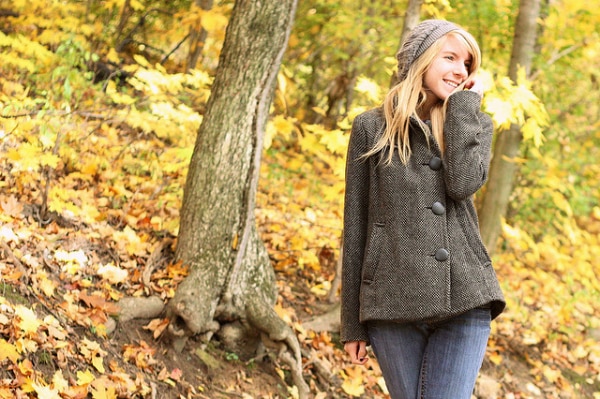 Autumn has officially arrived, which means wardrobe updates are in order for the change of seasons. But with the dozens of hot fall trends out there, keeping up with every single one is pretty much impossible to do on the average college student's budget.
If you want to bring your look up-to-date without breaking the bank, we're here to help. We've narrowed it down to our top five favorite trendy, versatile and budget-friendly items for fall 2012. Whether you buy all five or just one of these items, you can rest assured that you'll look current and on-trend this season.
Simply scroll on down to read more about five must-have items for fall as well as some of our fave picks in each category.
1. A Graphic Sweater
Make a bold and comfy statement this season with an on-trend graphic sweater. Pairing these sweaters with jeans and boots creates a cozy fall outfit, but we especially love how they look when layered over a collared top or dress (see #4).
We mentioned a few weeks ago that animal-adorned graphic sweaters are super-popular for fall, but if that's not your style, look for ones with fun sayings or other unique graphics, like our picks below.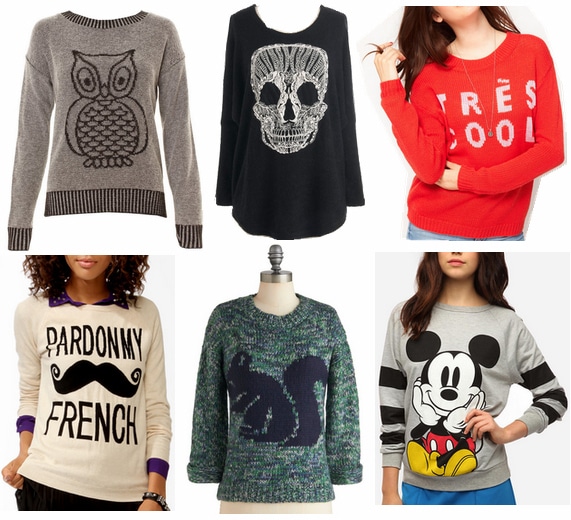 Product Info: Owl Sweater- Lavish Alice, Skull Sweater- ModCloth, Tres Cool Sweater- ASOS, Pardon My French Sweater- Forever 21, Squirrel Sweater- ModCloth, Mickey Sweater- Urban Outfitters
2. Smoking Slippers
Give your fave ballet flats a rest this fall and pick up a pair of these must-have alternatives — smoking slippers. These menswear-inspired loafers are not only uber-comfortable, but can be worn with pretty much everything in your closet. And since they're available in every color and print imaginable, you'll be hard-pressed to find a pair that doesn't match your personal style.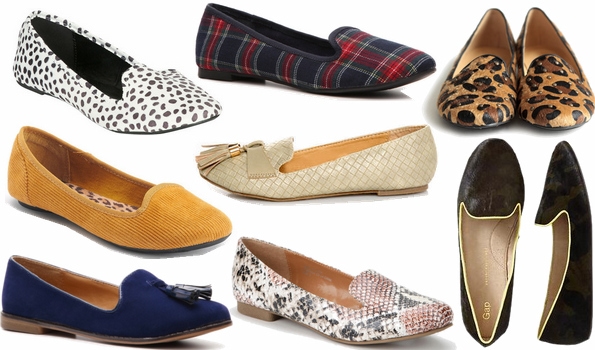 Product Info: Dotted- Wet Seal, Plaid- DSW, Studded Leopard- Threadsence, Mustard Yellow- Kohl's, Woven- Lulu's, Camouflage Gap, Blue- DSW, Snake Print- Urban Outfitters
3. Anything Oxblood
As we're sure you know, all things oxblood are hot for fall, so be sure to pick up at least one new item in this hot hue. This moody shade looks fantastic when paired with black or gray, but if you're looking for something bolder, try pairing oxblood with orange or light pink to create a fashion-forward look. Or you could try the head-to-toe oxblood trend!
Don't own any oxblood? Here are a few of our fave fall-appropriate pieces.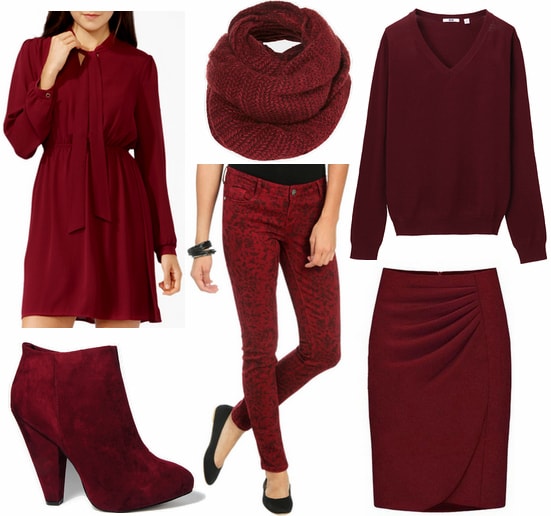 Product Info: Dress- Forever 21, Scarf- Topshop, Sweater- Uniqlo, Ankle Booties- Forever 21, Jeans- Wet Seal, Skirt- indressme.com
4. A Statement Collar
Amp up your style cred by rocking a statement-making studded, sequined or beaded collar this season. A statement collared blouse or dress creates a glam, yet feminine vibe, but if you're looking for something more versatile, try a detached collar. Just as the name suggests, these collars can be worn with anything and will breathe new life into your favorite sweaters, tees and dresses. Check out some budget-friendly options for both categories below.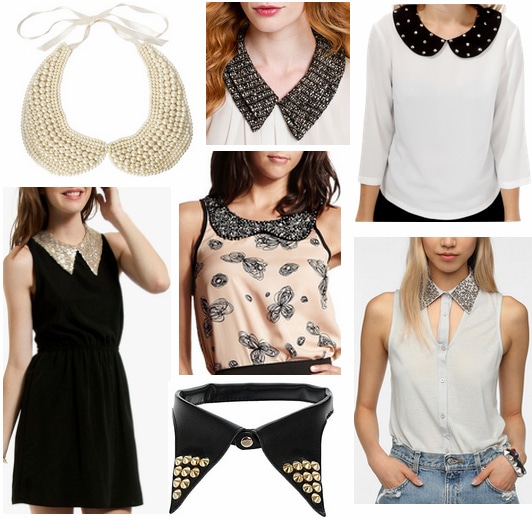 Product Info: Pearl Collar- ASOS, Tweed Collar- Nordstrom, Studded Collar Top- Forever 21, Sequined Collar Dress- Tobi, Jeweled Collar Blouse- Charlotte Russe, Beaded Collar Cutout Top- Urban Outfitters, Detachable Spiked Collar- Topshop
5. Printed Pants
Last but not least, our final favorite item to update your look for fall is a fantastic pair of printed trousers. Whether you like leopard, polka dot or floral prints, you're sure to find your perfect pair at almost any retailer. Wearing these trousers with a solid-colored top creates a chic look, but for a bolder outfit, pair them with a printed top or jacket to create a fashion-forward vibe.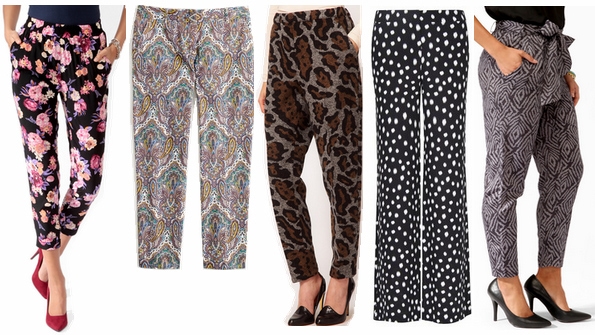 Product Info: Floral Print- Forever 21, Brocade Print- J. Crew Factory Store, Animal Print- ASOS, Polka Dot- Mango, Ikat Print- Forever 21
Your thoughts?
What do you think of these items? Do you already own any of them? How will you be updating your look for fall? As always, remember to leave a comment below and tell us what you think!