After months and months of work, we're so excited to finally launch the brand new College Fashion! In a partnership with Say Media, we've moved to their Tempest platform, and in the process, we got a whole new look.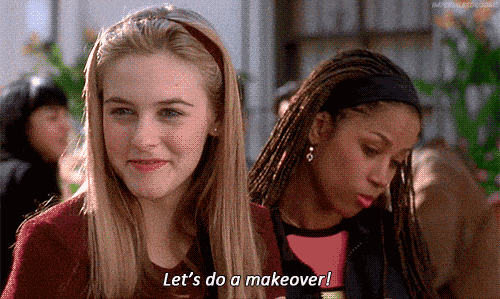 College Fashion was long overdue for an update – our last layout change was in 2010! Fun fact: This is the first CF layout that wasn't made entirely by me in Notepad and Photoshop. I was so excited to have professional developers on the job – they made the site so much better than I ever could have alone.
As you may notice, our new layout shares some similarities to xoVain, Fashionista, and xoJane – that's because we're all on the Tempest system. (Not a bad group to be joining, right?) While at first I was worried about looking too similar to other sites, our developers worked closely with me to ensure our site still felt like College Fashion, not like a clone of anyone else. In the end, I think we got it just right – this new site feels like our old one, but with a modern, streamlined vibe that takes advantage of Tempest's features.
So, let's get to what's new around here:
First, you'll notice that the site loads A LOT FASTER. Our old site was very slow to load, even though I was constantly working to speed it up. Now we're nice and fast, allowing CF content to hit your eyeballs at an even more rapid speed. Content! To your eyeballs! Right now!
Also, our commenting system is 1000% more awesome than before – we've switched to Disqus, allowing us to have threaded comments, a comment voting system, support for posting photos inside of comments, the ability to subscribe to comments, and much more! One thing to note, you do have to register to comment on CF now, so we recommend doing that ASAP in the comments section below.
Another perk: Our mobile site is much, much better. Our old mobile layout had some bugs and we were constantly getting emails complaining about it. Now our site is completely mobile device-compatible and looks great on mobile devices of any size.
On the back end of things, we have a much more awesome content management system in place that's going to allow us to do things on CF we've never been able to before. We're really excited about the possibilities and we'll be sharing some fun new features very soon.
Also, obviously, and perhaps most importantly, we are much more beautiful than we were before. (Don't tell our old layout I said that.)
Huge thank yous are in order for our team at Say, especially Kerri, Benish, and Shanna for dealing with my obsessive perfectionism (and answering all of my late-night emails). I annoyed the absolute crap out of them to make sure the site was perfect for you guys, and they deserve a round of applause.
What do you think?
So, all that out of the way, I want to hear from you! Do you like our new look? How is the site working for you? Click around and see how you like it.
I really hope you all like the new look! I know it may take some getting used to if you've been reading CF for a long time. I always feel a little unsettled when my favorite sites change it up, so hopefully we can overcome the temporary weirdness together.
Can't wait to hear from you guys!