This post may contain affiliate links, which means we may receive a commission if you purchase through our links. Please
read our full disclosure here
.

Shopping in college is all about balancing "I want that" with "I can afford that" – and when you're into fashion on said college budget, the struggle is real. Today, we're here to introduce a new web-based service that allows you to get real high-end designer items for the price YOU want. Game. Changer.
In addition, to celebrate their College Fashion debut, Meanbuy is giving away a Michael Kors tote, a Coach wallet, and some high-end headphones. Read on for all the deets!
About Meanbuy
Have you ever been in a store and looked at a watch you really liked, but thought, "if that watch were only $10 less, I would definitely buy it"? Wouldn't it be great to get that watch at Your Price without having to bargain or bid against others? Now you can, with MeanBuy.
MeanBuy allows you to "Pay What You Wanna Pay". For the first time ever, you are in complete control of the price you pay for a product. While entering Your Price, a Crowdometer shows you the likelihood of you receiving the product at Your Price. Once you submit Your Price, MeanBuy's unique Crowd Based Pricing method lets you know within seconds whether or not you'll get the product at Your Price. Even if you didn't get it right away, you may automatically still get it before the product is taken offline as MeanBuy generally accepts lower prices as time progresses.
To top it off, they have a flexible return policy and a great customer service team willing to help you with anything you need or want. In their words, "Don't be mean to your wallet, use MeanBuy.com!"
The Prizes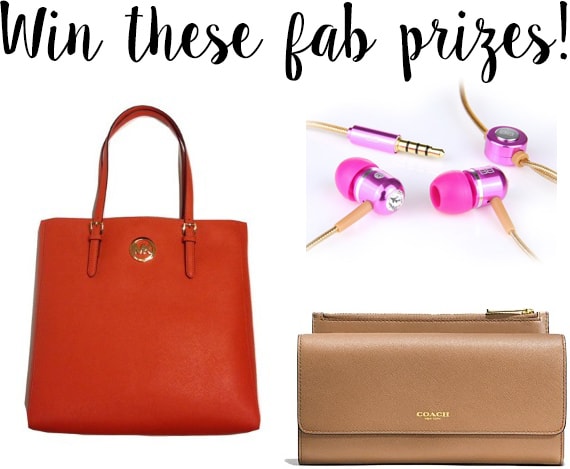 To celebrate their introduction on CF, Meanbuy is giving away three crazy awesome prizes (seen above):
Michael Kors Tote ($278 Value)
Coach Wallet ($119 value)
Bassbuds Swarovski Earphones in Pink ($49 value)
Enter to Win!
Three lucky CF readers will win – and it's super easy to enter. Just use the giveaway widget below. Three entrants will be randomly selected to win one of the above prizes.
If you enter this giveaway with an email address, you are consenting to receive mailings from Meanbuy. For full rules and regulations, see our Giveaway Official Rules.
Socialize with Meanbuy
Want more info on Meanbuy? Check them out on social media! They're on Twitter and Instagram. You can also search #Meanbuy on Facebook.
Best of luck, guys!
Disclosure: This post was sponsored by Meanbuy. The opinions, as always, are our own. For more information, please see our Disclosure page.