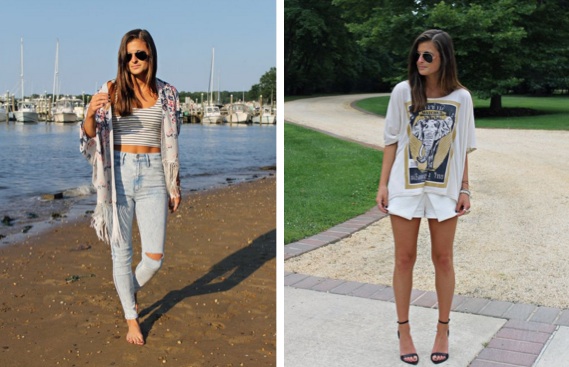 Photos Courtesy of Tilden Brighton
As an out-of-state student, I've resigned myself to the fact that I will likely be defending my home state (New Jersey) until the day I die. How could the state that produced Ezra Koenig, Bruce Springsteen, and Joe Flacco NOT be magical? And though Jersey has yet to produce a big-time fashionista, I'm willing to bet on To Be Bright's Tilden Brighton.
The recent University of South Carolina grad manages to look like an Urban Outfitters model and makes me wonder… why haven't learned how to work a pair of Aladdin pants in college?
This week, Tilden spills which blogger inspires her, how her followers changed her life, and why she never thought she would be a fashion blogger.
The Interview:
College Fashion: Tell us a little bit about yourself.
Tilden Brighton: I was born and raised in New Jersey but I've spent half of my life in New York City, which is only 30 minutes away. I'm the eldest of three girls and live in what I consider a zoo – three dogs, three miniature ponies, one parrot and one cat.
Before I got into blogging, I horseback rode and competed nationally on the East Coast from age 7 – 20. I was recruited to ride for the University of South Carolina's NCAA Equestrian team; but after two years, I resigned my position to pursue other endeavors while in college. I figured this was the time to discover who I was beyond the saddle and even though I no longer compete, I still find the time to ride for fun once and a while.
CF: How would you define your style?
TB: My style is ever changing, but I would primarily describe it as versatile. The only color I will not willingly choose to wear is pink – however, I will experiment with bush and rose tones every so often. I like to invest in pieces that I can dress up or down and that can make it past one season of wear.
As a post-grad on a budget, finding clothes that last longer than today's trends and keep my wallet happy are essential during this time in my life.
CF: How did you find your style?
TB: I found my style when I recognized what felt comfortable on my body. You will never catch me wearing sweatpants in public, but boyfriend fits and oversized tees always caught my attention. All it took was a tuck here and a fitting counterpart there to make the look appear chic. I would rather wear something I can breathe in on a daily basis than something that makes me feel constricted.
Of course, events and occasions call for more elegant looks but even still, I make sure to find something I don't have to feel insecure in – taking the cut and/or the shape of the pieces worn into consideration. With trial and error, I discovered what made me feel the best to wear.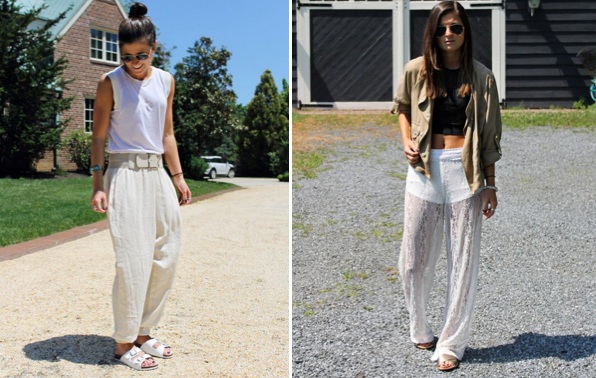 Photos Courtesy of Tilden Brighton
CF: What inspired you to start a style blog? What motivates you?
TB: I was inspired to start a style blog when I received an overwhelming amount of positive feedback. I've always loved putting looks together and I found documenting them as something I could look back to when I needed to decide what to wear. Once I started sharing my outfit ideas, I was lucky to have many positive comments follow that motivated me to continue.
I never thought I would be someone that got into fashion – due to my many years consumed with riding – but the change of pace and the success of it boosted my passion. One year later, my online resume became a full-time style blog that has exceeded all of my expectations. The excitement of what tomorrow brings motivates me every day.
CF: Did you go to college? If so, where did you go to school and what did you study? What was your college experience like?
TB: I went to the University of South Carolina and graduated this past May, receiving my Bachelors in Public Relations and Fashion Merchandising. I loved going to school 12 hours away from home and finding myself in a state unknown to me in the beginning.
I began To Be Bright there during my junior year and spent the last year of school building it to where it is now. Although I'm happy to start the next chapter of my life, I'll miss the warm weather and the people that made my college experience so special for me.
CF: Where do you like to shop?
TB: My favorite retailers are ASOS, Urban Outfitters, Topshop, Zara, Free People, Anthropologie, Tobi, Lulu's, Forever 21, Theory, Francesca's, Steve Madden and Cotton-On to name a few. The variety these brands have available is the reason I go back – plus, the prices aren't half bad either.
CF:What advice do you have for being stylish on a college budget?
TB: Utilize the sale racks and thrift stores! You cannot imagine how many amazing pieces I found at consignment shops or at stores like Marshall's that replicated the exact look I was aiming for.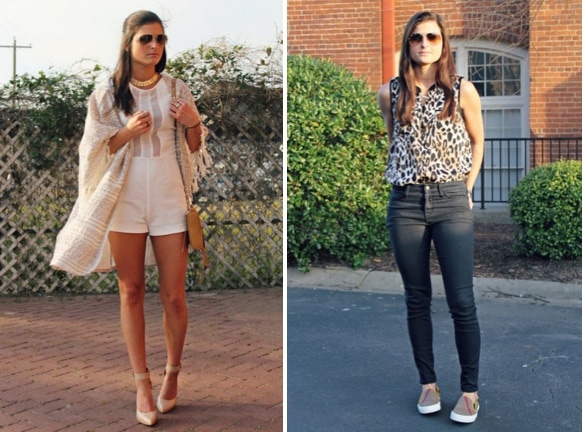 Photos Courtesy of Tilden Brighton
CF: What are your favorite pieces in your wardrobe?
TB: My slip-on sneakers are hands-down my favorite items in my closet. It's gotten to the point where I have one to match almost every outfit I put together.
CF: Who/what inspires you most?
TB: A wide range of bloggers inspires me, whether it is someone well-known, like Danielle of WeWoreWhat, or an up-and-coming fashionista with great taste. If she can put something together that I could see myself wearing, I make sure to consider it while putting my own twist on the look.
CF: Any advice for new bloggers or college students starting a blog?
TB: Skip the planning, just do it! Have an idea in mind, but the best way to develop a focus is by starting to blog and allowing the experience to form it on its own. I spent a year "planning" my blog and once I finally started it, it took an entirely different direction than previously expected.
Another thing to remember is to stay true to your own voice. I know that sounds cliché, but copying other bloggers' looks to the point where it's no longer an inspiration technique does not make you stand out. If you like something posted by someone else and buy it for yourself, just style it a different way. You'll be surprised how many people respond to personalized changes like that.
CF: What's writing a blog really like? Could you describe a typical day?
TB: Writing To Be Bright is more than a 9 to 5 job. I find myself waking up around 7 am to get a head start on drafting my posts for the week. If it's a nice day out, I schedule photo shoots with fellow blogger friends and get two or three looks set for the upcoming days.
Once the drafts are finished, I spend the day updating my blog content and answering emails. Although it sounds short and sweet, each task can take up to two hours to complete entirely. I make sure to give myself Saturday and Sunday to relax, just as a corporate job. Even still, I find myself on my computer and working to share my content a majority of each day.
It's a lot of work, but the efforts have only been rewarding. I love every minute of it and wouldn't have it any other way.
Your Thoughts?
Do you read To Be Bright? Which blogger should I talk to next? Let me know in the comments section!