Photo Credit: Julie Gerstein
Truth Bomb: After a long day of class, my mind can't help but wander. And about 86% of the time, that mind wandering leads me to BuzzFeed Style. I can't help but click on post after post, and I love that I'm just as likely to stumble upon an equal amount of Beyoncé pictures and positive body image posts.
This week, BuzzFeedStyle Editor Julie Gerstein shares how her major gave her an edge in the fashion industry, why it's OK not to intern in college, and what it's really like to work at BuzzFeed.
The Interview:
College Fashion: Did you go to college? If so, what did you study? What was your college experience like?
Julie Gerstein: I did an undergraduate degree in women's studies at the University of Pennsylvania in Philadelphia, which was great, because it was super interdisciplinary, and allowed me to take classes in multiple departments. My focus was on gender and representation, which I think is tied to what I do now. Having a degree in gender studies gave me a strong background in casting a critical eye at the fashion industry and body politics.
A few years later, I went back and got a master's degree in media and cultural studies at the University of Sussex in Brighton, UK. I highly recommend studying abroad if you can do it because it kills two birds with one stone – traveling abroad AND getting a degree.
CF: What was your sense of style like in college? How would you say it's changed?
JG: OH BOY! I have always been a, uh, unique dresser. I wore a lot of thrifted and vintage clothes in college, platform shoes – a lot of things that really epitomized a certain moment in the '90s. I also had short hair, which was definitely an anomaly at the time. All of these things, though, were as much about a reflection of my interest in fashion, as my involvement in various subcultures like punk and riot grrl, and indie rock music.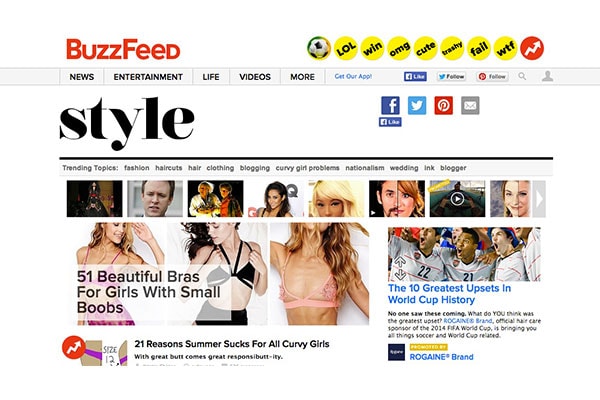 Photo Credit: Screenshot
CF: Did you have any internships or jobs in college? What were they like?
JG: I actually didn't really intern in college because I needed to make money! I worked at, like, 5 million (okay, 4) different coffee shops while I was in school. But! I also was really involved in the school arts and entertainment magazine, too. Not as a writer, but as the graphic designer!
CF: What's your favorite part of your job?
JG: There are so many things about my job that I love that it's hard to pick just one. I love getting to put a fun and creative spin on style, being able to cover style in new and exciting ways. I love, also, that I get to work with so many whipsmart people who are really at the fore of their respective fields. Everybody at BuzzFeed is so smart and talented, an it really inspires me to push myself and those on my team to think creatively about style as a category.
I also love that I've been able to do a lot of work around body politics since I've been here, because I think that it's important to contribute to the dialogue around how the fashion and beauty industries impact how we feel about how we look.
CF: What's your least favorite part of your job?
JG: I'm not a fan of meetings.
CF: What's been a standout/favorite moment of your career so far? Is there a project you've been particularly proud of?
JG: I've been really happy that I've been able to make body image a part of what we cover in the Style section at BuzzFeed. I consider it a huge responsibility to help generate that kind of dialogue among our readership.
CF: What's a typical day like for you?
JG: I typically spend the majority of my day working on posts for the Style vertical; managing the Style vertical's social media accounts; editing posts from other writers; working with the style intern; and eating SOOOO MANNNNNY SNACKS.
CF: What's your favorite piece in your closet?
JG: It changes all the time, because I'm constantly shifting things around in my closet, but at the moment it's probably a black racerback dress from Oak.
CF: What advice would you give a College Fashion reader that wants your job?
JG: I'd say that you should be well-rounded. Be engaged and involved with the world – not just high fashion or runway or red carpet fashion. There's a very small percentage of people that actually care about that stuff. Most people are more interested in how they can actually wear clothes and how fashion touches their real lives. Start blogging. Start writing – and not just about fashion. And ask a lot of questions!
Your Thoughts?
Does Julie's story inspire you? Do you read BuzzFeed Style? Who should I interview next? Let me know in the comments section!