This post may contain affiliate links, which means we may receive a commission if you purchase through our links. Please
read our full disclosure here
.
Welcome to College Fashion's biweekly column, Fashionably Informed. As a CF reader, it's clear that you love fashion. But have you ever wondered about the drama that goes on behind the scenes? To keep you up to speed, this column aims to inform you about important issues and controversies in the fashion industry.
In case you missed them, see past posts on Retouching & Photoshopping, Tanning Promotion in the Media, and Hypocrisy in Beauty Marketing.

Chanel Iman | Photo Credit
For this week's topic, we're tackling a major issue in the fashion industry and our culture in general… racism. It would be impossible to cover such a widespread issue with just one article. Therefore, we will be featuring a multi-part series on racism in the fashion and beauty industries.
Although this is a sensitive issue, it is an important one to discuss. It's hard to believe that in 2012, the world is still struggling over race, especially since minorities now make up more than 50% of US births. But the truth is, racism is everywhere, and is especially common in the fashion industry.
For the first part in our series, we will focus on racism in the modeling industry, specifically the decisions involved in selecting models for shows.
Racism in Modeling: An Intro
Just by looking at photos from today's runway shows, it is easy to see that African-American, Hispanic, Asian, and other racially diverse models are seriously under-represented.
This fact is surprising, considering that some of the most notable supermodels of all time are women of color (Tyra Banks, Iman, and Naomi Campbell). However, models like Tyra and Iman no longer walk the runways. Since their departure, racially diverse models have remained a rare sight on the catwalk. High-end fashion designers continue to only use a few models of color in their shows, if they use any at all.
Before we discuss the "reasons" behind this trend, let's take a look at the statistics from this past year.
Statistics from New York Fashion Week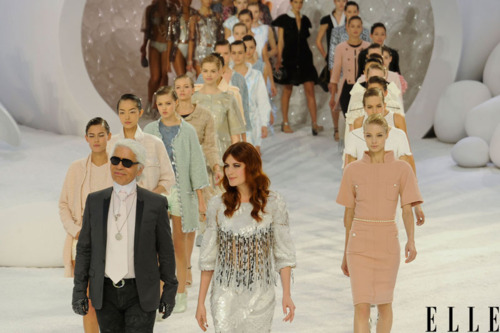 Chanel Runway Show at Paris Fashion Week | Photo Credit
After every New York Fashion Week, Jezebel examines the racial diversity of models walking the runways. It turns out that Fall-Winter 2012 was one of the most diverse NY Fashion Weeks in history. Although this is great news, when you look at the percentages, models of color were still seriously underrepresented. Jezebel reports,
The largest single ethnic category, after whites, was Asians. Asian models were used for 402 looks, or 8.8% of the time. Black models were close behind, at 367 looks, or 8%. Non-white Latina models were used 110 times, or 2.4% of the time. Models of other races were used 41 times, or 0.9% of the time.
The percentages show that only about 20% of the models were women of color. (For a full explanation of the methodology used, check out Jezebel's original post.)
In terms of individual shows, Jezebel says that The Row (Mary-Kate and Ashley Olsen's line) used no models of color. Calvin Klein had one black model. Two Asian models and two black models walked for Herve Leger by Max Azria. However, some designers did utilize lots of racially diverse models, including 3.1 Phillip Lim, J. Crew, L.A.M.B., and Jason Wu. These designers give us hope that the rest of the fashion industry will follow their lead.
The "Reasons" Behind Racism in Model Selection
Some are celebrating this past season's stats – however, the improvement is small. The runways are still largely dominated by white models.
The most discouraging part is, designers and fashion houses have full control over this. They specifically choose each model who walks in their shows. Sadly, many have said that a model's race and skin color are usually a major factor in deciding if she books the show or not.The Guardian quotes Annie Walshaw, a model booker, on the subject:
"When the client sends you a brief you know straight away they're not talking about a black girl. They say they want 'a girl with long hair, who looks like a fairy' or something. When they want a black girl, they will say 'looking for mixed-race girl, tribal-prints location, desert scene"
So according to Annie, some designers have a "look" in mind, which they believe models with darker skin don't fit. This "reason" for not using models of color exposes stereotypes created by the fashion industry: White models are seen as delicate, blank canvases, while darker models are "edgy" or "exotic." However, as we all know, these stereotypes aren't true.
In the same article, Carole White, founder of Premier Model Management, describes another reason some designers shy away from selecting ethnically diverse models, saying,
"There's not so much work for them, and sometimes photographers and makeup artists are scared. They don't know how to light or make them up properly so it takes a lot longer . . . It's a slower process."
This problem with photographers and make-up artists has been discussed by other models and fashion insiders. However, this "reason" seems to be an easily remedied issue of education and training – the industry would just have to commit to it.
Final Thoughts
As a woman of color (I am half Peruvian and half Brazilian), this issue is personal to me. It is hard for me to understand the reasoning behind the choices some designers make to exclude women of color from the runways.
As a CF writer, I love fashion and everything related to it. But it deeply saddens me to see women excluded from the industry based solely on their skin color. I hope that as more consumers become aware of this issue, more designers will begin to prioritize racial diversity in their shows and campaigns. Racism is an ugly part of our society, and it certainly has no place in the beautiful world of fashion.
What do you think?
How do you feel about this issue? Do you view designers differently based on their commitment to racial diversity? What are some other examples of racism in the fashion industry? What should designers be doing differently to change this? Tell us your thoughts by leaving a comment.