Last night marked the 19th annualScreen Actors Guild Awards and, as with other award shows, celebs showed up dressed to the nines. There are tons of fab fashion choices to discuss, so let's get to it! Scroll on down to scope out some of the most memorable looks of the night.
Top 5 Best-Dressed
Here are my picks for best dressed at the 2013 SAG Awards, in no particular order:
Amanda Seyfried in Zac Posen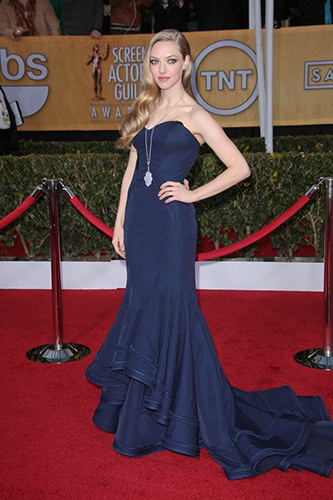 Photo: PR Photos | Click to enlarge.
Amanda Seyfried showed off her bombshell best at the SAGs in this navy blue Zac Posen gown. The ultra-flattering mermaid silhouette added a dramatic touch to this form-fitting gown, while the long, Art Deco-inspired necklace was a stylish and unique choice for the red carpet. Glamorous, side-swept waves and a dark smokey eye completed this look.
Sidenote: Amanda had a red carpet twin! The amazing Jennifer Lawrence also rocked a similar strapless blue gown from Dior Haute Couture at yesterday's ceremony. While I liked both dresses, Amanda's was my favorite of the two — whose navy gown did you prefer?
Michelle Dockery in Chado Ralph Rucci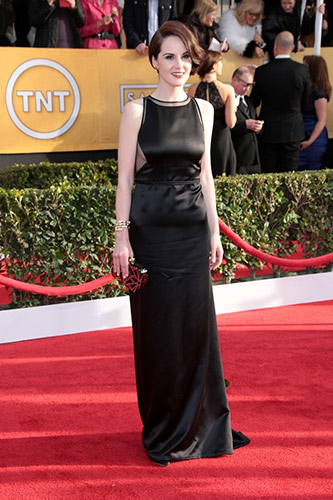 Photo: PR Photos | Click to enlarge.
Michelle Dockery wore one of my fave looks at the Golden Globes a few weeks back, and she once again brought her fashion A-game for the SAGs. The Downton Abbey actress opted for a vintage black satin Rucci gown, which she paired with edgy gold jewelry and a metallic clutch. The sheer paneling on either side of the dress offered plenty of sex appeal, which gave the overall look a sultry, yet understated vibe.
Marion Cotillard in Custom Dior Haute Couture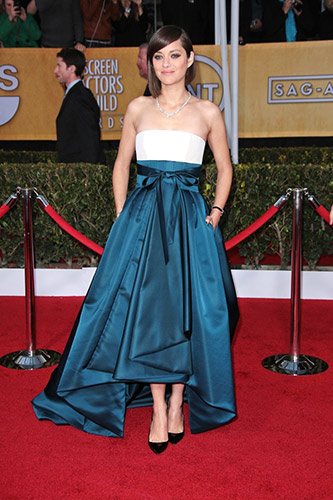 Photo: PR Photos | Click to enlarge.
The gorgeous Marion Cotillard absolutely killed it last night in custom Dior Haute Couture. The two-toned gown had a classically chic vibe, which Marion played up perfectly with black pointy toe pumps and elegant Chopard jewelry. Also, we loved the contrast between the formal gown and Marion's sleek and playful asymmetrical bob.
Jessica Chastain in Alexander McQueen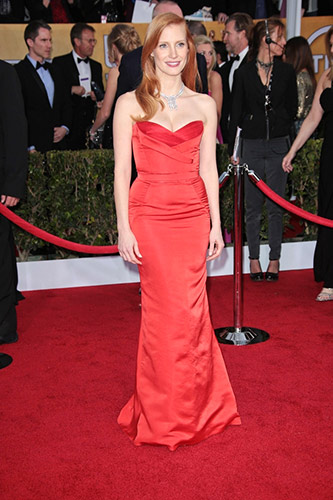 Photo: PR Photos | Click to enlarge.
I'm a sucker for a fabulous crimson-colored dress, so naturally I was drawn towards this strapless little Alexander McQueen number. Jessica Chastain complemented this red hot (pun intended!) gown with a super-sparkly Harry Winston necklace, then styled her locks into soft waves. On Twitter last night, Zephyr likened this voluptuous look to Jessica Rabbit and I wholeheartedly agree! What did you think of the Zero Dark Thirty star's ensemble?
Naomi Watts in Marchesa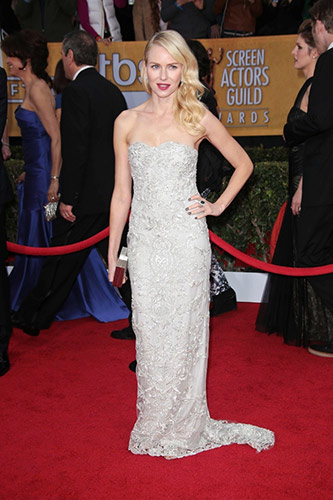 Photo: PR Photos | Click to enlarge.
Naomi Watts is a chameleon when it comes to red carpet fashion — she can pull off absolutely anything! Just two weeks ago, at the Globes, she donned a dark and moody Zac Posen gown, but she switched things up this time around with an ethereal white dress from Marchesa. The intricately beaded gown simply screams luxe and Naomi kept things glam with a glittery box clutch and an Old Hollywood-inspired 'do.
Other Notable Ensembles
There were so many noteworthy ensembles last night– we wish we could talk about each and every one! However, since there simply isn't the space, we've narrowed it down to four looks that made quite the buzz on the red carpet.
Nicole Kidman in Vivienne Westwood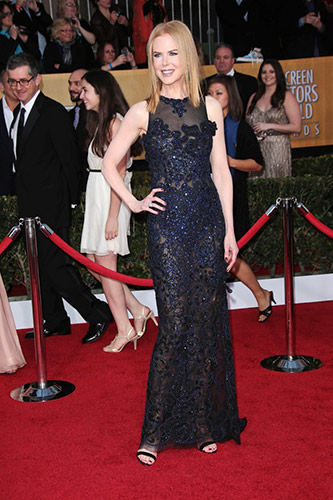 Photo: PR Photos | Click to enlarge.
The always stylish Nicole Kidman showed off her fashion sense yesterday by opting for this midnight blue Vivienne Westwood gown. The ornate applique work was simply exquisite and, when combined with a sheer neckline and thigh-high slit, gave this dress a wow factor. Nicole kept her hair simple, center-parted, and flat-ironed (to mixed reviews), then accessorized with a trendy pair of emerald green earrings.
Claire Danes in Givenchy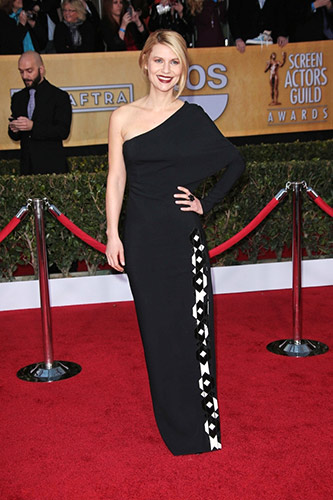 Photo: PR Photos | Click to enlarge.
In a stark contrast to her slinky Golden Globes frock, Homeland's Claire Danes went with a fashion-forward Givenchy gown for last night's ceremony. With its long-sleeved, one-shouldered neckline and black-and-white geometric detailing, one thing's for certain — this LBD anything but boring! Claire then amped up the drama with a deep, wine-red lip and an oversized cocktail ring.
Kerry Washington in Rodarte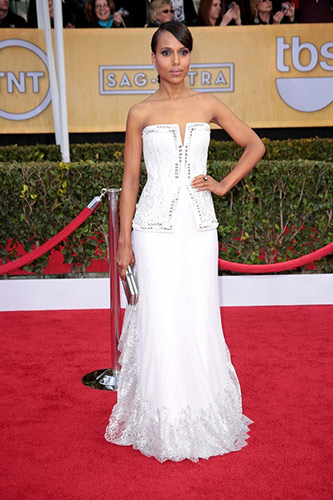 Photo: PR Photos | Click to enlarge.
Django Unchained's Kerry Washington has been nailing it on the red carpet this awards season, and the embellished white Rodarte gown she chose last night was no exception. The sculptural, corset-like top half combined with the flowy column skirt created some awesome contrast, which Kerry complemented with diamond drop earrings, a metallic clutch, and a sleek ponytail.
Anne Hathaway in Giambattista Valli Haute Couture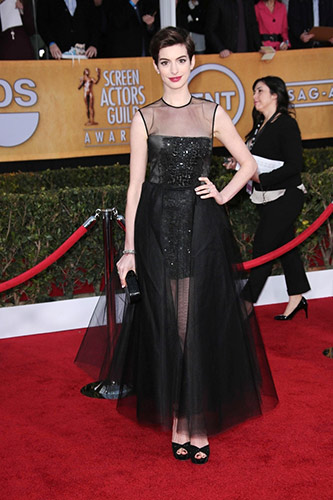 Photo: PR Photos | Click to enlarge.
SAG award winner Anne Hathaway's Giambattista Valli gown can best be described as one of those love-it-or-hate-it type looks. While some critics lauded her fun and youthful take on a timeless silhouette, other fashion commentators disliked the gown's sheer tulle skirt. Tell us what you think — was Anne's look a hit or miss in your eyes?
Least Favorite Look
You know we can't like everything that comes down the red carpet. Here's one look I simply didn't care for at last night's event.
January Jones in Prabal Gurung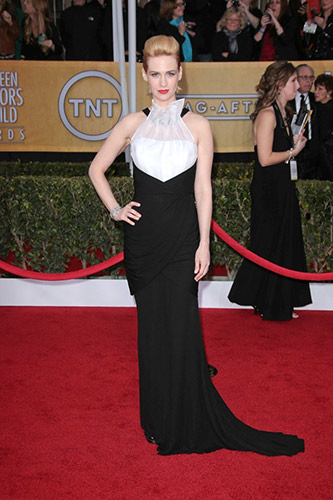 Photo: PR Photos | Click to enlarge.
First things first, I love that Mad Men's January Jones picked out an on-trend black and whitePrabal Gurung gown. However, I was less than impressed with the overall styling of this look. In my opinion, the Ziggy Stardust-esque coif and heavy makeup worked against the dress rather than complementing the fashion-forward frock. Do you agree with my choice or did you like January's red carpet look?
Your thoughts?
Now that you know what we think, tell us your opinion. Did you watch the SAG Awards last night? Who wins your pick for best-dressed? Any looks you didn't like? Be sure to leave a comment and let us know what you think!