The 18th annual Screen Actors Guild Awards were held last night, and as with other award shows, the stars were out on the red carpet, which means we have plenty of fabulous fashion to discuss! Scroll on down to scope out some of the most notable looks from the event:
Top 5 Best-Dressed
Here are my picks for best dressed at this year's SAG Awards, in no particular order:
Michelle Williams in Valentino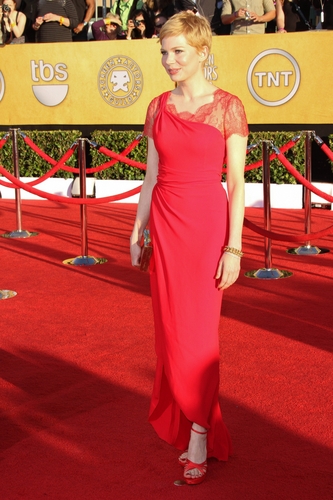 Photo: PR Photos
Michelle Williams always rocks demure, vintage-inspired frocks and last night was no exception. Her classic red Valentino gown was adorned with feminine lace detailing and Michelle added some red sandals and a crimson box clutch. What did you think of her head-to-toe red look?
Shailene Woodley in L'Wren Scott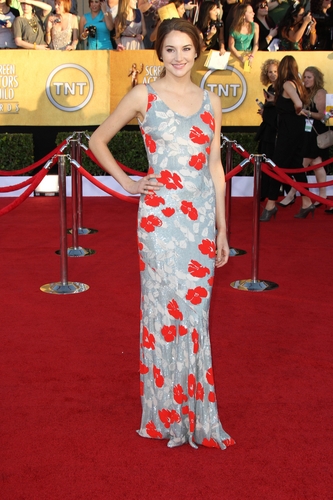 Photo: PR Photos
The SAG Awards are more laid back than the Golden Globes or Oscars, so I love that The Descendants' Shailene Woodley chose to wear this really fun, young, and colorful L'Wren Scott gown. The Hawaiian-like print seemed to be a nod to her film's setting and the baby blue hue with pops of red made a statement. Shailene kept her hair and makeup low-key, in order to let the dress be the focus.
Octavia Spencer in Tadashi Shoji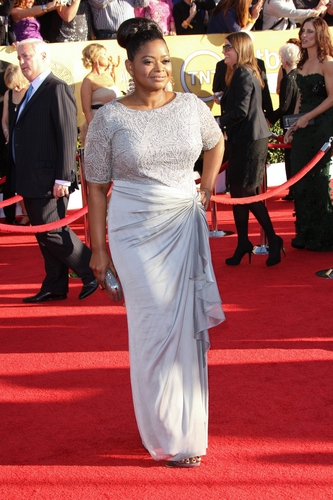 Photo: PR Photos
SAG Award winner Octavia Spencer was one of the first stars I saw on the red carpet last night, but I kept thinking about her silver Tadashi Shoji gown the entire time! The shimmery dress had a great mix of textures — a delicate floral-applique top and super-flattering, silky wrap skirt. Octavia also sported a sleek updo, which really showcased her lovely statement earrings.
Emma Stone in Alexander McQueen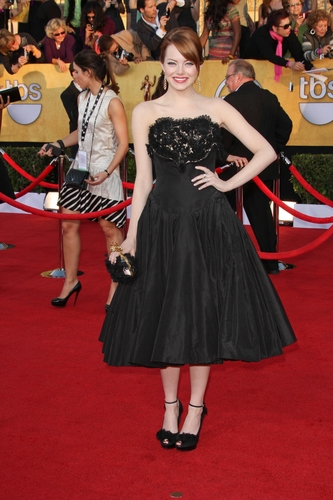 Photo: PR Photos
Emma Stone killed it fashion-wise at the Golden Globes a few weeks ago and she once again looked amazing at last night's ceremony. Her tea-length Alexander McQueen dress channeled Old Hollywood, while the sky-high ankle strap pumps and gold-handled clutch kept the look modern and youthful. Can this girl do no wrong?!
Zoe Saldana in Givenchy Couture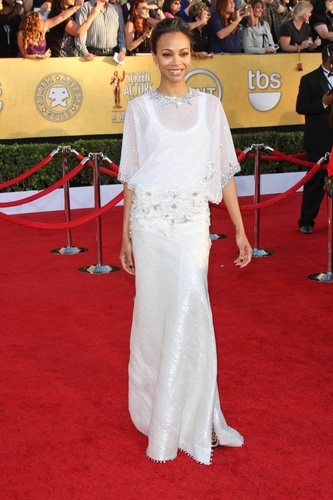 Photo: PR Photos
This little number from the Givenchy Spring '12 couture collection had a lot of fashion commentators on the fence, but I for one was in love with this dress. The gown has a kind of edgy-meets-glam vibe and while not everyone could pull off what is essentially a white tank under a mesh top, Zoe did it flawlessly.
Other Notable Ensembles
Although we can't discuss e-v-e-r-y single look from last night, here are four more celebs that made quite the buzz on the red carpet:
Emily Blunt in Oscar de la Renta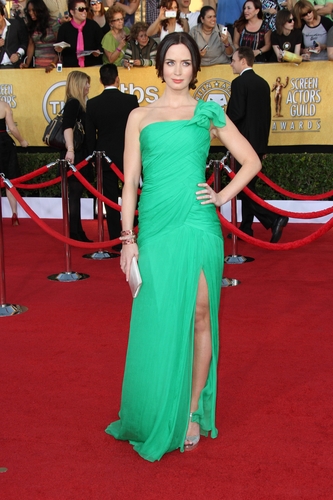 Photo: PR Photos
How gorgeous is this Oscar de la Renta gown?! Emily Blunt stood out last night in this bright, kelly green frock, which perfectly complemented her coloring. She completed her glam look with with a simple updo, several sparkling bangles and a matching clutch.
Rose Byrne in Elie Saab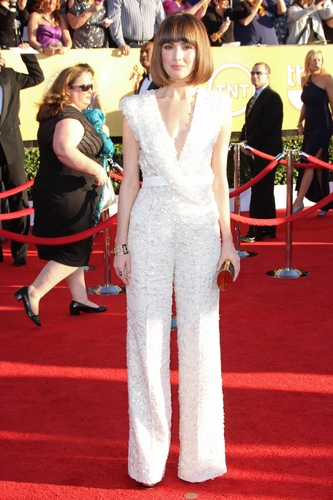 Photo: PR Photos
Rose Byrne took a definite fashion risk on last night's red carpet with this sleek Elie Saab pantsuit. This was a prime example of a "love it or hate it" kind of look — you either think it's fabulous or a fashion disaster. We love that she took a risk – what did you think of Rose's daring ensemble?
Lea Michele in Versace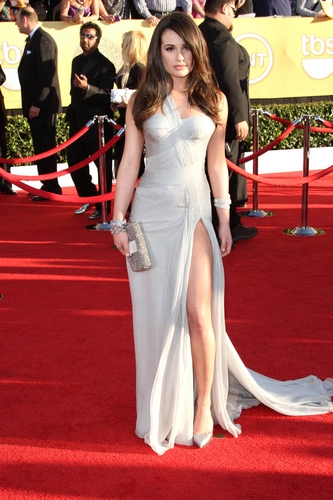 Photo: PR Photos
Lea Michele showed off her looong legs last night in a Grecian-style Versace gown. The soft, gray, sculptural dress definitely turned a lot of heads on the red carpet with its thigh-high slit, but I really loved the way Lea toned down the look by wearing her hair down with a simple side part.
Viola Davis in Marchesa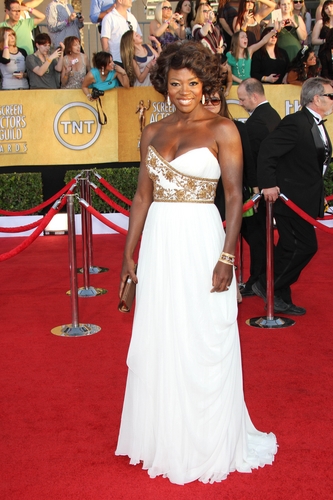 Photo: PR Photos
Outstanding Lead Actress winner Viola Davis made a statement on the red carpet in this white Marchesa gown with an ornate golden overlay on the bust. Both shades complemented her skin tone flawlessly and made her positively glow, while her coordinating accessories were the icing on the cake.
Least Favorite Look
As much as we wish they could, not every celeb makes the right fashion choice on the red carpet. Here's one look that wasn't a big hit last night:
Kristen Wiig in Balenciaga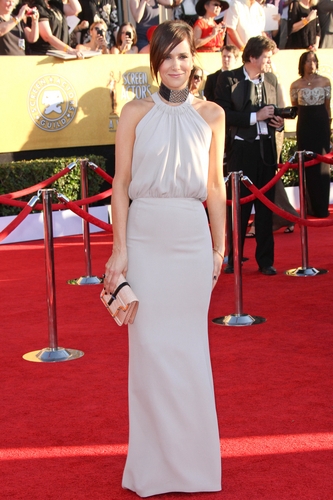 Photo: PR Photos
Okay, so I'm on the fence with this one: I really liked this simple and chic white Balenciaga gown, but I could NOT get past that weird, chunky choker! It seems like such an odd choice to wear with a halter-neck gown and didn't match the rest of her look at all. What do you think– did the choker make this look a fashion faux pas or you willing to give Kristen a pass?
Your thoughts?
Now that you know what we think, tell us your opinion. Did you watch the SAG Awards last night? Who wins your pick for best-dressed? Any looks you didn't like? Be sure to leave a comment and let us know what you think!