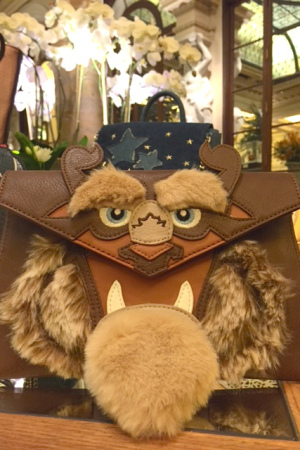 Disney announced this week that they would be teaming up with handbag brand Danielle Nicole to release a mid-priced line of handbags inspired by five Disney princesses.
According to WWD, the line will launch on October 1st of this year and will include bags inspired by Ariel from "The Little Mermaid," Aurora from "Sleeping Beauty," Belle from "Beauty and the Beast," Cinderella, Snow White, and Tinker Bell from "Peter Pan" (though not technically a princess).
WWD shared some specifics on the bags that will be available:
Items in the latest collection include "The Little Mermaid" Sebastian lobster-red pouch decorated with an Ariel charm and two zippered compartments, a backpack with fringed tassels and Ursula from "The Little Mermaid," a glittery pouch with "One Bite" from "Snow White and the Seven Dwarfs," and printed totes highlighting scenes from the movies. Decorative accessories include patches sold as separates with familiar sayings and phrases from the films, a keychain with Snow White and Prince Charming, and a Sleeping Beauty bag charm.
As mentioned above, the price points will be low to mid-range, with all bags costing less than $150.
What do you think?
Will you be shopping the Disney x Danielle Nicole handbag collection? Which bag are you most excited for? Let me know in the comments!