I really fudged up a few days ago when Brockhampton, one of the hottest young groups in music right now, dropped a clothing line… and I failed to purchase anything.
If you don't already know, Brockhampton is a cultural phenomenon. They're a 14-person group of musicians, rappers, producers, designers, and other various artists aged from their late teens to early 20s — who call themselves "the greatest boy band in the world," (or "best boy band since One Direction"). If you're not familiar, you need to check them out. (Go look up Brockhampton on whatever music platform you use and then read the rest of this article while listening.)
The group's music defies normal hip-hop genre boundaries and pushes out into rock and pop territory. It all sounds eclectic and DIY in the best way. And in a very short time, they've applied their unique sound to three full-length albums.
Brockhampton is also worth knowing about because they have pushed boundaries, reimagining what a boy band even is. Thanks to Brockhampton, we've learned that boy bands can be black, gay, and sad, and rap about it all. They look, act, and sound different than any boy band before. And this is worth celebrating.
Brockhampton's Clothing Line & Why I'm Obsessed
Brockhampton's willingness to address difficult and complicated topics in their music can also be seen through through their clothing line. Here's their most noteworthy piece: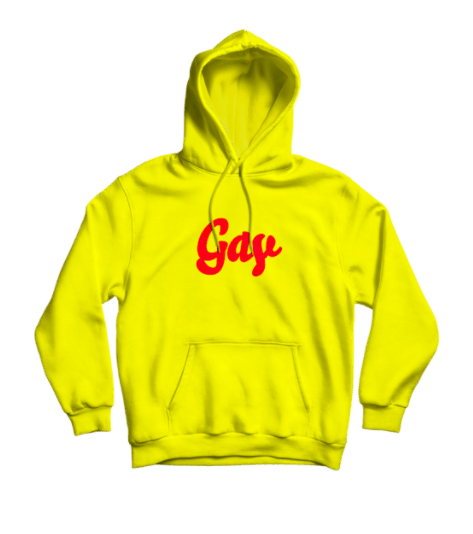 I wanted this graphic sweatshirt so badly. And I am sure that thousands of other LGBT+ kids across the world were obsessed with it too. The fact that a huge boy band dropped a sweatshirt with a graphic "gay" in red sprawling letters across the front is incredible to think about, especially considering our current political climate.
So many young men and women struggle with their identities and can feel uncomfortable coming to grips with who they are. At the same time, it's hard to find mention of these issues in pop culture, particularly in music. Brockhampton's clothing line exemplifies an accepting mentality in a time when we really need it as a generation. Young people who are struggling with their differences can see this clothing drop and feel a little less alone. And better yet, what a triumph it would be if this line could help someone come forward and outwardly be themselves in a fun, fashionable way.
And while other musicians have dropped clothing lines or collabed with fashion houses in the past, this feels more vulnerable in that it wasn't spun in the media or staged in a way that would advantage the group. Brockhampton is as candid as it gets and they could not be more necessary to the industry. This clothing line gives fans a badge, a wearable insignia of appreciation for this new group that broadcasts honesty, homosexuality, racial inequalities, and self acceptance.
Overall, this clothing line is true to itself, to the brand that is Brockhampton, and to its new owners (aka not me *sad face*), campaigning for those who feel excluded, squelched or unrepresented.
What else is in the line besides the sweatshirt? There are tees, naturally.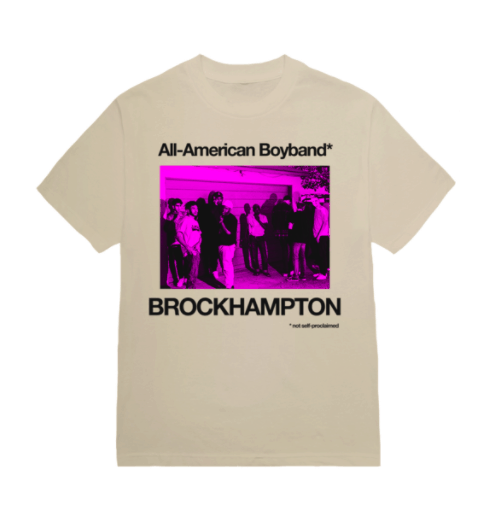 This one, captioned "All-American Boyband" in American Apparel-style lettering, is pretty funny. Peep the asterisk.
There's even one shirt mocking '90s band aesthetic merch of the past featuring the faces of all seven boys surrounding the collective's logo: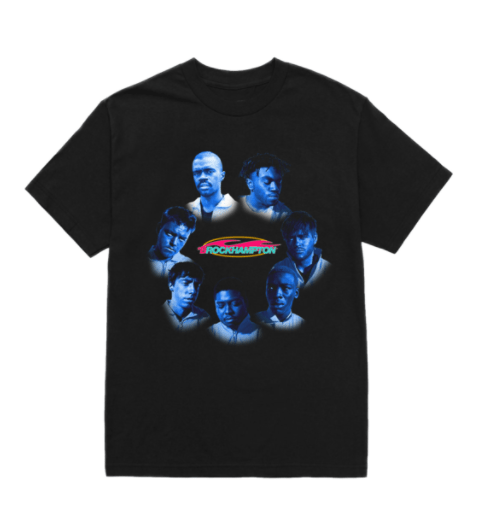 Other pieces include hoodies, socks, shorts, backpacks, and even water bottles. I want one so badly, guys, why was I such a slacker!?
What do you guys think of the drop? Are you sad I own none of it? Because same!
Let me know what you think of Brockhampton and their clothing line in the comments.