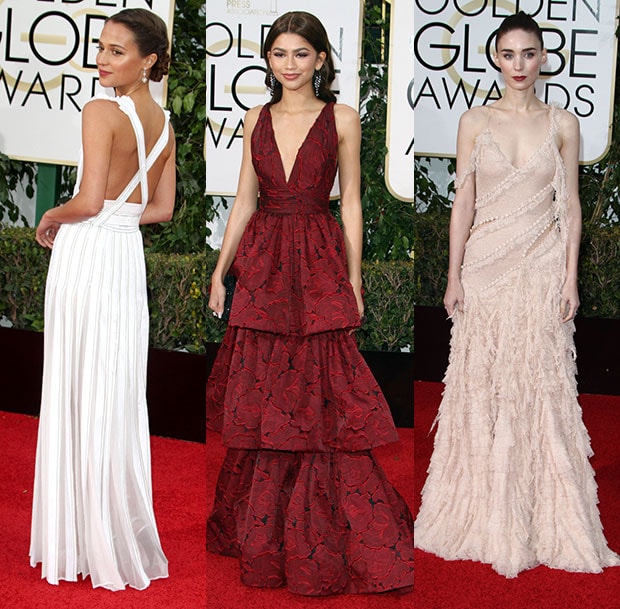 Last night marked the beginning of the 2016 awards season (yay!), which kicked off with the 2016 Golden Globe Awards. As usual, the stars came dressed to impress. The Golden Globes are the "fun" awards show in Hollywood, so the red carpet for this one is always worth watching.
If you've finally stopped re-watching the Gaga-shoving-by-Leo gif (if you haven't seen it, you're welcome), it's time to discuss last night's fabulous fashion. Let's go!
Top 5 Best Dressed
In no particular order, here are my top fashion picks of the night.
Alicia Vikander in Louis Vuitton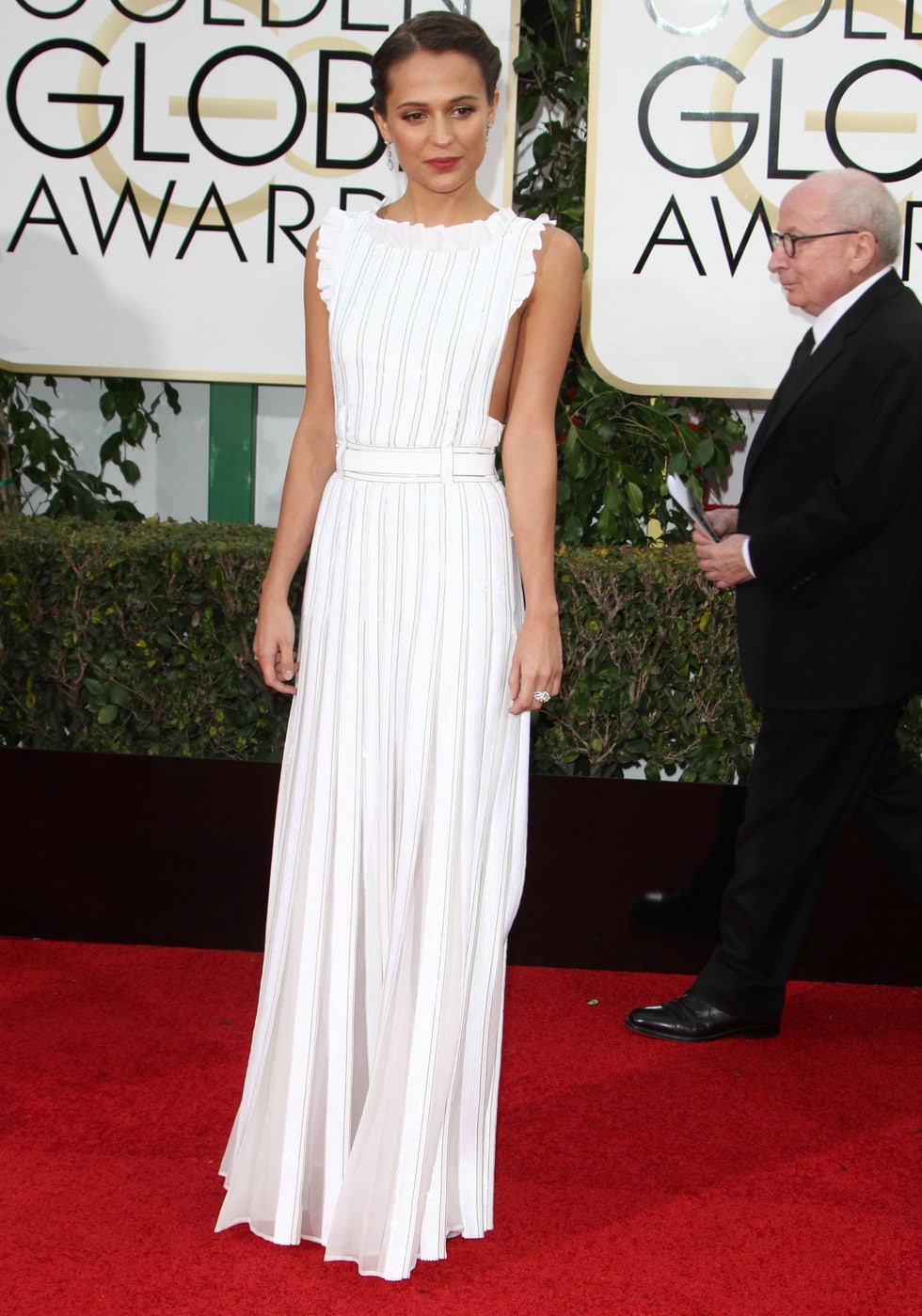 Double nominee Alicia Vikander rocked the red carpet in a white, subtly-sequined apron dress by Louis Vuitton. The gown boasted a cool criss-cross back that added extra interest to Alicia's look.
As the face of the brand's Spring 2015 campaign, it was natural that Alicia would wear Louis – and I'm so glad she did! This look is both unexpected and completely event-appropriate. It's whimsical and fun while being subdued and chic, the perfect combination for an up-and-coming fashion star.
Zendaya in Marchesa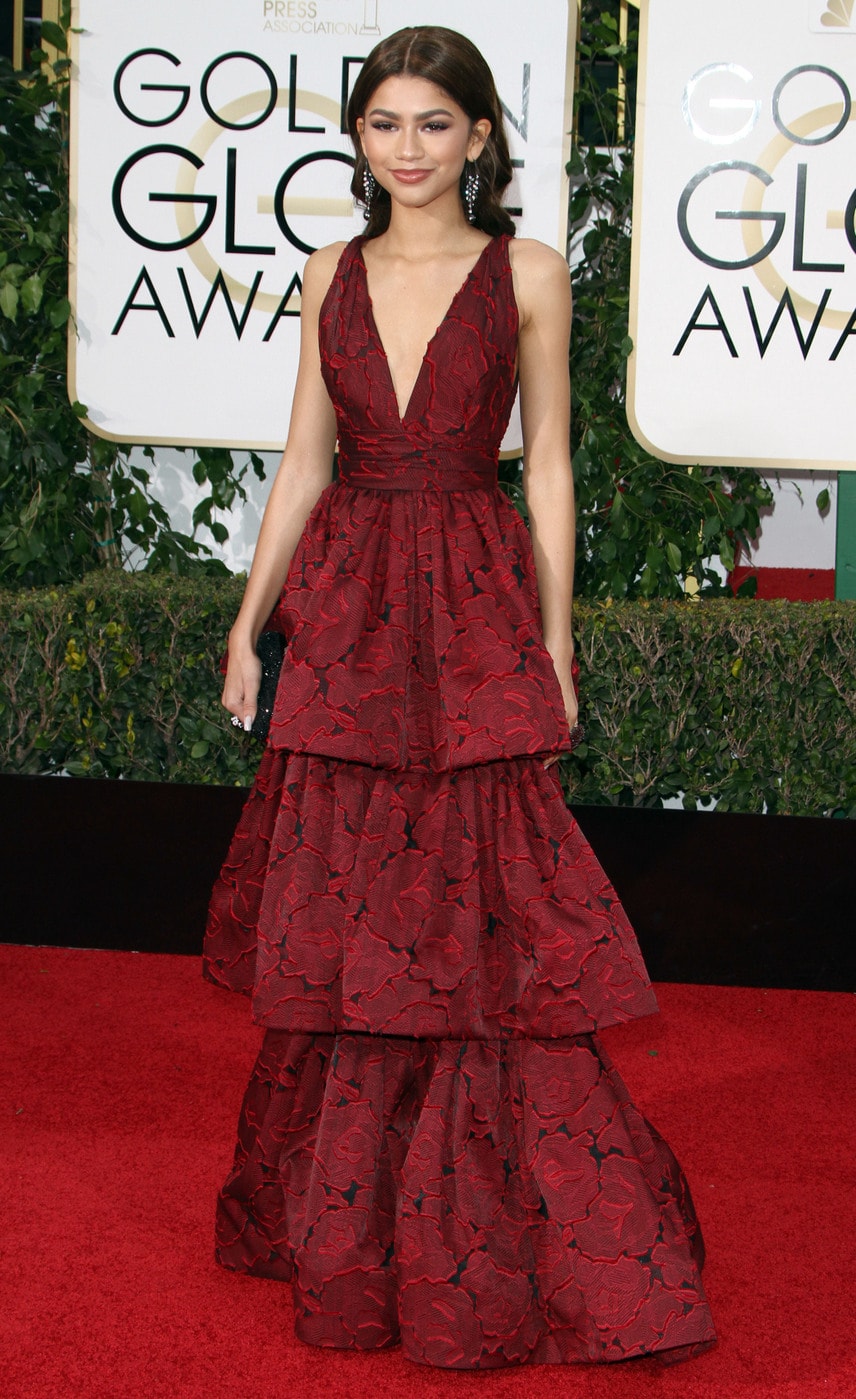 Always a CF fashion favorite, Zendaya once again impressed us in a tiered burgundy Marchesa gown. She accessorized her look with long statement earrings, a smoky eye, and a simple sequined clutch. She also rocked the night's hottest trend, a deep-V neckline.
On anyone else, this dress might not have worked, but Zendaya pulled it off to perfection. Her fashion risks always seem to work in her favor and this was no exception.
Kate Bosworth in Dolce & Gabbana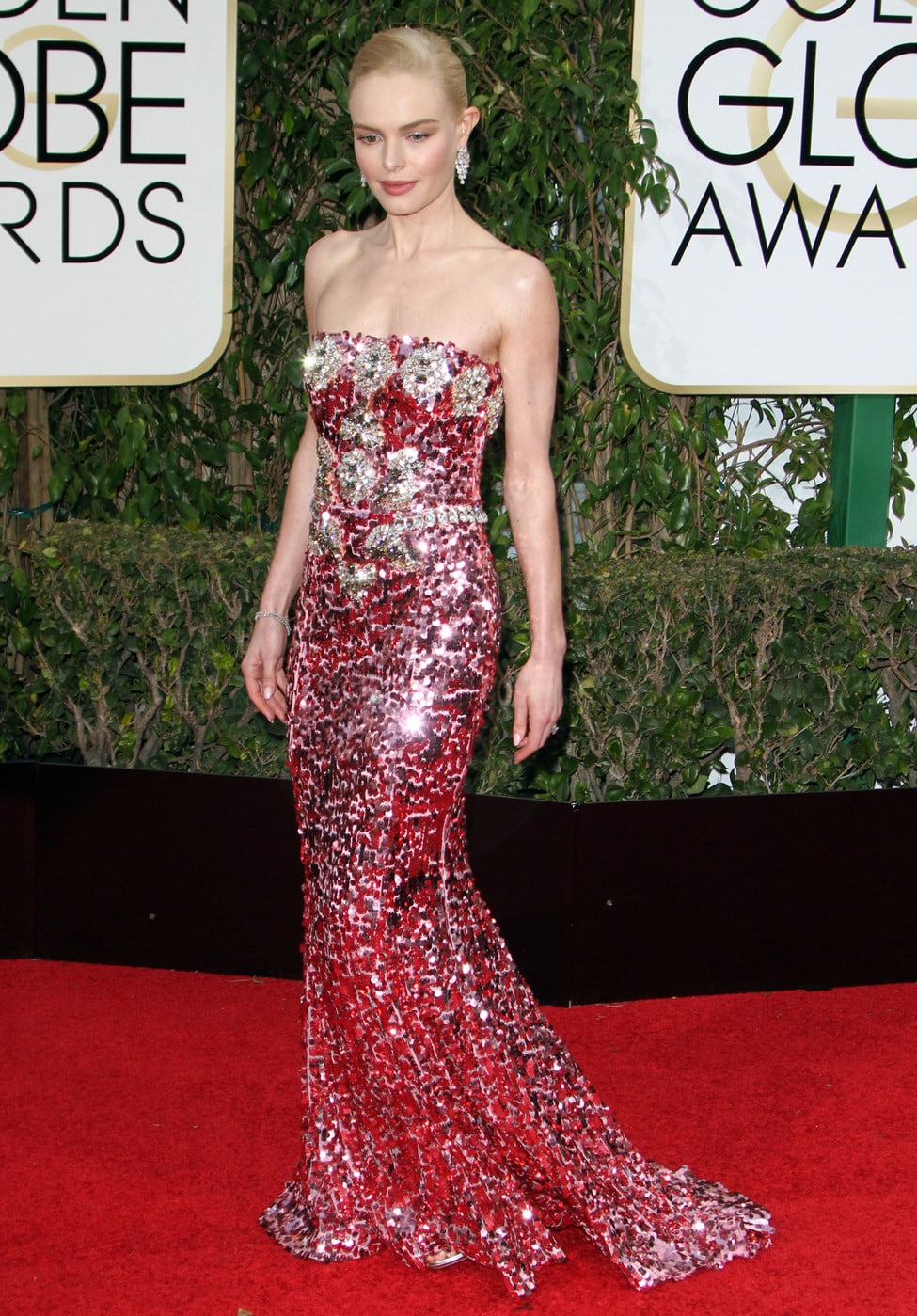 Presenter Kate Bosworth stunned in a Dolce & Gabbana rose payette strapless gown with silver crystal embellishments. Not one to shy away from accessories, Kate offset her sparkling gown with diamond chandelier earrings.
A true fashion girl at heart, Kate knows how to make unexpected choices and commit to a daring look. Her outfit definitely isn't for everyone, but if you love fashion, you must appreciate the detail involved in this bold ensemble.
JLo in Giambattista Valli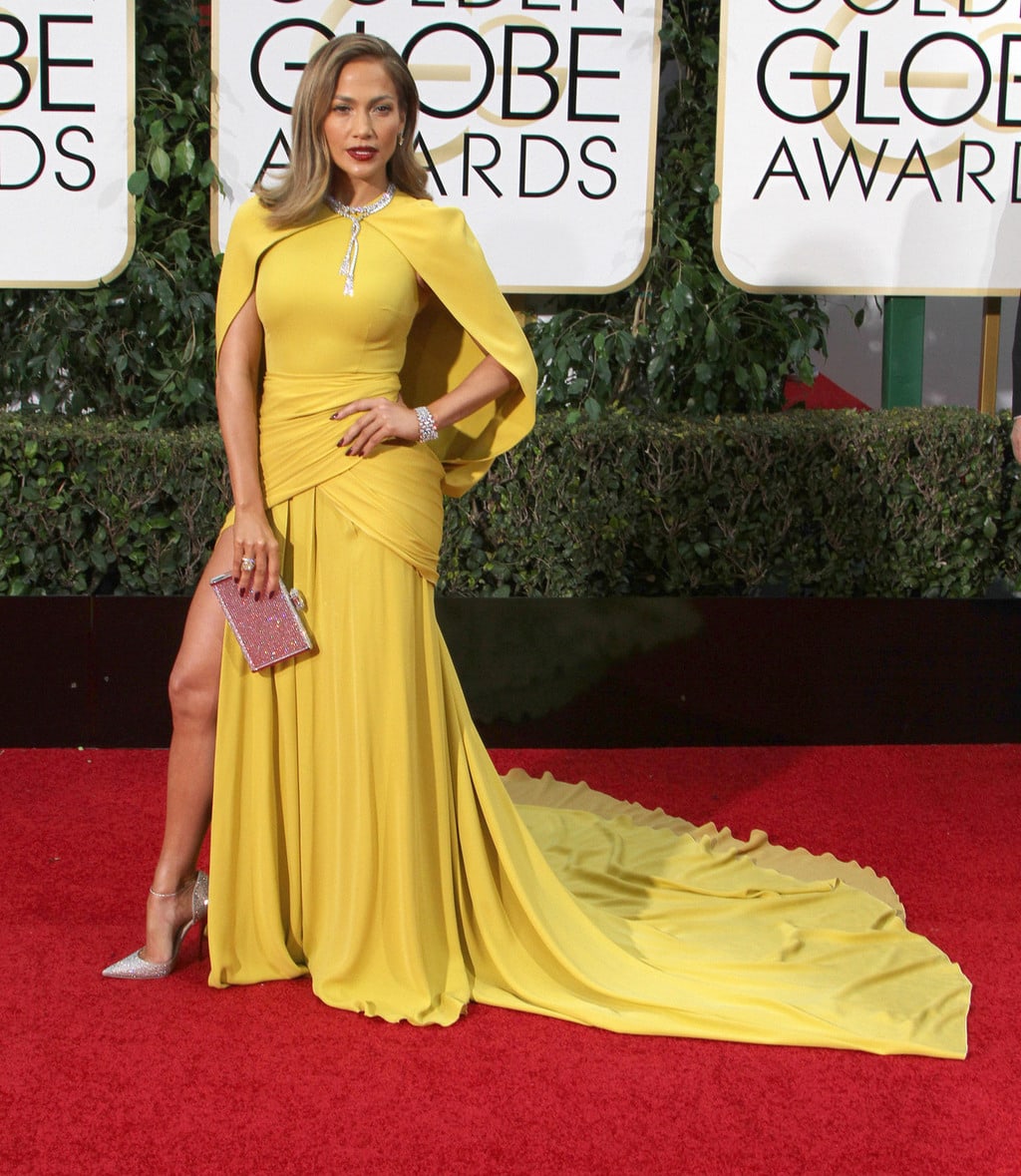 On a night when every other star wore a deep-V neck, Jennifer Lopez eschewed her usual low-cut gowns, opting instead for a mustard high-neck Giambattista Valli number. Her dress came complete with a serious slit and modern cape detailing. Oh, and she accessorized with 200 carats of Harry Winston diamonds. NBD.
There's a lot to love about this look. First, I was ecstatic to see JLo wear something so unexpected. She usually makes fashion headlines by showing skin, but this time she did so by covering up. I also loved how she paired a dark lip with her yellow dress for a bit of contrast.
Brie Larson in Calvin Klein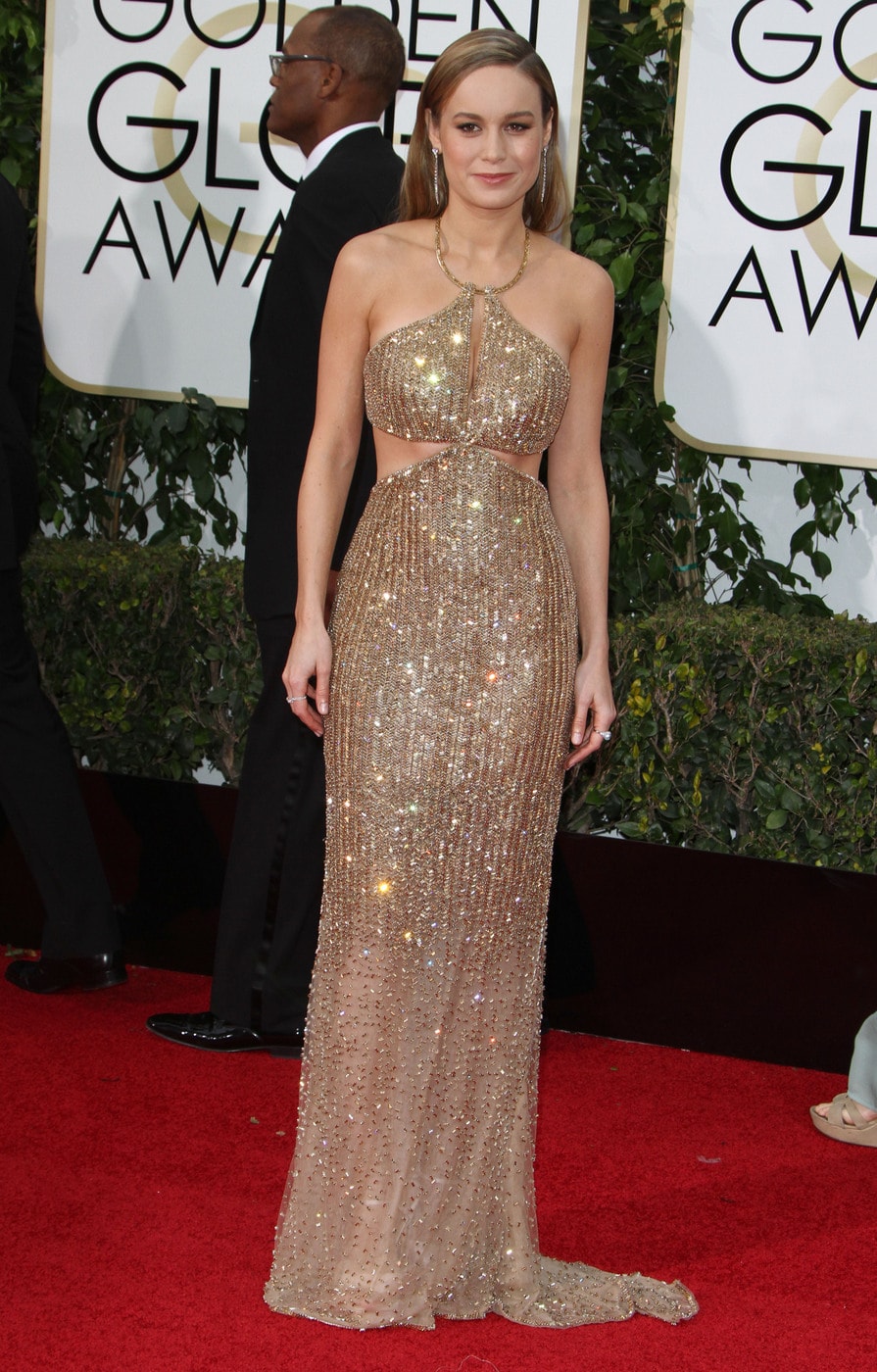 Best Actress in a Motion Picture Drama winner Brie Larson had all the fashion commentators lusting over this custom-designed gold Calvin Klein gown. Featuring an ombré effect, cutouts, and no shortage of sparkle, this dress had a lot going on, but it all came together to gorgeous effect.
Comparing her gown to "Joan of Arc armor" in an interview, Brie looked every bit the fierce symbol of victory. She also leant credence to the rumor that if you dress like the award, you're more likely to win. (Hi, Sandra Bullock!)
Other Noteworthy Looks
Whether you caught the broadcast or not, you need to check out these other red carpet looks in detail.
Jennifer Lawrence in Dior Couture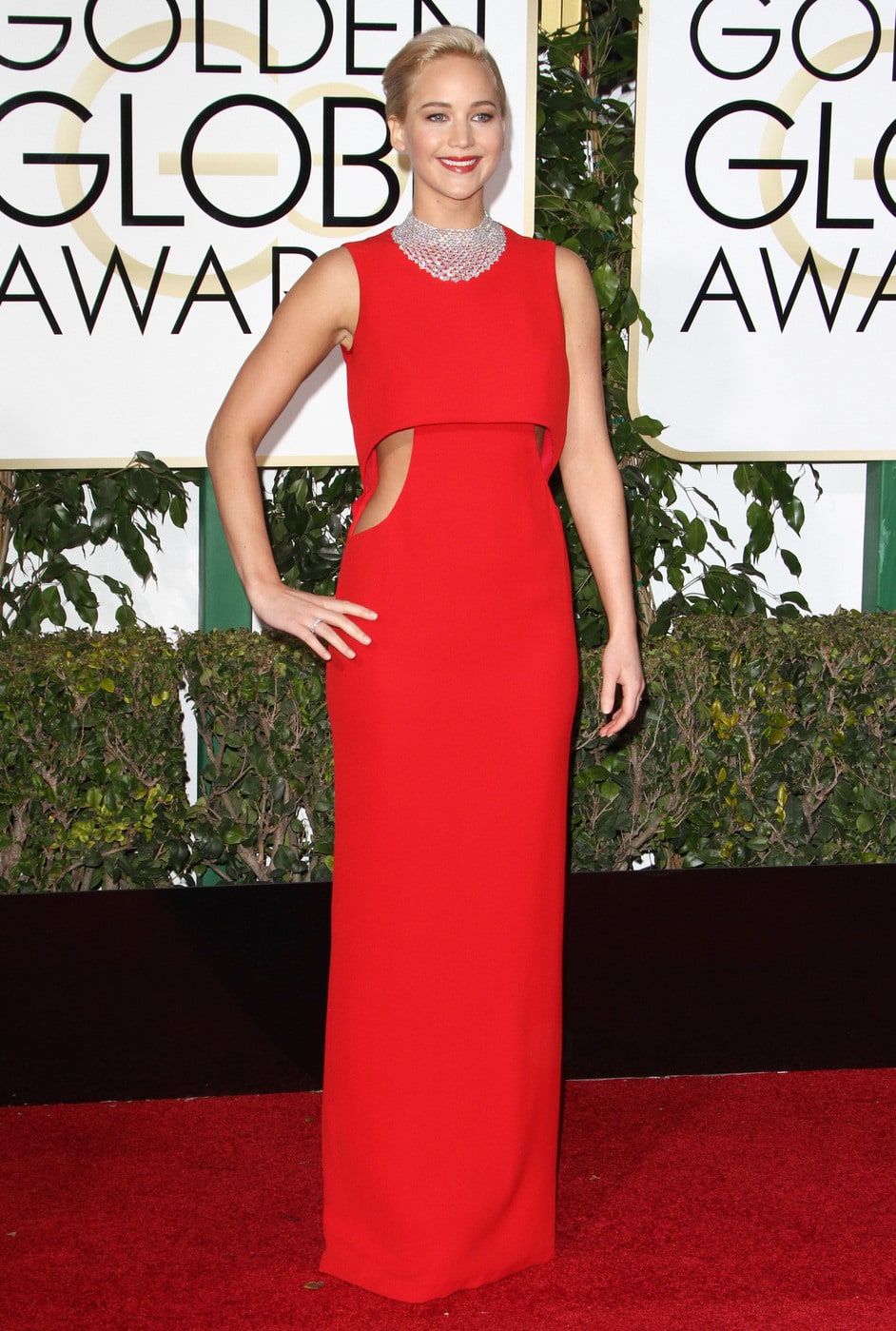 Jennifer Lawrence attended the ceremony in her usual Dior. Opting this time for a red sleeveless gown with side cutouts, JLaw looked chic, modern, and comfortable. The statement piece of her look, however, was her Chopard diamond bib necklace which totaled an incredible 156.77 carats! She finished her ensemble with a pretty red lip.
Rooney Mara in Alexander McQueen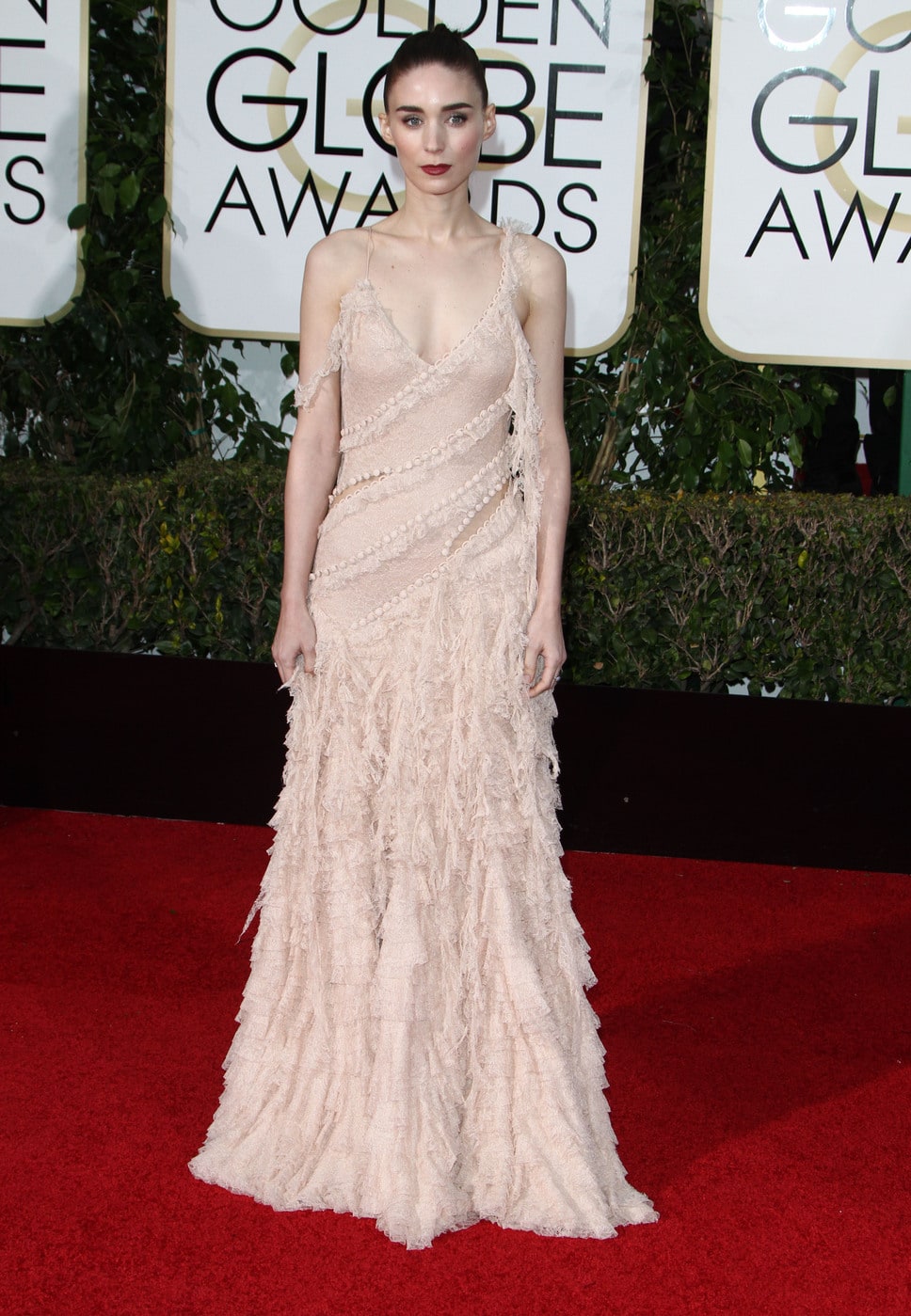 Always among my personal favorites, Rooney Mara gave fashion fans something to discuss in shredded lace Alexander McQueen. This look had commentators on the fence – some, like me, loved its edgy vibe, while others thought it washed her out and didn't flatter. What do you think?
Emilia Clarke in Valentino Haute Couture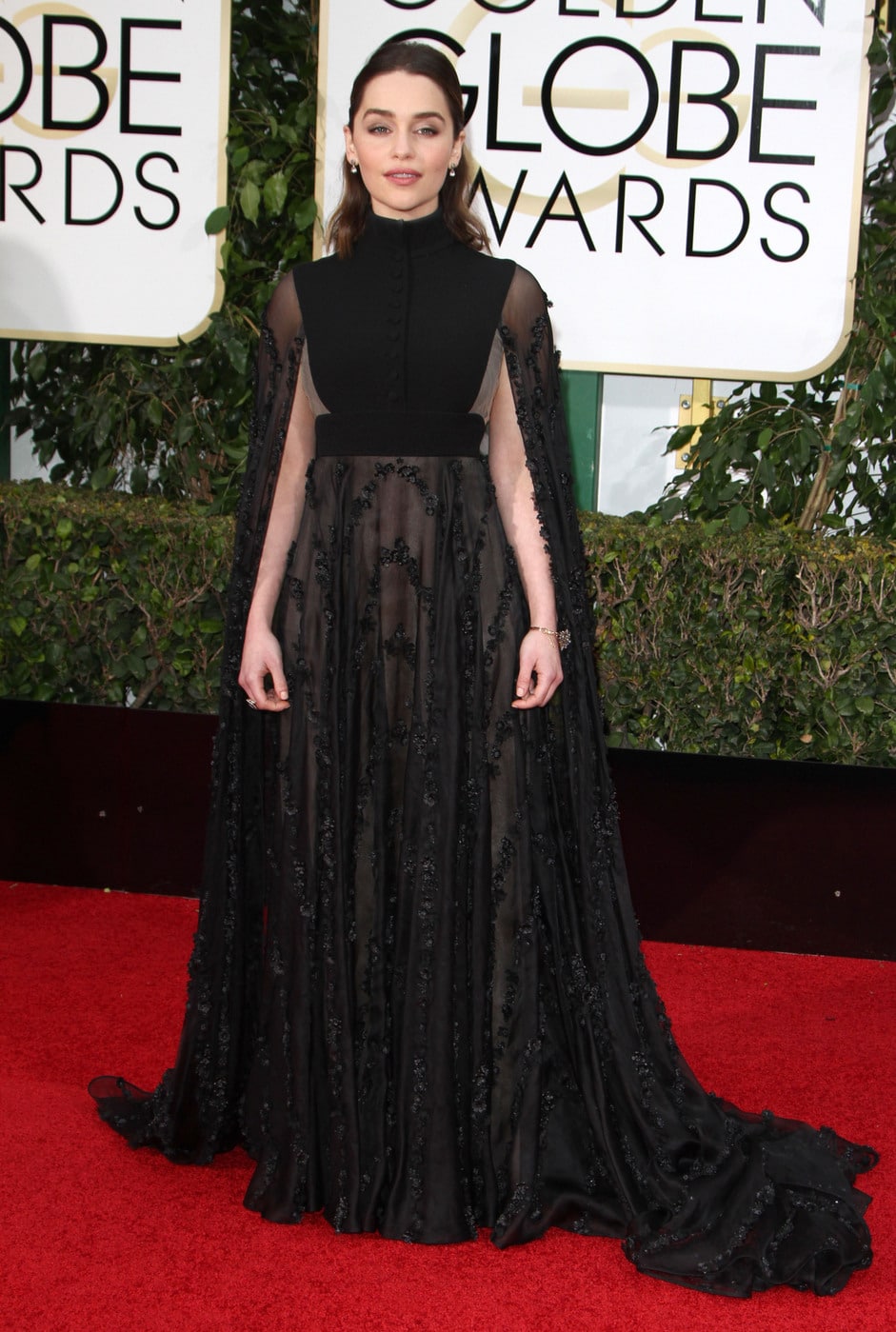 Game of Thrones star Emilia Clarke looked every bit the fearsome queen in this black Valentino Haute Couture gown featuring a cape detail and high neck. Emilia loves to wear Valentino so this was a natural choice, and I loved this particular gown on her. I can totally picture Daenerys Targaryen wearing something similar on GOT!
Cate Blanchett in Givenchy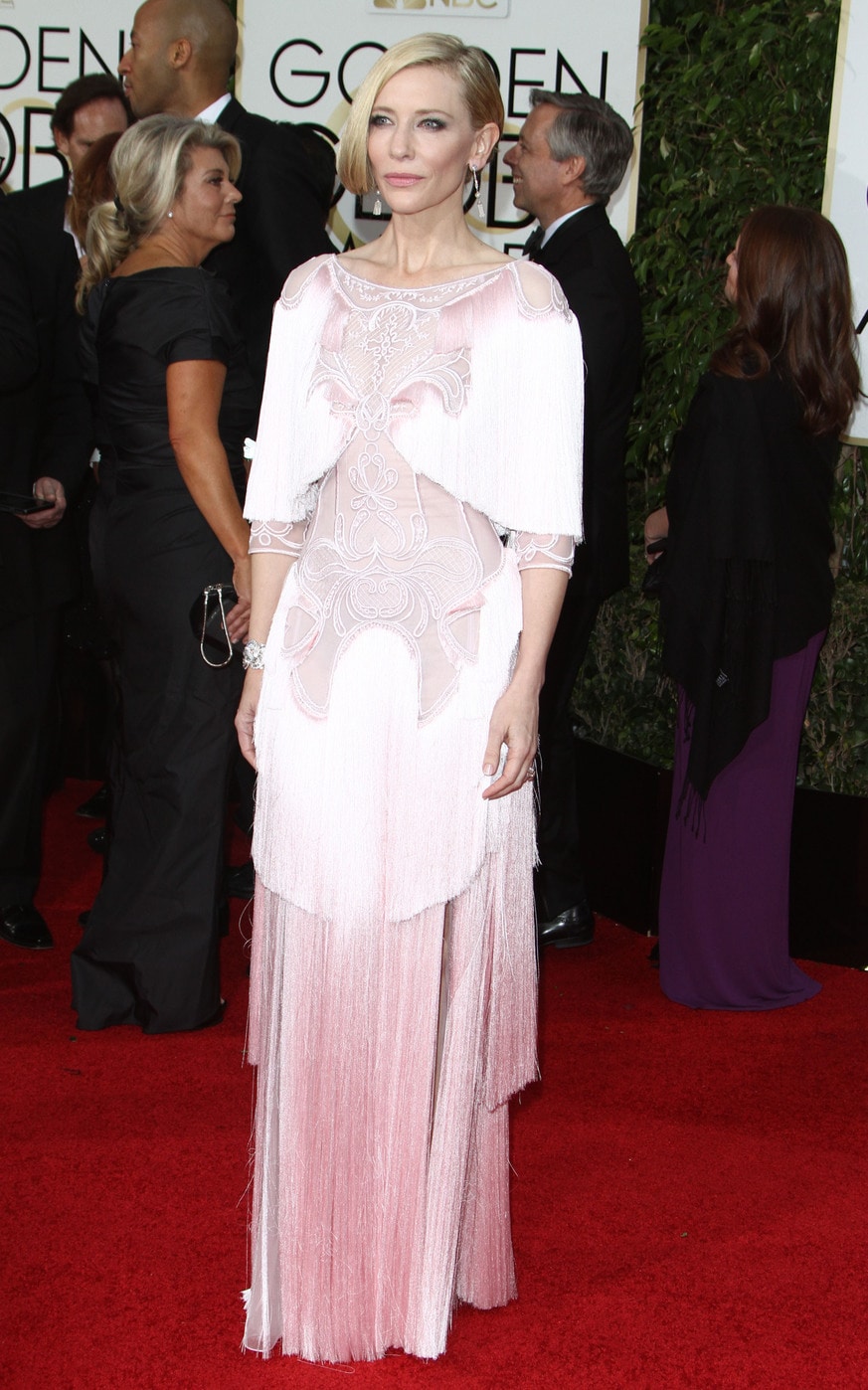 Megastar Cate Blanchett always makes a fashion statement and last night was no exception. Never one to wear anything conventional, Ms. Blanchett opted for an unusual pink fringe Givenchy gown with a slight ombré effect, accessorizing with a cool braided hairstyle and pretty drop earrings.
This is definitely a "love it or hate it" look, as evidenced by the reaction I saw from commentators on Twitter. Do you appreciate Cate's unique choice? Or does this leave you confused?
Least Favorite Look
Okay, I should preface this by saying that my actual least favorite look is this Jane Fonda ruffle situation, HOWEVER I was not able to secure the rights to that photo, so here's my runner up. (#honestyinblogging)
Natalie Dormer in J. Mendel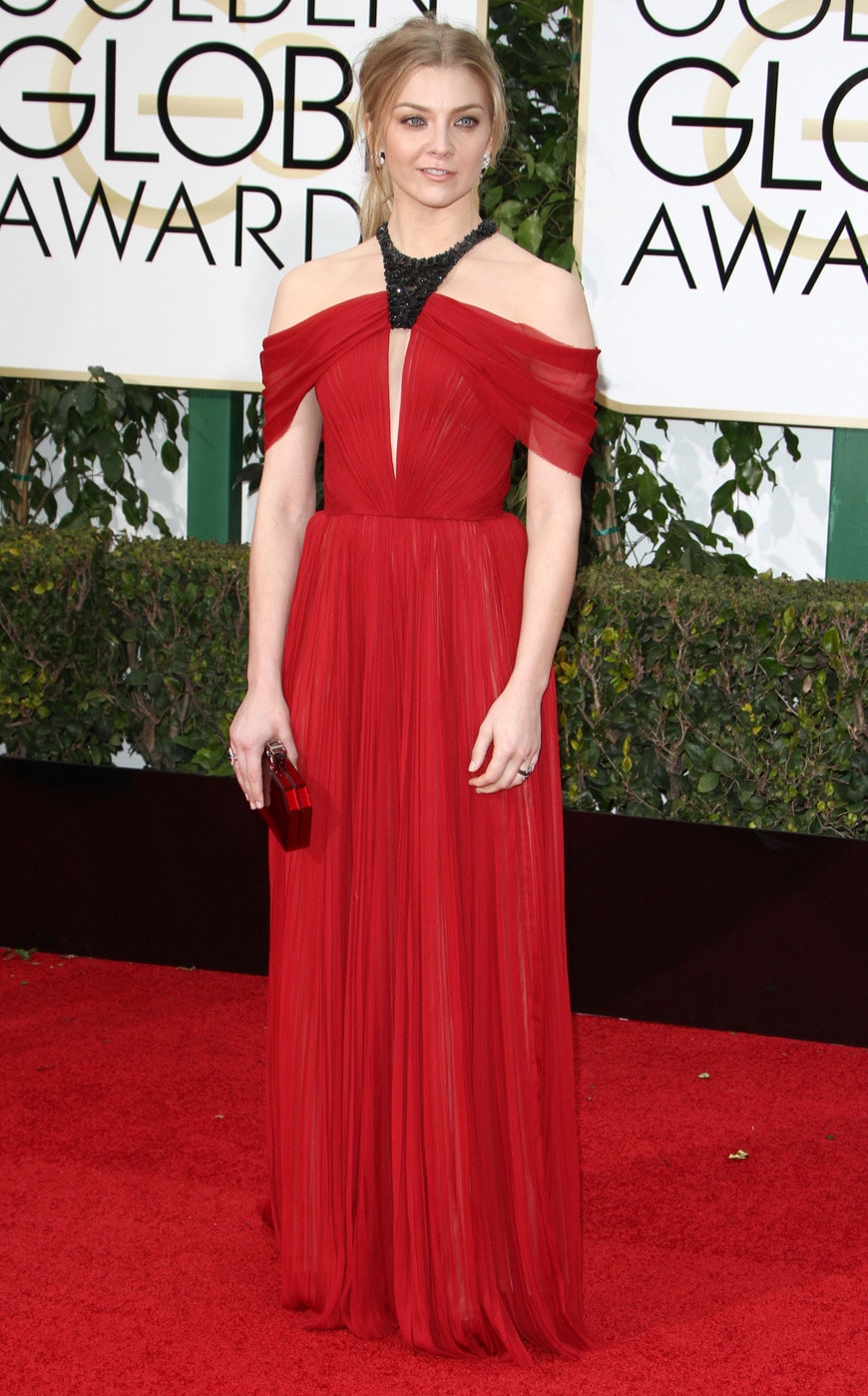 Game of Thrones actress Natalie Dormer wore a red grecian-style J. Mendel gown to last night's ceremony. She accessorized her look with a red box clutch and slightly messy, undone hair.
Despite its sexy cutout neckline and jeweled collar, this dress somehow appeared matronly and too old for Natalie. That's why it's my least favorite look of the night. While I appreciate the risk-taking and usually love Natalie's style, this was a misstep in my eyes.
What do you think?
Did you watch last night's broadcast? Who was your best-dressed pick? What do you think of my choices? Agree/disagree? Let's chat in the comments.