As an Art History major who loves fashion, I spend a lot of my time oohing and aahing over the clothes depicted in the paintings we study. From long Victorian crinoline skirts to the intricately decorated brocade sleeves popular in the Renaissance, I love them all.
Throughout history, artists have spent a lot of time painting clothes – but it's a two-way street. Over the past century, many fashion designers have been influenced by traditional artists as well. Below are five of the most well-known and creative fashion collections inspired by artists, ordered by date.
1. Salvador Dalí and Elsa Schiaparelli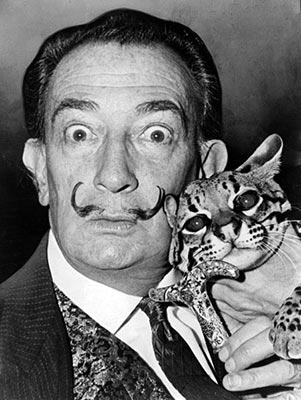 By Roger Higgins [Public domain], via Wikimedia Commons
Elsa Schiaparelli, who along with Coco Chanel, was one of the most famous fashion designers between the two world wars, was an innovative, sometimes zany designer. (Because of the Costume Institute exhibit on Schiaparelli and Miuccia Prada coming in May, you will definitely hear about her again soon!)
While Chanel made simple dresses in a neutral palette, Schiaparelli's designs were bright, loud and whimsical: Think necklaces covered in bugs and shoes as hats.
So, who better to collaborate with Schiaparelli than the equally kooky Surrealist artist, Salvador Dalí? Dalí, famous for his meticulously painted dream-like scenes, created infamous outfits with Schiaparelli such as the lobster dress, shoe hat and tears dress (not crying tears, but tears, as in fabric printed with rips and gashes!).
2. Piet Mondrian and Yves Saint Laurent
In 1965, Yves Saint Laurent designed shift dresses inspired by Piet Mondrian, the dutch Avant-Garde artist who worked during the first half of the 20th century.
In case you're unfamiliar, Mondrian created grid-like, abstract paintings in his quest to depict a universal, utopian harmony. In his most famous paintings, he reduced his color palette to five colors – black, white, blue, yellow and red. And in a legendary move, Saint Laurent transformed these paintings into dresses. Mondrian's asymmetry, simple planes and forceful lines translated perfectly into the modern designs of the 1960s.
3. Andy Warhol and Versace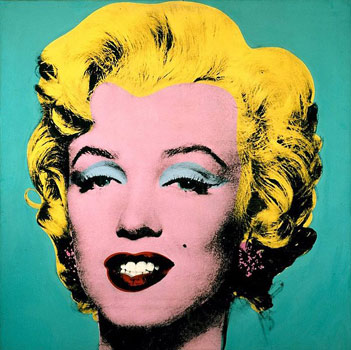 By Andy Warhol [Public domain] via Wikimedia Commons
Gianni Versace's Spring 1991 collection featured outfits printed with Andy Warhol's brightly colored, silk-screened portraits of Marilyn Monroe, James Dean, another other famous icons.
Warhol's works, which depicted pop culture icons in a brightly colored palette, were a perfect match for the flamboyant designs of Versace. From tight and tailored skirt suits to long dresses with beaded straps, the loud outfits exuded confidence, playfulness and even a little bit of quirkiness, perfect for the aesthetic of the early 1990s, before grunge took over.
4. Takashi Murakami and Louis Vuitton
Remember the multicolored Louis Vuitton monogrammed bags? And the ones covered in cherries? And in flowers? I have to admit that when I was in middle school I wanted one so badly that I bought a knockoff in Chinatown.
Nowadays, many of those bags are associated with Paris Hilton and Juicy sweatsuits, but you have to admit, back when Marc Jacobs, the creative director of the label, invited artist Takashi Murakami to collaborate with Vuitton in 2002, it was absolutely brilliant. Murakami's whimsical, adorable designs lightened up the brand and made the once-stuffy label appeal to a whole new generation.
5. Vincent Van Gogh and Rodarte
Rodarte's Spring 2012 collection, full of blues, yellows, painted flowers and pretty chiffons, was an obvious homage to Van Gogh, the famed post-impressionist painter. The swirls of the light fabric they used imitated his thick brush strokes, and the colors of the clothes were reminiscent of the color palettes in many of his works. The outfits were even printed with sunflower and night sky motifs, alluding to his most famous paintings.
And, on a more macabre note, Fashionista remarked that "Van Gogh—a mentally unbalanced genius who died alone, impoverished, unrecognized in his time—is a model for the struggling artist, the outsider, he whose passion overcomes every other notion of his being, including his own physical body (he cut off his own ear; he shot himself in the chest)."
Your thoughts?
Now we want to hear from you – which artist/designer pairing is your favorite? Are you obsessed with the lobster dress? Did you buy a fake LV cherry blossom bag back in the day? Tell us your thoughts in a comment!