Welcome to one of our newest columns, Women in Power! Inspired by the upcoming election, Women in Power will feature important women in history, outline their accomplishments, and explain how you can honor these amazing ladies in style. Enjoy!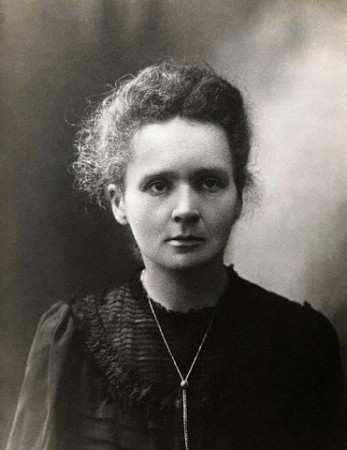 Photo: Marie Curie, via Wikimedia Commons
Chemistry. Physics. Biology. We've all taken these classes in school. For some of us, science is cool, mysterious, and exhilarating. For others (like me), science is that GPA-breaking subject. But regardless of our feelings towards the curriculum, how often do we sit and ponder the people responsible for scientific breakthroughs? How often do we associate science with power? My guess is, not a lot.
Scientist Marie Curie is famous for her pioneer research on radioactivity. As a smart, educated woman working in the early 20th century, Curie is not only a role model for those interested in science, but for all women around the world. Her important, successful, and celebrated scientific discoveries were and are life-altering and view-changing, illustrating Sir Frances Bacon's famous quote: Knowledge is power.
Keep reading to learn more about Marie Curie and to see an outfit to help honor the influential scientist in style.
10 Facts about Marie Curie:
Marie Curie was born as Maria Sklodowska on November 7, 1867 in Warsaw, Poland. She was the fifth and youngest child of respected teachers Bronislawa and Wladyslaw Sklodowska. At the age of 10, Curie's oldest sibling died of typhus and when she was 12, her mother died of tuberculosis.
Around this time, Curie's family struggled through many financial hardships after losing property and money during patriotic Polish national uprisings. For the majority of her adolescence, Curie balanced studying with working in order to support herself and aid her family.
In October 1981, after much pressuring from her sister, Curie moved to Paris, France. She had just ended a tumultuous relationship with Kazimierz Zorawski, the son of the house where she worked as a governess. Curie immediately threw herself into her studies of physics, chemistry, and mathematics at the University of Paris.
Demonstrating her perseverance and strong work ethic, Curie spent years studying during the day and tutoring at night to afford her Paris apartment. In 1893, Curie earned her degree in physics and, in 1894, graduated with her degree in mathematics. It was at this time that Curie met Pierre Curie, an instructor at the School of Physics and Chemistry. Their mutual interest in magnetism drew the two scientists together. (Ha!) Marie returned to Poland and applied to Krakow University, all the while staying in contact with Pierre. After being rejected from the university because of her gender, Curie returned to Paris and married Pierre one year later.
In 1896, Curie made the biggest scientific discovery of her life. For a possible thesis topic, Curie had begun researching uranium rays and radiation. Using a technique designed by her husband and his brother, Curie was able to prove to the world that radiation was not the outcome of some interaction of molecules, but rather came from the atom itself. She discovered that the element thorium was radioactive as well.
In 1903, Marie Curie, Pierre Curie, and Henry Becquerel were awarded the Nobel Prize in Physics for their work on radiation. Curie was the first woman to receive a Nobel Prize and, following the award, Curie found herself and her husband suddenly famous. The University of Paris gave Pierre a professorship and allowed him to build a laboratory and appointed Marie the director of research. In 1911, Marie was awarded a second Nobel Prize in Chemistry and became the first person of any gender to win two Nobel Prizes. Today Curie remains one of two people to have ever been awarded a Nobel Prize in two different fields.
Curie gave birth to daughters Irene and Eve in 1897 and 1904, respectively. When raising her children, Curie made sure to instill a sense of Polish pride in the young girls. This period of joy came to an end on April 19, 1906 when tragedy struck Curie's life. Pierre, Marie's husband and lifelong scientific partner, was killed in an accident involving a horse-drawn carriage. Devastated, Marie worked hard to stay afloat during this difficult time. On May 13, 1906, the University of Paris gave Marie Pierre's old position at the school, becoming the first woman professor at Sorbonne.
During World War 1, Curie realized her potential contributions to the war effort. She did quick research on radiology, anatomy, and automotive mechanics and developed mobile radiography units for field hospitals. In the first year of war, Curie installed 20 mobile radiological units and 200 radiological units at hospitals. Estimates say that over 1 million wounded soldiers were treated by Curie's x-ray units.
After the war, Curie toured the United States to raise money for her research on radium and, during her tour, Curie was welcomed to the White House by President Warren Harding. In her later years, Curie continued to direct the Curie Pavilion, one of the world's leading radioactivity-research laboratories.
Curie contracted aplastic anemia from her long-term exposure to radiation and died on July 4, 1934. The negative health effects of radiation had not yet been discovered and Marie had conducted most of her experiments without safety precautions. Her writings and personal research are currently held in lead-lined boxes because of their high levels of radioactivity. Sixty years after her death, Marie and Pierre's remains were transferred to the Pantheon, Paris. Marie Curie remains the only woman to be honored with interment at the Pantheon on her own merits.
Style Inspired by Marie Curie: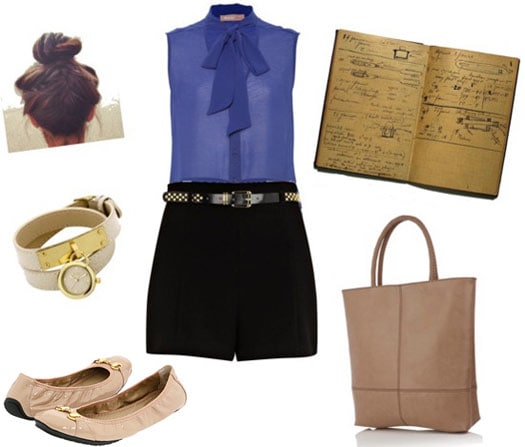 Product Information:Blouse, Shorts, Shoes, Bag, Watch
This outfit is inspired by both Marie Curie's time in France and her driven personality. Curie lived in an era of long-sleeved, floor-length dresses and stifling corsets; obviously, with summer around the corner, long black skirts are not on our current to-wear list. Therefore, I took elements from Curie's work and life to create a slightly more practical spring outfit.
Channel Marie Curie's scientific drive by starting with an out-of-the-way bun – scientists can't have their hair getting in the way of the microscope! Keep the rest of the look ladylike and refined to honor Curie as a leading female figure of our time. A pussy-bow blouse is a natural choice for a conservative yet feminine top and black, loose high-waisted shorts are a nod to the flowing skirts and dresses of Curie's time. And like we learned in chemistry classes, no open-toed shoes in the laboratory! Keep feet safe with a cute, summery pair of ballet flats. Finally, stay on-time and organized with a classic wrap watch and a large structured tote.
Your turn!
Marie Curie is an example of a truly powerful woman. She used her intellect and drive to make scientific breakthroughs that ultimately saved millions of lives. Throughout her lifetime, Curie not only studied and worked, but she also loved and cared. Marie Curie was an amazing woman that gave her life for the benefit of society and for that, she will be remembered forever.
What do you think about the legacy of Marie Curie? Did you like the outfit we chose to honor her? Is she a good role model for young women? Who else would you like to see featured in the future? Make sure to leave your opinions below!