Welcome to CF's new column, Women in Power! Inspired by the upcoming election, Women in Power will feature important women in history, outline their accomplishments, and explain how you can honor these amazing ladies in style. Enjoy!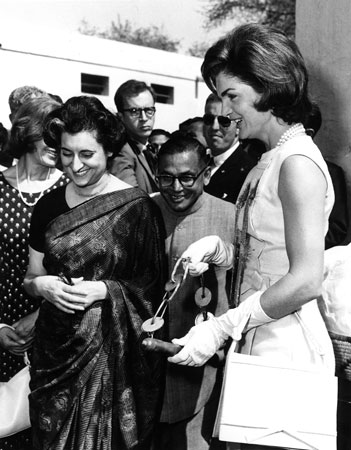 Indira Gandhi and Jackie O (then Kennedy) in 1962 | Photo Credit
Women have been fighting for power for decades; their struggles have been well-documented and honored, and the fight for gender equality is far from over.
I always find it incredibly inspiring to hear stories about women around the world achieving political influence; one such story is that of Indira Gandhi, the first female Prime Minister of India. As the embodiment of a strong-willed, independent, and confident leader, Indira Gandhi stands as a symbol for women's political rights around the world.
Keep reading to learn more about Indira Gandhi and to see an outfit inspired by her influential style.
10 Facts about Indira Gandhi:
Indira Gandhi served as the third Prime Minister of India for four terms in office. She was the second female head of government in the modern world, preceded only by Prime Minister Sirimavo Bandaranaike of Sri Lanka.
Raised in the politically influential Nehru family, Indira grew up with a great deal of political knowledge. Her father served as independent India's first prime minister and her grandfather was an Indian nationalist leader.
Indira went to England in an effort to attend the University of Oxford but failed the entrance examination. She instead attended Somerville College for a brief period of time. While in the UK, Indira met Feroze Gandhi, a young man studying at the London School of Economics. They later married in Allahabad and returned to India in 1941.
In the 1950s Indira served as personal assistant for her father, then Prime Minister of India. When he died in 1964, she was appointed as a member of the Rajya Sabha, or upper house.
President K. Kamaraj of the Congress Party worked diligently to make Indira Gandhi the Prime Minister. She was elected in 1966 and stayed in office until the end of her third term in 1977. She was elected for one more term in 1980.
1966 was a year of turmoil in India. The nation was split between the socialists (led by Indira Gandhi) and the conservatives, led by Moraji Desai. In an effort to create peace in Congress, she appointed Desai as Deputy Prime Minister and Minister of Finance. Unfortunately, after numerous disagreements between the two, the Indian National Congress split in 1969. For the next two years, Indira ruled with the support from the Socialist and Communist parties.
In 1971 India suffered financial hardships under the burden of Pakistani refugees. As Prime Minister, Indira Gandhi led India into war against Pakistan and won, creating an independent Bangladesh. As a result, relations between the Pakistan-supporting U.S. and India became strained and India developed closer ties with the Soviet Union.
Indira Gandhi authorized the testing of nuclear weapons in 1967 in response to Test No. 6 by the People's Republic of China. Because of the peaceful state of world affairs at the time, Pakistan accused India of intimidation tactics. Indira denied the accusation, insisting that she was just doing what was necessary to protect her country.
In 1975, Indira Gandhi imposed the President's Rule on the opposition parties in India. This degree brought the entire nation under her central rule. Curfews were enforced and censorship was allowed by the Ministry of Information and Broadcasting.
Indira was assassinated by two of her Sikh bodyguards on October 31, 1984. Her death fueled a period of anti-Sikh riots, rendering millions of Sikhs homeless and thousands more killed.
Style Inspired by Indira Gandhi: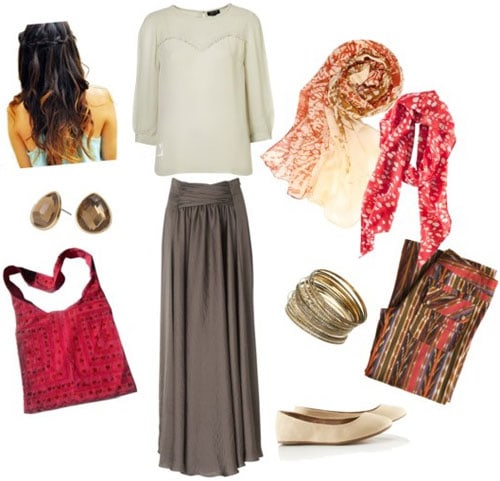 Product Info: Blouse, Orange Scarf, Red Scarf, Earrings, Skirt, Bangles, Pants, Bag, Flats
Unlike black suit-clad American political figures, Indira Gandhi wore colors and fabrics in the customary Indian style. Honor her independent and confident spirit with clothes from her homeland.
Traditional Indian clothing is characterized by beautiful patterns and fabrics; the style focuses on the shape, movement, and color of the clothes. Channel Indira Gandhi's beautiful style by wearing conservative and silky blouses and long, flowing skirts; if you feel daring, throw on a pair of loose, patterned pants. Accessorize with a handcrafted bag, layered bangles, teardrop earrings, and, of course, lightweight patterned scarves. Finally, the trendy ombre hair look gives a nod to Indira's signature streaked hair.
Your turn!
Indira Gandhi served in a time of great turmoil in India. During her years in office, she made many tough decisions and challenged conventional governmental assumptions.
The first female Prime Minister is memorialized all throughout India; The Indira Awass Yojana, a low-cost housing program for the rural poor, is named in her honor, as are the Indira Gandhi International Airport and the Indira Gandhi National Open University, the largest university in the world.
What do you think of Indira Gandhi's legacy? Her style? Do you admire her independence and strong will? Who would you like to see featured in future articles? Make sure to leave your thoughts in a comment!