Twin Peaks, a television show that first debuted in 1990, is widely considered one of the best TV dramas of all time.
In case you haven't seen the show, it centers around the murder of high schooler Laura Palmer and the subsequent investigation. It was originally cancelled in 1991, but has returned for another season on Showtime after gaining a cult following.
Besides the memorable surrealism and distinctive cinematography, what makes Twin Peaks so great is the mysterious cast of characters. They all have their own desires and secrets, and can even inspire some fashionable looks.
Read on for our Twin Peaks fashion guide!
Twin Peaks Fashion: Laura Palmer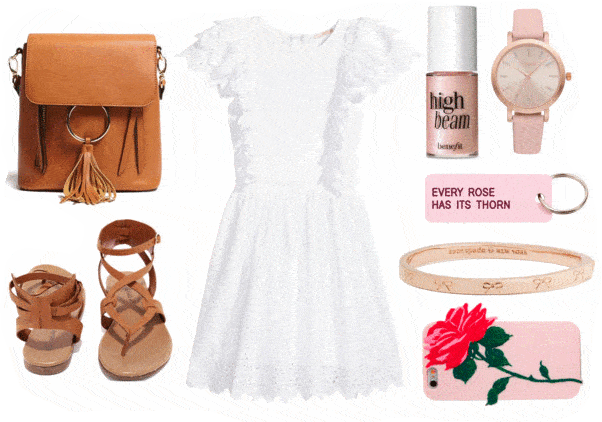 Products: Bag – Forever 21, Shoes – Lulu's, Dress – H&M, Phone Case – Macy's, Highlighter – Benefit, Watch – Kohl's, Bracelet – Kate Spade, Keychain – Kirna Zabete
Before her murder, Laura Palmer was the angel of Twin Peaks. She was kind and beautiful, and everyone in town knew her.
The delicate lacy dress and soft, feminine accessories in this look are inspired by Laura's seemingly pure persona. The statement keychain summarizes Laura's character as seemingly perfect but with many vices.
Twin Peaks Fashion: Audrey Horne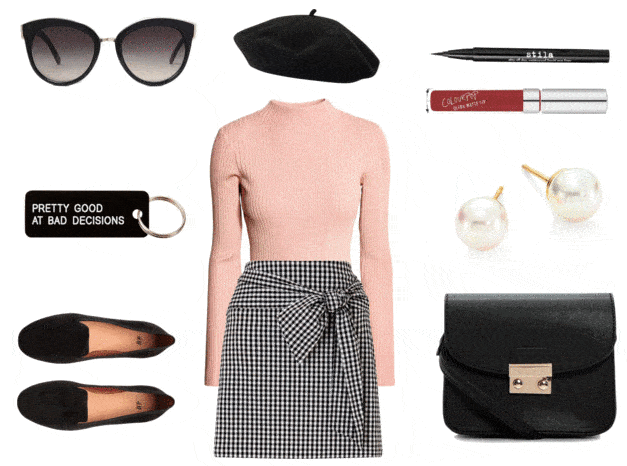 Products: Sunglasses – River Island, Beret – Missguided, Eyeliner – Sephora, Lipstick – Colourpop, Bag – Boohoo, Earrings – Saks Fifth Avenue, Loafers – H&M, Keychain – Kirna Zabete, Sweater – H&M, Skirt – Miss Selfridge
Audrey Horne is the mischievous classmate of Laura Palmer and a Twin Peaks resident. Audrey is typically seen wearing 50s style saddle shoes and plaid skirts.
To modernize Audrey's style a bit, I paired some sleek loafers with an on-trend gingham skirt. The accessories were inspired by Audrey's classic, ladylike appearance.
Twin Peaks Fashion: Josie Packard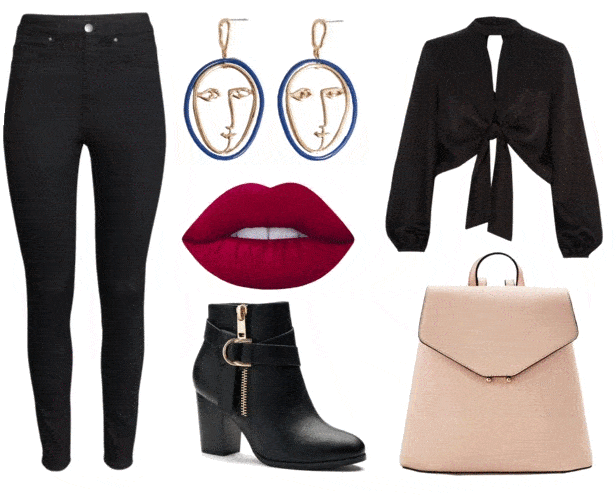 Products: Backpack – Mango, Earrings – Mango, Lipstick – Dolls Kill, Booties – Kohl's, Top – River Island, Jeans – H&M
Josie Packard is the beautiful widow with an abundance of secrets. One thing that struck me while watching Twin Peaks was Josie's makeup, always very bare but with a bright red lip.
Josie's style complements her beauty look by focusing on neutral, but powerful pieces that make a statement. That's what I went for in this look, pairing an all black outfit with a neutral bag and bold lip.
Twin Peaks Fashion: The Double R Diner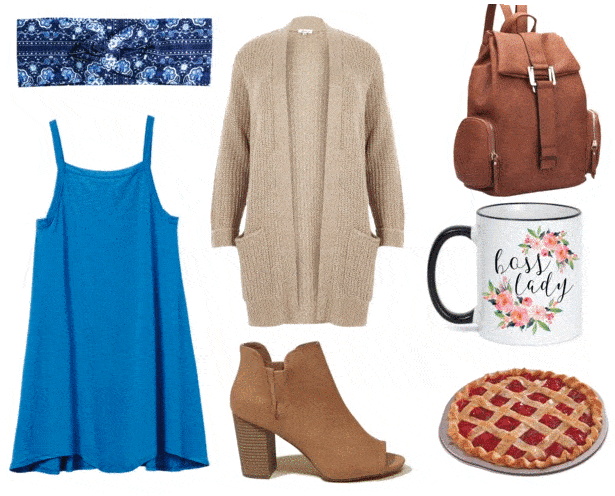 Products: Headband – H&M, Dress – RVCA, Cardigan – River Island, Booties – Hollister, Backpack – Amazon, Mug – Etsy
This look is not inspired by a character but rather by Twin Peaks residents' favorite place to get a cup of coffee: The Double R Diner.
The blue dress and headband are inspired to the blue waitress uniforms that are worn by the diner employees. Pairing the dress with an oversized sweater and booties, you can make it fall ready.
The coffee mug and cherry pie (both Double R Diner staples) are a nod to Norma Jennings, the owner.
What Do You Think?
Who's your favorite Twin Peaks character? Are you fan of the original and the reboot? Did you like my Twin Peaks fashion guide?
What about dressing up as any of these characters for Halloween? They would make amazing costumes! Let me know what you think by leaving a comment below.