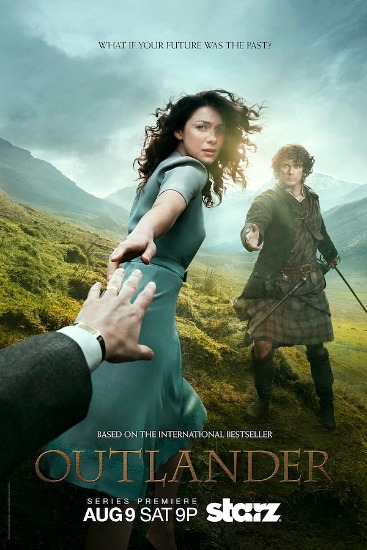 Official Poster
Here at CF, we've already talked about the amazing book seriesOutlander, but with the new TV adaptation just wrapping up the first half of the first season, it seemed only right to cover it again.
Though I've never read the books, I was quickly caught up in the show – especially the historical period costumes! I couldn't help but draw fashion inspiration from this story, which spans two time periods and many different characters. But before we get to the clothes, here's some info on the show:
A Bit About Outlander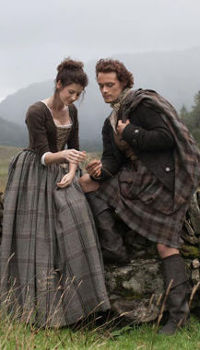 Photos via Starz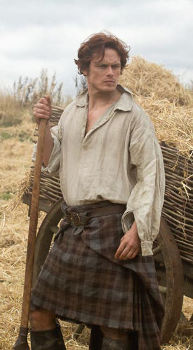 Based on the bestselling novel by Diana Gabaldon, the Outlander TV series airs on Starz and has just finished its first 8 episodes. The story follows Claire Randall (played by Caitriona Balfe), a young English army nurse just coming out of World War II, as she and her husband, Frank, enjoy a second honeymoon in the Scottish Highlands.
Their vacation is quickly cut short, however, when Claire accidentally time-travels through a set of mystical stones and ends up in Scotland in 1743. To survive, she must quickly adapt to her surroundings while attempting to find a way back to her own time.
Below are three outfits inspired by the show's settings, costumes, and characters:
Honeymoon in the Highlands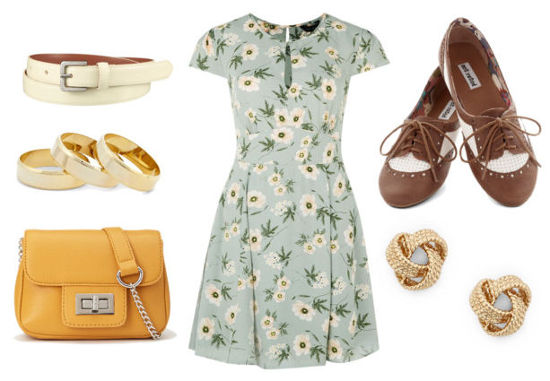 Product Info: Dress, Shoes, Bag, Earrings, Rings, Belt
The show begins in 1945, as Claire and Frank Randall are enjoying their second honeymoon in Scotland. Claire wears simple but lovely '40s frocks, styled just as they would have been during the period.
To get the same vintage '40s vibe without looking like a costume, try a floral dress in a classic cut paired with sweet two-tone oxfords. Add a mustard crossbody bag for a pop of color and a white belt to highlight your waist. Lastly, accessorize with petty gold earrings and a gold ring or two.
The Healer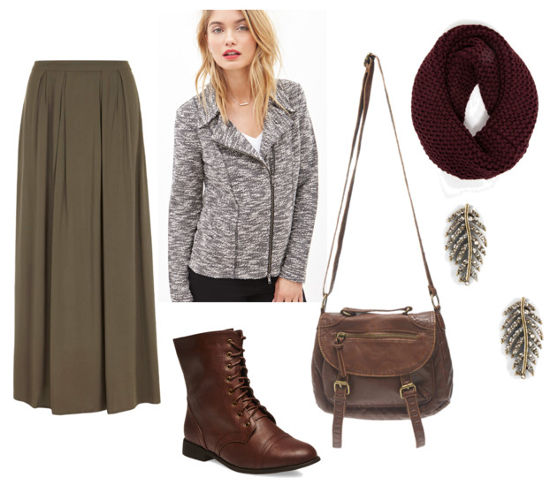 Product Info: Skirt, Jacket, Bag, Boots, Earrings, Scarf
Once Claire travels back in time to 1743, she finds that her skills as a nurse are extremely useful, and she soon becomes known as a knowledgeable healer. This outfit is a modern version of what Claire typically wears while out in the Highland countryside, gathering plants and herbs for their medical uses.
Start with a muted green maxi skirt and a gray knit moto jacket, then add a pair of brown lace-up boots. A matching faux leather satchel is perfect for carrying supplies, while a thick burgundy scarf keeps out the cold. Accessorize with a pair of leaf earrings as a hint to Claire's knowledge of plants.
Among the Clans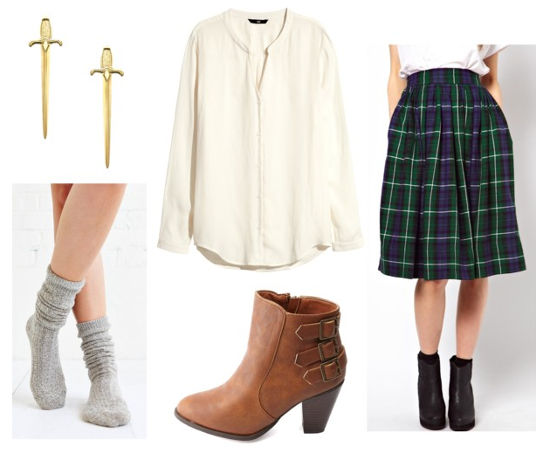 Product Info: Shirt, Skirt, Boots, Socks, Earrings
Of course, no outfit inspired by 1740s Scotland would be complete without plaid! Many of the Scots in the show wear various colors and patterns of plaid to signify their clans – especially the men, who mostly wear kilts.
For a modern look that incorporates a classic plaid print, start with a dark plaid midi skirt (the closest thing you'll probably get to a kilt), and a flowy white blouse. Grab buckled ankle boots for a little height, and make sure to layer cozy knit socks underneath. Lastly, add a pair of gold sword earrings for a subtle nod to the Highlanders' skill as warriors.
Thoughts?
Have you seen Outlander or read the books? What do you think of the costumes? Which look would you wear? Let us know in the comments!