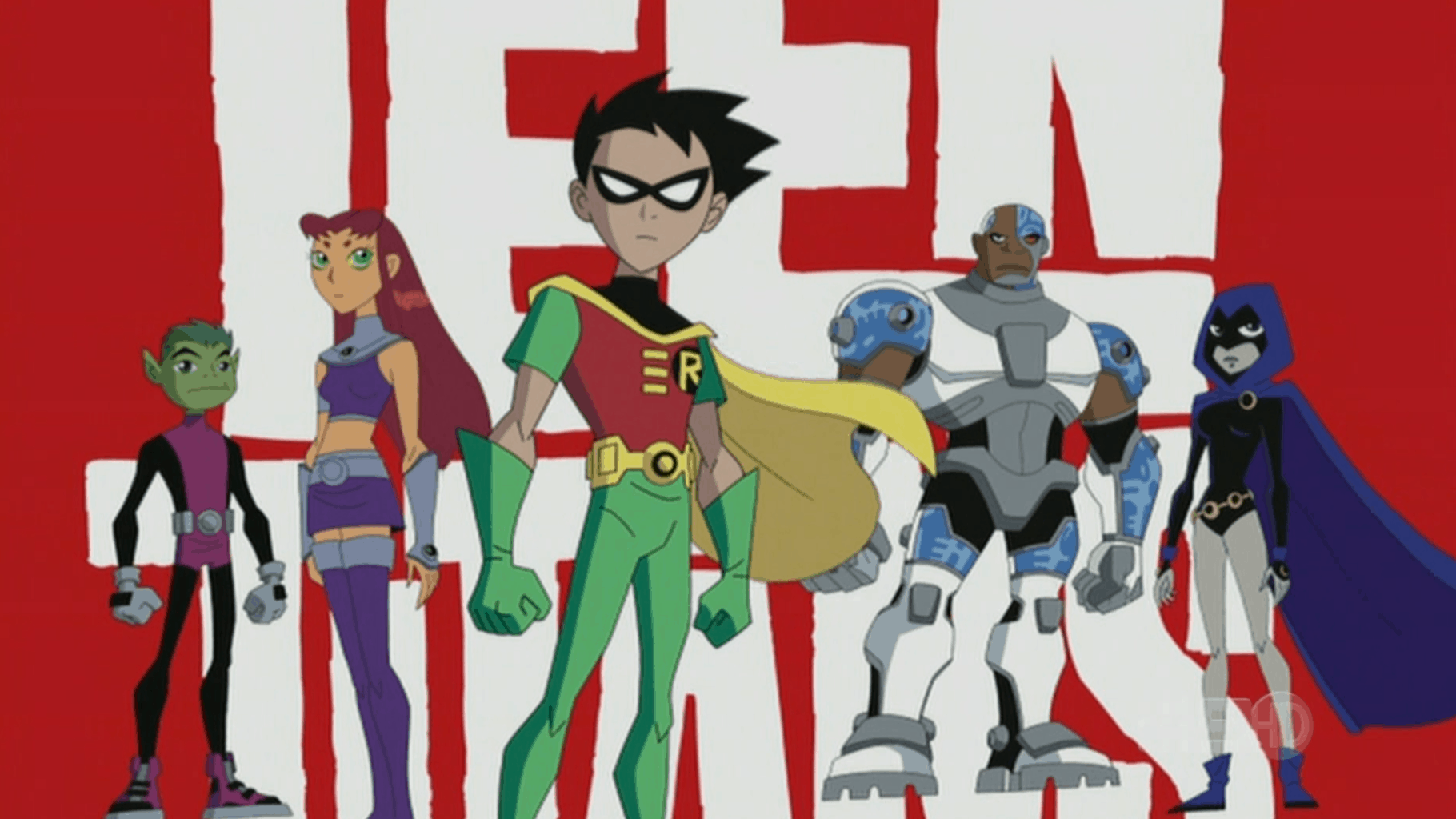 We're back with Sunday Morning Cartoons! Welcome to a trip down nostalgia lane as we draw fashion inspiration from an unlikely source – our favorite old school cartoons.
Teen Titans ran from 2003-2006 and remains one of the most critically acclaimed and adored animated shows ever. Serious nostalgia for the five beloved members of the team remains for the original viewers.
In case you haven't seen the show, it follows five teenage superheroes living together in their HQ Titans Tower, a "T" shaped tower. They deal with criminal activity, personality clashes, and fun everyday life things.
Here's a little about each of the five Titans:
Robin is the courageous and disciplined leader of the group. He's also the only member without superhero powers and has sweet martial arts moves.
Starfire is a kind alien princess who can shoot green energy beans at villains. She's a warrior who has an obsession with mustard and learning more about humans.
Cyborg is a versatile member with his arsenal of cybernetic implants, from sonic cannons to night vision. He loves building cars and gadgets.
Raven is rarely seen without a book in her hand. She's the most stoic team member, wielding an almost supernatural level of emotional control that's necessary for her psychokinetic and telekinetic powers.
Beast Boy is a lovable prankster who can mutate his DNA into pretty much any animal. He really likes tofu and mopeds.
Outfits Inspired by Teen Titans
When there's trouble, you know who to call (teen titans!)
Raven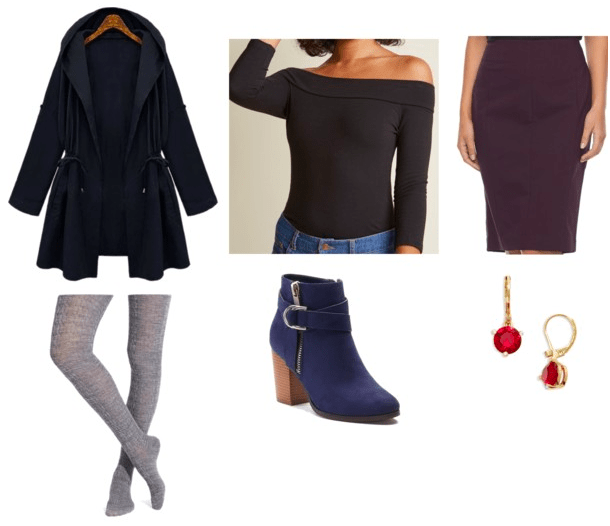 Products: Top – ModCloth, Jacket – Yoins, Skirt – Kohl's, Tights – Athleta, Booties – Kohl's, Earrings – Nordstrom
Rock the mysterious look with a hooded blue trench coat. Keep Raven's sleek and classy aesthetic with a black off-the-shoulder top and purple pencil skirt. Gray tights and navy booties will help you trek across campus and yell "Azarath Metrion Zinthos" at your homework. Red and gold earrings allude to Raven's jewel covering her communicator.
Robin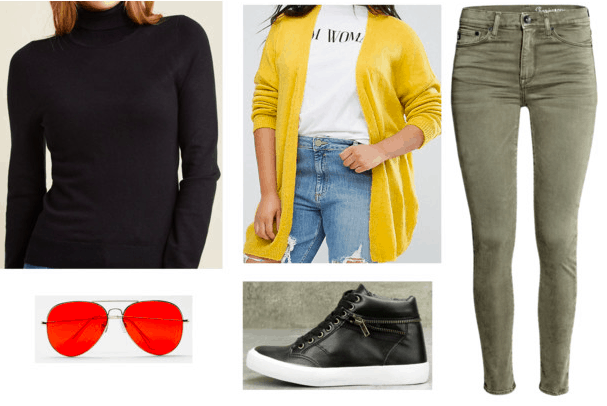 Products: Top – ModCloth, Cardigan – ASOS, Jeans – H&M, Sneakers – Lulus, Sunglasses – Express
Pay homage to Robin's nerdier side with a black turtleneck and bright yellow slouchy cardigan. He can be cool too, so show off some black patent leather kicks and olive green jeans. You (probably) couldn't get away with wearing a mask on campus so pull out the red aviators. Sunglasses do just the trick for hiding your secret identity as Sleep-Deprived-Student-Squinting-at-the-Sun.
Starfire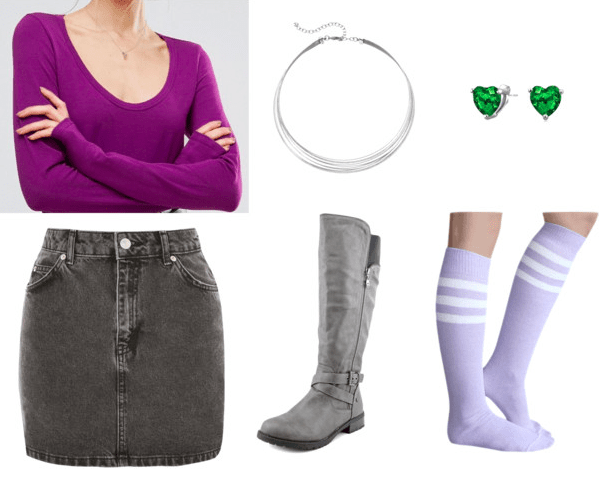 Products: Top – ASOS, Skirt – Topshop, Socks – Chrissy's, Boots – G by Guess, Necklace – Kohl's, Earrings – Amazon
Starfire is all about a cohesive color scheme and bold accessories. Pair a purple scoop neck long sleeve tee with a silver collar necklace. Shockingly enough, a gray denim skirt matches well with purple knee-high socks and gray knee-high boots. Green and silver heart earrings will help you "starbolt" your way into spending time with your favorite people.
Beast Boy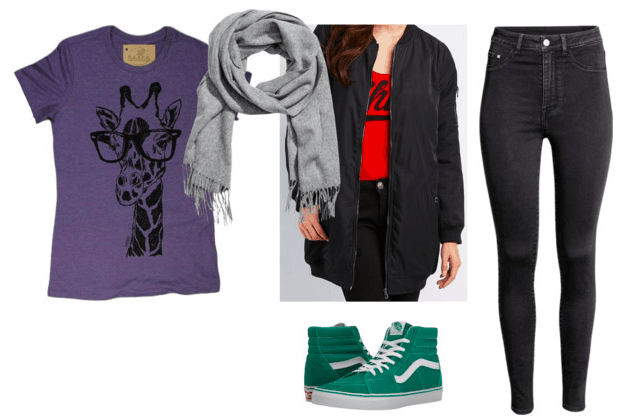 Products: Tee – Etsy, Scarf – H&M, Jacket – Charlotte Russe, Jeans – H&M, Shoes – Journeys
Beast Boy would be all over this purple graphic tee featuring a lovely giraffe wearing glasses. Accent your t-shirt with a gray scarf and throw on a black bomber jacket for warmth. Grab some tofu and play video games while wearing super comfy black skinny jeans. Rep Beast Boy's signature green with Vans sneakers.
Cyborg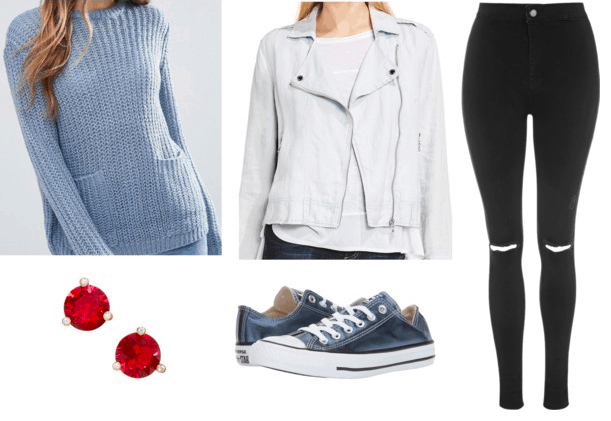 Products: Sweater – ASOS, Jacket – Saks Off 5th, Jeans – Topshop, Earrings – Nordstrom, Shoes – ASOS
Cyborg rocks his cybernetic parts. Take on a bold but minimalistic style with a blue sweater, gray moto jacket, and black ripped jeans. Show off his love for shiny gadgets and cars with blue metallic Converse sneakers. Finish off the outfit with red and gold earrings – they might not have night vision abilities but could work as a homing beacon.
Your Thoughts?
What's a cartoon you loved as a kid? Who was your favorite Teen Titan? What did you think the most memorable episode was?