From the costumes to the set, from the words of the script to the movements of the actors, everything on stage tells a story. Stage-Inspired Fashion explores ways to add a little dramatic flair to your style.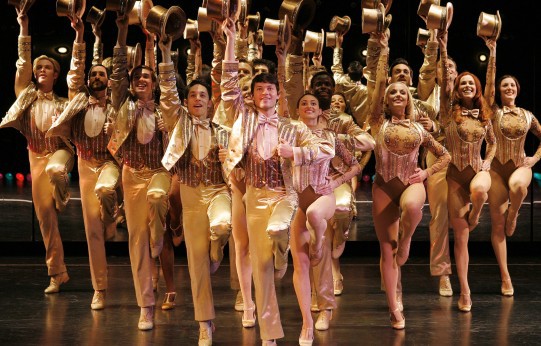 Whether you're an actor, a dancer, an athlete, or just trying to get in shape, you'll need to wear athletic clothes at some point. In this post, we'll take a look at how to style athletic wear using the musical A Chorus Line.
Behind the Scenes
A Chorus Line, with music by Marvin Hamlisch, lyrics by Edward Kleban, and book by James Kirkwood, Jr. and Nicholas Dante, is about seventeen dancers auditioning for eight chorus spots in an unnamed musical. As Zach, the director, asks each dancer to talk a little about themselves, we learn about their personalities, their childhoods, and their careers. From Val, who couldn't book any jobs until she got plastic surgery, to Paul, who started out performing as a drag queen, to Richie, who nearly became a kindergarten teacher, these characters are quirky and memorable.
The show addresses the difficulties of making it on Broadway. Although good dancing looks effortless, it takes an incredible amount of strength, training, and discipline. And yet, even though these people clearly love dancing, they aren't auditioning for the love of the art — they just need the money. Throughout the opening number, they repeat: "I really need this job. Please, God, I need this job."
From the opening dance combination ("Step kick kick leap kick touch!") to the glittery gold costumes of the final number, A Chorus Line has become iconic. The characters usually wear 1970s dance clothes: leotards, tights, leg warmers, turtlenecks. I've created three outfits based on songs from the show that use more modern athletic clothes. Keep reading to see them all!
At the Ballet
Up a steep and very narrow stairway
To the voice like a metronome.
It wasn't paradise, it wasn't paradise, it wasn't paradise…
But it was home.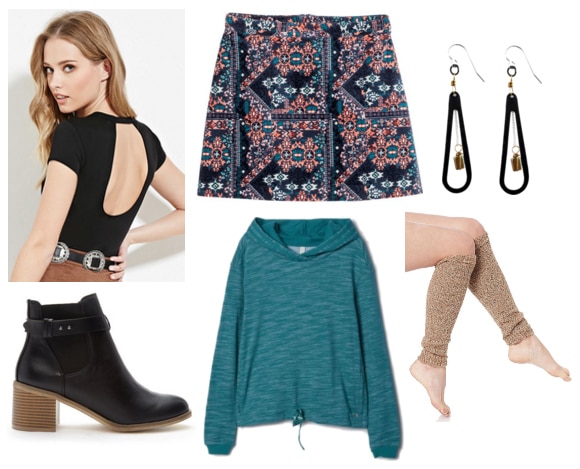 Products: Bodysuit, Skirt, Sweatshirt, Leg Warmers, Boots, Earrings
"At the Ballet" is sung by Sheila, Bebe, and Maggie, all of whom used ballet as a way to escape from their unhappy homes. This outfit is inspired by the classic ballet outfit: black leotard, pink tights.
Start with a black bodysuit with a cut-out back, and add a brightly patterned skirt that represents Bebe's "very, very personal flair." Replace the pink tights and ballet shoes with tan leg warmers layered over chunky-heeled boots, and throw on a loose-fitting teal hoodie. Finally, put on these pretty metronome-inspired earrings.
Nothing
And I said, "Nothing. I'm feeling nothing."
And he said, "Nothing could get a girl transferred."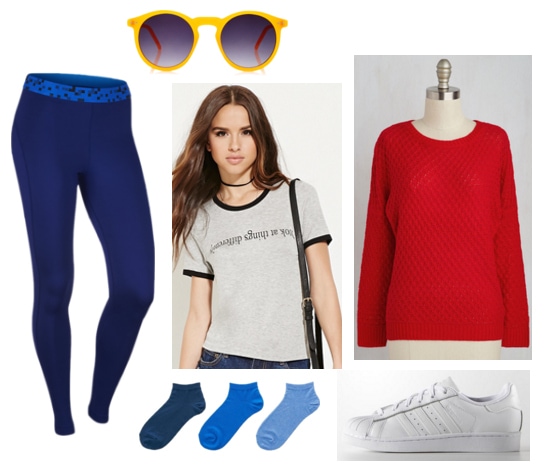 Products: Top, Leggings, Sweater, Socks, Sneakers, Sunglasses
In "Nothing," Diana describes her terrible high school acting class. Although Diana's teacher tells her she needs to feel things, acting is more about doing. It involves a lot of movement, and certain forms of training are intensely physical, such as Viewpoints and the Suzuki method. In general, it's good to wear clothing you can move in to acting class or rehearsal.
For a look for acting class inspired by Diana, start with blue athletic leggings and a fun graphic tee that says "look at things differently" — exactly what Diana needs to do. Add colorful socks and white sneakers that offer good support for your feet. When you leave class, put on a bright red sweater and on-trend round yellow sunglasses that represent Diana's colorful nature.
One
One singular sensation, every little step she takes.
One thrilling combination, every move that she makes.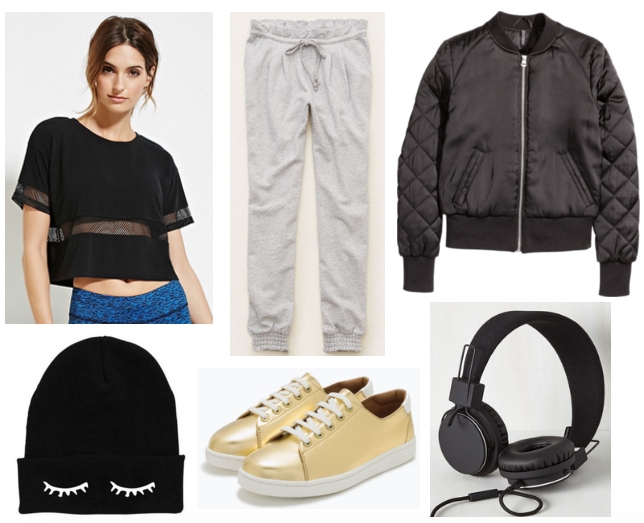 Products: Shirt, Joggers, Jacket, Sneakers, Headphones, Beanie
In the finale, the eight dancers that received jobs come on stage in matching gold sparkly costumes, and although we've spent the entire show getting to know them, we suddenly find it difficult to tell them apart.
This outfit, however, will help you stand out while you're on the go. Start with a black mesh top and soft gray joggers, and add shiny gold shoes that represent the emblematic gold costumes. Keep warm with a black satin bomber jacket, and accessorize with a black beanie decorated with white eyelashes reminiscent of fake eyelashes commonly used on stage. Finish the look with black over-the-ear headphones, so you can listen to your audition songs wherever you are.
Epilogue
A Chorus Line gives us a look into the lives of the often-overlooked performers in the chorus and tackles the themes of growing up, finding your identity, and starting your career. As college students, we're dealing with all of those processes in our lives as well.
If you're involved with a performance group on campus or you've resolved to stay in shape, best of luck this semester!
Your Thoughts?
Have you seen a production of A Chorus Line? What do you usually wear to acting class or dance rehearsal? Are there any plays or musicals you would love to see covered in this column? Let us know what you think in the comments below!