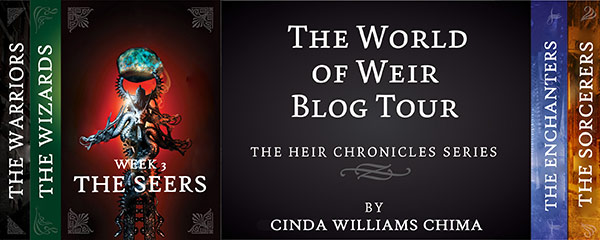 Here at CF, we are big fans of reading for fun (not just for class!), and drawing fashion inspiration from our favorite books. That's why we're super excited to participate in the World of Weir blog tour, celebrating the up-coming release of Cinda Williams Chima's conclusion to the Heir Chronicles series: The Sorcerer Heir (in stores October 21st)!
About The Heir Chronicles & The Sorcerer Heir
In case you aren't familiar with the series, The Heir Chronicles is a five book young adult fantasy saga featuring riveting fight scenes, deadly political machinations, burgeoning romance, and the unfolding intrigues of a contemporary magical world.
The books work as standalone reads (which we love), however they are most fun to read in order as you'll see your favorite characters zipping in and out.
The Sorcerer Heir, on shelves October 21st, is the culmination of the series. It's a self-contained story, accessible to readers just discovering the Heir series, but loyal fans will be rewarded by visits from characters they love (and love to hate) from the earlier installments.
Fashion Inspiration: The Seers
This week's blog tour theme is The Seers, also known as Sooth-Sayers, who can predict the future. Their predominant color is red. Here's our Seers-inspired outfit: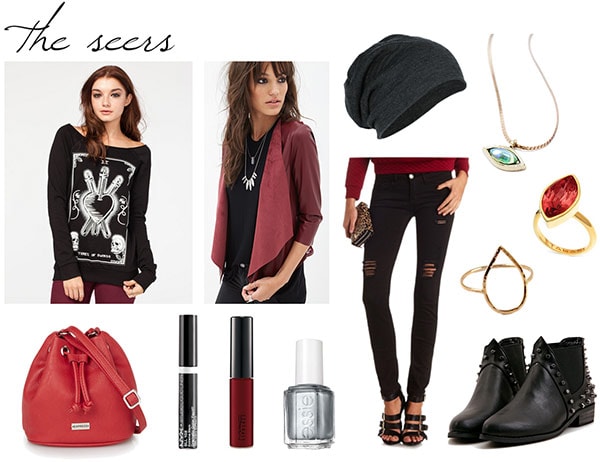 Products: Tarot Top – Tilly's, Jacket – Forever 21, Beanie – Amazon, Necklace – Urban Outfitters, Red Ring – Macy's, Gold Ring – Etsy, Ankle Boots – BlackFive, Jeans – Charlotte Russe, Nail Polish – Essie, Gloss – MAC, Liquid Liner – NYX, Bag – Express
More World of Weir Blog Tour Posts
Want more Weir? Of course you do! Here's this week's blog tour schedule – be sure to visit the sites below for their individual posts.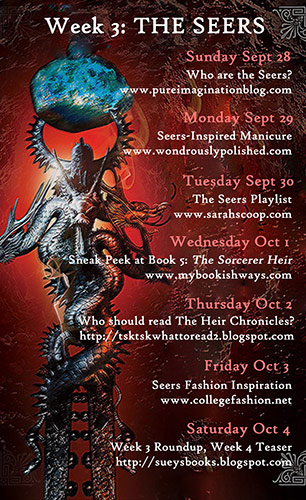 GIVEAWAY: Win the Heir Chronicles series!
Thanks to our friends at Disney-Hyperion, we've got an entire set of the Heir Chronicles series to give away. Use the widget below to enter.
Best of luck! For full terms and conditions, see our Official Giveaway Rules page.
Want more Heir Chronicles?
For more info, be sure to visit Cinda Williams Chima's Official Site, follow Cinda Williams Chima on Twitter, and follow Disney-Hyperion on Twitter and Instagram.
Disclosure: This post was sponsored by Disney-Hyperion and the book series was provided for free to review. The opinions, as always, are our own. For more information, please see our Disclosure page.