"If I'm thinking about strong, individual style in anime, the first thing that comes to my mind is Soul Eater 🙂 it has a great emphasis on moods and colours, and all the characters have unique designs" – Anna M.

As requested, this week I'm going to share some fashion inspired by the unique characters in the anime series Soul Eater. There are so many big characters with distinctive character designs in this one, so it was really difficult to choose. (Perhaps if this gets a great response I'll do a part 2!)
New to Soul Eater? I'll explain it below. For now, watch its super catchy opening sequence here:
Soul Eater Crash Course
Soul Eater, originally a manga¹ written and illustrated by Atsushi Ōkubo, is an action/adventure/supernatural series that aired in 2008, immediately becoming a huge hit. Set in the Shinigami² Technical School for Weapon Meisters ("Shibusen," for short), the series revolves around three teams, each consisting of a humanoid weapon and Meister counterpart who uses said weapon. Trying to make the former a "Death Skythe," which is the highest title for a weapon, the students must collect the souls of 99 evil humans and one witch.
Besides taking the time to gather souls, the students of Shibusen defend Death City from some of the most powerful creatures around while still attending classes and training to get stronger.
¹manga (pronounced: mah-n-gah): a style of Japanese comic books and graphic novels, typically aimed at adults as well as children

²shinigami (pronounced: shee-nee-gah-mee): god of death
Soul Eater Fashion Inspiration

The character designs in Soul Eater draw a lot of inspiration from gothic fashion, they play with mixing punk and rock styles with classic pieces, and they let the colors in the outfits set the mood. It is upon these three inspiration sources that I based the looks below.
Look #1: Soul Eater Evans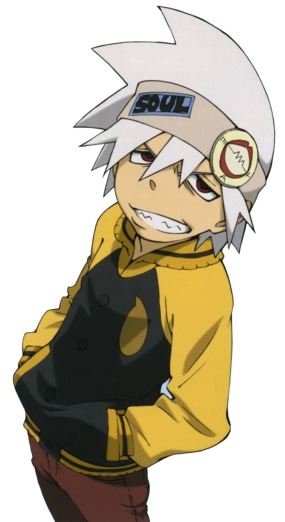 Soul Eater, AKA "Soul" to his friends, is a Demon Scythe humanoid and Maka's weapon partner. His human appearance is that of a teenage boy with a forever present drool mark coming from his mouth. He acts like a normal teenager and his personality mostly consists of what he considers "cool." Being a "cool" guy, he almost always uses the direct approach, which most of the time fails. He sometimes becomes too driven by the idea of eating souls, which leads him to bicker frequently with Maka, but in the end they remain good friends and partners.
Soul Eater's way of absorbing souls is as you'd guess – he literally eats them. He says that it's the texture, not the taste, that matters. When his soul was examined, it was said it was that of "a twisted person with a sarcastic soul."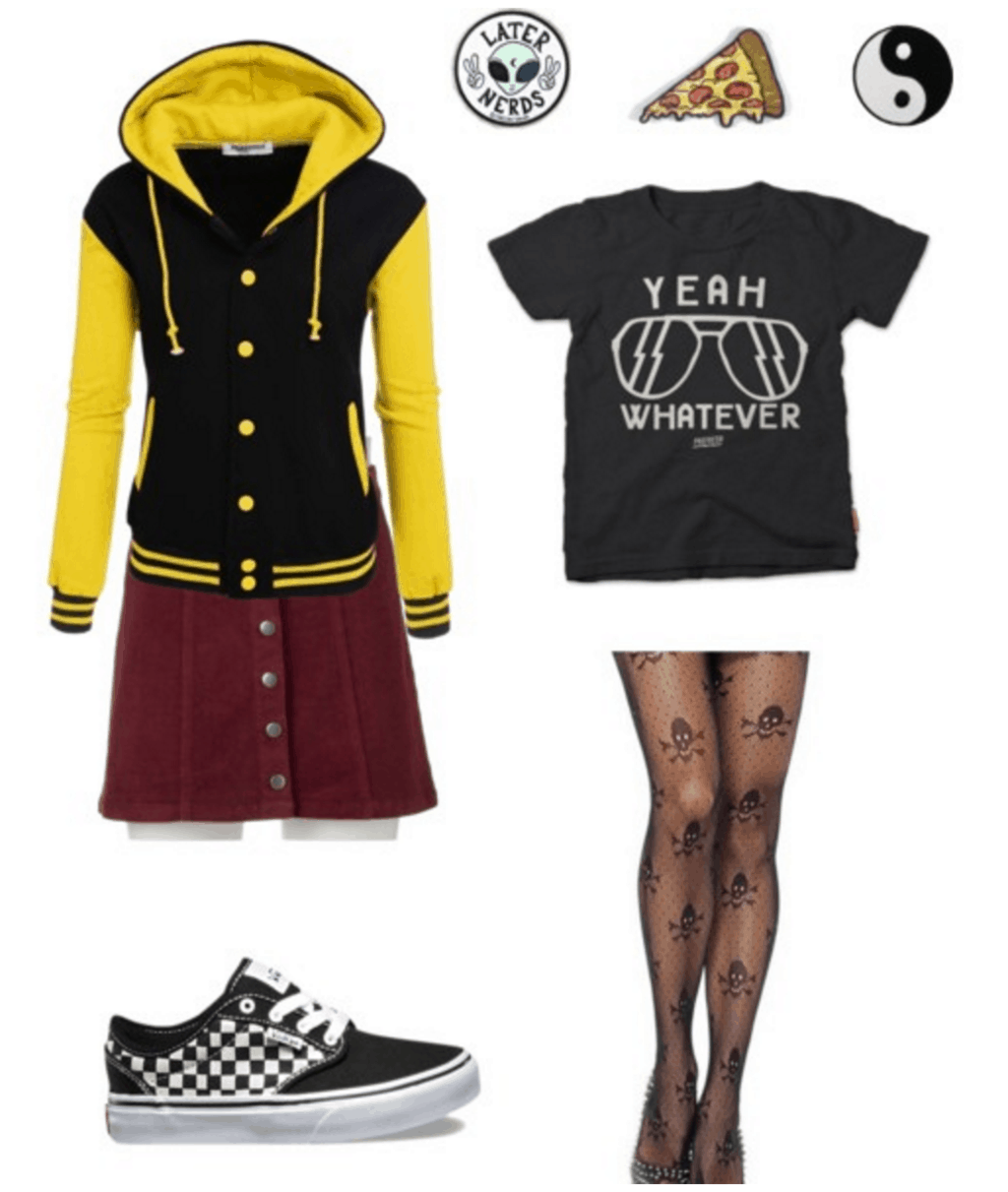 Products: bomber jacket, corduroy skirt, checkered Vans, alien patch, pizza patch, yin yang patch, graphic tee, skull tights
Soul is usually seen wearing his trusty varsity bomber jacket, so I found one with the same colors and layered it over a sarcastic "cool" guy graphic tee. I didn't want the look to be exactly like Soul's, so I switched up his pants for a burgundy corduroy skirt and skull print tights. Anyone who's seen Soul Eater knows the series is covered in skulls — I had to throw them in somewhere! Add some vintage iron-on patches to the bomber jacket for a more unique look, slip on some checkered Vans, and you're ready to consume some souls — in the "coolest" way.
Look #2: Maka Albarn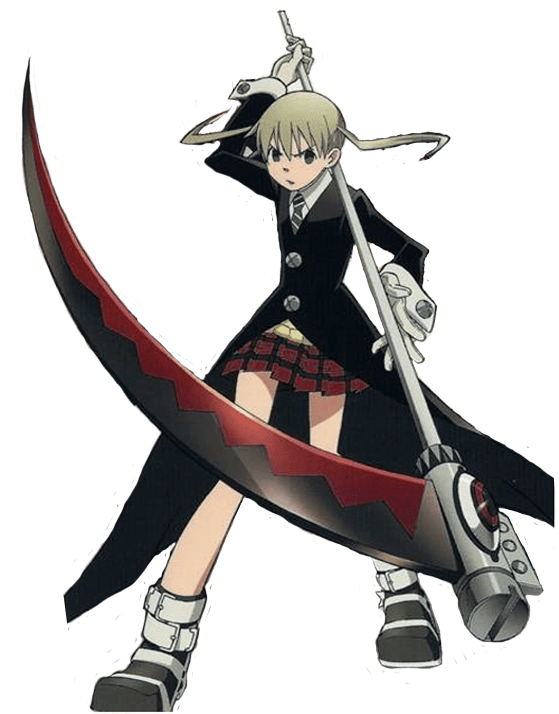 Maka is Soul's partner Meister. She is the more level-headed of the two, but when her anger gets the better of her, she will put her foot down. While Soul seems to be the brawn of the duo, Maka is the brains. She always tries to think of a way to beat their opponent by exploiting his weaknesses.
Maka seems to be annoyed at the fact that her body hasn't developed yet (which is the center of some jokes in the series). She usually kicks Soul after he does something perverted or if he and Blair have been acting too friendly.
When her soul was examined, she was noted as a "serious person who tries hard."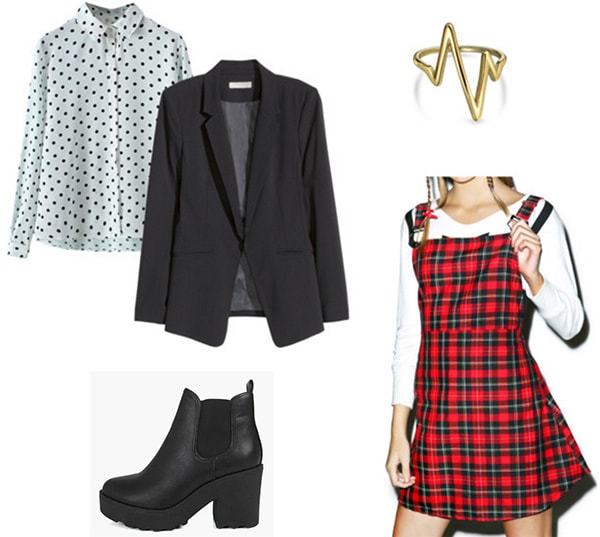 Products: polka-dotted blouse, black blazer, platform boots, wavelength ring, plaid overall dress
For Maka's look, I wanted to keep its original punk inspiration while still making it polished and professional like her personality. Accomplish this mix by pairing bold prints and adding a blazer — in this case, I layered a blazer and red plaid overall dress over a black and white polka-dotted blouse. This ring really reminded me of the wavelengths used in the show to read souls, so I thought it'd be a unique yet fun statement accessory. Lastly, add in some black chunky platform boots for more punk inspiration.
Look #3: Black☆Star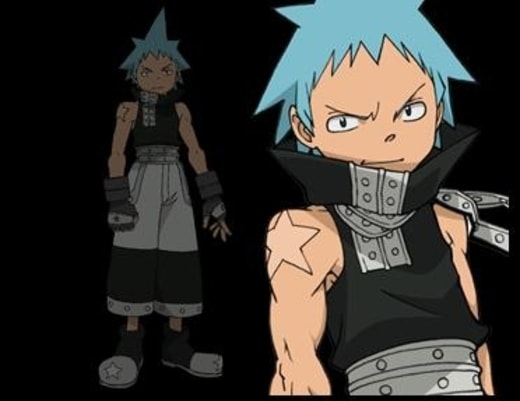 Black☆Star is one of the main Meisters of the series. Black Star is a survivor of the infamous Star Clan, which explains the star on his shoulder. His demon weapon partner is Tsubaki Nakatsukasa, with a contrasting timid personality to Black Star's fun and boisterous one. He often shouts out attacks and messes around while training and during missions — which often leads to his defeat.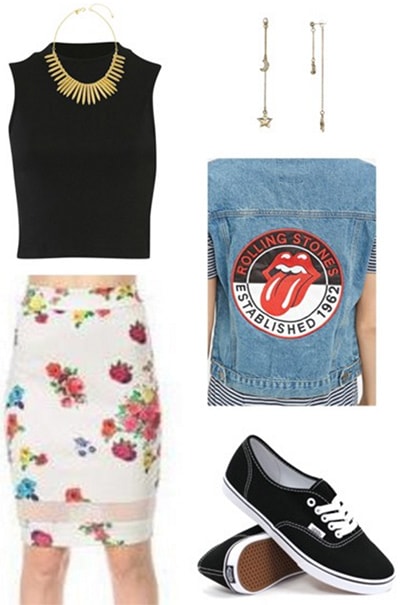 Products: spiky necklace, ribbed halter crop top, floral mesh panel skirt, celestial drop earrings, Rolling Stones denim vest, black Vans
For this look, I wanted to channel not just Black Star's rocker vibes but also his weapon partner, Tsubaki's, influence. I paired a vintage-inspired Rolling Stones vest over a black crop top and a spiky necklace to show Black Star's fun and loud presence, and paired it with an equally contemporary, but contrasting, floral mesh panel pencil skirt, to represent Tsubaki's tranquil influence. I finished it off with black Vans and celestial star drop earrings.
Look #4: Crona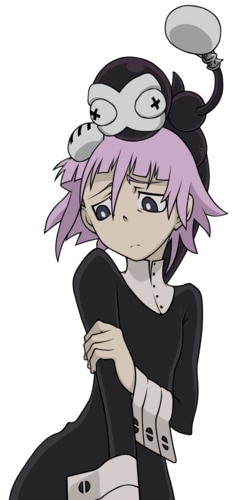 Crona is Ragnarok's Meister and was initially under orders (and control) to capture any soul she finds, be it evil or good. Crona is a naive and submissive person who is constantly pestered by Ragnarok in the form of noogies and threats to eat her share of food. Because she doesn't like to fight, she has a spell cast in her mind that increases aggression.
Crona's blood has been entirely replaced with 'black blood' which both protects her from physical harm and provides a degree of healing. Ragnarok, originally a normal weapon, was melted into the black blood before the transfusion, which causes their siamese nature. Crona is taking trial courses at Shibusen to learn the proper way of a Meister.
Crona doesn't know how to interact with others, but is slowly learning how to, thanks to Maka. Maka can easily tune in to Crona's soul wavelength to understand and calm her when needed.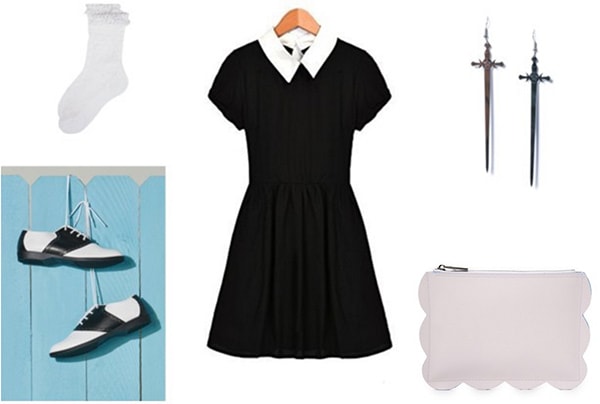 Products: frilly socks, black & white saddle shoes, little black dress, sword earrings, lilac clutch
While Crona's outfit itself is very conservative and traditional, what lies underneath the "good girl" Sunday school dress is a twisted inner turmoil. I sought to channel this duality with this look. I mixed a very "Wednesday Adams"-esque LBD with some black and white saddle shoes and paired them with "good girl" frilly socks. And for just a peek of crazy and dangerous, I added statement dagger earrings. This trendy lilac purse reflects the pop of color of Crona's hair against her black and white look.
Look #5: Blair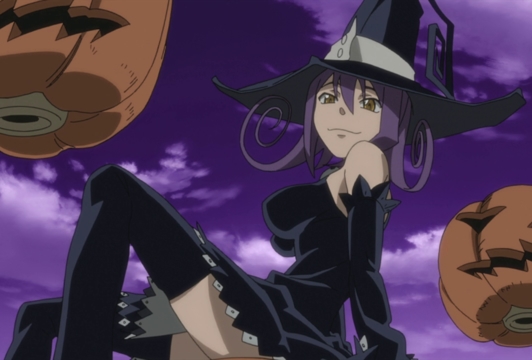 First mistaken by Maka and Soul to be a witch that they needed to make Soul a death scythe, it turns out Blair is actually just a cat with strong magical powers, pictured below.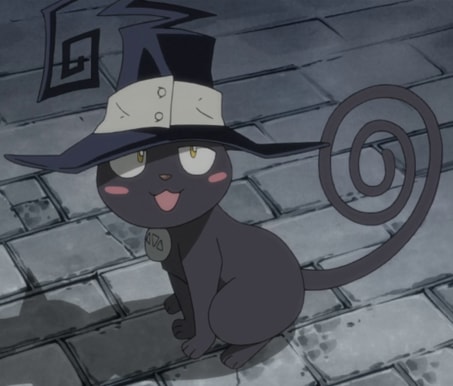 Blair's magic consists of pumpkins which she uses as weapons (bombs, cannon, etc). She has grown to like Soul (who she calls Scythe Boy) and playfully flirts with him, despite Maka's annoyance. She is very good at understanding other people, and true to her cat-like nature, she is always looking for some fun, whether it is harmless or not.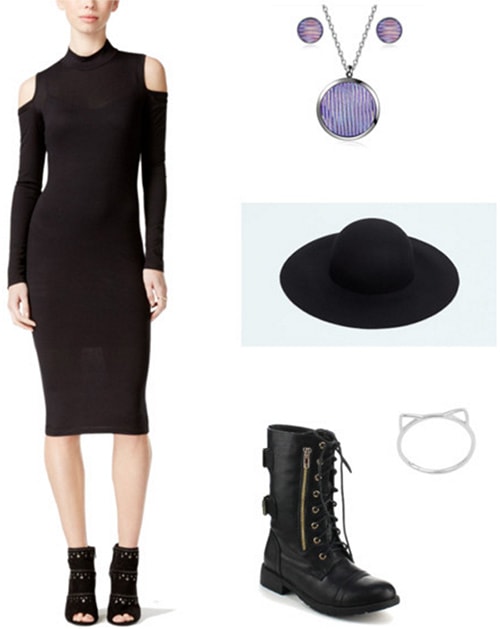 Products: cut-out bodycon midi dress, purple earrings & necklace set, wool fedora hat, black combat boots, cat ears ring
This look is all about transforming the classic "little black dress" into something whimsical, mysterious, and cat-like. To do this, I found a trendy cut-out shoulder midi-length dress and paired it with some punk-inspired black combat boots and a contemporary, but witch-like, black wool fedora. To mimic the swirly, curvy lines used in Blair's character design (seen in her hair, cat tail, hat, and collar), I found a funky purple jewelry set, which will really stand out against all the black in the outfit. Lastly, for just a hint of her cat origins, I added a silver cat-eared ring.
Final Thoughts?
What did you think of this week's anime inspiration? Any favorite looks or thoughts on the show or characters? As I said before, I had a hard time picking which characters to fit in the article since there are so many good ones. Anyone I missed out on that you'd like to see? Or would you like to request a different anime? Any and all comments are welcome!