For my last Science + Style article, we're going to go into the cause of the famous wintry northern lights and take a look at some outfits inspired by aurora borealis, one of the world's most beautiful displays of science!
About the Aurora Borealis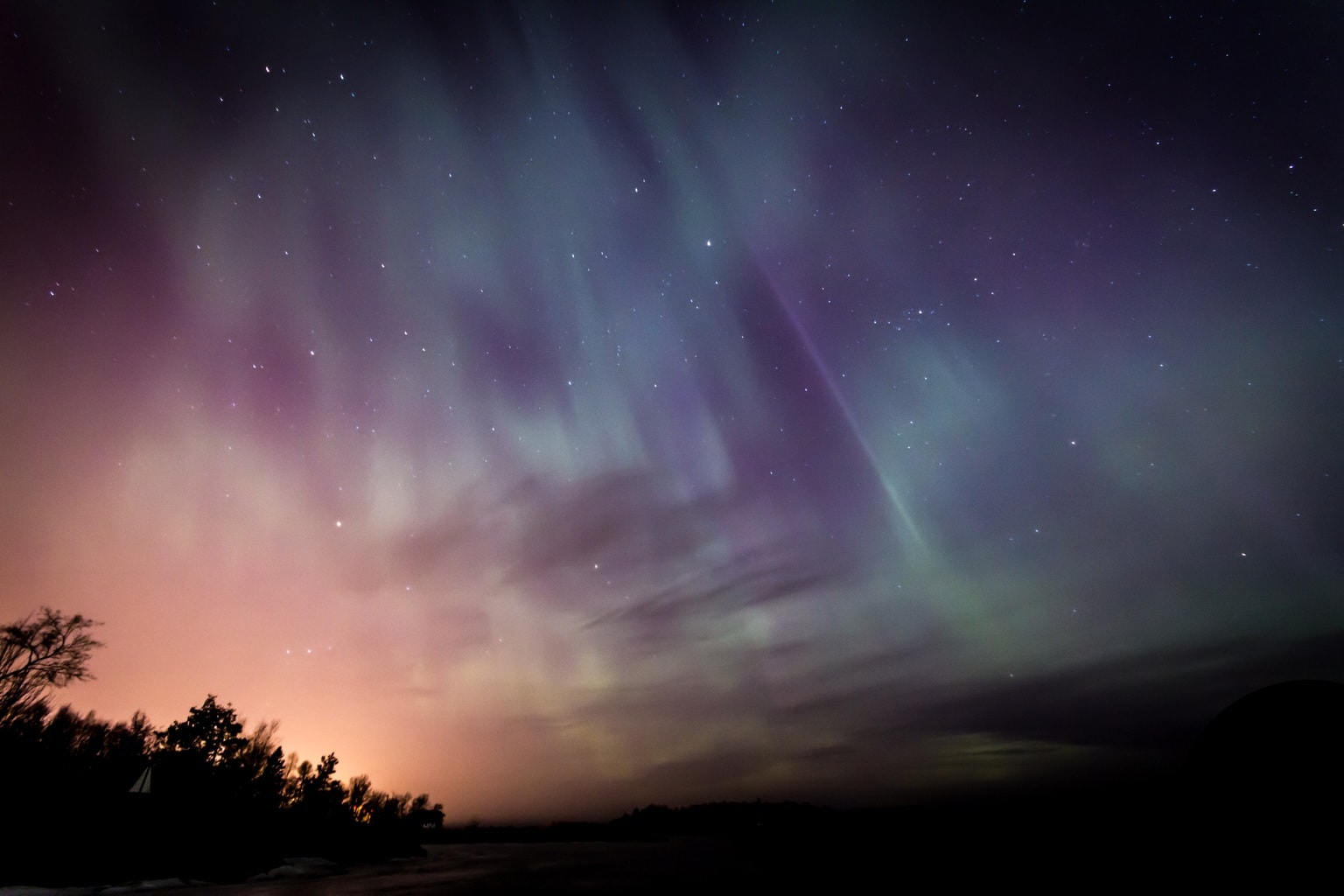 It actually all starts far away on our favorite star, the Sun. It contains many swirling sunspots and solar storms that occasionally hurl plasma particles, termed solar wind (a.k.a. what sounds like Marvel's next big superhero power). These particles can travel super far and reach Earth, whose magnetic field acts like a force field to deflect all these random chunks of star stuff and radiation.
However, some of the particles can pass through the magnetosphere and are drawn towards the north and south poles (because Earth is basically a big magnet spinning around on its axis). Then, these electrons in these plasma particles collide with the air in the upper atmosphere, hitting oxygen, nitrogen, and other molecules in the air.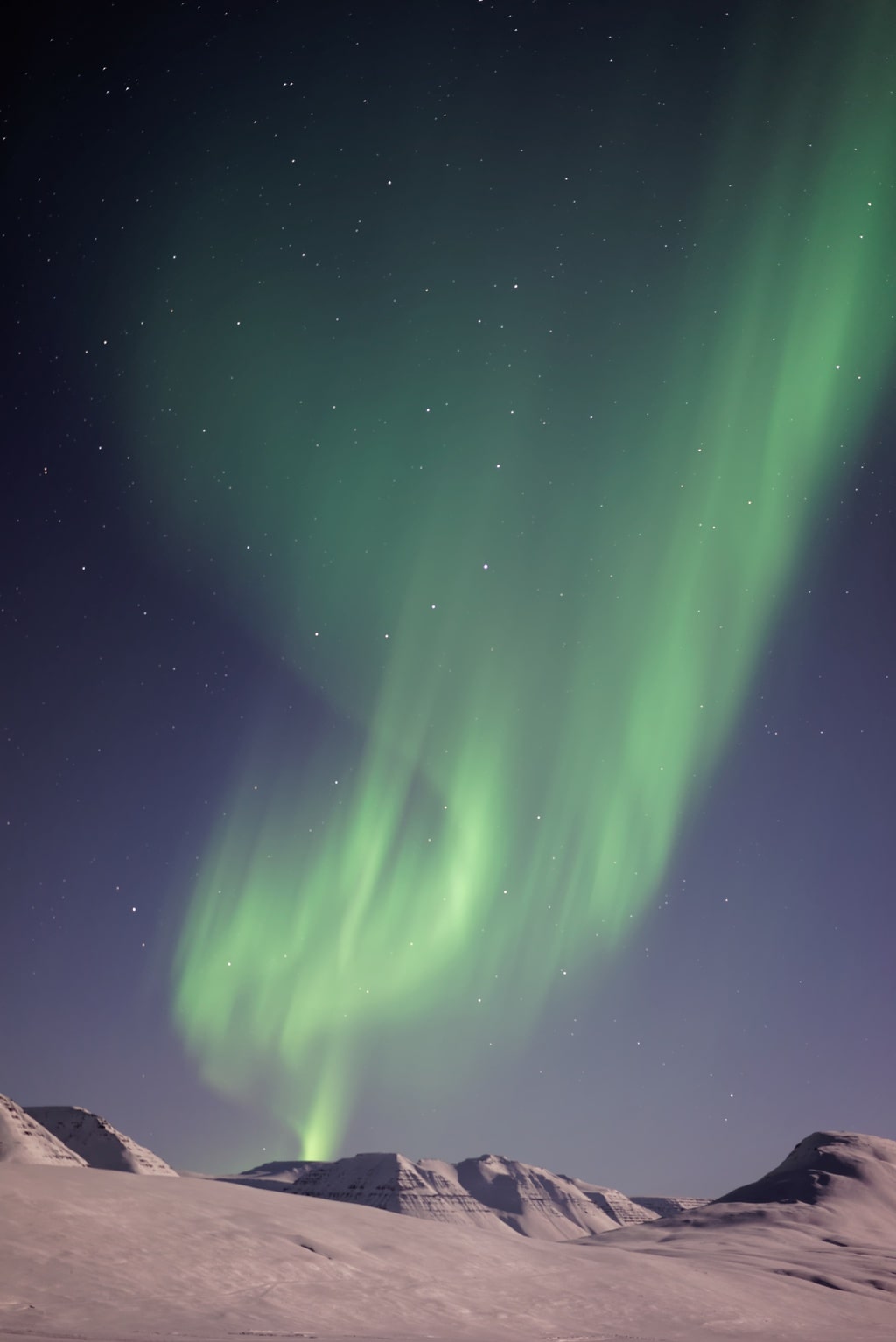 When the plasma electron collides with electrons in the atmosphere, energy is transferred to the Earth's electrons, which get excited to higher energy states. Excited electrons must drop back to their resting state – just like you need to just chill with some Netflix after a big party – so they release their excess energy to the surroundings. Now, this energy has a wavelength, and that wavelength may be in the visible light spectrum (as I explained in my previous Science and Style article). "Air" is just a mixture of mainly nitrogen and oxygen particles, and these have different energies stored in their bonds. As they get excited, they will release different amounts of energy to the atmosphere, thus creating an array of different colors in the sky. Oxygen usually produces yellow and green, and nitrogen produces red and violet. And there you have it: aurora borealis – explained!
The aurora borealis occurs in the north near Alaska and Canada in North America, or Norway, Sweden, and Finland in Scandinavia. There are southern lights, known as aurora australis (recall because the South Pole attracts particles, too), but it conditions are harder. The best time to view them is in winter, so keep an eye out if you're traveling to these locations over winter break!
I've put together a holiday party look for every type of party you may be attending, and they're all based on the science of the northern lights. So, what are we waiting for? Let's move onto the outfits!
Magnetic Metallics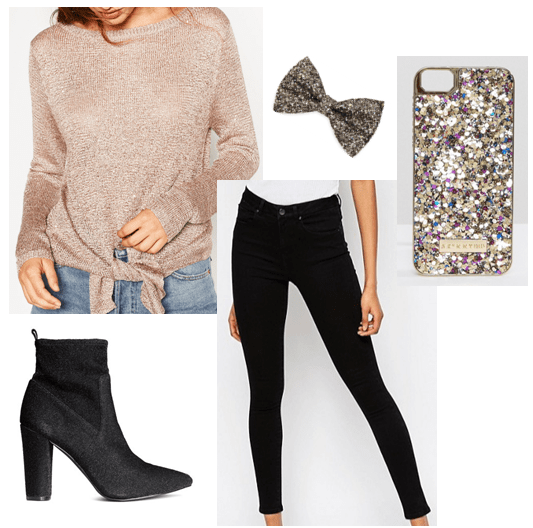 Products: Sweater – Zara | Pants – ASOS | Boots – H&M | Hair Bow – Forever 21 | Phone Case – ASOS (Similar here)
This look is sweet and casual – perfect for attending that Secret Santa with all your family members you haven't seen in a while. I incorporated a little metallic shine into all these pieces to represent the north and south poles of the Earth attracting the plasma particles.
Wear this glittery front-tie blush sweater with your trusty black jeans. Slip on a pair of these sock booties (which are becoming a huge trend!) with microglitter for a more subtle holiday look. Then pin your hair in a half-up-do, and break out this sequined phone case to take pictures of all the fun memories!
The North Wind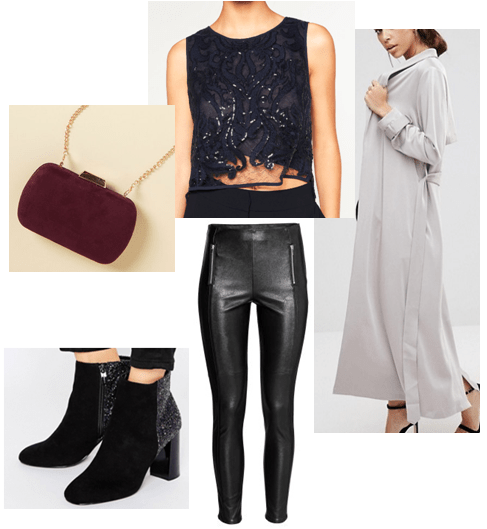 Products: Jacket – ASOS | Top – Zara | Pants – H&M | Boots – ASOS | Purse – Modcloth
The second outfit is a little more dramatic and perfect for making a statement at reunions with friends. Fun fact: "borealis" is derived from the name of the northern wind, Boreas. The sweeping satin material on this longline duster jacket represents the north wind that causes the undulating northern lights. I paired it with this embellished navy top and pleather leggings.
The violet and blue tones in the pieces reflect the colors that are emitted from the particle excitation. For shoes, I chose these booties with a glitter back. Finally, I added this cranberry clutch to represent the red nitrogen emissions. You'll sweep everyone off their feet with these looks!
Aurora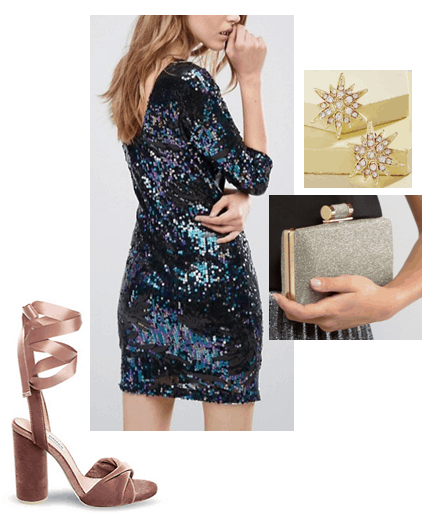 Products: Dress – ASOS | Heels – Steve Madden | Earrings – Modcloth | Clutch – Forever 21
I wanted to go more upscale with this look – it would be perfect for a fancy holiday dinner or formal. This statement blue-green-and-purple sequined dress will hug you in a way that will make you feel like a million dollars but also is loose enough allow for an extra helping of dessert. The colors of the dress will sparkle at different angles, creating the illusion of the blue-green aurora borealis!
These rose-colored velvet heels boast a luxurious satin lace-up detail for extra oomph. Put all of your essentials into this classy clutch, and put on these sunburst earrings to represent how the northern lights are created. In this outfit, you'll be the star of the show!
Have you seen the northern lights? What plans do you have for the holidays? Let me know in the comments below!