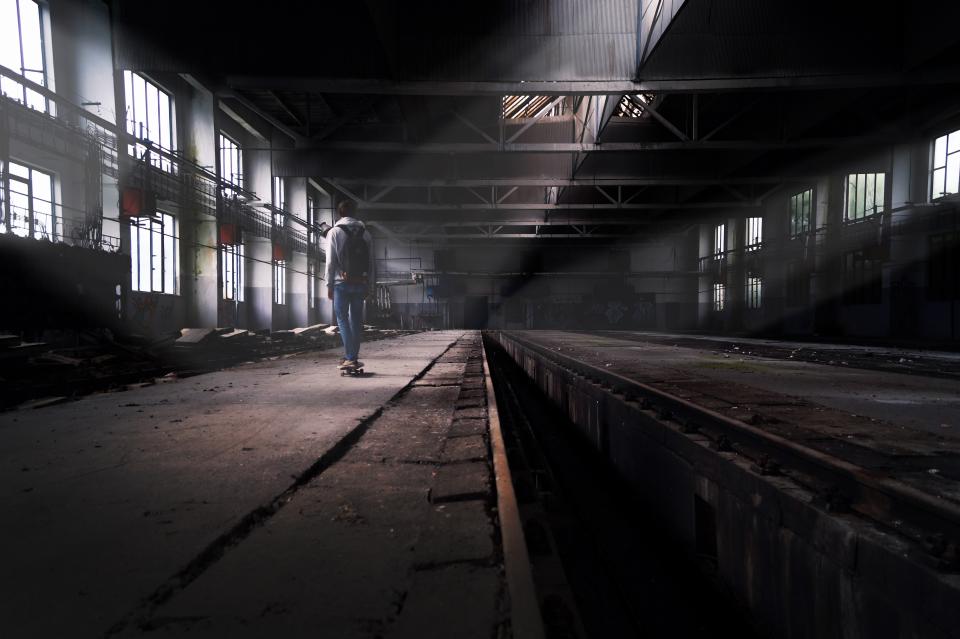 Over the course of this series on author fashion we've covered an author in every genre from crime fiction to romantic gothic. But there's one particular genre that we hadn't touched yet: science fiction.
I decided today to change that. And, to me, there's no better writer to take sci-fi fashion inspiration from than the wonderful and weird Ray Bradbury.
Ray Bradbury was the author of 27 novels and over 600 short stories, and his work has been translated into at least 36 languages. He is often known as "the father of science fiction" (I'm guessing that Mary Shelley is the mother) and has influenced countless authors of sci-fi, fantasy, and dystopian works with his unique and original stories.
So put on a fireman's hat and let's take a look at this fabulous science fiction legend for some seriously creative sci fi style!
Sci Fi Style 1: Burning Temperature
Products: Dress – Zappos, Shoes – Boohoo, Necklace – Charlotte Russe, Mascara – Ulta, Backpack – Tillys
One of Bradbury's most famous novels is Fahrenheit 451, about an oppressive government that burns books in order to keep the people asking "how" instead of "why." This book is not only incredibly popular in schools now (ironically) but also has brought the issue of book banning and public censure into the cultural scope.
To pay homage to this book, clearly we need a fire red dress along with a metallic rose gold mini backpack that incorporates two summer trends into one practical piece. This mascara will fan out your lashes without taking away from the rest of the outfit.
To me, body chains always scream "sci-fi dystopian fantasy queen" so for a body chain look that is easy to wear, tuck this long necklace under the neckline of your dress to give the illusion of one. For a final trendy summer piece, strap on these adorable yet versatile floral Mary Jane pumps for a bonfire night.
Sci Fi Style 2: Halloween in Summer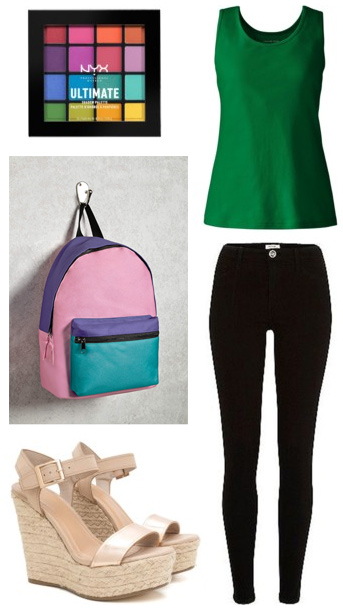 Products: Eyeshadow – Target, Tank – Land's End, Backpack – Forever 21, Jeans – River Island, Shoes – GoJane
Ray Bradbury is not just known for his sci-fi tales; he wrote fantasy stories as well, one of them being The Halloween Tree. The story follows eight boys trick or treating on Halloween night. Their ninth friend, however, is swept up into a spooky world for a Halloween adventure.
For a quirky Halloween-esque look in the summer, here's what you need to do to achieve that Bradbury style.
First, pick items that are light enough for the summer weather but quirky and a little unexpected. Mix a green tank top that's bright enough to be on the cover of a Bradbury book, with dark jeans.
Add more fun colors with this summery backpack and bold neon eye-shadow for a striking look. Add nude espadrilles so as not to overwhelm the look.
Sci Fi Style 3: 2030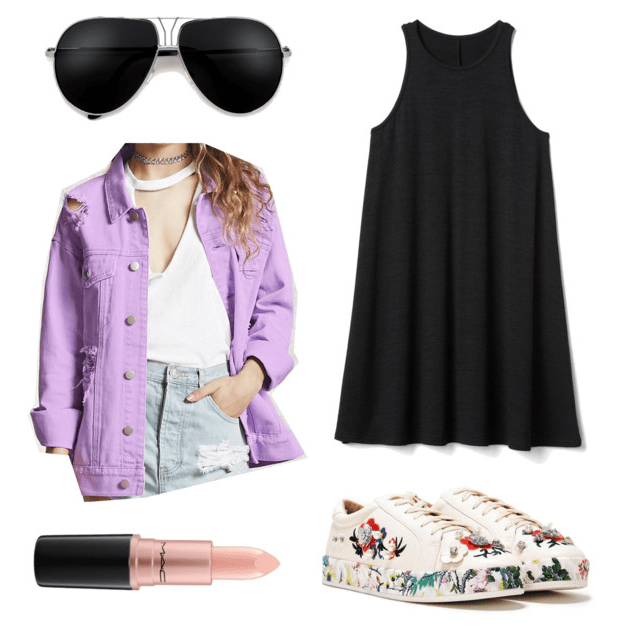 Products: Sunglasses – Sunglass Spot, Jacket – Forever 21, Lipstick – MAC, Dress – Gap, Shoes – Nasty Gal
Many of Ray Bradbury's short stories and novels go forward in time, often to the year 2030. Let's get a little futuristic and mix in a few of the themes of Bradbury's work!
For starters, nature vs. technology often conflict in Bradbury's work, so mix these trendy floral embellished shoes and lavender jean jacket with sleek and modern sunglasses and a little black dress. Let your futuristic style speak for itself and add a nude lip to keep the look polished and put together.
Final Thoughts
Ray Bradbury has inspired everyone from horror novelists such as Stephen King to music parody artists like Rachel Bloom (Warning: NSFW). He recreated the genre of science fiction and his influence will never be forgotten, which is why he should be your next fashion inspiration.
It's been a pleasure to write for College Fashion this past year and a half! I'm so sad to be moving on but I hope you've enjoyed my posts and I'm so grateful for all the love and life I've gotten from working here and writing for you all. Cheers!
Stay Stylish,
Maddy