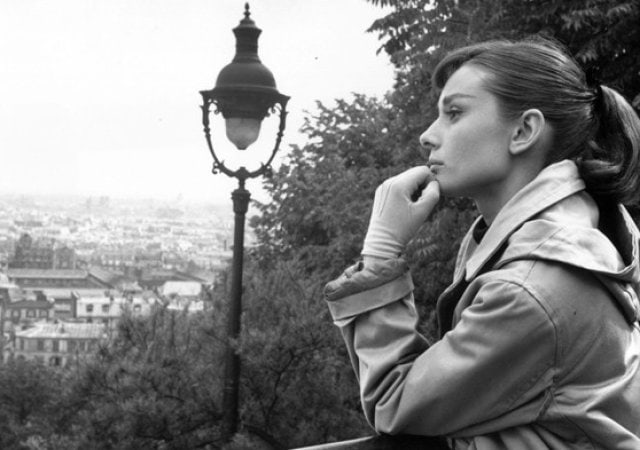 Audrey Hepburn, as we all know, was a film and fashion icon during the Golden Age of Hollywood. Though we've written tons of posts on Audrey Hepburn's style already, today we're channeling her into our fall looks.
Hepburn's style seems to transcend time, as her trademark trench coat and cropped trousers are still huge trends today. And she still has quite the following: Her black Givenchy dress from Breakfast at Tiffany's sold in 2006 for the highest price ever received for a dress from a film – a whopping $572,023.33!
Now let's move on to the sets: Here are some Audrey Hepburn-inspired outfits on a budget. Fun fact: each of these outfits is inspired by an Audrey quote!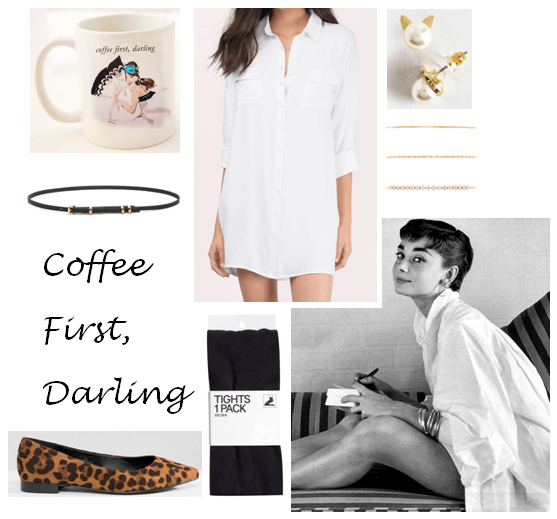 Products: Shirt dress | Tights | Flats | Belt | Earrings | Bracelets
For a total of $81.13, you can achieve Audrey's effortlessly chic, "borrowed from the boys" outfit for reading during early mornings or for throwing on before running out the door. It features this oversized shirt dress which perfectly embodies an easygoing vibe with a belt to define the waist.
Moving on to extras, the tights are necessary for chillier and windy days (we can style Marilyn in another article!), and the leopard print flats add classic colors to the outfit's palette. Accessorize with these layered gold bracelets and cat earrings that give a nod to "Cat" from Breakfast at Tiffany's. This mug isn't technically included in the outfit, but it's so perfect for the look! You can get one here so you can sip your coffee in style.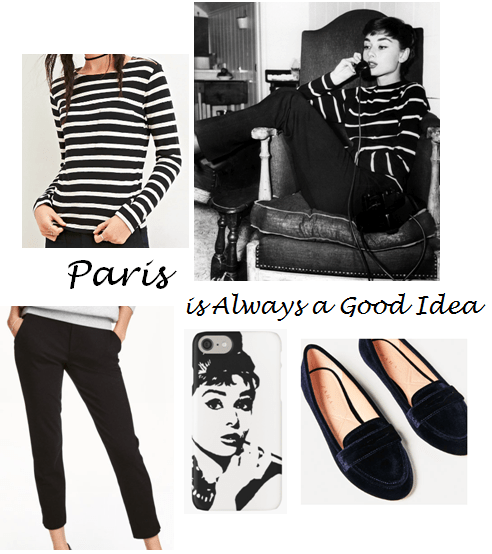 Products: Top | Pants | Shoes | Phone Case
At $94.88, this outfit borrows a page from Parisian fashion. With its classic black and white stripes and cropped trousers, it is comfortable enough for your exam and also put-together enough for your celebrations after.
The zippers on the shoulders of the top add subtle detail to the look, and the velvet loafers introduce more texture and depth. Snap this Audrey phone case on to pay homage to the film and actor!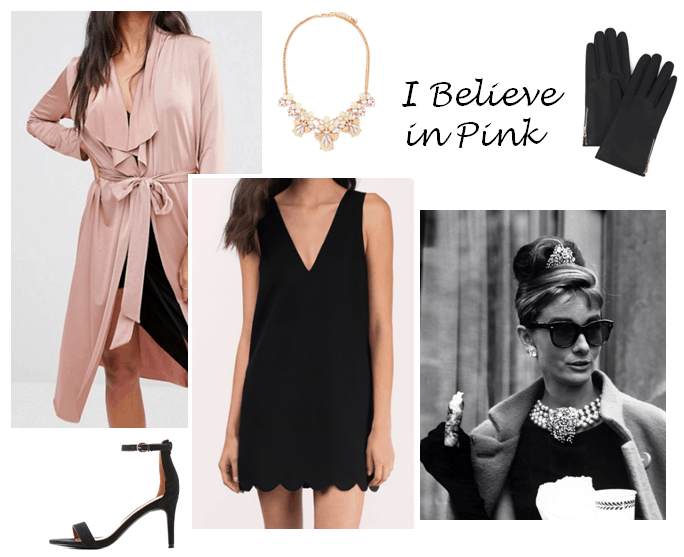 Products: Trench | Dress | Shoes | Necklace | Gloves
For $99.71, you can be the picture of poise and fashion. Of course, I had to include the famous LBD; this one has a scalloped hem and a deep v-neck. As Hepburn immortalized the trench coat, I included this jacket in a refreshing blush tone.
Again, the accessories take this look to the next level: The ankle-strap heels will give you a bit more height, and the faux leather gloves will keep your fingers warm. The statement necklace can act as a placeholder for the real pearls you'll someday be able to afford. For now, do like we do and treat yourself to some almond croissants and coffee in the morning.
Which Audrey movie is your favorite?
Do you have a favorite outfit that she wears? Which one of these trends would you rock? Let me know in the comments below!