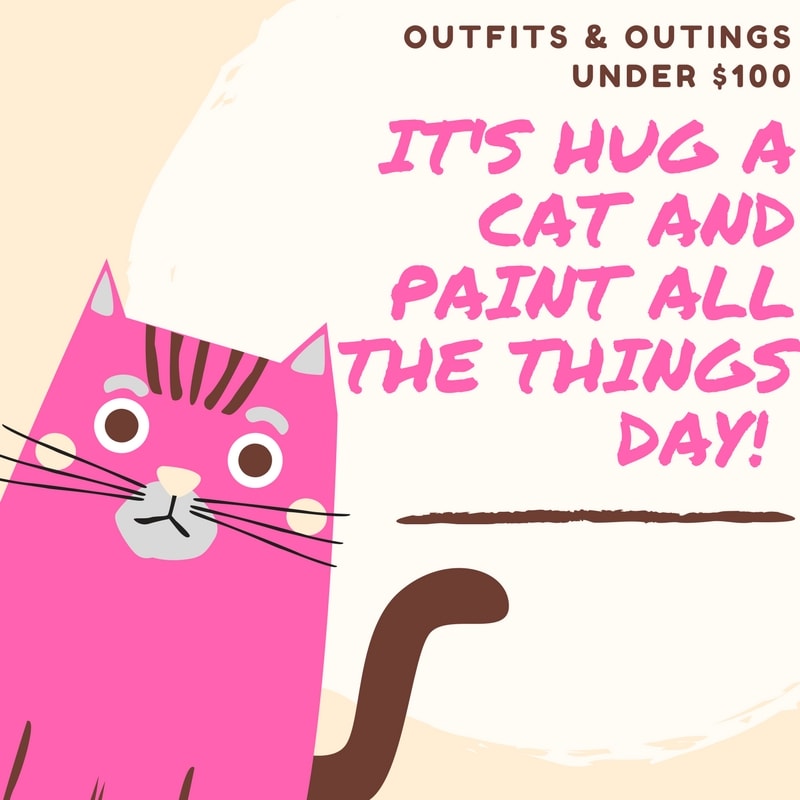 This is for all the cat loving artsy people out there. Or for the cat lovers who aren't artistically inclined but like having a blast with friends. After all, what's a better summer day than hanging out with cute animals and making art with friends?
Here is the rundown on O&O:
$30 max for each outing per person
$70 max for an outfit (pure clothes, rest is swappable)
Diverse sizing
Outfits for both dress/pant-lovers.
Cost Breakdown
Cat cafe ($10-15): Unlimited cat cuddles. Need I say more? Also, drinks and cat-themed merchandise and presents to buy for your feline overlords. Cat cafes are great for students who live on-campus over the summer and miss their pets!
Painting ($10-15): There are so many pop-up wine & painting classes now. You could either hit those up or stay indoors in the A/C and host your own painting night. Scavenge up some aprons and play a fun art tutorial on YouTube. You could choose either watercolor or acrylic paints depending on what you want to paint. Watercolor is recommended for summery things and acrylic for landscapes.
What to Wear to a Cat Cafe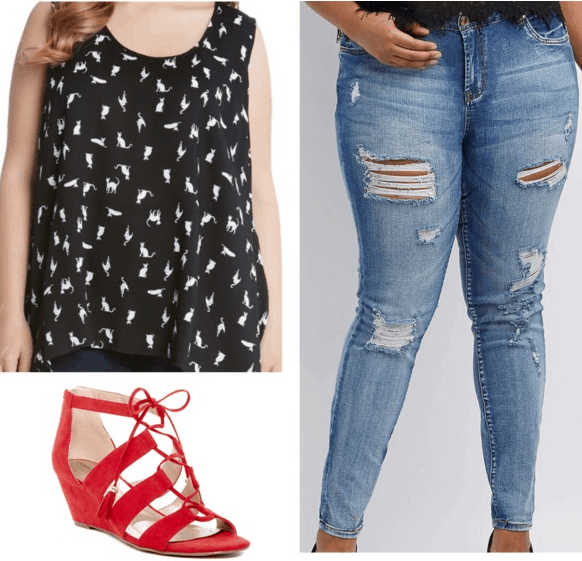 Products: Tank – Belk (0X-3X) | Jeans – Charlotte Russe (16-26) | Wedges – Nordstrom Rack
Cost: $65 as of June 22, 2017
Since you're already going to a cat cafe, rep your love with a subtly printed tank top. Distressed boyfriend jeans let you get down on the floor and make some cat friends. Some cat cafes require you to go shoeless in the cat areas so be prepared to slip off your shoes. Wear easy-off wedges that shamelessly mimic the color of a laser pointer, which is pretty much every cat's favorite toy.
What to Wear to Paint Night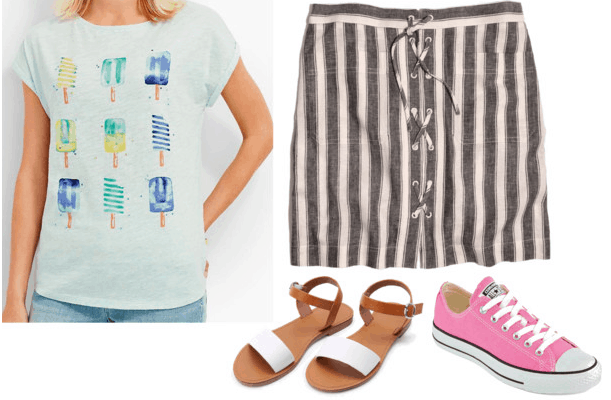 Products: Top – Talbots (XS-XL) | Skirt – Madewell (0-14) | Sandals – Romwe | Converse – JCPenney
Cost: $40 as of June 22, 2017
We're going for a full blown summer outfit here. You could even have your "painters" model their paintings off your watercolor popsicle t-shirt. A soft striped lace-up skirt strikes the perfect balance between comfortable and trendy, and will easily hide under an apron. Toss on pink Converse and a denim jacket if you're heading to a wine & paint class (or friend's house because it's their turn to host) on a chillier night. Again, don't forget the smock or apron!
Your Thoughts?
Have you ever been to a wine & paint class? What about a cat cafe? On a scale of 1-10, how much do you like cats?