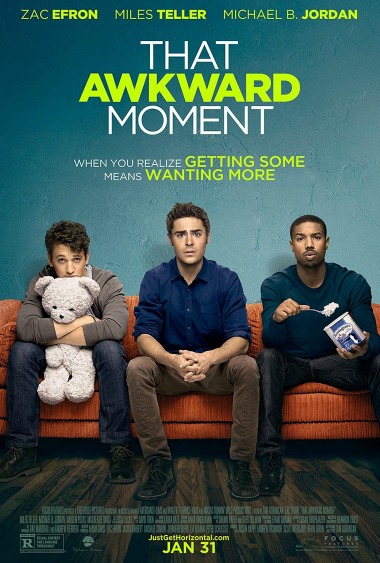 Official Movie Poster
Awkward moments. They unfortunately happen to us all. One movie that decided to embrace those moments is the aptly-named comedy That Awkward Moment. The film revolves around three characters, Jason, Daniel, and Mickey, and their romantic (and, of course, awkward) entanglements.
This post (requested by one of our readers, Amy!) will feature the fashion worn by two of the love interests, Ellie, played by Imogen Poots, and Chelsea, played by Mackenzie Davis. Both characters have unique styles, and know how to spice up basics by giving wardrobe staples a fun twist. Continue reading to check out four looks inspired by outfits from That Awkward Moment:

Coffee Shop Date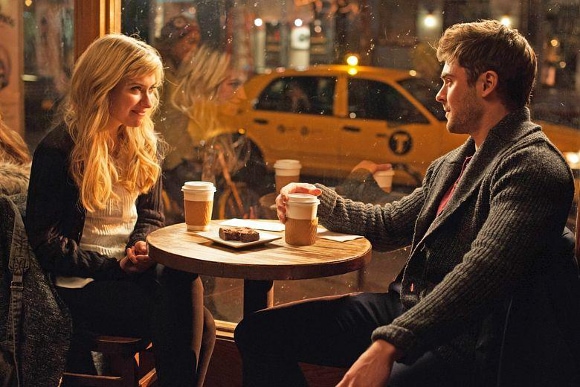 Official Promotional Image
This first ensemble inspired by Ellie is cozy, feminine, and great for the cooler months of the year. Though it's made up of wardrobe basics, the use of texture and unique details help this outfit stand out. This look is comfortable yet chic, which makes it appropriate for any daytime occasion, whether you're headed to class or out for a coffee date!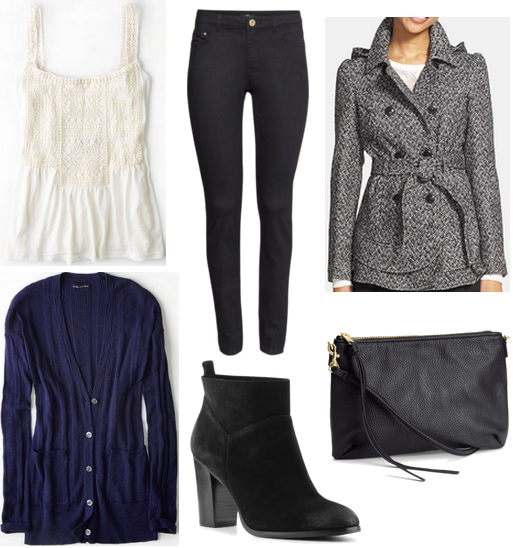 Tank, Pants, Coat, Cardigan, Shoes, Bag
To recreate Ellie's outfit, start by pairing together a lacy tank top with a classic navy cardigan. To add some warmth, wear a pair of black skinny jeans or pants and a cute gray coat. Dress up the look with suede heeled booties, and for the finishing touch, carry a black crossbody bag.
Meeting the Guys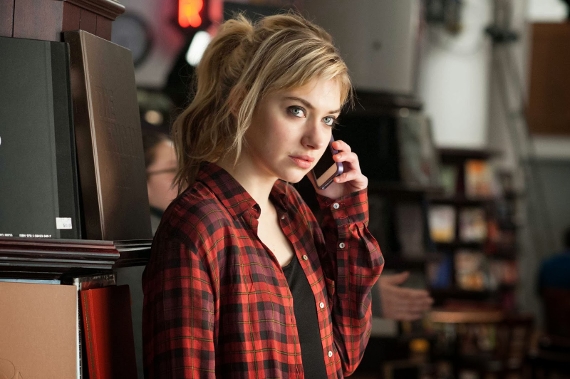 Official Promotional Image
Plaid shirts are a must-have for any college student, and have become a popular trend this fall. If you are looking for a way to dress up a plaid button-down, this next Ellie-inspired look will be right up your alley!
The outfit she wore when meeting Daniel and Mickey included staple pieces paired with pops of red from the shirt and skirt. The great part about the plaid top is that it makes the ensemble casual enough for the daytime, but the skirt and booties dress things up a bit.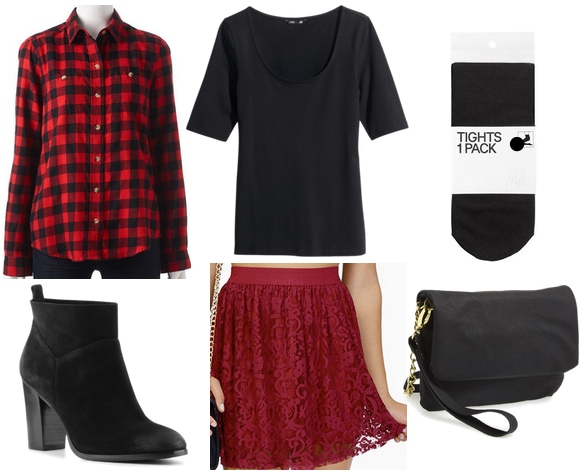 Flannel, Tee, Tights, Shoes, Skirt, Bag
To recreate this outfit, pair a red plaid shirt with a plain black tee. Dress those pieces up with a pretty red or burgundy lace skirt. (If lace is not your style, you can replace it with a simple red or black skater skirt.) Continue the stylish vibe with opaque black tights and ankle booties. Accessorize with a sleek black crossbody bag to complete the look.
Feminine Faux Fur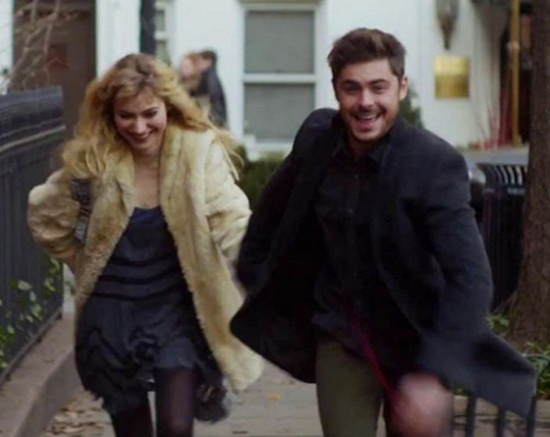 Official Promotional Image
This next outfit features one of the bolder trends this season: faux fur vests and jackets. Although faux fur jackets may be out of your style comfort zone, it can always be replaced with a cozy cardigan or jacket. The rest of the ensemble is perfect for the fall and features darker shades that would look chic for a night out around town!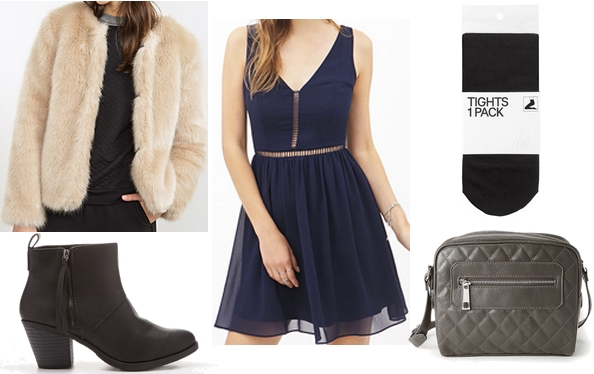 Jacket, Boots, Dress, Tights, Bag
To recreate this look, pair a faux fur jacket with a navy or gray dress. Faux fur not your thing? Replace it with a chunky cardigan. Streamline the look with black ankle boots and matching tights. Ellie was wearing a backpack, but for a night out, swap it with a cool quilted bag, like the one shown above.
Chelsea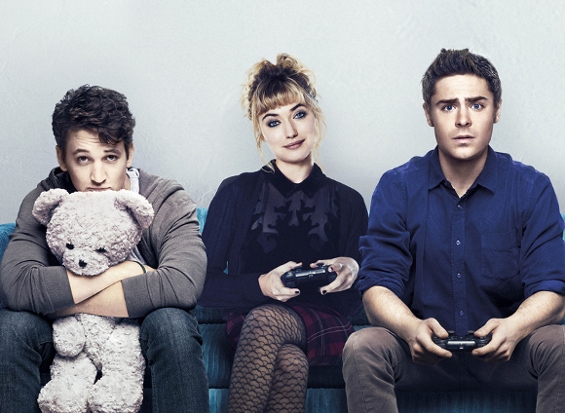 Official Promotional Image
Our final look is inspired by Daniel's love interest, Chelsea. She had a cute, minimalist style throughout the film, but this outfit is based on what she wore in the promotional poster that's pictured here. This is a fun and flirty ensemble that has an edgy yet feminine vibe. This is another awesome outfit to rock on a night out!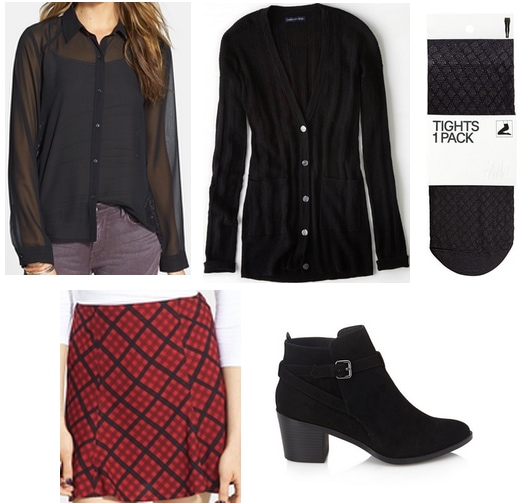 Shirt, Sweater, Tights, Skirt, Boots
Start by wearing a sheer black blouse under a cute black cardigan. Play with color and prints with this red plaid skirt and patterned tights. If you aren't into rocking multiple prints, you can either replace the plaid skirt with a solid red one or switch out the patterned tights with sheer black tights. Finish the outfit with a pair of black booties.
What are your thoughts?
Have you seen That Awkward Moment? What did you think of the film and the outfits shown above? What movies would you like to see featured in future posts? Please leave your thoughts in a comment below!