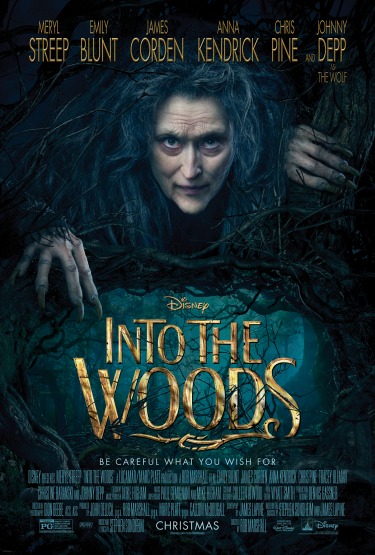 All images courtesy of the Walt Disney Company
A recent winter release that brought fairy tale characters to life was Disney's Into the Woods. This movie musical brings together everyone from Cinderella and Rapunzel to Little Red Riding Hood and Jack from Jack and the Beanstalk into one fun-filled movie.
This post will feature outfits inspired by a few of the female characters from the film; The Witch, played by Meryl Streep, the Baker's Wife, played by Emily Blunt, Cinderella, played by Anna Kendrick, and Rapunzel, played by MacKenzie Mauzy. Scroll down to see these four Into the Woods-inspired outfits!
Witch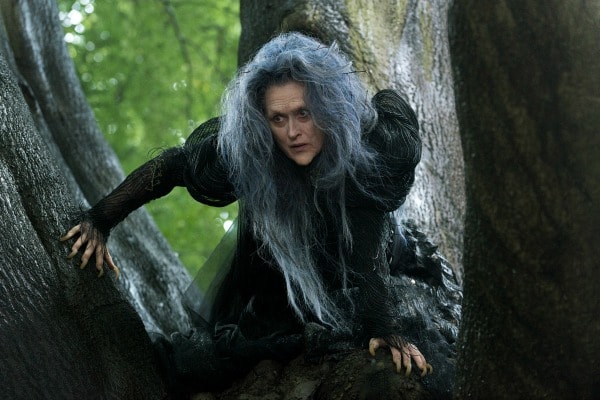 This first ensemble is inspired by the witch herself, and while her spooky garb may not seem like a practical look for college girls, we've reinterpreted it into a dark yet glam look. An outfit inspired by the Witch would look fab on a winter night out – especially if you want to embrace your edgy side.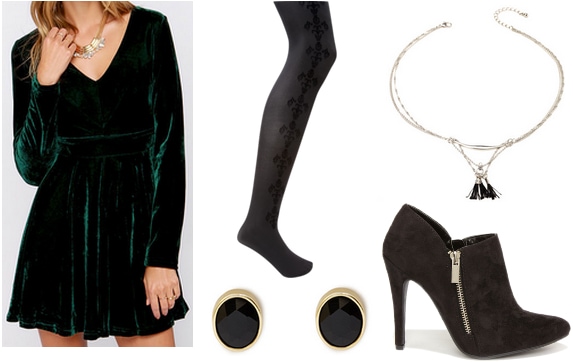 Dress, Tights, Earrings, Necklace, Booties
Since velvet has a similar look to the witch's textured dresses, recreate her outfit with a long-sleeved green velvet dress. While the Witch's dress was long, we opted for a shorter dress paired with cool printed tights and sleek black booties. Accessorize with a black stud earrings and a witchy necklace to complete the look.
Baker's Wife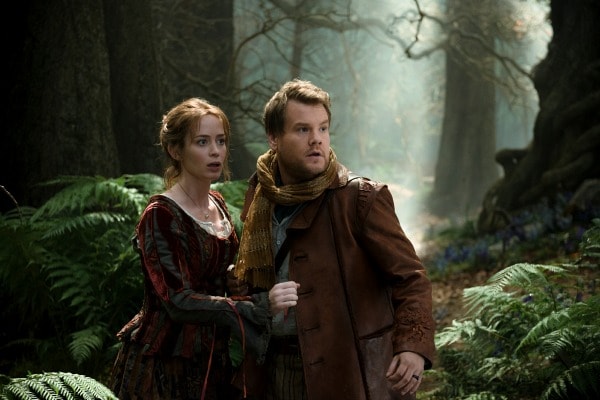 The Baker's Wife wore several outfits throughout the film, but our favorite was this long velvet dress. We've interpreted this ornate and heavy frock into a modern look that's ideal for a night out on the town.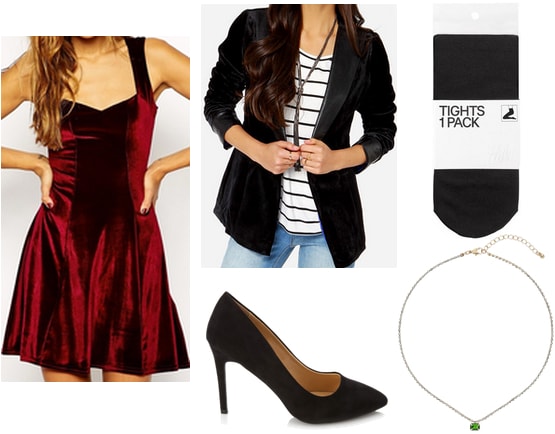 Dress, Jacket, Heels, Tights, Necklace
To recreate this outfit, opt for a red velvet skater dress, then layer on a black velvet long-sleeved jacket or sweater to mimic the long sleeves on the Baker's Wife's dress. Keep things chic and streamlined with opaque black tights and classic black heels. Finish the look with a green-and-silver pendant necklace.
Cinderella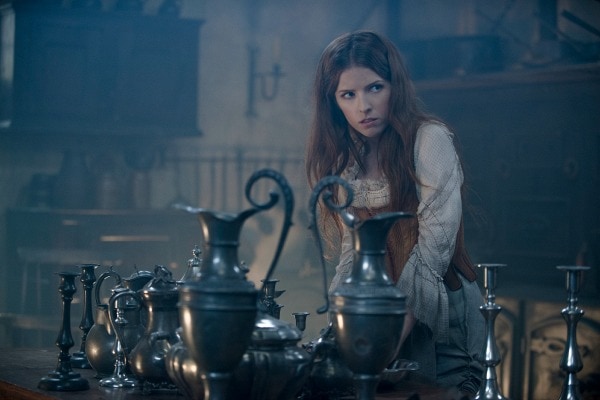 While the outfit Cinderella wore as a maid for her stepmother may not seem very stylish, we can take inspiration from her look to create a wearable outfit that's polished and perfect for everyday wear.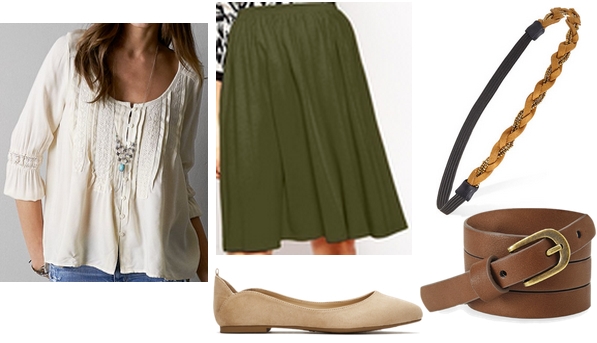 Blouse, Skirt, Flats, Headband, Belt
This modern day interpretation of Cinderella's ensemble has a bit of a boho flair. Start by tucking a white peasant blouse into an olive green skirt, then add a pair of neutral-toned flats. Though Cinderella's corset probably isn't ideal for a day filled with classes, you can incorporate those brown tones found in her look with a brown belt worn over the waistband of the skirt, as well as a brown braided headband.
Rapunzel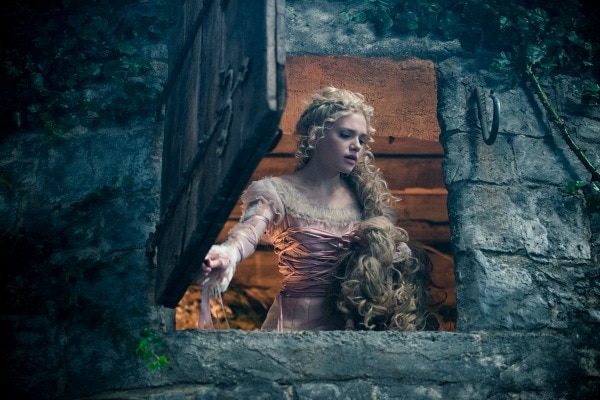 Rapunzel wore this classic pink outfit that looked like it came straight out of a book of fairy tales. Recreations of her outfit, however, don't have to look like you walked out of a fairy tale. Just check out the modern interpretation below.
Blouse, Heels, Skirt, Headband, Ribbon
To recreate the look of Rapunzel's dress, tuck a feminine pink blouse into a light pink textured maxi skirt. Neutral shoes won't overpower the rest of the outfit; these oxford-style heels look similar to the one Rapunzel wore in the film.
Keep the accessories simple with a pink headband. To get the ribbon-detailed look of Rapunzel's dress, tie a piece of pink satin ribbon over the waist of the skirt as a belt. If you want, you could even tie the ribbon as a headband or a bracelet!
What are your thoughts?
Have you seen Into the Woods? What are your thoughts on the film and the outfits shown above? What movies would you like to see in future Movie Inspiration posts? Please leave your thoughts below!