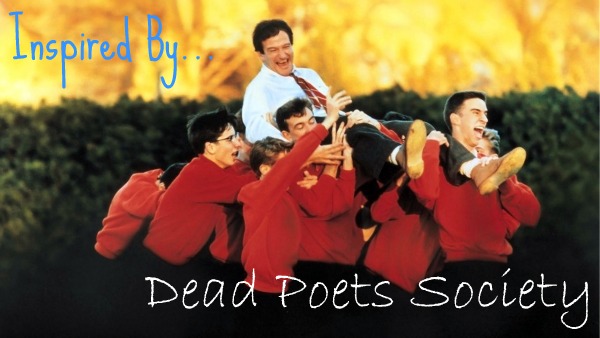 You asked, and we delivered! Classes have started for many of us, and something about reading 5-page long syllabi, buying fresh new school supplies, and perusing new text books makes me want to put on a plaid skirt, penny loafers, and peter pan blouse – which is where today's movie inspiration comes in.
Dead Poets Society might strike you as a strange movie to draw fashion inspiration from — after all, its cast is practically all-male and its private school setting means the characters essentially wear the same thing throughout the whole film. But fear not, gentle readers — there is sartorial value to be found in this film.
If you haven't caught Dead Poets Society yet, here's a little bit about the film: a new teacher (Robin Williams) comes to a strict boys' boarding school, and using non-traditional teaching methods, he introduces the boys to a new way to approach life. Inspired by poetry and literature, the boys restart a secret society where they express themselves and talk about their aspirations. It's a great coming-of-age film that's not only inspirational, but also full of eye candy. 🙂
Ready to bring a little school-girl prep into your wardrobe? Read on!
Carpe Diem — Make Your Lives Extraordinary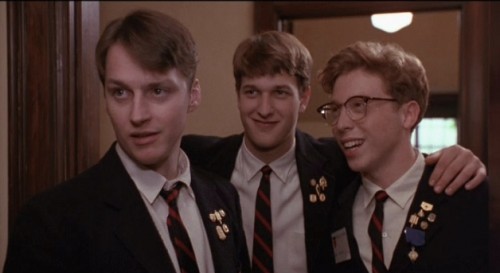 Tailored blazers, crisp oxford shirts, khaki pants, and ties comprise the bulk of the wardrobe for Dead Poets Society. While the guys are required to wear school uniforms, I love the androgynous look of "uniform"-inspired pieces for everyday wear. Also, the uniforms in the film are navy, red, and white, colors that form a classic palette that can work for both college classes and business casual occasions.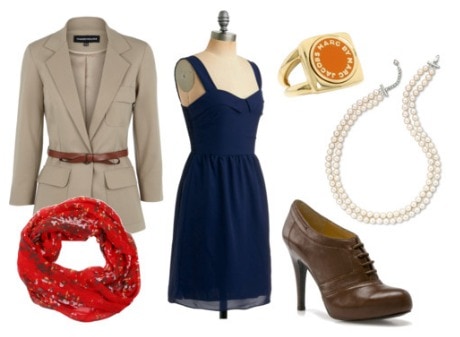 Blazer, Dress, Scarf, Ring, Pearls, Shoes
If you don't already own a tan blazer, it's a fantastic investment piece — all you have to do is throw it on over any dress, and you'll be ready for school, church, a nice dinner, or any semi-conservative occasion. Pair your blazer with a classically tailored dress, and add lace-up oxford heels for a little bit of style. Finish your look with pearls, a signet ring, and a lightweight red scarf.
Oh Captain, My Captain!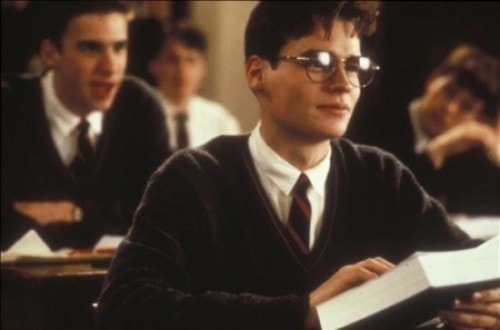 Even the buttoned-up boys in Dead Poets Society had a little bit of leisure time. Granted, most of that time was spent frolicking through the woods, acting in Shakespearian plays, and writing love poems. (Ah, what dream boats.) Steal a bit of their east coast-preppy style and work it into a casual outfit perfect for class, running errands, or a little frolicking through the woods with a special boy yourself!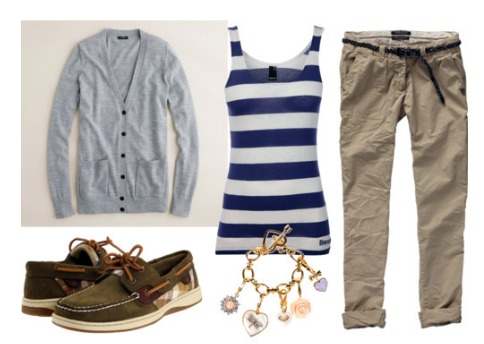 Cardigan, Tank, Pants, Shoes, Bracelet
I love the look of these classic cuffed trousers — the cuffs give the otherwise-polished khaki chinos a laid back, adventurous vibe. Pair them with a striped tank top, a light cardigan, and your trusty pair of Sperry's. Finish with a simple charm bracelet.
A Midsummer Night's Dream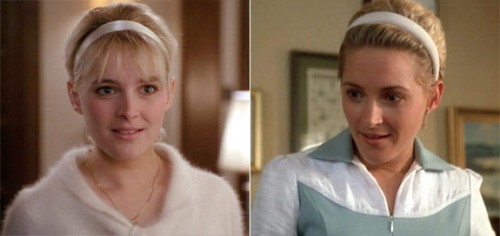 Spoiler alert: Knox Overstreet falls for Chris, the only girl in the entire film. As the film was set in the 1950s, her girlish style reflects the trends of the time. Chris is seen rocking full skirts, fuzzy sweater sets, simple jewelry, and her signature headband.
Take a tip from Chris and pair a delicate cardigan with a full skirt — the combo will look perfect for casual interviews, a date, or meeting the boyfriend's parents.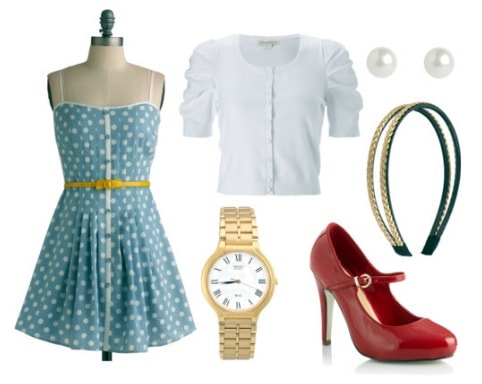 Dress, Cardigan, Watch, Shoes, Headband, Earrings
I can't get over how adorable this dress is — it makes me want to eat cotton candy and walk up and down a boardwalk! Throw a girly cardigan over your dress, and add red Mary Janes to keep with the color scheme from the film. Finish your look with classic accessories, like pearl studs, a mens watch, and, of course, a headband!
What Do You Think?
Have you seen Dead Poets Society? What are your favorite parts? Which look is your favorite? Which boy in the film did you have a crush on? What other movies inspire your sense of style? Leave us a comment and tell us what you think!