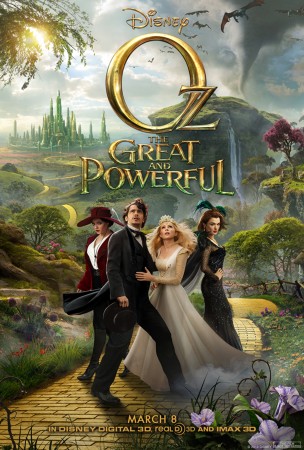 Official Movie Poster
We're off to see the Wizard…sort of. A prequel to the beloved classic The Wizard of Oz, Disney's latest release, Oz: The Great and Powerful, hit theaters last week with a bang!
The film follows the adventures of Oz (James Franco), a magician from a small town in Kansas, who is swept up by a tornado and lands in a strange place full of talking animals and larger-than-life scenery. For fans of the Judy Garland classic, this prequel offers a refreshing and lovable backstory for the magical land of Oz. Not to mention, Disney's animations are absolutely breathtaking throughout!
If you haven't seen the film, I promise not to give away any spoilers! You can, however, read a quick synopsis and find the trailer below.
Disney's fantastical adventure "Oz The Great and Powerful," directed by Sam Raimi, imagines the origins of L. Frank Baum's beloved wizard character.

When Oscar Diggs (James Franco), a small-time circus magician with dubious ethics, is hurled away from dusty Kansas to the vibrant Land of Oz, he thinks he's hit the jackpot—fame and fortune are his for the taking—that is until he meets three witches, Theodora (Mila Kunis), Evanora (Rachel Weisz) and Glinda (Michelle Williams), who are not convinced he is the great wizard everyone's been expecting.

Reluctantly drawn into the epic problems facing the Land of Oz and its inhabitants, Oscar must find out who is good and who is evil before it is too late. Putting his magical arts to use through illusion, ingenuity—and even a bit of wizardry—Oscar transforms himself not only into the great and powerful wizard but into a better man as well.
Oz The Great and Powerful Trailer 2
Oz is not only a fantastic movie, it's actually a perfect source of fashion inspiration, too! Below, I've created a few outfits inspired by the film and its characters. Scroll down to view them all!
Oz, the Great and Powerful
Top, Blazer, Jeans, Shoes, Fascinator, Necklace
The magician from Kansas may have questionable acts, but his style is right on target!
Steal Oz's classic getup with a white button-up shirt tucked into a pair of black high-waisted jeans. Grab a black blazer to dress the look up, and slip on a pair of oxfords for a vintage twist. To pay tribute to his signature bow tie, wear a bow necklace for a cute look. If you're feeling a bit fancy, add a fun fascinator clip to your hair to finish off this look, perfect for any wizard-in-training!
Theodora
Top, Jacket, Pants, Boots, Hat, Ring, Palette, Polish
The first person – er, witch – that Oz meets after landing in Oz is the beautiful Theodora, played by Mila Kunis. You can grab her edgy on-screen look with a few key pieces.
First, wear a flowy blouse with a pair of leather-look pants and a dark red blazer. Next, slip on fierce knee-high boots similar to the ones Theodora sports in the film. Wear a bold statement ring and a floppy hat for the perfect accessories. Finish the look off with a swipe of pretty polish from OPI's Oz Collection in "I Theodora You" and finish with Urban Decay's Theodora makeup palette.
Evanora
Dress, Shoes, Headband, Necklace, Earrings, Ring, Polish
Evanora (Rachel Weisz) has a perfectly gorgeous, yet equally wicked style. To achieve her aesthetic, wear a gorgeous high-low sequin dress with a pair of strappy sandals. Accessorize with a feather headband, chandelier earrings, and a bold statement ring. To complement the outfit, wear a shade of glittery polish. (We love OPI's "When Monkey's Fly!") An emerald pendant necklace completes the ensemble, and is a perfect replica for the one Evanora wears in the film!
China Girl
Dress, Shoes, Belt, Necklace, Earrings, Ring
Don't underestimate this cute little doll! China Girl is the perfect mix of sweet and sassy.
Get her look with a flirty lace dress in mint with a matching bow belt. Wear a cute pair of ballet flats for a girly look, and, as a tribute to her town, wear a fun tea cup ring. Complete the outfit with classic pearl earrings!
Glinda
Dress, Shoes, Headband, Earrings, Palette, Polish
The Good Witch of the land of Oz, Glinda has a style fit for a queen! Grab her royal appeal with a tulle skirt dress, and add a hint of sparkle with some glitter pumps. Faux diamond stud earrings and a feather-accented headband add the perfect glam touches to the outfit. Finish the look with Urban Decay's makeup palette and OPI's polish in "Don't Burst My Bubble," both inspired by Glinda herself.
Wicked Witch
Dress, Shoes, Headband, Necklace, Bracelet, Polish
She's mean, she's green, and she has no heart. She's the Wicked Witch of the West! To get her evil look, wear a black dress and edgy combat boots. Add a touch of green with a trendy statement necklace, and continue the edgy look with a studded faux-leather wrap bracelet. A feather headband winks to her infamous flying monkeys, and a swipe of OPI's "What Wizardry Is This?" nail polish finishes off this wicked outfit.
What do you think?
Have you seen Disney's Oz: The Great and Powerful? (If not, check it out! It's in theaters now!) Are you a fan of the classic film? Are you inspired by looks from movies? Would you wear any of the outfits above? Which outfit is your favorite? Would you like to see more posts like this in the future? Let me know in a comment below!