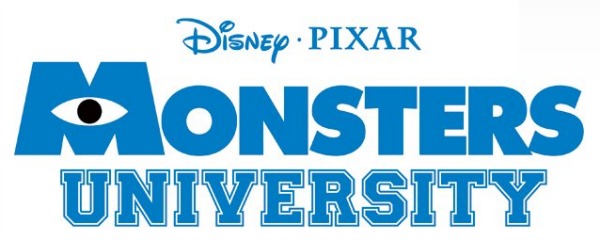 One of my favorite movies from childhood was Monsters Inc., so I couldn't have been more thrilled to find that Disney Pixar was releasing a prequel to the original film, even if it was twelve years later. This new movie follows the story of Mike and Sulley before they were Mike and Sulley, starting as students at Monsters University.
While I won't give away any spoilers, I will say that Disney Pixar stayed true to the original film while adding in some pleasant surprises. It's an adorable movie with a wholesome storyline all ages will enjoy! If you haven't seen it, you can catch the trailer below:
Monsters University Final Trailer
Too cute, right? Disney Pixar does a great job of portraying universities in a monsters world, including everything from Greek life to finals and everything in between. Below, I've created outfits inspired by the film Monsters University. Scroll down to see all the looks!
Mike Wazowski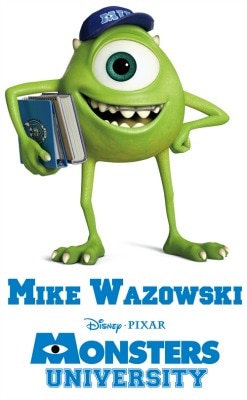 Mike Wazowski dreams of become a scarer at Monsters Inc., so while most students are out partying, Mike stays in and catches up on his studies. He pledges to the fraternity Oozma Kappa and is determined to prove to everyone that he has what it takes to be a scarer.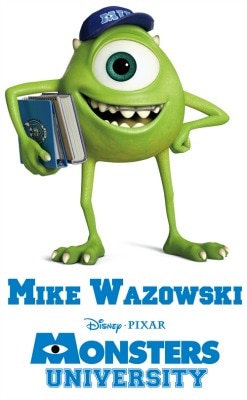 Top, Shorts, Shoes, Hat, Backpack, Necklace, Earrings, Notebook
Capture Mike's adorable green look with this outfit. Wear a flowy tank over a pair of green shorts. Slip on a pair of green sneakers for a comfortable, but cute twist. For jewelry, wear simple stud earrings to contrast with a flower statement necklace. Mike never stops learning from the world around him, so don't forget to pack a mini notebook to record all of your thoughts. Store it in a canvas backpack and grab a hat like the Monsters University one Mike wears throughout the movie before heading to your first class!
James "Sulley" Sullivan
James "Sulley" Sullivan is a Sullivan, which means he comes from a long line of scarers. Unlike Mike, Sulley spends his time trying to get into Roar Omega Roar, the top scarer fraternity on campus. Life has been pretty easy for Sulley, but will he be able to live up to the family name at Monsters University?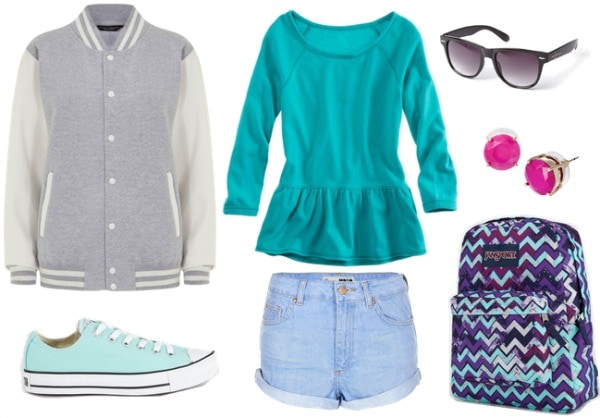 Top, Jacket, Shorts, Shoes, Backpack, Earrings, Sunglasses
Sulley rocks a relaxed look on campus. Channel his laid-back style with a few key pieces. First, wear a blue sweatshirt over a pair of denim shorts. Next, slip on a pair of Converse in a mint hue. Then, grab a varsity jacket similar to the Monsters University one Sulley wears and add a pair of wayfarer sunglasses for a classic appeal. Finish the look with a chevron backpack and stud earrings, and you're ready to go!
Randall "Randy" Boggs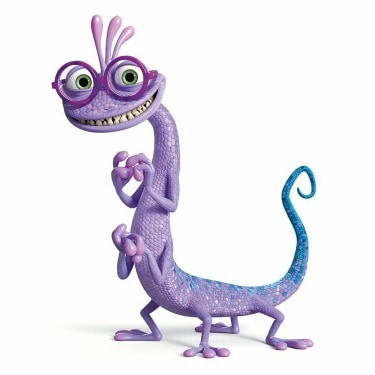 Randall "Randy" Boggs, whom we all know as the villain of the original film, wasn't always evil. At Monsters University, he's Mike's first roommate and friend. Like Mike, he also enjoys studying and is one of the brightest of his class.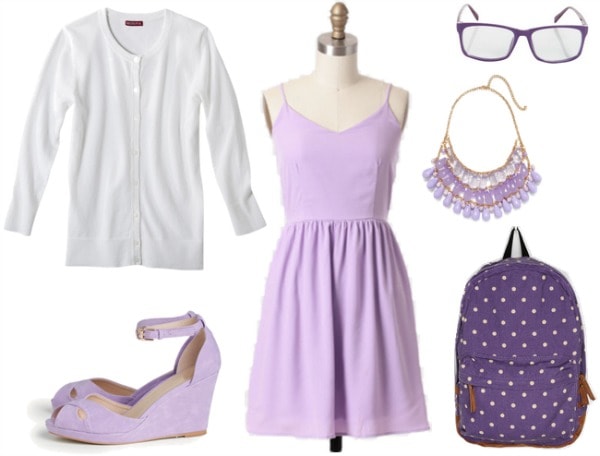 Dress, Cardigan, Shoes, Backpack, Necklace, Glasses
Steal Randy's geek chic look with this adorable ensemble. Wear a sweet pastel purple dress with matching wedge sandals. Grab a cardigan just in case the classroom is chilly. Keep accessories simple but functional with a cute polka dot backpack and a pair of purple glasses. Complete the look with a trendy bib necklace.
Oozma Kappa
Oozma Kappa may not be the coolest fraternity on campus, but nonetheless, this group of underdogs is the one Mike and Sulley choose to pledge. Where they lack in popularity, they make up for in heart. They join together as a team to try to win the Scare Games, which is like the Greek Week of Monsters University.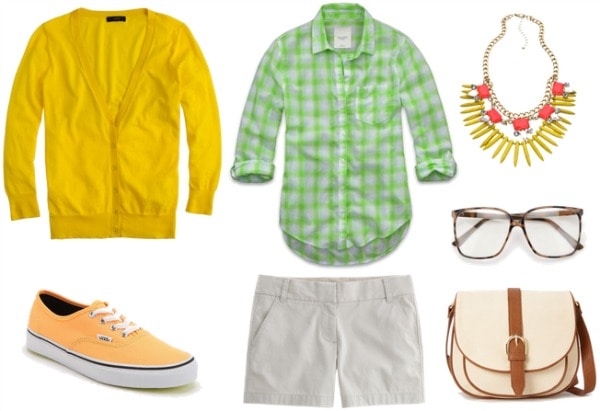 Top, Cardigan, Shorts, Shoes, Bag, Glasses, Necklace
If you're pledging Oozma Kappa, dress the part with this outfit. Wear a plaid button-down over a pair of chino shorts. Add a cardigan in yellow – one of Oozma Kappa's colors – and a pair of sneakers. Complete the nerdy-cute getup with a pair of retro frame glasses, a crossbody bag, and a spiked bib necklace. Go OK!
Archie The Scare Pig
Archie the Scare Pig is the adorable but slightly ferocious mascot of rival school Fear Tech. He is the target of many Roar Omega Roar fraternity potential pledges – stealing him from Fear Tech might just get them a bid!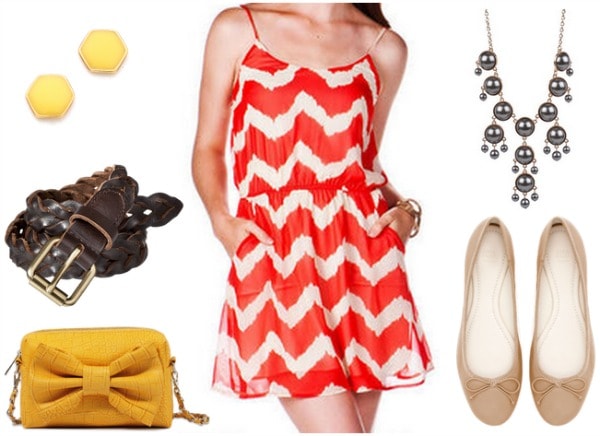 Dress, Shoes, Bag, Belt, Necklace, Earrings
Take a note from Fear Tech's mascot in this chic ensemble! Wear a cute chevron dress with a pair of ballet flats. Add a braided belt and a statement necklace for a trendy twist. Complete the look with a bow crossbody bag and a pair of stud earrings.
What do you think?
Have you seen Monsters University? Are you a fan of Disney Pixar movies? Would you wear any of the looks above? Which look is your favorite? Would you like to see more posts like these in the future? Let me know in a comment below!