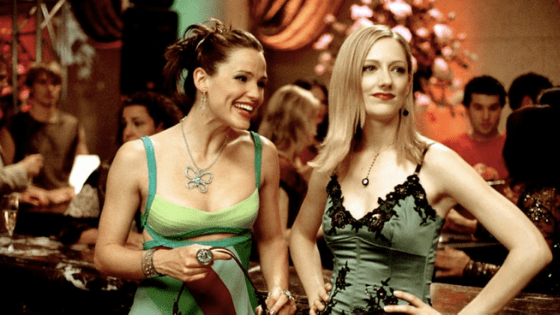 It's been fifteen years since 13 Going on 30 first charmed us on the silver screen while serving up major fashion inspiration. Though Jenna Rink, played by the adorable Jennifer Garner, was the hero of the story, there's another character we need to discuss for our Bad Girl Inspiration series.
It's time to get some inspo from the story's mean girl, Lucy.
Lucy at thirteen was the Queen Bee of the school and the leader of the Six Chicks. She was cruel as a teenager, and is even crueler at age thirty. She is frenemies with Jenna, and will do anything to take her down, especially when it comes to the top Editor job at Poise fashion magazine.
Lucy's style reflects her cold and manipulative personality. Her outfits scream "sexy business villainess." Her wardrobe is filled with edgy, fashion-forward work wear. This is in drastic contrast to Jenna's colorful, girly style. Lucy also mostly wears green, to represent her jealousy towards Jenna.
Below are three looks that will make you look like a tough HBIC, just like Lucy:
Lucy 13 Going on 30 Style – Outfit #1: "A Tough B*tch"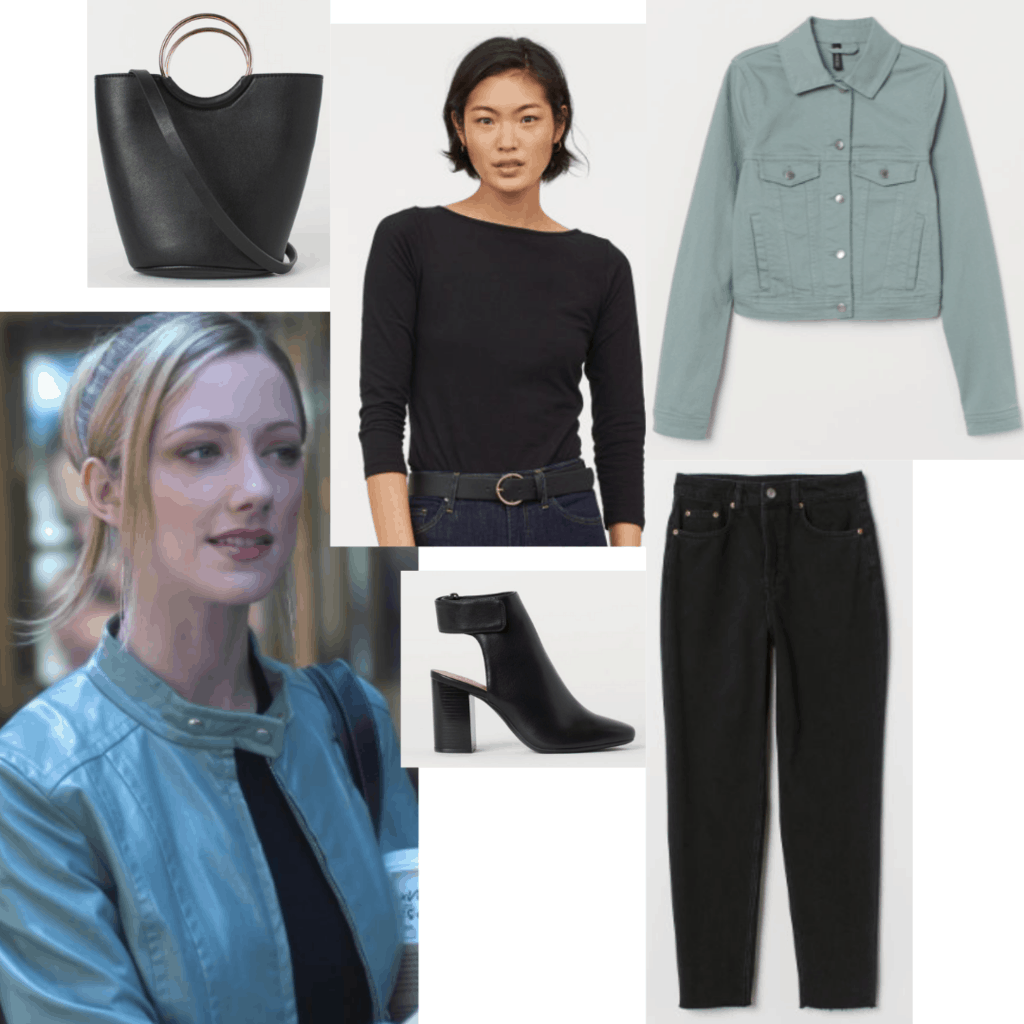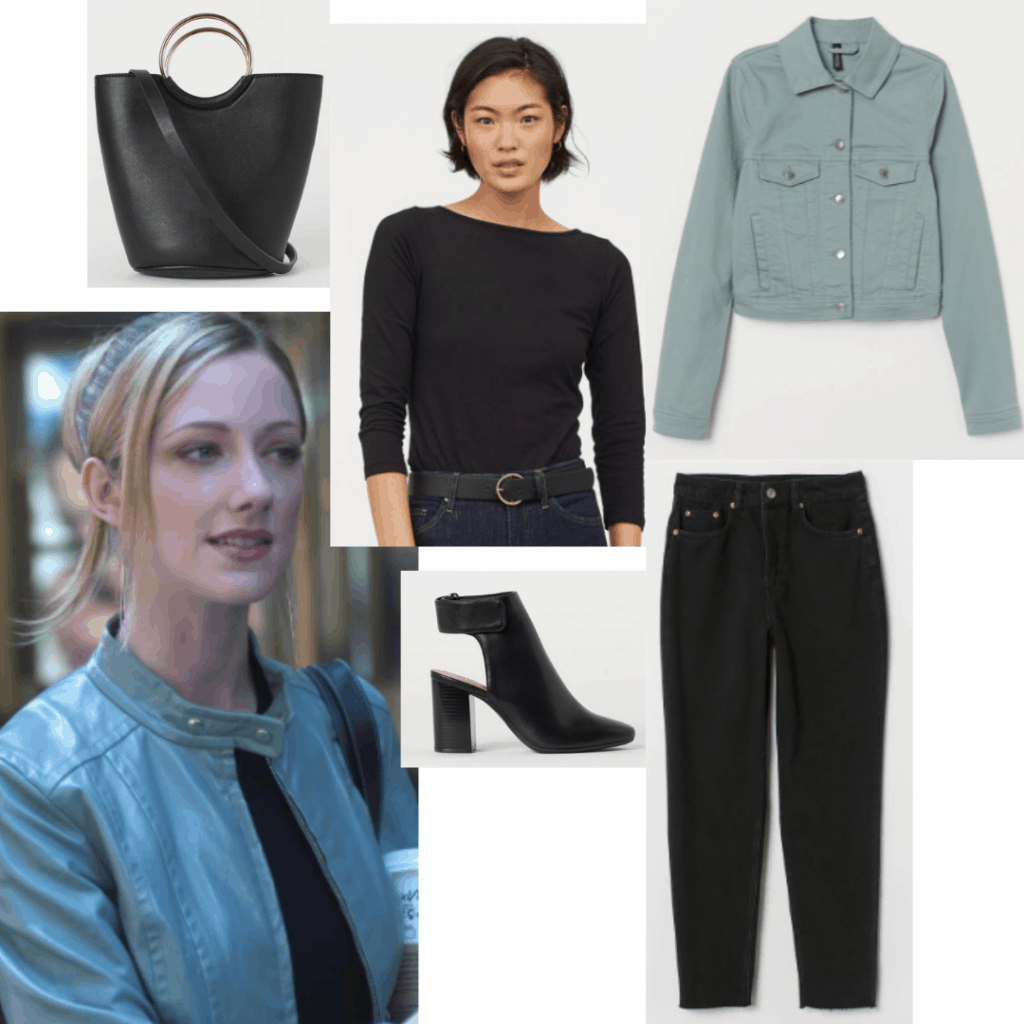 Products: Top – H&M, Jeans – H&M, Shoes – H&M, Bag – H&M, Jacket – H&M
When Jenna first meets Lucy at the age of 30, she has no idea who this icy, stylish woman is. Lucy states that she is Jenna's best friend. As the day goes on, Jenna learns that Lucy was her middle school bully.
The look Lucy wears in this scene truly captures her edgy workaholic personality. She combines a black outfit paired with a statement teal leather jacket for a mix of toughness and classic cool.
If you would like to get this look, just go for a plain black t-shirt and trousers combination, with a good pair of black heels. Then add a statement jacket of your choice. Wear with plenty of attitude.
Lucy 13 Going on 30 Style – Outfit #2: "A Dangerous Mermaid"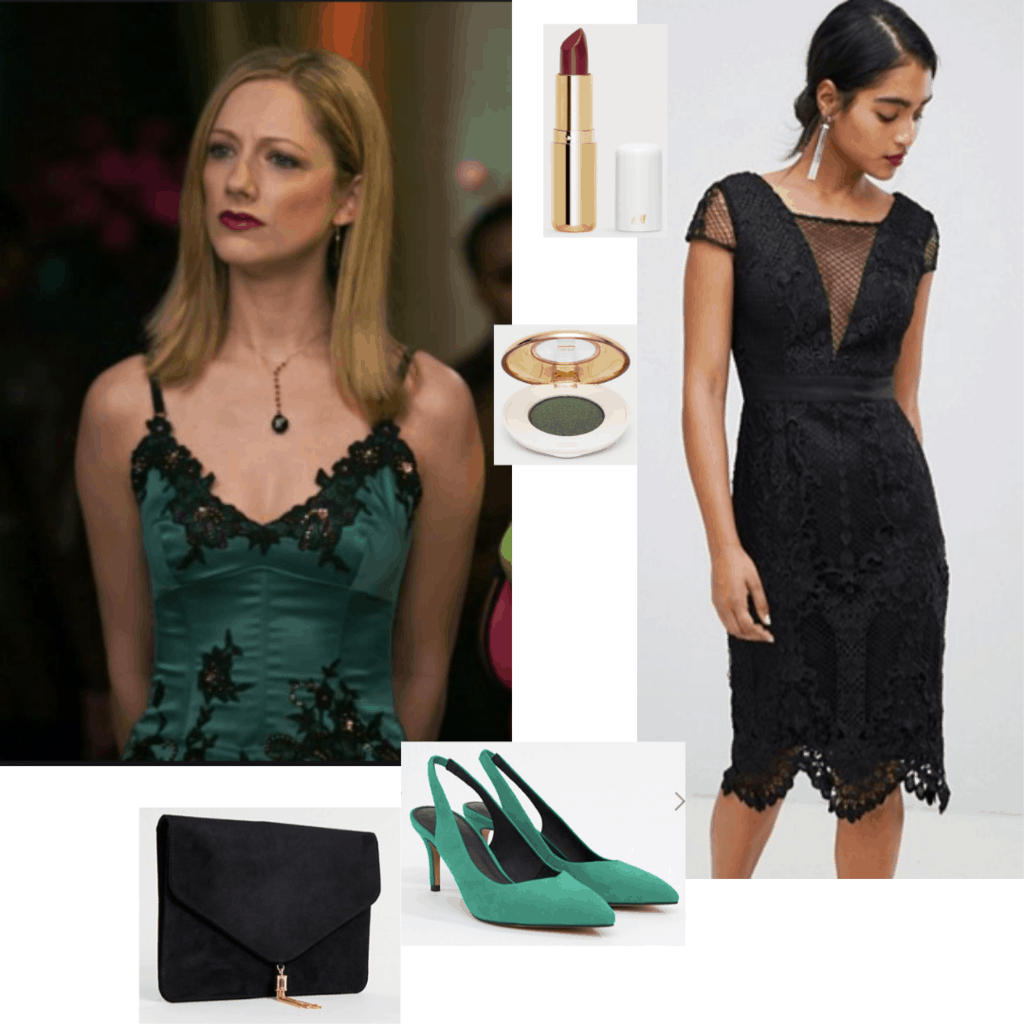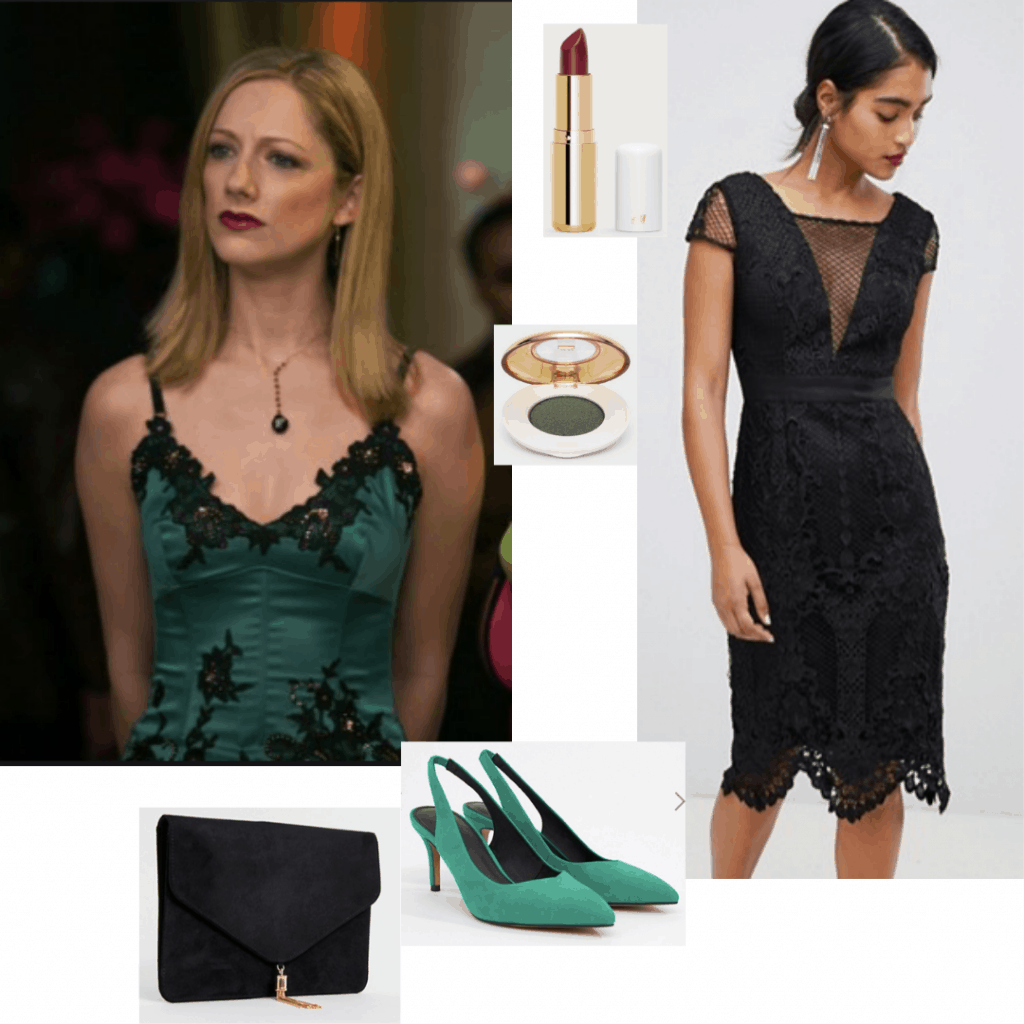 Products: Dress – ASOS, Shoes – ASOS, Clutch – ASOS, Lipstick – H&M, Eyeshadow – H&M
In probably the most iconic scene in the film, the Thriller dance sequence, Lucy wears her most well-known look, a mermaid inspired co-ord set.
The entire look just breathes 2000s fashion and we are here for it!
To get Lucy's Thriller Dance look, go for a sexy party dress or two piece set, preferably one that incorporates some lace, like this LBD. Rock a statement shoe in her signature green. For extras, keep your colors dark for the mysterious edge that Lucy has.
Lucy 13 Going on 30 Style: Outfit #3: "Fashion Suicide"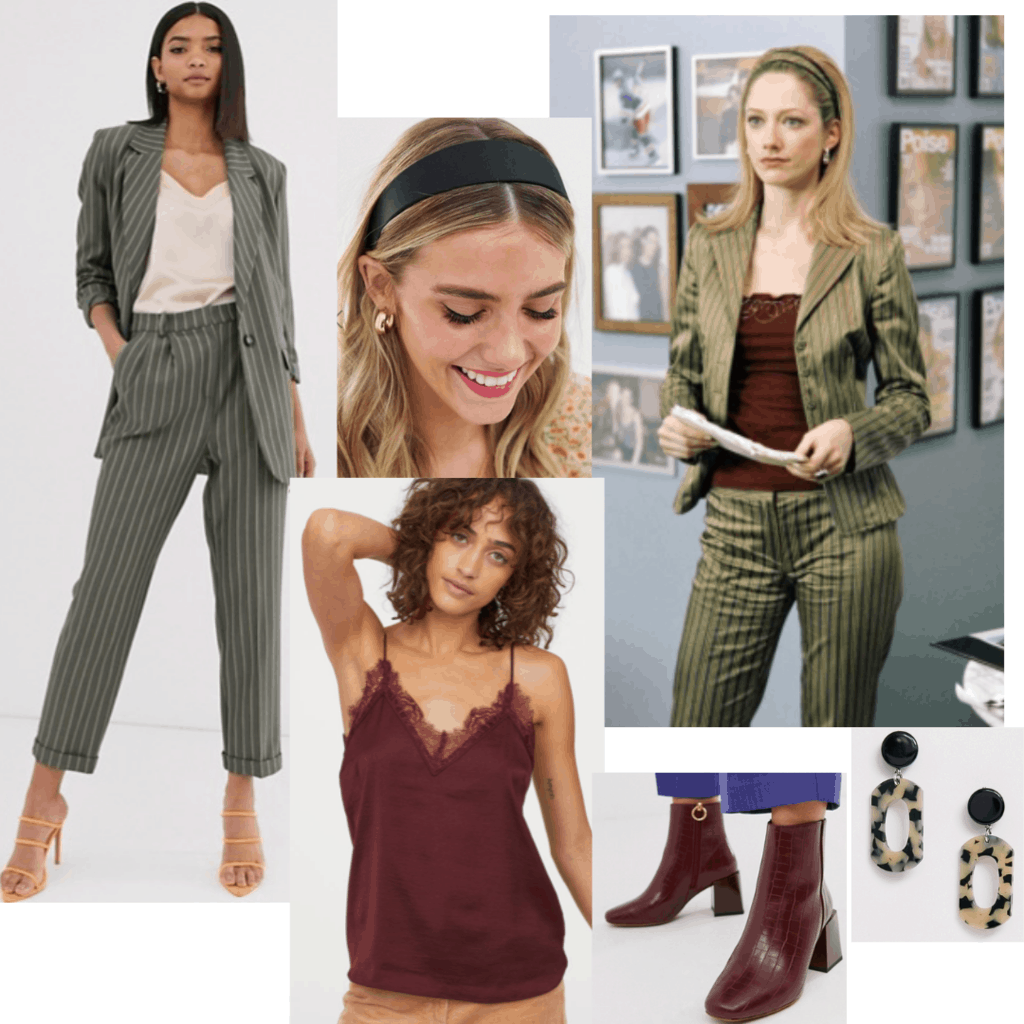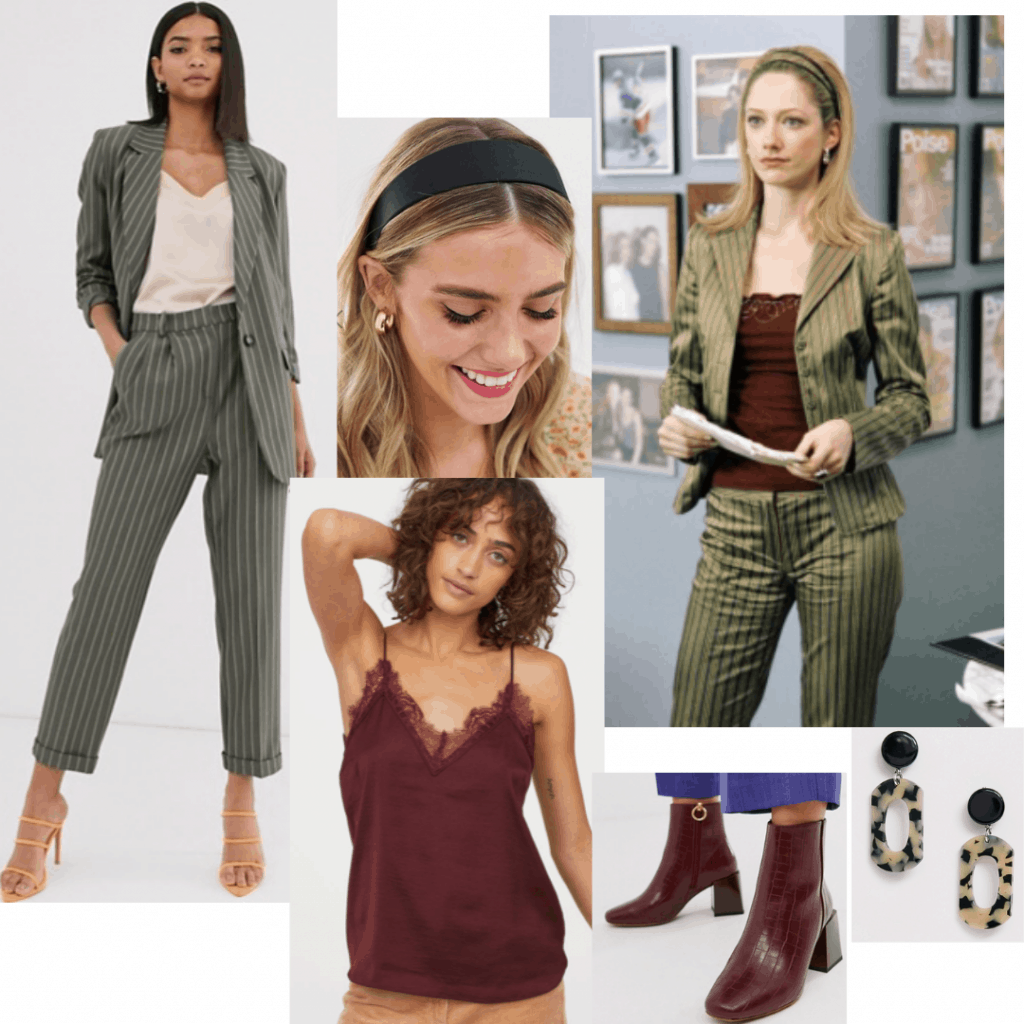 Products: Suit – ASOS, Top – H&M, Shoes – ASOS, Headband – ASOS, Earrings – ASOS
In her big final moment, Lucy tries to take down Jenna at their magazine redesign presentations, by offering the magazine a dark and sexy new look. This does not fair well next to Jenna's yearbook-inspired redesign. She also unveils Jenna's secret — that she's working with another magazine — and takes her hard-won position as Editor in Chief.
Lucy's look for the end of the film is her most boss lady look yet. She goes for the classic matching blazer and trouser set, with a sultry cami top. This look would be amazing to wear to the workplace, especially if you want some extra motivation to crush it like a boss.
What did you think of our guide to Lucy 13 Going on 30 style?
The films of the early 2000s are filled with some fashion flops, but Lucy's style from 13 Going on 30 is not among them. Hopefully these looks gave you inspiration to be a tough girlboss in the workplace.