Welcome to the latest edition of Looks from Books, which aims to prove that you can look smart, while still being book-smart, too. Fashion inspiration can be found between the pages of your favorite stories, on well-designed book covers, and in your favorite characters… if you read closely enough.
This week, we're getting inspired by a recent trailer release… and the recommendations of my mother, who suggested I do a "Looks from Books" column on this story when I first got this writing position. Here's Antoine de Saint-Exupery's The Little Prince!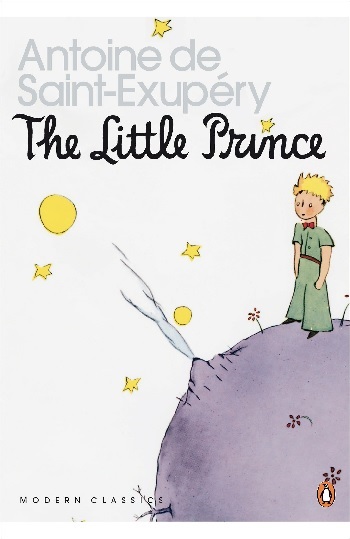 Cover via Amazon
Inside Cover
The Little Prince is a work of children's fiction published in 1943 by notable French aristocrat, poet, and writer, Antoine de Saint-Exupery.
It follows the story of a pilot who crash-lands in a desert and meets a strange little boy who tells him the story of his life among the stars, where he lived on an asteroid with his companion, the rose. He travels across planets, meeting other asteroid inhabitants who are all individually wrapped up in their own sets of problems, but on Earth, he comes to be good friends with a philosophical fox he tames, as well as a snake, who says he can send the Prince back to his own little planet through just a bite from his lethal poison.
Though the book was written for children, it also notably contains commentary on the social realm of adults, as well as loneliness and loss.
The novel has been translated into over 250 languages and dialects from its original French, and is one of the best-selling books ever published, with annual sales topping over 140 million copies worldwide.
A Fashionable Literacy
While the novel has been adapted for numerous formats, including stage, screen, radio, opera, and ballet, the work still gained international attention once again last week when the French trailer was released for the upcoming 2015 film adaptation, Le Petit Prince.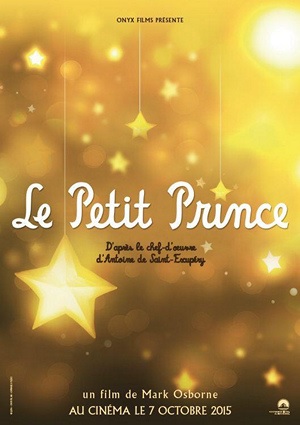 The trailer depicts a departure from the traditional telling of the classic tale, and instead follows a little girl befriending an old man, who tells her an amazing story from his life about a little boy he met in his travels around the world as an pilot. Big names associated with the American translation of the film include Rachel McAdams, James Franco, Benicio del Toro, and many more, with Jeff Bridges providing the voice of the Aviator.
Although there is no concrete American release date yet, the movie will be released in France on October 7th, 2015.
How to Add the Little Prince to Your Wardrobe
By integrating key elements of the novel into your own look, you, too, can find fashion just as imaginative and timeless as this classic work of fiction.
The Little Prince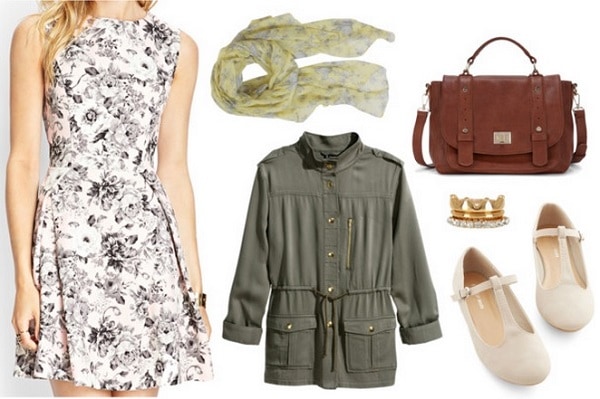 Product Information: Dress – Forever 21, Scarf – Humble Chic, Jacket – H&M, Bag – Sole Society, Rings – Nordstrom Rack, Shoes – Modcloth.
The main character, the Little Prince, comes from an asteroid made up of volcanoes, where he lives with his friend, the rose. This iconic character is lovingly detailed in not just the brief novel, but also in the hand-drawn watercolor illustrations that give even more life to his small world, which he takes it upon himself to expand with his adventures. The imaginative and whimsical world that de Saint-Exupery has created for this young royal is one that is as airy and unbounded as the stars themselves.
Integrate the main character of our story into your own outfit by creating a yellow, white, and green look with an airy finish that's reminiscent of the iconic watercolor illustrations throughout the book and perfect for planet-hopping and flying around the stars. A yellow scarf paired with a green utility jacket are riffs on the Prince's own outfit, while the rose-print dress is a reminder of his friend, the rose, that he left on his home asteroid. T-strap Mary-Jane flats and a leather messenger bag pair sweetly with the other dainty elements, while a set of stacking crown rings are reminders of the Prince's royal status.
The Fox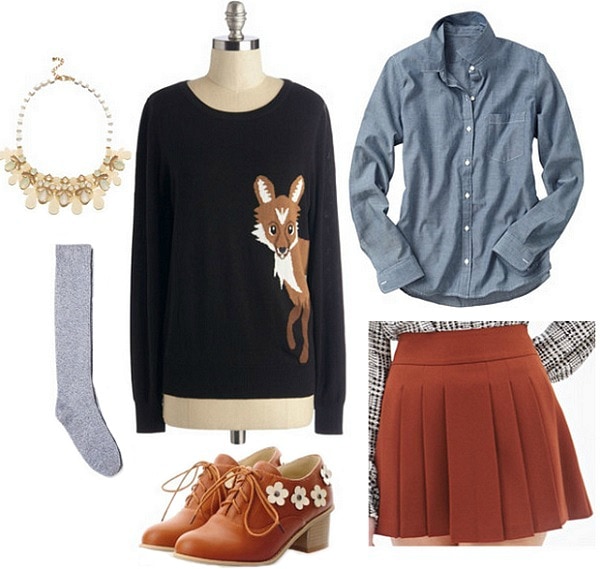 Product Information: Necklace – Warehouse, Sweater – Modcloth, Shirt – Gap, Skirt – Forever 21, Shoes – Amazon, Socks – Target.
The Fox is a notable character within the novel who is found on Earth by the Little Prince and slowly tamed, becoming his best friend. He is a symbol within the children's work on the importance of building relationships, and is responsible for some of the most-quoted philosophical lines in the novel. He emphasizes the best things in the Little Prince, whose naive and curious nature – but willingness to learn – is bolstered by his friends support and encouragement.
Channel the personality of the fox, as well as the student-like actions he inspires in the Little Prince, via classic schoolyard basics and rust colors. A fox graphic sweater provides a direct homage to the character, while a pleated skirt, denim button-down, and staid knee socks provide a classic silhouette. A statement necklace and floral-embellished oxfords provide a whimsical counterpoint.
The Pilot and the Snake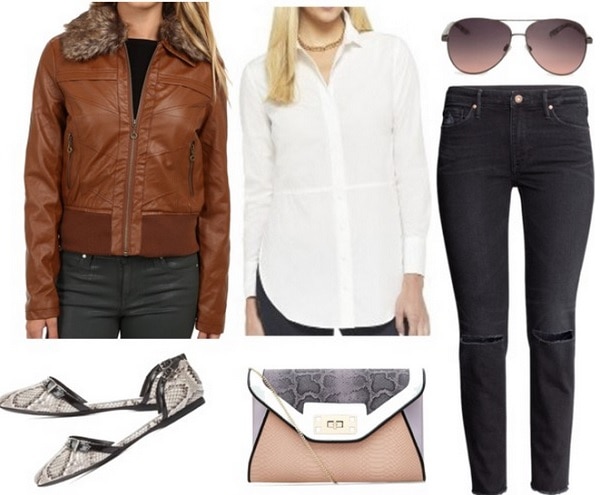 Product Information: Jacket – 6PM, Shirt – Target, Sunglasses – Mango, Jeans – H&M, Purse – New Look, Shoes – Charlotte Russe.
The Little Prince learns so much through his travels by meeting many interesting characters and realizing more about what he finds important about those he left at home by those he meets elsewhere. Similarly, the narrator – the Pilot – learns much from his meetings with the Prince in the desert. This theme of enlightenment through exploration is great for promoting curiosity in a kid… but still says a lot for those of us who've grown up about how important it is to continue to expand your knowledge of the world around you. Alongside the snake – the only character in the novel who seems absolutely sure of life's mysteries – the Pilot presents the idea of how important it is to keep learning.
Pay homage to the Pilot in your own outfit by creating a look of adult basics contrasted against snakeskin accessories for a style that's fit for adventures. A basic white button-down is given edge with ripped-knee jeans, while a bomber jacket and aviator sunglasses incorporate some of the Pilot's accessories. A snakeskin purse and d'Orsay flats provide a slithery counterpoint.
What Do You Think?
Have you ever read The Little Prince? Did you read it in English or the original French? What do you think of the plans for a film adaptation? Do you like the outfits and styling tips? Let me know in the comments below!