Welcome to the latest edition of Looks from Books, which aims to prove that you can look smart, while still being book-smart, too. Fashion inspiration can be found between the pages of your favorite stories, on well-designed book covers, and in your favorite characters… if you read closely enough.
This week, we're taking inspiration from a romantic novel that recently made it's big screen debut. However, this book has been winning new fans over since 2009… including the star of its adaptation. Here's Gayle Forman's If I Stay!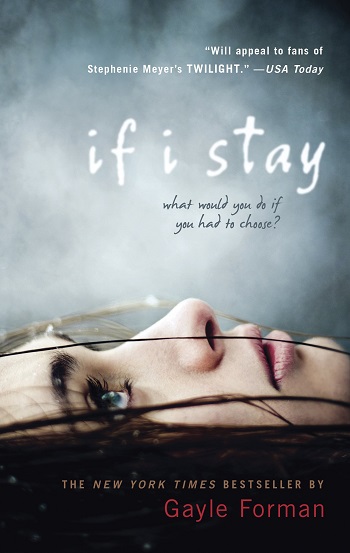 If I Stay Cover || via Amazon
Inside Cover
If I Stay is a 2009 young adult contemporary novel written by Gayle Forman.
The story follows Mia, a young cellist who's in love with her boyfriend Adam. However, her life is torn completely apart after her family is involved in a car accident on a snowy day, which leaves her parents dead, her brother in intensive care, and herself locked deep in a coma.
Observing the repercussions of the collision within the hospital in an out-of-body experience, particularly the response of her extended family and friends, Mia reflects on her life and ponders whether she should let go and move on, or stay and live a life she doesn't know she could handle.
The novel has quite the YA following, with enough good reviews from critics and fans alike for its emotional depth and empathetic story-telling to warrant a sequel novel; Where She Went was published in 2011.
A Fashionable Literacy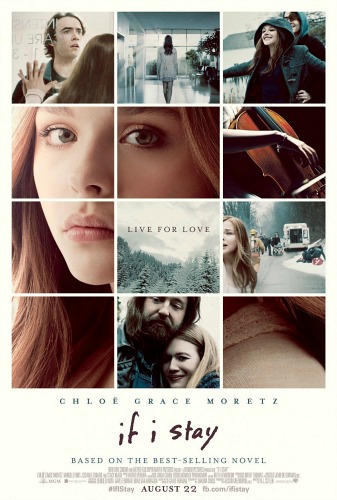 A promotional poster for the upcoming adaptation || Photo via IMDB
The novel's first adaptation hit theaters on August 22nd, and stars Chloë Grace Moretz as Mia Hall and Jamie Blackley as Adam.
The film's star managed to make some waves with YA fans after comments in a June interview with Entertainment Weekly, about how she "doesn't love the young adult designation" of the novel because it "diminishes the book's value," were published. Many took these comments to be demeaning to the YA reader audience, as well as belittling the success of other such novels, like The Fault in Our Stars, 13 Reasons Why, or Speak, which also tackle difficult subject matter from a teenage perspective.
However, critical reception to the film has been primarily even-handed, with most praising Moretz's emotionally-demanding performance.
How to Add Mia to Your Wardrobe
By integrating key elements from the novel into your own look, you, too, can pay homage to the sweeping romance and drama of the novel.
Make It Music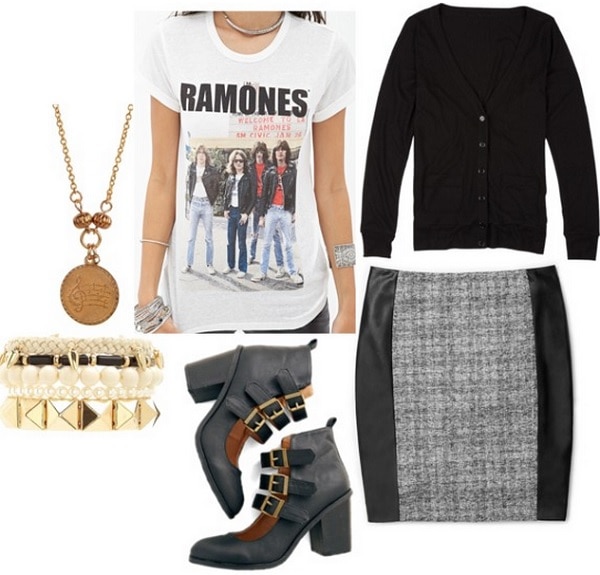 Product Information: Necklace – Simply Soles, Shirt – Forever21, Cardigan – Delia's, Skirt – Calvin Klein, Boots – Modcloth, Bracelets – Charlotte Russe.
While Adam takes center stage in Mia's original quandary – whether she should stay on the West Coast for school or travel to Julliard – there is an even greater love in her life she must weigh into that decision: her love of music. Particularly, for her, the cello… but also her parent's punk sensibilities and her boyfriend's involvement with his band. In fact, music winds its way through almost every character.
Integrate the theme of music in the narrative by marrying punk and classical aesthetics, just like Mia's cello-rebellion against her parent's rocking upbringing, as well as her relationship with Adam. A leather-lined tweed skirt mixes the best of both worlds, while a demure cardigan and dainty music necklace contrast against rockin' heeled boots and a Ramones tee. Mixed media bracelets bridge the gap between genres with pearls and studs in equal measure.
Like a Love Song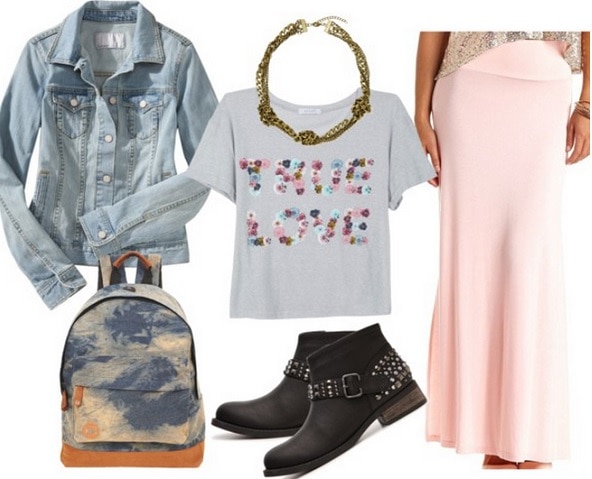 Product Information: Jacket – Old Navy, Necklace – NastyGal, Shirt – Delia's, Skirt – Charlotte Russe, Shoes – DSW, Backpack – Delia's.
Unsurprisingly, the heart of the novel has to do with, well, matters of the heart. While the status of the love story among the young adult set is pretty firmly cemented in many a series, that doesn't mean Mia and Adams' is any less extraordinary. And not just in the circumstances that surround it, but in the ways that it accurately describes a teenage relationship, complete with bumps and bruises along the way. It may be a love story, but it's certainly no fairy tale… Mia and Adam have to work to make their relationship work, too.
Bring out the romance of the novel with a mix of items that are sturdy and soft, spiky and sleek… a reminder that the road is bumpy, and love doesn't come easy. A distressed denim jacket, acid wash backpack, studded boots, and knotted necklace rough up a flowery crop top and slitted pink maxi skirt to create a look that is sweet and sturdy.
Collegiate Conflictions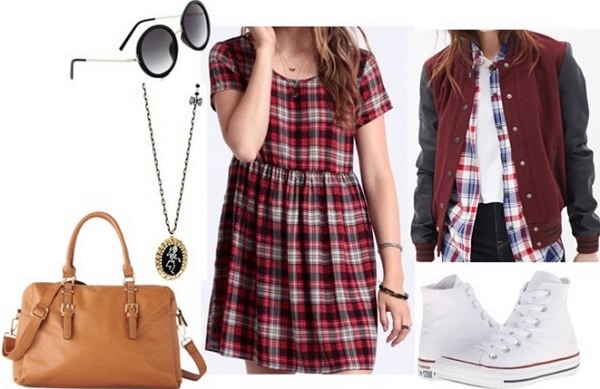 Product Information: Sunglasses – Modcloth, Dress – Threadsence, Jacket – Forever 21, Shoes – Zappos, Bag – Modcloth, Necklace – Betsey Johnson.
One of the main conflicts in Mia and Adams' relationship is their impending split as high school nears its end, as she plans to venture to Julliard, while Adam takes his band to the big time on the opposite coast. Neither one is willing – or wants to! – ask the other to give up on their dream, and the knowledge that their ambitions will inevitably tear them apart drives the couple to fighting. Still, when Mia needs him most, Adam is there as quickly as he can be… because no matter the obstacle, not even growing up can make these two grow apart.
Channel this split between rock 'n' roll road life and collegiate coziness with contrasting edgy and college-inspired pieces. A varsity jacket, Converse, and a leather messenger bag are all classic collegiate pieces, while a plaid baby-doll dress, a skull necklace, and star-worthy sunglasses take the look into rocker territory.
What Do You Think?
Have you read Gayle Forman's best-selling novel, If I Stay? What about it's sequel, Where She Went? What do you think about the movie adaptation? What do you think about the outfits and styling tips? Let me know in the comments below!