Welcome to the latest edition of Looks from Books, which aims to prove that you can look smart, while still being book-smart, too. Fashion inspiration can be found between the pages of your favorite stories, on well-designed book covers, and in your favorite characters… if you read closely enough.
We're nearing the end of summer – and the return of homework – all too quickly, but that doesn't mean that you don't have time for one last, great summer road trip! Even if you're already back at school, you can find an escape in the wandering Beat Movement classic, On the Road, by Jack Kerouac.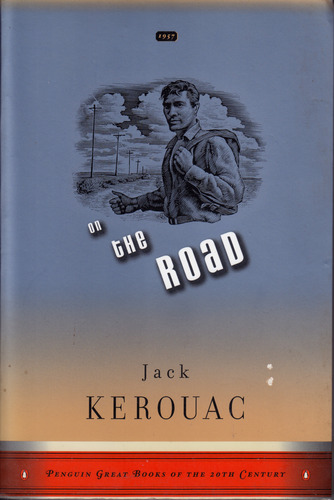 On the Road book cover, via Amazon
Inside Cover
On the Road is a classic postwar novel from the Beat generation, heavily inspired by the cross-country travels of its author, Jack Kerouac, and his friend Neal Cassady, in the 1940s. It was written in 1951, and published in 1957.
The novel follows Sal Paradise, a young, recently-divorced writer, and his friendship with the spirited and adventurous Dean Moriarty, through a series of cross-country travels, and towards the decisions that would define the life of the burgeoning author.
The novel quickly drew general regard and national acclaim for its lyricism and deeply current themes – as well as critical backlash, with Time magazine damning it as "barbaric yawp." The novel cemented Kerouac as leader of the Beat Movement, later aligning him with names of friends, like Allen Ginsberg and William S. Burroughs. The Modern Library ranked On the Road as Number 55 in a list of 100 best English-language novels of the 20th Century, and its 50th anniversary in 2007 was marked with a renewed zeal for the themes of self-discovery presented in the book.
A Fashionable Literacy
As early as 1957, the year the book was first published, Jack Kerouac wrote a letter to iconic rebel Marlon Brando in a push to persuade him to play the "Dean Moriarty" to the author's own "Sal Paradise," in a single-camera style film. Unfortunately, the plan never came through, as Brando never replied to the letter, and further plans for adaptation were derailed with problems involving Kerouac's agent. Additional plans made later, with Francis Ford Coppola helming production in the '90s, as well as interest expressed by indie filmmaker Gus Van Sant, never came to fruition.
The most recent film adaptation of On the Road premiered in 2012, starring Sam Riley, Garret Hedlund, Kirsten Stewart, Amy Adams, and Kirsten Dunst. It received mixed critical reviews, and currently has a 44% "rotten" rating on popular movie-reviewing site, Rotten Tomatoes. However, aspects of the movie were deemed as notable by some critics, including the time-accurate costuming.
While walking down the street in true-to-late-1940s-Americana isn't necessarily recommended, there are aspects of the style you can integrate into your own outfits, like saddle shoes, tweed skirts, and buttoned-up blouses.
How to Add Sal to Your Wardrobe
By integrating key elements from the novel into your own style, you can find a little bit of the Road into your everyday life, without having to travel cross-country to do so!
Run On and On
Product Information: Hat – Charlotte Russe, Top – H&M, Bangles – Forever 21, Skirt – H&M, Earrings – Charlotte Russe, Boots – J.C. Penney.
Kerouac reportedly wrote this novel in three weeks, continuously typing on a long scroll of typewriter paper, and sustaining himself with endless amounts of coffee, while reading through small journals into which he had scribbled notes throughout his own journeys on the road. Reading the frenetically hectic, bumpy, and excessively long, run-on sentence structures used throughout the novel, you can believe it! While the style has been reviewed as both beautifully lyrical and overly-complex, it is, without a doubt, one of the most recognizable elements of the novel.
Utilize this same extravagance in pieces whose impact comes from exaggerated length: a wide-brimmed hat, draped shirt, stacks of bangles, a maxi skirt, dangling earrings, and tall boots may seem a little too long when all paired together… but that's the point!
Gimme a Beat, Boys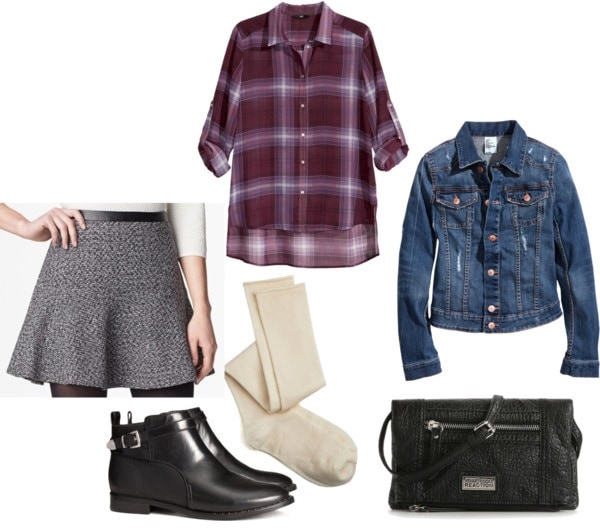 Product Information: Shirt – H&M, Skirt – Nordstrom, Boots – H&M, Socks – Charlotte Russe, Jacket – H&M, Purse – DSW.
"They were like the man with the dungeon stone and gloom, rising from the underground, the sordid hipsters of America, a new beat generation that I was slowly joining."
Kerouac associated with the likes of Allen Ginsberg and the rest of the best boys of the Beat movement. In a time before skinny jeans, baggy tees, and beanies outed you as a hipster, these guys lived to understand greater meaning… as well as to party. The Beat Generation were defined for their search for meaning in post-war America, their conflicting views of spirituality and goodness, and their "hedonistic" quest for the next kick. Their disregard for societal conventions in the '50s, as well as their manipulation of typified standards of "goodness," earned them the status as the original bohemian rebels.
Integrate the Beat movement into your own look by using pieces that are created with similar standards: questioning the origins of classic pieces like the plaid shirt or the tweed skirt, and experimentation with new structures. For example, the plaid shirt is oversize and made from a thin material instead of flannel, while the skirt was shrunk into a mini. Chopping down motorcycle boots to fit the ankle, reaching socks well over the knee, and diminishing a leather satchel to a mini-bag also fit this style, while the denim jacket, the true American classic, remains unchanged.
Burn, Burn, Burn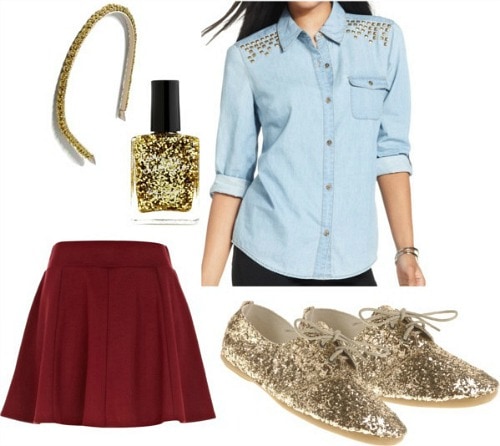 Product Information: Headband – Banana Republic, Nail Polish – Charlotte Russe, Skirt –  River Island, Shirt – Macys, Shoes – Chinese Laundry.
"The only people for me are the mad ones, the ones who are mad to live, mad to talk, mad to be saved, desirous of everything at the same time, the ones who never yawn or say a commonplace thing, but burn, burn, burn like fabulous yellow roman candles exploding like spiders across the stars."
This easily-recognizable piece of lyricism from On the Road perfectly describes Sal's friendship with the maverick high-hunter in Dean Moriarty: a volatile, inconsistent, yet wildly exciting and highly interesting person, whose exploits lead the two across the country, into Mexico, and towards the inspiration for Sal's next book.
Incorporate the flaming passion that drives Dean into your own look, by opting for similarly explosive and dazzling elements into an outfit. A burning red skater skirt grounds a studded denim shirt, while a gold headband, glittering nail polish, and spangled shoes all draw the attention to your own individual sparkle.
What Do You Think?
Have you ever read On the Road, or any other mainstay novels of the Beat Movement? Have you had it assigned for an English class or a lecture? What did you think of the novel, and the elements at play? Did you see the movie? What do you think of the outfits and styling tips? Let me know, in the comments below!