Welcome to the latest edition of Looks from Books, which aims to prove that you can look smart, while still being book-smart, too. Fashion inspiration can be found between the pages of your favorite stories, on well-designed book covers, and in your favorite characters… if you read closely enough.
This week, we're turning to an old children's classic to bring some more fun to our summer, with adventures galore in the world of Avonlea: L. M. Montgomery's Anne of Green Gables!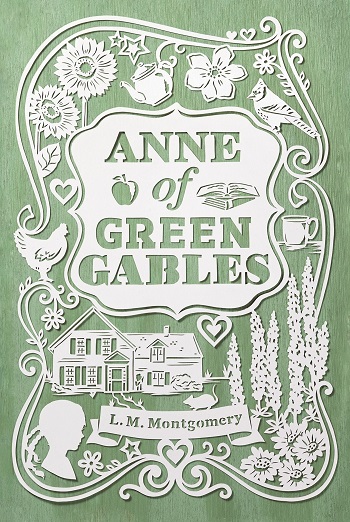 Book Cover via Amazon
Inside Cover
Anne of Green Gables is a classic work of children's literature, published by Lucy Maud Montgomery in 1908.
The novel follows young orphan Anne Shirley, a talkative redhead, who, through a mistake, is sent to live with Mathew and Marilla Cuthbert – a middle-aged brother and sister – despite the fact that they had asked for a boy! However, the two are won over by Anne's penchant for fantasy and passion for storytelling, and soon enough, they can't imagine what Green Gables had ever been like before she had arrived.
The book has sold over 50 million copies since its publication, and has been translated into over 20 languages. Anne of Green Gables has also spawned many sequels, including Anne of Avonlea and Anne of the Island.
A Fashionable Literacy

Photo Credit: Screenshot
Anne Shirley found her way to the small screen most popularly in the 1985 CBC television miniseries adaptation, which starred Megan Follows as the young heroine. It was aired as a two-part special on the television channel, and both parts of the film were among the highest-rated programs of any genre ever to air on a Canadian network. It swept the Gemini Awards in Canada in 1986, and also won that year's Emmy for best Children's Program. The success of the adaptation prompted three sequel films, as well as an additional television series.
The novel's status as a classic work of children's literature guarantees its heroine a spot among the favorites with many, including the Duchess of Cambridge, Kate Middleton. Upon the royal couple's trip to Canada in 2012, Kate requested a visit to Prince Edward Island – the setting of the novel – to be on the itinerary, as the novel was one of her favorites when she was a young girl. During her trip, the royal was even presented with an antique copy of the book.
How to Add Anne to Your Wardrobe
By integrating key elements from Anne of Green Gables into your own outfits, you, too, can have a look at the height of Avonlea fashion! (Puffed sleeves not included.)
Flowery Farmgirl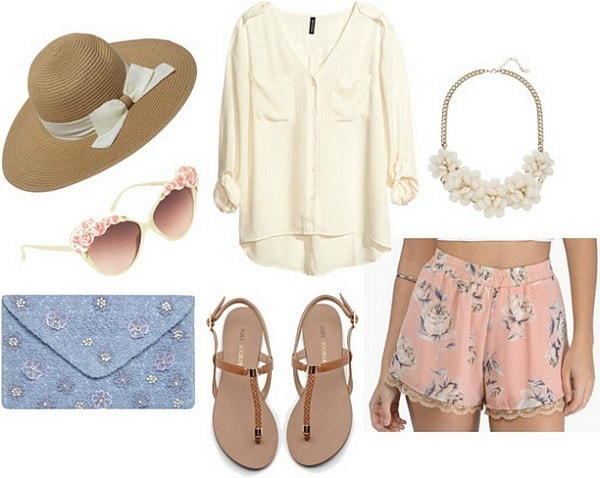 Product Information: Hat – Wet Seal, Sunglasses – Topshop, Blouse – H&M, Necklace – Accessorize, Shorts – Tobi, Shoes – Sole Society, Clutch – Dorothy Perkins.
Special attention is paid throughout the novel by L.M. Montgomery to describe the flora of Prince Edward Island; similarly, our heroine herself is enamored with flowers of all forms, especially the apple blossoms, violets, wild plums and birch trees that cover the areas around her new home of Green Gables. These naturalistic touches form the beautiful landscape of Anne's Avonlea, and bring the very real landscape to readers across the globe.
Pay homage to Anne's introduction to the island with a floral fascination of your own by intermixing feminine summer staples with beautiful blooms for a look fit for Anne's new surroundings. (Perfect for spending a sunny day on the Green Gables estate!) A chiffon blouse and summer sandals are basic foils to soft floral shorts, an embellished clutch, flower-bedecked sunglasses, and a sweet statement necklace, while a large floppy hat is ideal for keeping those pesky freckles away.
Bosom Buddies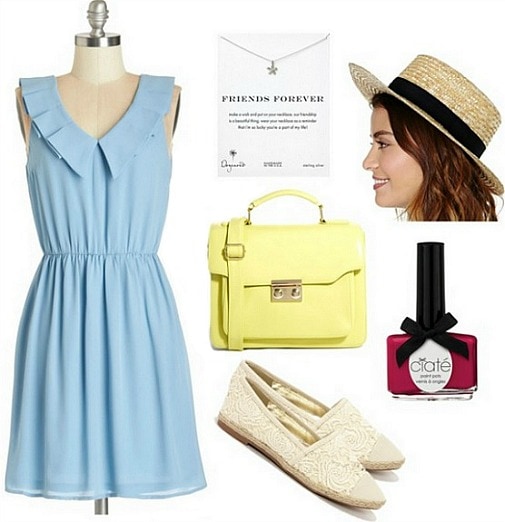 Product Information: Dress – Modcloth, Necklace – Lord&Taylor, Hat – NastyGal, Purse – ASOS, Nail Polish – Nordstrom, Shoes – Lulus.
No one quite captures Anne's heart upon her entrance into Avonlea's society of young folks quite like her neighbor, Diana Barry, who she quickly claims as a "kindred spirit," and a "bosom friend," with whom she can share all her secretes and adventures, and, more often than not, the fallout of some of Anne's more egregious errors. From the liberal mismanagement of raspberry cordial, to jumping on relatives in the middle of the night, these two besties can't be divided, despite their own differences: the talkative tomboy and polished pretty girl end up as two of some of the most memorable fictional friends in children's lit.
Pay homage to Anne's forever friend with a look inspired by her beauty, sweetness, and status as Anne's best friend. A cheerful blue pleated dress and girly lace espadrilles make for a perfect summer look, while a prim yellow purse and a straw boater hat add a slightly antique touch. A "friends forever" necklace makes for a sweet send-up to the girls, while a "raspberry red" nail polish hearkens back to some of the shenanigans from the very start of their friendship.
Anne's Adventures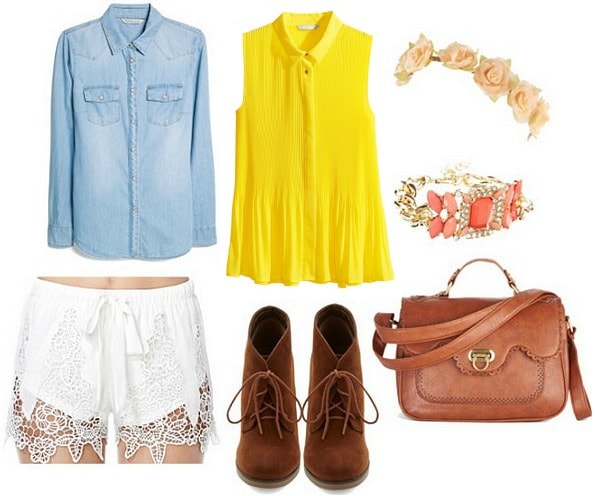 Product Information: Shirt – Mango, Blouse – H&M, Crown – Wet Seal, Bracelet – ASOS, Bag – Modcloth, Boots – Modcloth, Shorts – NastyGal.
Anne's most defining characteristic – aside from her flaming carrot-red locks, or mile-a-minute mouth, of course! – is her abundant tendency to get lost in her imagination. Burned pies and accidentally walking off bridges are just a couple of the ramifications of her daydreaming, but even with its sometimes troublesome results, Anne's ability to transform the world around her through a few flights of fancy make her a very remarkable girl.
Integrate Anne's adventurous mind into the more mundane modern reality by mixing bright and eye-catching pieces with simplistic elements. Brown booties, a denim shirt, and a leather messenger bag are sturdy basics that are brightened by romantic lace shorts, a sunny pleated blouse, and a blinged-out rhinestone bracelet. Flowers make a return once again in a rose crown that's perfect for pretending.
What Do You Think?
Have you ever read Anne of Green Gables, or any of the other books in her series? Have you seen the television miniseries based off of the novels? What do you think of the outfits and styling tips? Let me know, in the comments below!