La Croix has been a thing for a moment now (read: a couple of years) but this summer it seems like I can't sneeze without seeing a La Croix listicle, meme, or tweet. Don't get me wrong, I'm fine with this; I am major La Croix stan. Since my husband and I did the Whole30 a few years ago, La Croix has become a staple in our household – we are never without a few boxes stashed in our fridge, and I may or may not keep some stocked in office fridge at all times.
Yes, sure, it's just sparkling water, and probably no one is dressing to match their fave La Croix flavors (I mean, maybe you are, do it for the 'gram, right?) but this was a real depressing news week, so let's have a little fun, ok?
Here's how to dress like your favorite La Croix flavor:
Passionfruit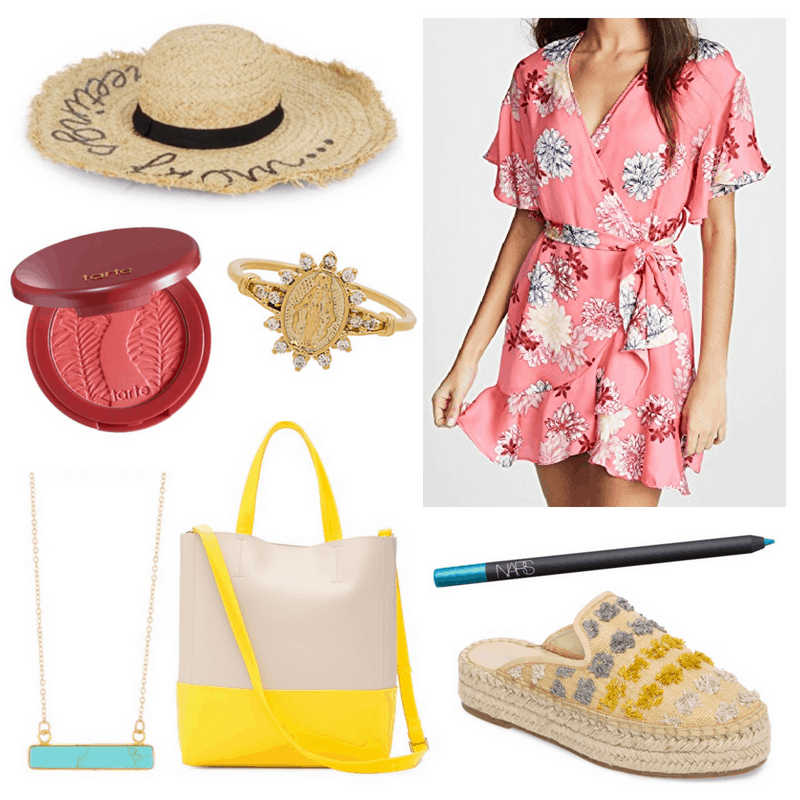 Products: Hat – Saks Off Fifth, Dress – Shopbop, Blush – Sephora, Ring – Revolve, Necklace – Neiman Marcus Last Call, Bag – Nordstrom Rack, Eyeliner – Nordstrom, Shoes – Nordstrom
I know Pamplemousse gets most of the love, but my favorite favorite La Croix flavor is actually Passionfruit. It's a little bit tart and sweet and reminds me a little of tropical locales and white-sand beaches. Plus, how cuuute are the colors on the can? Lemon yellow, magenta, turquoise, and salmon? I'm here for it.
A floral wrap dress in a salmon pink color is flirty and fun, just like passionfruit, while pops of yellow from a color-blocked bag and espadrille mules add to the sunny, summery vibe. Get those touches of blue from a swipe of cobalt metallic eyeliner and a turquoise bar necklace. Add a sassy statement sunhat, a bit of bold blush, and a can of passionfruit La Croix, obviously, for a look that's lovely on the beach, grabbing brunch al fresco, or exploring a seaside city.
Pamplemousse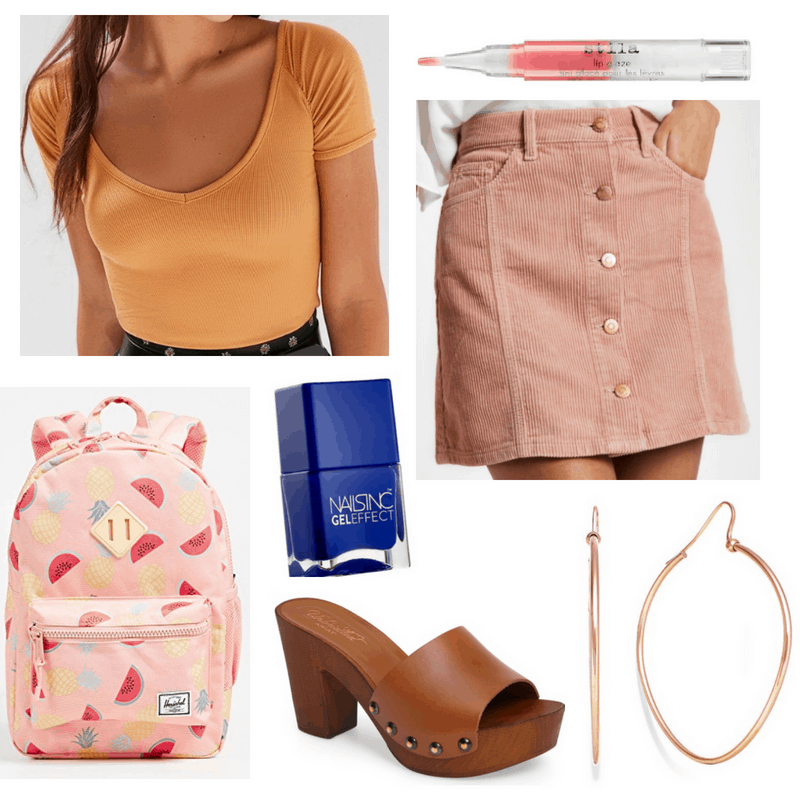 Products: Top – Urban Outfitters, Lip Gloss – Sephora, Skirt – River Island, Backback – Shopbop, Nail Polish – Sephora, Shoes – Nordstrom, Earrings – Macy's
Pamplemousse is such a popular flavor of La Croix that it's become something of a meme. I get the pamp love – it's not my beloved Passionfruit, but it's bright and lively and delicious. I get major vintage vibes from the can – it reminds me of a '70s California sunset.
To get that same sun-kissed Santa Monica in the '70s vibe, start with a pamplemousse pink skirt with a trendy but vintage-y button-up front. Add an orange crop top and brown leather clogs to get that distinctive color combo. Then, add fun, of-the-moment accessories, like rose-gold hoops and a cute fruit-print backpack, to bring this look into the 21st century. Finish the look with a juicy lip gloss and a bold blue manicure (that will really pop against the snaps of you holding your 'croix.)
Apricot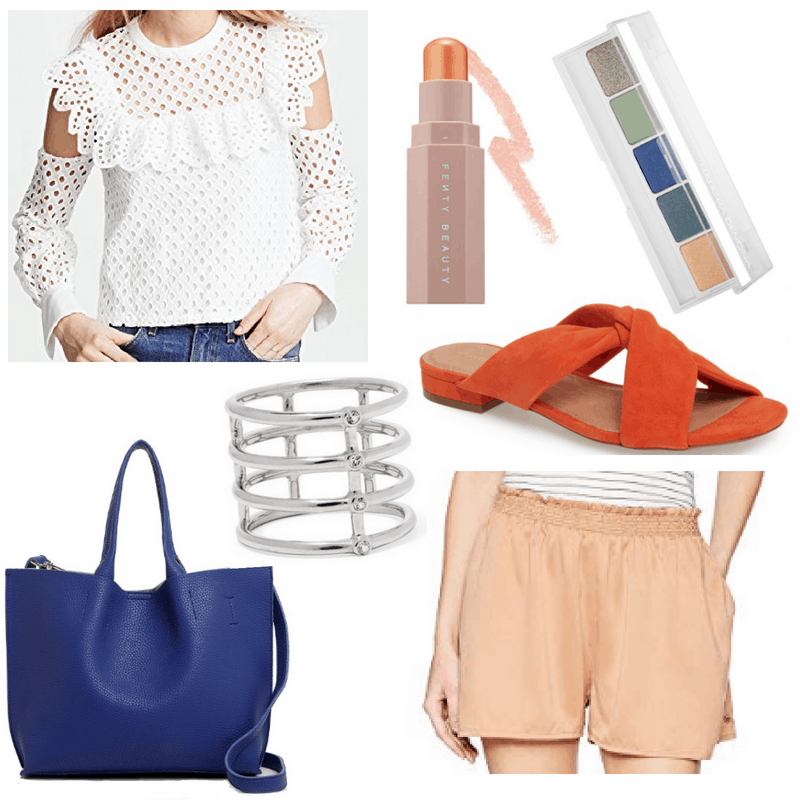 Products: Blouse – Shopbop, Highlighter – Sephora, Eyeshadow – Sephora, Bag – Bloomingdale's, Ring – The Outnet, Sandals – Nordstrom, Shorts – Zappos
What I love about Apricot La Croix is that it's interesting and exotic, but still accessible and sweet. It's like your world-traveling friend who speaks French and has an amazing Instagram, but also likes to curl up at home with a book. It's not nearly as popular as Pamplemousse, or as tart as Passionfruit, but those who've tried it know that Apricot is where it's at.
For a flirty and sweet look, try pairing a white off-the-shoulder top with a floaty pair of light orange shorts. Orange suede sandals with a low heel and a cobalt blue bag add sophisticated touches of color, while a bit of silvery jewelry lends the outfit an unexpected and youthful touch. A subtle smokey eye with a bit of blue and highlighter round out this sophisticated summery look, perfect for an afternoon of shopping or a steamy summer date.
What do you think?
What are your favorite flavors of La Croix? Would you wear any of these looks? Let me know in the comments below!