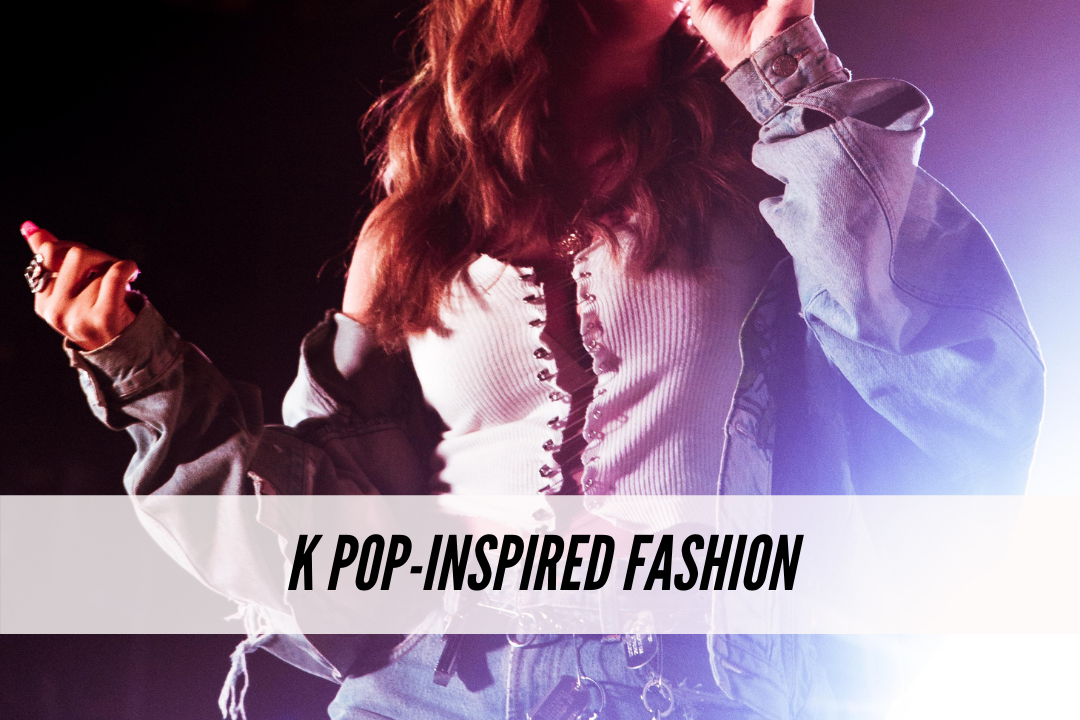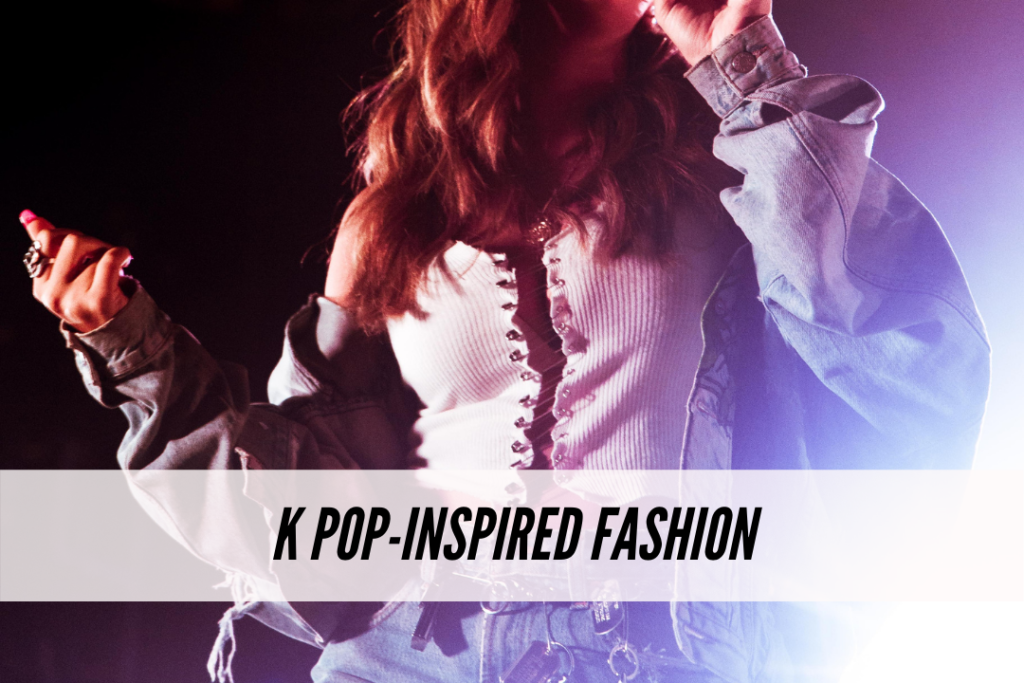 I'm really excited for today's post, because it draws inspiration from one of the quirkiest, eclectic, and most fun music genre I've had the pleasure to stumble across.
Many of you will probably recognize K-Pop music thanks to Psy's "Gangnam Style," which gained popularity in 2012.
However, K-Pop has been around for ages.
You may be wondering what differentiates this genre from any other form of pop music. If you're not sure what I'm talking about, I'll share a brief description on the appeal of Korean Pop music.
Remember the popularity of boy bands and girl groups in the '90s? Well, that trend spread overseas to Korea, and in a short span, they've built up quite the empire of K-Pop artists. Some of the more popular groups to emerge from Korea can have upwards of five members. The largest group to date (Topp Dogg) currently has 13 members!
The large size plays into one of the biggest appeals about Korean Pop music – the choreography. Every music video has two outstanding features: killer dance moves and eye-popping fashion. Not only is a catchy hook infiltrating your ears, but a visual feast of creativity in the form of perfectly synced dancing and inspiring, colorful style flash before your eyes.
Trying to narrow down the list of artists to draw inspiration from was all but impossible, which is why I intend to divide this up into a two part series. Below are four looks inspired by four K-Pop groups. I also included the particular music video each look is based on for visual reference, since they're absolute chameleons with their style.
EXO
https://www.youtube.com/watch?v=Fc3__KmrlnU
First up is EXO. They're a relatively new group in the K-Pop world, but they've exploded in popularity. They have a unique sound that consists of rap, hip-hop, rock, and R&B.
Now, if you're one of the newbies to K-Pop style, prepare to be overloaded with lights, effects, and over-the-top fashion. In the music video "Mama," it's all about a black-and-white palette, metallic accents, and edgy accessories. (Also, as a sidenote, the word "mama" does not mean mother in Korean – it means "majesty" in their language!)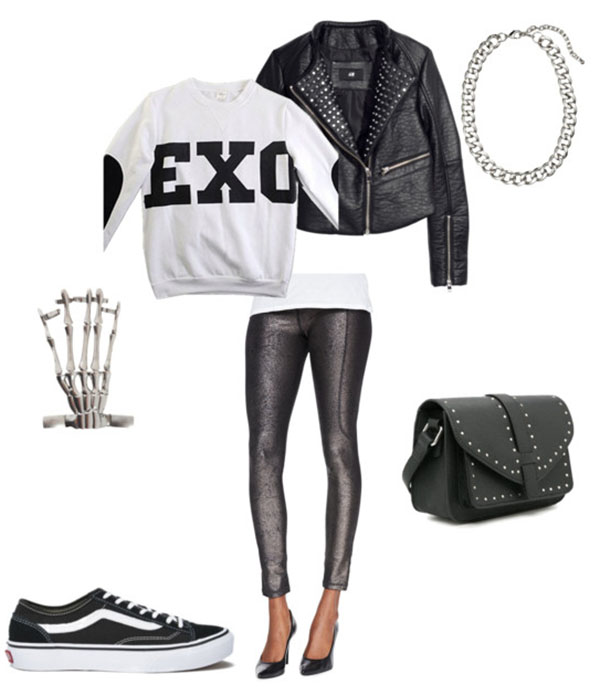 SweaterJacketJeansBagNecklaceRing-BraceletSneakers
Imitate the EXO boys with this edgy, futuristic outfit. A monochrome palette is easily spiced up with a metallic shimmer, like these eye-catching jeans. Paired with a statement pullover (which I'm quite excited to have found) and a tough leather jacket, you'll definitely be wearing the coolest street style look.
A pair of practical, sporty sneakers make running around campus that much easier. Accessorize with statement jewelry and you're good to go!
2NE1
2NE1 - 너 아님 안돼 (GOTTA BE YOU) M/V
Ah yes, K-Pop's edgy girl group 2NE1 (pronounced "twenty-one" or "to any one") has some amazing hits, and their style is always on point. While this particular single isn't as dance heavy as their other songs, the outfits more than make up for it.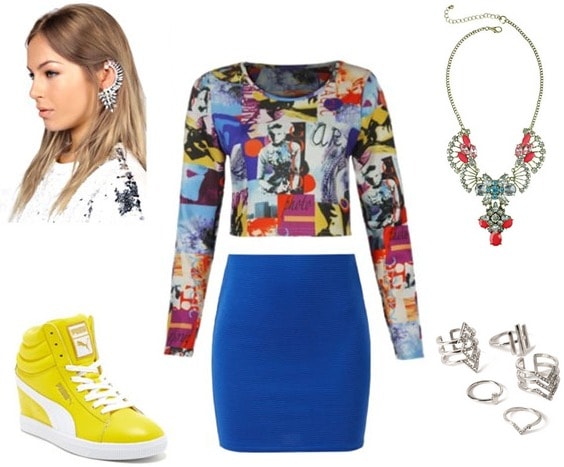 Crop SweaterSkirtSneakersEar PieceNecklaceRings
A lot of pop art sweaters make an appearance here, along with colorful statement jewelry and sneaker wedges. I've created an outfit set inspired by these trends. Don't forget to pair this fun outfit with bold makeup, whether it be a strong eyeliner look or colorful lips (or both… I mean, the whole point of K-Pop is to go all out!).
f(x)
f(x) 에프엑스 'Electric Shock' MV
Next is f(x), another girl group with a more pronounced electro-pop sound. While their style typically comes across as more sweet than edgy, they had a fun spin on both styles in this particular music video. A lot of crazy prints and quirky accessories appear, which definitely inspired the outfit below.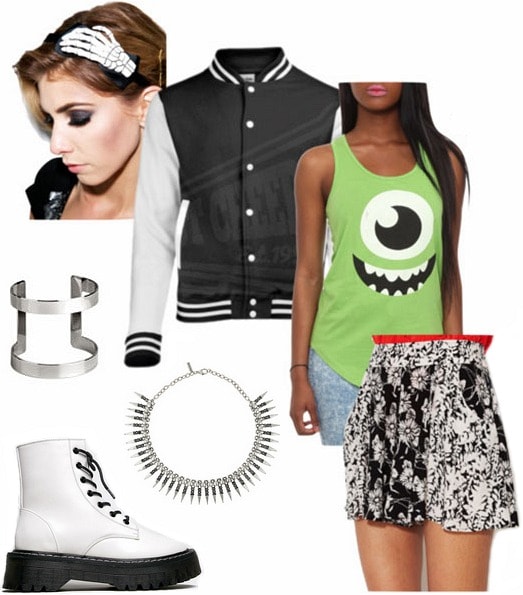 JacketTankShortsHeadbandCuffNecklaceBoots
One of the fun accessories I noticed in the music video was the skeleton hand and monster eyeball clip in one of the girls' hair, and I just had to run with that theme. Combined with a varsity jacket, printed shorts, and practical Doc Martens, you're ready to bust a move, f(x) style! Or, you know, just give off a fun yet stylish vibe around campus.
SHINee
SHINee 샤이니 'Sherlock•셜록 (Clue + Note)' MV
From dazzling sequined jackets to hipster-cute style, these boys pull off any type of outfit. SHINee put a K-Pop spin on the very obvious theme of Sherlock Holmes, and created a visually entertaining music video that features so many fun styles!
It was difficult to narrow down which look to emulate, but in order to avoid replicating similar outfits, I thought it'd be best to recreate the unique, boho-western vibe from their dance scene in the church.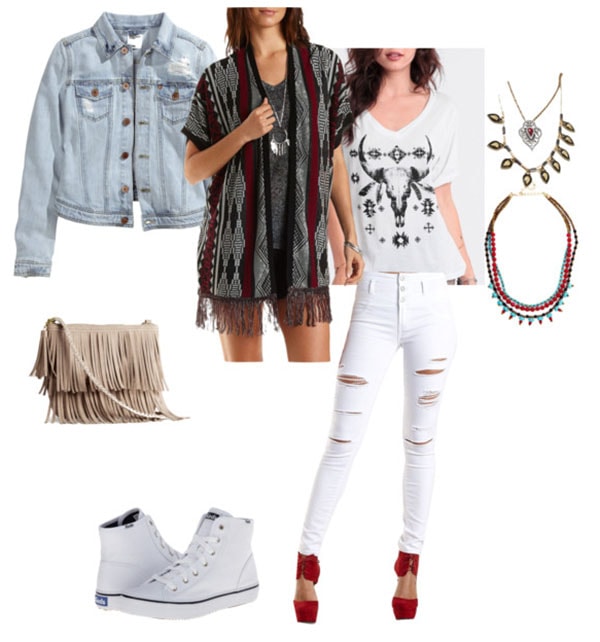 JacketShawlT-ShirtJeansBag Necklaces (1 & 2) Sneakers
To build this outfit up, you'll need to start with destroyed white skinnies. A graphic tee paired with a printed shawl adds interest to the look. Add another layer with your favorite denim jacket.
If you're feeling the fringe, try accenting it with even more fringe! This fun bag will do the trick. Once again, don't forget your jewelry – try layering statement necklaces for a unique look.
Your thoughts?
What do you guys think? Do you enjoy K-Pop music?Would you wear any of these looks? If you have a few more K-Pop groups in mind, tell me in the comments below, and I'll take that into consideration for Part 2!