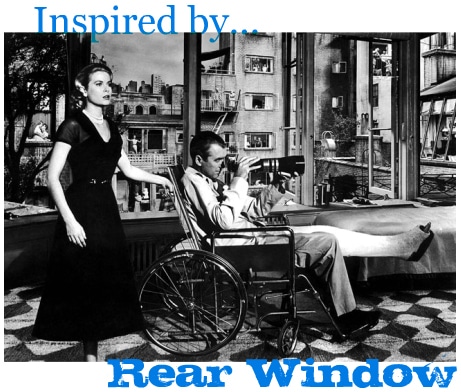 For the next article in our 10 More Movies for Fashion Inspiration series, we'll talk about the Hitchcock thriller Rear Window. Released in 1954, this film is about a man (James Stewart) who, while waiting for his broken leg to heal, starts watching the lives of his neighbors during a heatwave. When one of his neighbors goes missing, it's up to him and his girlfriend (Grace Kelly) to discover the truth.
Grace Kelly's style in Rear Window captures the classic look of the 1950s. Her outfits are elegant, demure and tailored. The film is full of long skirts, luxurious fabrics and interesting necklines. Also, her character is never without a the ultimate piece of classy jewelry: pearls.
If this classic style is something you love, here are four modern looks inspired by Grace Kelly's style in Rear Window:
Outfit #1: Chic and Timeless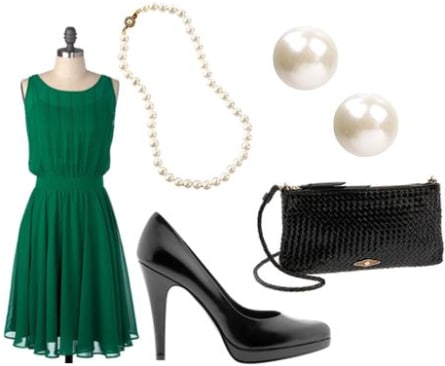 Product Information: Dress- Modcloth, Necklace- Dillard's, Earrings- ASOS, Pumps- Piperlime, Bag- Nordstrom
This gorgeous green dress captures the look and silhouette of many of the dresses worn in Rear Window, but at a more modern length. Add some classic black pumps and a sleek clutch to help streamline the look and make it work for an evening out. Timeless pearl earrings and a matching necklace finish off this forever-chic look.
Outfit #2: Classically Casual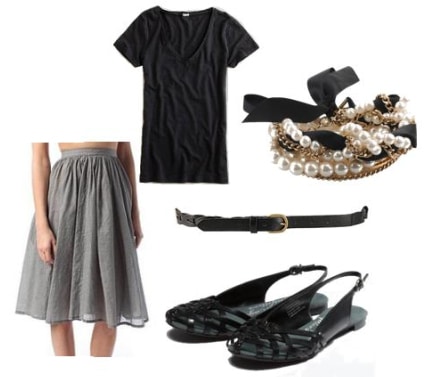 Product Information: Skirt- Urban Outfitters, Top- J. Crew, Bracelet- Forever 21, Belt- Forever 21, Flats- AE
This is a casual interpretation of Grace Kelly's outfits in Rear Window. The t-shirt is made out of a comfortable and crisp linen fabric and would look great when tucked into this high-waisted skirt. Belts that define the waist are used throughout the film and this woven skinny belt is a perfect modern way to get a similar look. These flats are comfortable yet chic and the bracelet is a modern take on the typical pearl bracelet.
Outfit #3: Spring in Your Step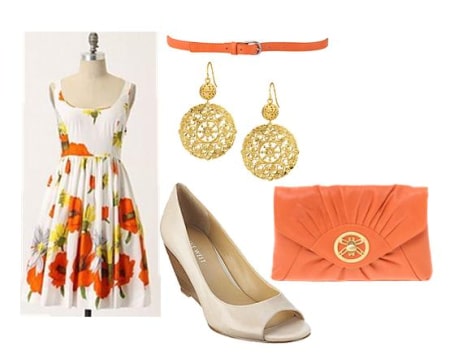 Product Information: Dress- Anthropologie, Belt- Forever 21, Earrings- Overstock.com, Clutch- ASOS, Shoes- Nine West
This dress also captures the '50s silhouette, this time with a fun floral print. Once again, the waist is defined by using an orange belt, while the matching orange clutch is perfect for spring and summer. The earrings echo the hardware on the bag. Finally, the ivory peep-toe wedges are great for warmer weather.
Outfit #4: 1950's Effortless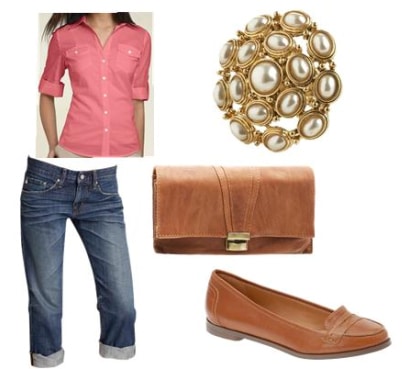 Product Information: Shirt- Nordstrom, Jeans- Piperlime, Ring- Arden B., Purse- ASOS, Loafers- Aldo
This is a direct interpretation of the final outfit Grace Kelly wears in the film. While jeans were only worn for casual occasions in the '50s, the cuffed and cropped style was very popular. The button-up shirt is a classic piece in another warm-weather-friendly color, coral. These loafers are comfortable with a slightly masculine touch and the purse has a similar look to the loafers for a bit of '50s matching. Finally, classic pearls are reinvented again, this time in a fun cocktail ring.
Feelin' inspired?
What do you think of this classic type of fashion? Have you ever seen Rear Window? Do you think the outfits capture the look and feel of the film? Leave a comment and let us know!