A lot of people ask me why I like anime, and the reason isn't much different from why I love a favorite book or movie. Sometimes, I find myself connecting on a deep emotional level with a character. Other times, the story will speak to me as a reflection upon society or individual life.
No matter what medium it's seen through, these are the kinds of stories that stick. They'll make us laugh, they'll make us cry, and sometimes they'll make us realize something new about ourselves. As for Honey and Clover, it's one of those types of favorites.
Honey and Clover Crash Course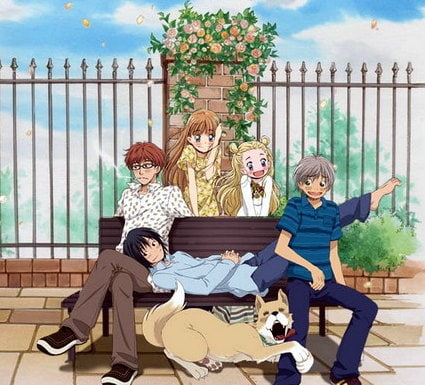 Based on the manga¹ by Chika Umino, Honey and Clover follows the lives of five fledgling artists and their journey through the exciting and terrifying world of going to college (an art school), graduating, and finding a job. It's a story of soul searching, salty teardrops, cherished friendships, and complicated love.
For a slice-of-life² anime airing in the mid-'00s, this series stood out as extremely mature, intense, and uniquely artistic in animation, art, and character design. Even now, I have yet to re-watch it without feeling awestruck. The characters themselves are what really makes this show — as opposed to shows where action carries the plot, the real focus is on addressing internal issues and overcoming individual, psychological hoops and hurdles.
There's someone for everyone to relate to in Honey and Clover, and each student can stand on his/her own as a three-dimensional, organically flawed persona. This is exactly what makes Honey and Clover such a rich and inspiring source for fashion inspiration!
¹manga: a style of Japanese comic books and graphic novels, typically aimed at adults as well as children

²slice-of-life: a genre describing the use of mundane realism depicting everyday experiences in art and entertainment
Honey and Clover Fashion
Hagumi Hanamoto, AKA "Hagu"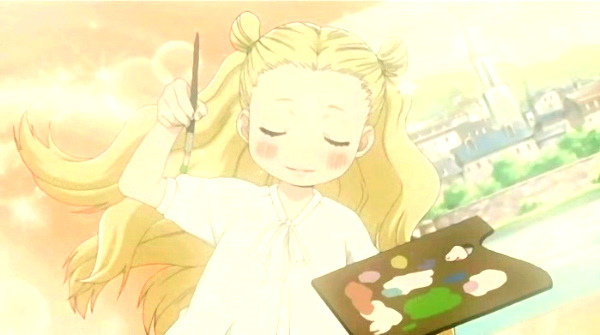 Growing up, Hagu was raised in a sheltered, isolated home by her irritable grandmother. She spent her days sketching the only view she'd ever known: the view from her porch of the changing seasons. It didn't take long for someone to realize she had an extreme gift for the arts. She soon caught the eye of numerous professional artists eager for her to submit her pieces to exhibitions and heighten her public name as a child prodigy — much to her dismay.
Unfortunately, because of her upbringing, Hagu's social skills took a big hit. When she first meets the gang, she appears to be a simple-minded, timid girl with frail nerves and childlike beauty. However, as the story progresses, we witness the adult complexities and pressures that can only exist in a prodigy's mind. Hagu finds herself second guessing her right to passionately create what she wants and starts cracking beneath the pressure of a worldly responsibility to create artistic masterpieces.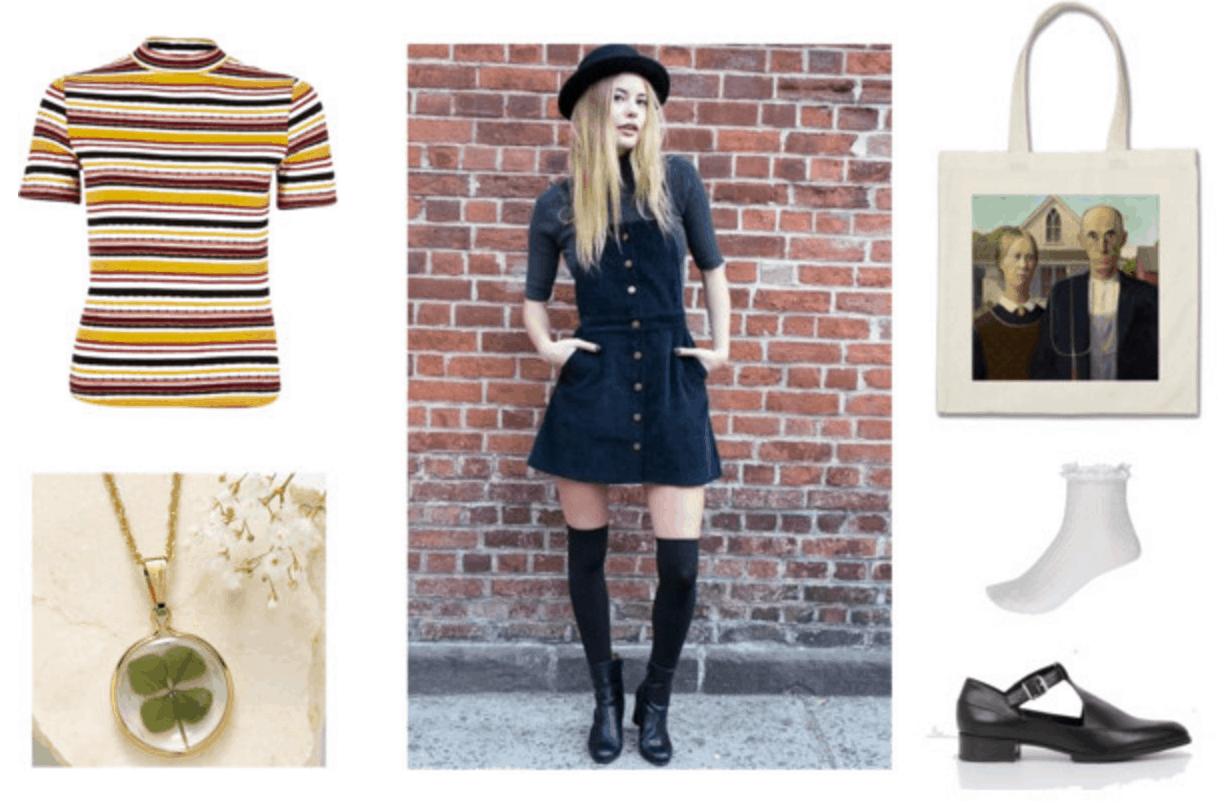 Products: turtleneck, necklace, overall dress, tote, socks, shoes
The beauty of Hagu's character is how someone so childish, fairy-like, and adorably helpless can create such hard, masculine sculptures and such awe-inspiring murals. But for this look, I really wanted to imitate Hagu's childlike femininity that only her closest friends get to see.
To accomplish Hagu's inspired look, I layered a turtleneck nostalgic tee underneath a retro corduroy overall dress reminiscent of the '90s. Remembering Hagu's cutesy aesthetic, I was immediately reminded of Mary Jane shoes, so I paired these adorable black flats with some white frilly ankle socks.
To express her artistic side, I included this American Gothic tote not just as a reference to an iconic art piece in history, but also as a reference to Hagu's isolated and traditional upbringing with her grandmother. The clover pendant is a subtle reference to the anime's title, Honey and Clover, and as a bonus, it's unique with its ultra-vintage aesthetic.
Yuuta Takemoto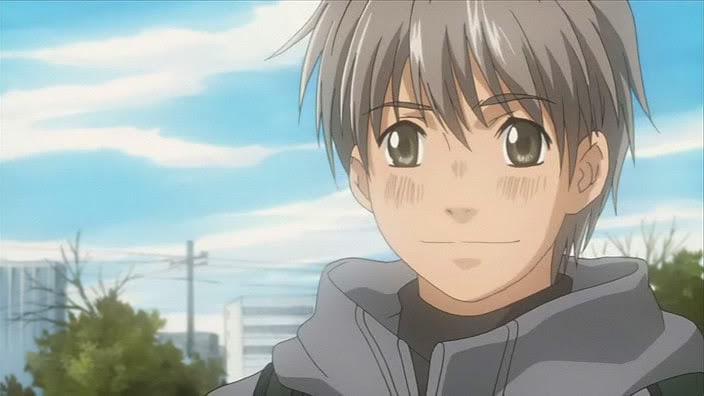 Yuuta Takemoto is a second-year student at the art college, and at age 19, he starts off as the main character of Honey and Clover. Yuuta studies architecture but isn't sure what he wants to do upon graduating; his decision to attend art college was because he liked to build things with his hands, as he had with his father.
Yuuta is definitely considered one of the more mellow characters of the series, despite being the main protagonist. On episode one, he falls in love with Hagu at first sight but keeps his feelings to himself throughout most of the show. His love for Hagu and his inability to express his feelings cause him a lot of internal grief. Instead of acting on his feelings, he comes off as more of a brother figure to Hagu, giving her friendly support when needed.
Yuuta represents the traits that everyone has experienced from time to time but are lesser talked about, like uncertainty about the future and self-sacrifice. While the other characters stand out for having crazy talents, dramatic affairs, or uncanny quirks, Yuuta becomes their foil and neutralizes Honey and Clover into something realistic and relatable.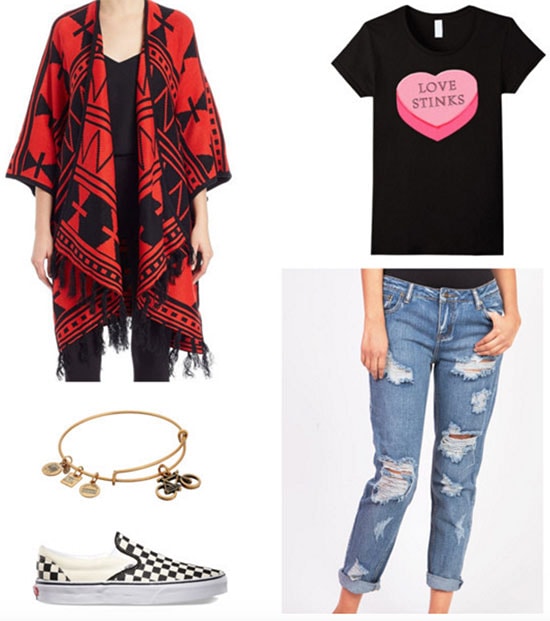 Products: cape, bracelet, shoes, tee, jeans
What I wanted to create here was a sort of "girl-next-door" look, while still expressing Yuuta's casual vibes. To accomplish this, I paired a "love stinks" graphic tee (just in time for Valentine's Day!) with torn, rolled up boyfriend jeans and checkered Vans. Over the tee, I layered a comfy fringed tribal cape to add some visual interest and also mimic Yuuta's relaxed persona which also masks his hidden crush.
One recurring theme of the series is based off a memory of Yuuta's childhood where he rides bike as long as possible just to see what happens. By the end of the series, Yuuta challenges himself using this concept and really matures as a character and discovers a lot about himself. I wanted to express this major theme by wrapping up this outfit with this rustic bicycle charm bangle.
Shinobu Morita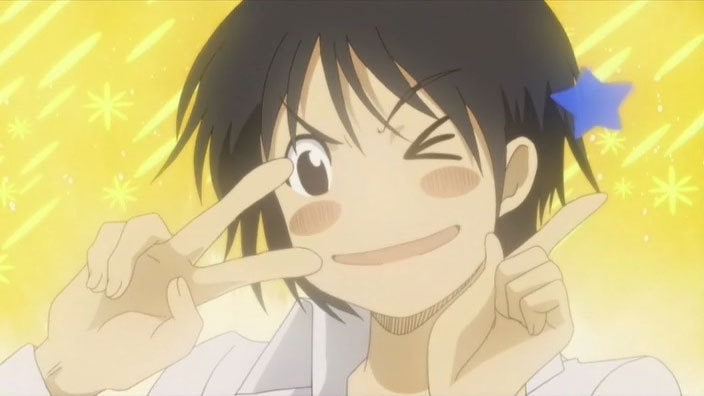 In contrast to Yuuta, Morita is definitely the most eccentric and mysterious character in the series. He's introduced as Yuuta's flatmate, a student unable to graduate the art school because of his sleeping habits. This is mainly due to the suspiciously unknown line of work he's in. When Morita comes back from his mysterious job, he immediately falls asleep for 48 hours, also returning with a large sum of money in his pockets and a food item to share with his flatmates.
Although his character appears off-kilter, Morita does care deeply for his friends, and he also soon develops a crush on Hagu — although he expresses it in a completely opposite way from Yuuta. For example, he's fond of blurting out random nonsense, inevitably just making her scared, confused, and a bit curious about his character.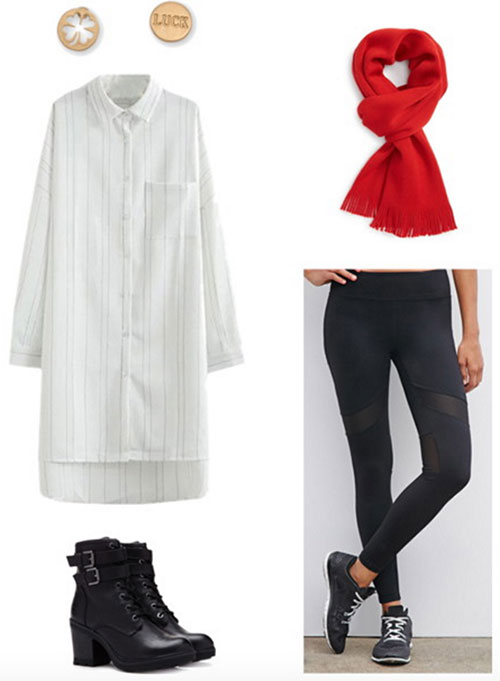 Products: earrings, shirt dress, boots, scarf, leggings
This look incorporates a minimalist style, while at the same time breaking "fashion rules" to look effortlessly edgy. I paired a white shirtdress with mesh paneled athletic leggings and black combat boots to create an interesting contrast that is still modern and polished. The lucky earrings are a reference to the title and to Morita's uncanny luck throughout the series, and the scarf is a special reference to a sweet moment between him and Hagu, expressing a rarely seen soft side of Morita (no spoilers here!).
Takumi Mayama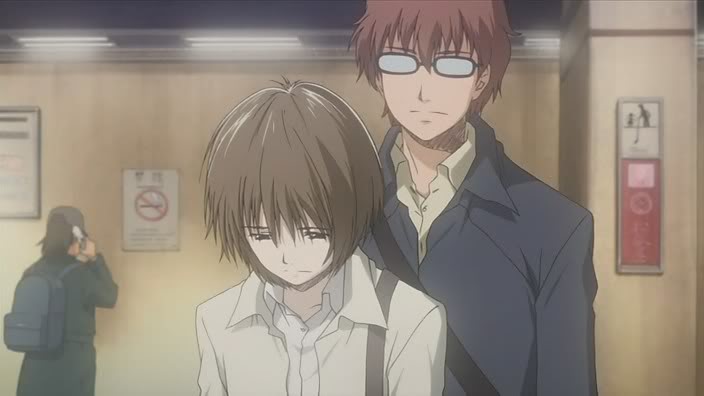 22-years-old and a fourth year student at the start of the series, Takumi Mayama lives in the same complex as Yuuta and is an architecture student at the art institute. One of the more mature characters of Honey and Clover, Mayama starts working for Rika, the founder and manager of Harada Design, who is disabled due to an accident that killed her late husband. It is during this time that he develops feelings for Rika; however, it's unknown whether or not she returns those feelings.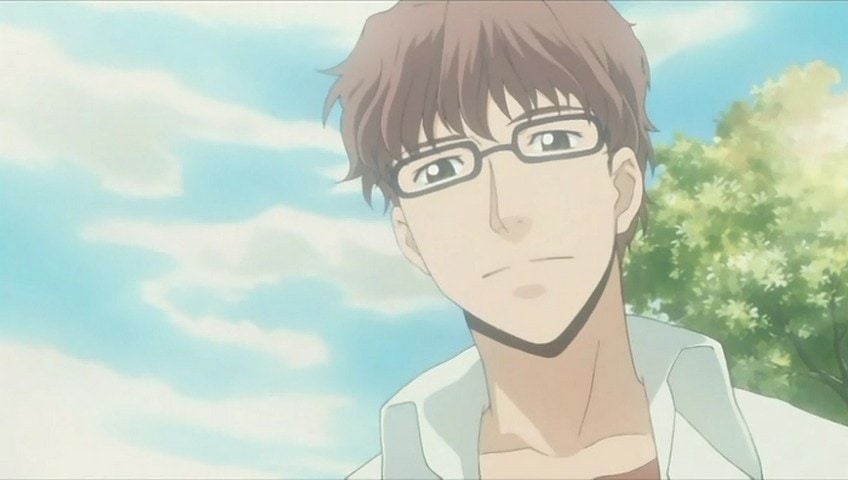 Rika suggested that Mayama find another job so that she wouldn't have to continue hurting him, as she realizes how much he cares for her, and is unable (and perhaps unwilling at that point) to allow him to enter into her life. Despite this, it is known that Mayama continues to love Rika because he constantly turns down Yamada when she confesses her love to him (although, he still considers her a close friend).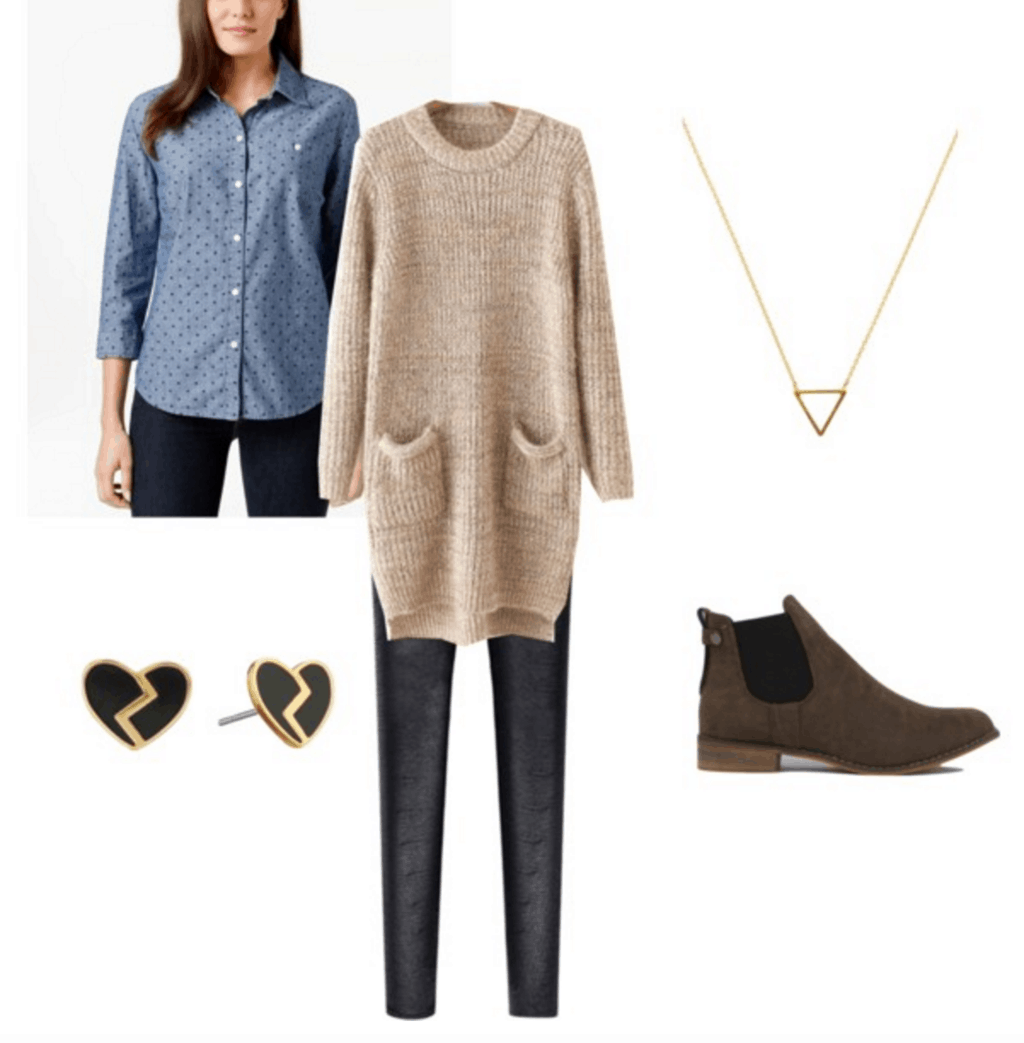 Products: chambray shirt, earrings, sweater, leather pants, necklace, boots
For Mayama's look, I used menswear-inspired items to create a minimalism look that is as refined, modern, and put-together as he is. I used a camel knit oversized sweater and layered it over this dot print chambray shirt and sleek faux leather pants. To add some more length, I added this long triangle necklace, which also serves as a subtle nod to the love triangle in Honey and Clover between him, Rika, and Yamada. To keep his "cool guy" aesthetic, I finished with these dark brown Chelsea boots (which as a special bonus are made with vegan leather!).
Ayumi Yamada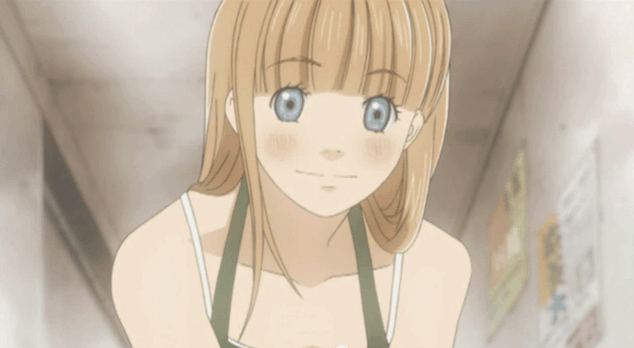 21-years-old from the start, Yamada is well-known by her peers at the art college as "The Iron Lady," as she is strict with Morita and others who break the rules. She is also famous at the school for making beautiful clay bowls, which eventually sets off her career in art. Due to her good looks, she unknowingly catches the attention of her male friends/coworkers but is protected by Mayama, who is her close friend and first love (although, he repeatedly expresses that he does not return her feelings). She and Hagu immediately get along very well and become close friends.
Yamada's role in the show teaches us how to get back up and deal with an emotional, unrequited love. Her character is one of the more emotionally ridden parts of the show, and you really get to grow with her throughout the pain, tenacity, and surprises in her life.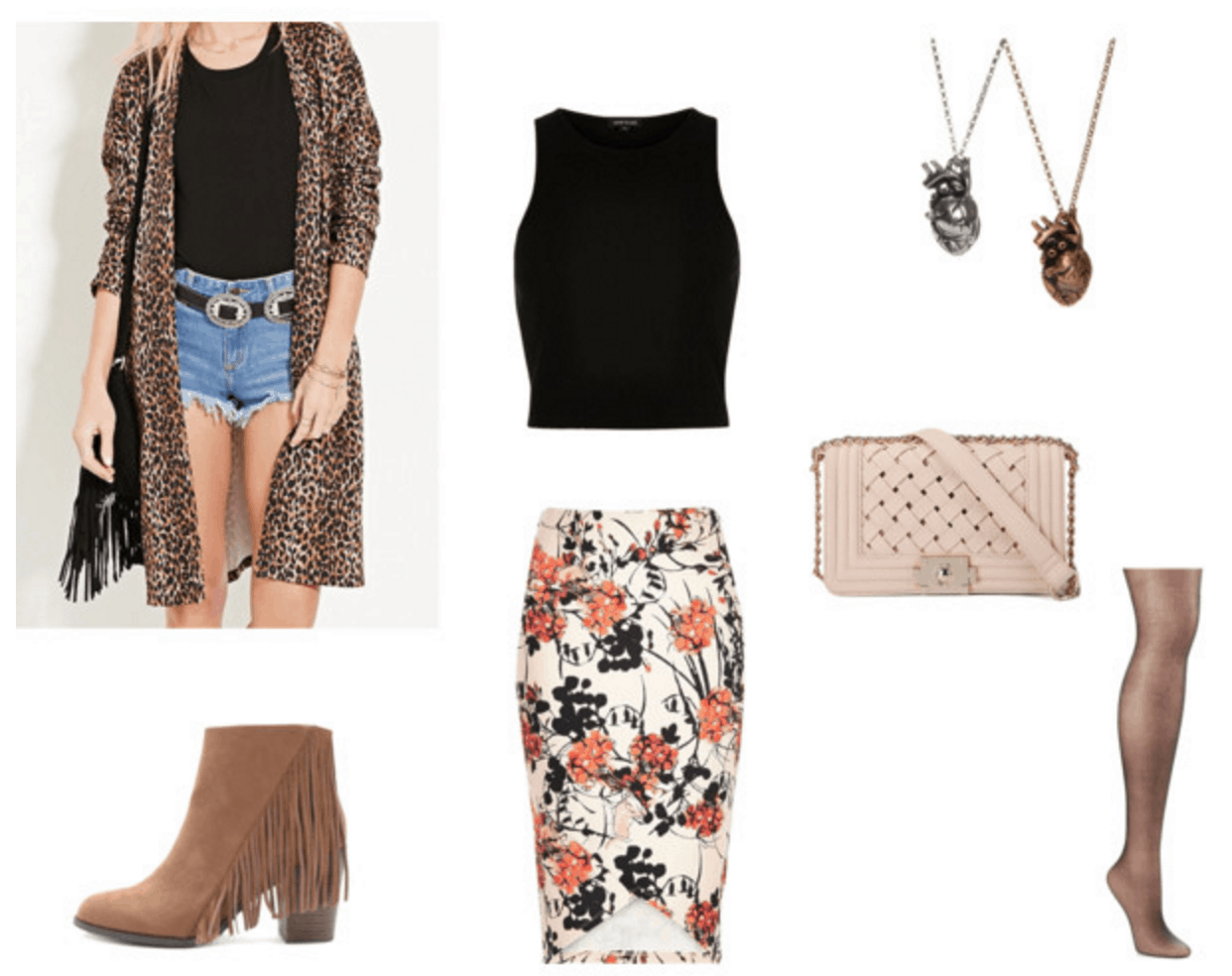 Products: longline cardigan, fringe booties, ribbed crop top, pencil skirt, necklace, purse, hose
Because Yamada is more mature than Hagu, for her inspired look, I used items with conservative aspects, while still keeping them ultra feminine. One way to complete that is by combining neutral-based pieces.
My centerpiece of this look is this floral pencil skirt, which I paired with a black ribbed crop top to keep it looking proportional and contemporary. Next, I layered a longline cheetah-print cardigan to give the look some length and adorned it with this quirky anatomical heart necklace — to make Yamada literally wear her heart on her sleeve!
I also added some on trend taupe fringe booties, a quilted cross-body bag in a color similar to rose quartz, Pantone's color of the year, and finished it off with some black hose.
Final Thoughts
I had a really fun time writing this article, and I hope I inspired a few people to try out the show or try out some of the combinations I created! Nevertheless, feel free to comment below if you enjoyed the looks or even just to nerd out about one of the characters. Thanks for the support!