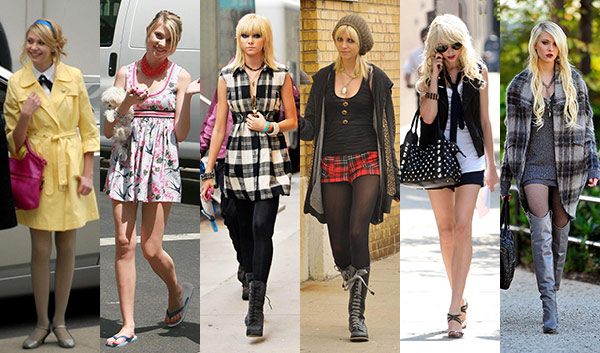 Little J's style has definitely evolved over time. | Photos: Pacific Coast News
Welcome to round two of our look back at Gossip Girl's most iconic fashion moments. Excited? You should be.
Today I'll be walking you through the style evolution of Jenny Humphrey, played by the always-controversial Taylor Momsen. From sweet little freshman to edgy goth designer, to Constance Queen Bee, Jenny's transformation was the most dramatic of any character.
And, okay, I'll admit it: I was sort of glad to see her go after season 4. Those ripped fishnets, frayed extensions, and hissy fits got really old really fast… but of course, now that she's gone, I actually miss her. Thank goodness she'll be back for Monday's series finale!
Below, we'll take a look at Jenny's style transformation over the course of the series, and show you how to get her most iconic looks.
Little J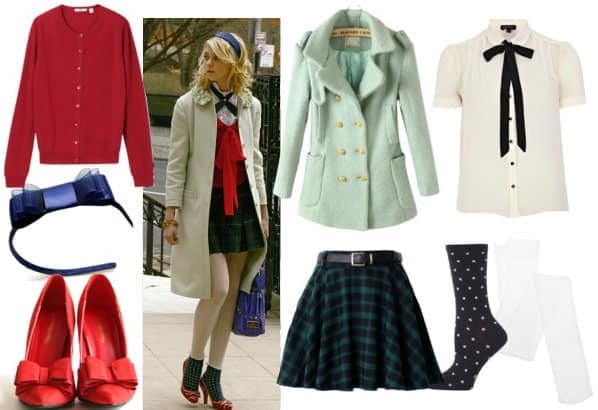 Coat, Skirt, Blouse, Cardigan, Tights, Socks, Pumps, Headband | Photo: The CW
Our sweet little Jenny started off at Constance as Blair's most willing minion. Desperate to be popular (and usurp the throne), she pretty much dressed exactly like Blair, but with a more girlish twist. (Not that that's a bad thing! Imitation is the sincerest form of flattery, after all.)
Pair a plaid skirt with a short-sleeve pussy bow blouse, and voila, you've got your very own Constance uniform. Add a Jenny spin with an adorable pair of polka dot socks layered over opaque white tights. Since we're going for sweet and innocent, add a soft, candy-colored pea coat. Next, prove you're a worthy minion by sporting a Blair-approved navy headband. Add a bright red cardigan and matching pumps and you'll definitely be invited to sit on the Met steps. Just don't sit too high.
Rebel Yell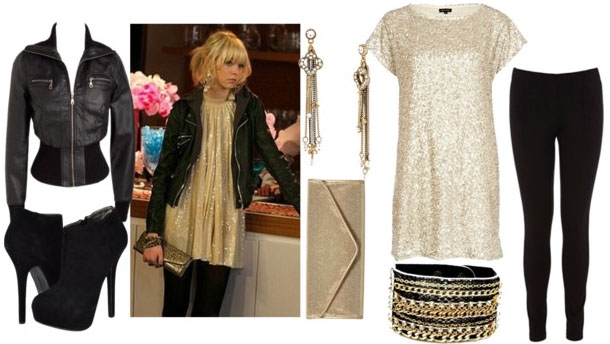 Dress, Leggings, Jacket, Booties, Clutch, Bangles, Earrings | Photo: The CW
Once Jenny realized she didn't need to impress Blair to prove her worth, things started to get… interesting. Colors got darker and hemlines got higher – not that we're complaining. This sassy new J was a welcome change from B's loyal servant, and as Jenny got edgier, so did her style.
To steal Jenny's new devil-may-care 'tude, pair a sweet sequined dress with black leggings. Accessorize with a stack of gold and black chains and dangly earrings, but try a simple gold clutch to keep things from getting too crazy. Add a badass bomber jacket and black ankle booties to complete this edgy look.
Bye Bye Brooklyn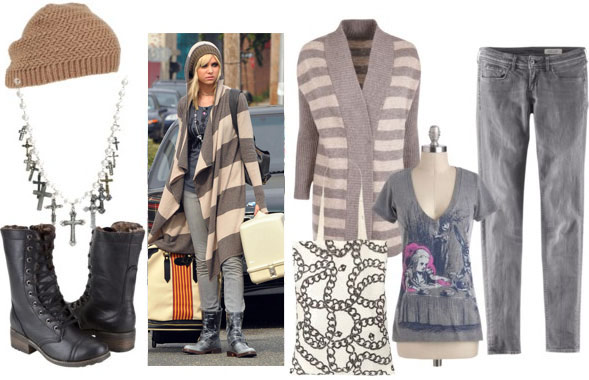 Jeans, Tee, Sweater, Boots, Tote, Necklace, Hat | Photo: Pacific Coast News
Remember when Little J started working for Waldorf Designs and it seemed like she'd finally gotten her act together? Yeah, that's when she met Agnes, the crazy model who burned all of her dresses (and bridges) and convinced Jenny to run away from home, prompting this strange little getup. In retrospect, that was probably not the best idea, Jenny. Come on, Rufus is an awesome dad. He just wanted to talk it out over waffles!
Get a more stylish version of Jenny's ragamuffin clothes by layering a cozy striped cardigan over a fun graphic tee. Gray skinny jeans give the look an edgier vibe. Add a splash of rebellion with black combat boots and a cross charm necklace. A big black and white tote is a must-have for carrying all of the essentials, and I'm really not sure what the beanie is for. Warmth, I guess?
Queen J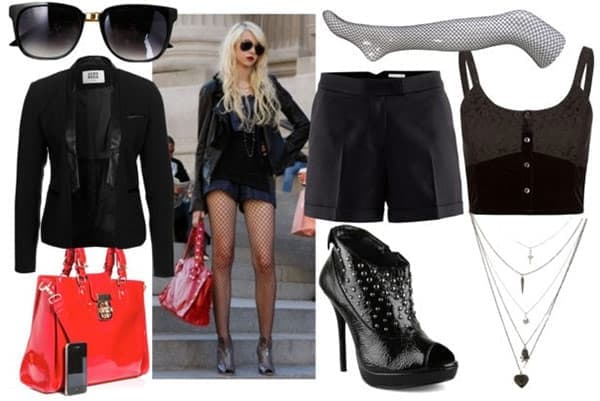 Top, Shorts, Blazer, Tights, Boots, Bag, Necklace, Sunglasses | Photo: The CW
After a lot of soul-searching and a permanent move to the Upper East Side, Jenny realized who she really wanted to be: Queen of Constance. With Blair's blessing, Queen J began her reign of terror, and rarely wore pants in the process. It was, in a word, nightmarish. But, okay, she does look sort of awesome, in an evil-burlesque-vampire-Lady-Gaga kind of way.
To rule like Jenny, you've got to wear fishnets. Lots of fishnets. Pair them with menswear-inspired shorts and a corset top under a black blazer for a show-stopping look. A proper queen must have the right accessories, so grab a bright cherry bag, studded peep-toe boots, and an edgy layered charm necklace. Complete the look with a pair of dark sunglasses. No one gets to look the queen in the eye.
What do you think?
What's your favorite Jenny look? Any guesses on what she might be up to in the finale? Be sure to leave a comment and let me know what you think – I'd love to hear your thoughts!