Image Credit: Marvel
As a kid, I wasn't allowed to read comic books or graphic novels ("It doesn't count as reading… too many pictures!" -my mother). I'm a bit late to the game, but after finally purchasing and reading my first comic book, I'm both thrilled and overwhelmed by the infinite characters, worlds, and stories that I've yet to discover and geek out over.
After hearing that Marvel's new Asian-American superheroine would be getting her own series, I a) got pretty excited about the cosplay opportunities and b) began counting down the days to the release of Silk #1. I found my way to the nearest comic book store, where the girl on staff was super nice about my newbie status and offered lots of great suggestions on what to read next.
To be totally honest, I'm kind of regretting my decision: I can already foresee the many hours and funds I'll be pouring into comics from now on! (#geekproblems, am I right?)
Know Your Geek: About Silk
Cindy Moon, aka Silk, is a classmate of Peter Parker (aka Spider-Man). Unbeknownst to Peter, she also gets bitten by the same radioactive spider that gave him his superpowers. Why haven't we seen her in all this time? Well, due to the impending doom cast by Morlun, a totally evil dude who wants to eat everybody in the universe with spider-powers, she hides herself away in a bunker for the safety of both herself and of other Spiders… for thirteen years.
Due to her long-term isolation from the world, Cindy has a lot of catching up to do, both as a superhero and as a regular human being. In addition to learning how to fight crime, handle her great power (with a side of order of great responsibility, natch), and deal with her strange pheromone-fueled attraction to Peter Parker, she's also determined to track down her missing family.
Silk was first introduced in 2014's "Amazing Spider-Man" by creators Dan Slott and Humberto Ramos. The first issue of her own spin-off series, "Silk," by Supernatural writer Robbie Thompson and artist Stacey Lee, was released in February.
Outfits Inspired by Silk/Cindy Moon
During her first foray outside of the bunker, Cindy spun an impromptu web costume around herself to mask her identity. Since you *probably* don't have spidey-powers like hers, let's instead take inspiration from her new costume, as seen on the cover of Silk #1.
Origins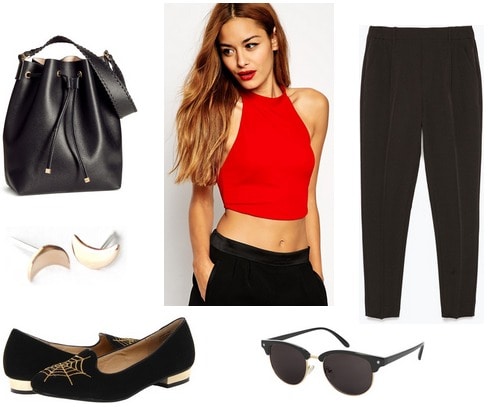 Product Information: Top, Trousers, Shoes, Earrings, Sunglasses, Bag
In flashbacks to 2001, Cindy rocks some outfits that wouldn't be out of place today, like high-waisted shorts, crop tops, and espadrilles. (I'm thinking that the artist took creative license with this, because let's be real, a high-schooler that year would probably have been wearing a tube top, low-rise flare jeans, and platform flip-flops.)
For a fun take on her casual, pre-bite style, pair a cropped red halter top with a pair of slouchy trousers. Next, slip on these web-emblazoned loafers and some retro sunglasses. Complete the look with delicate crescent moon-shaped studs.
Call Me… Silk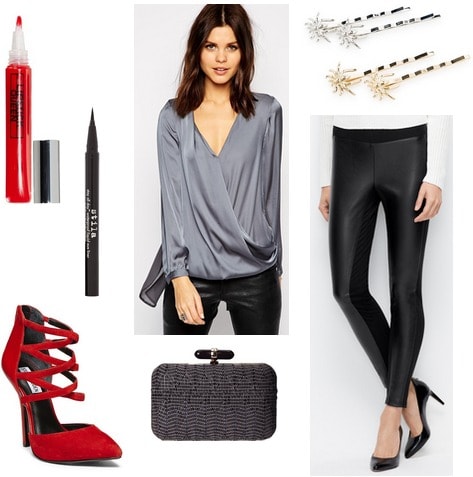 Product Information: Blouse, Pants, Heels, Clutch, Hairpins, Lip Gloss, Eyeliner
For a more sophisticated (and wearable) version of Silk's spandex suit, keep the chic color palette of charcoal gray, black, and red. A drapey (shall I say… silky?) top is the perfect foil for an edgier pair of leather-look pants. Keep the accessories simple but striking: crimson heels and a woven clutch pack a big fashion punch.
Finish off the ensemble with some creepy-cool spider hairpins; for makeup, you can never go wrong with a classic cat-eye and glossy red lip.
What did you think?
Would you wear these outfits? Have you read Silk #1 or comics from the Spider-Verse storyline? What comic book characters should we cover next? (I'm totally in love with Kamala Khan and her winged sloth, so there'll likely be some Ms. Marvel coming your way soon!) Let me know in the comments!