In this week's Fashion Inspired by Art, we'll be taking a look at Wifredo Lam's The Jungle. Wifredo Lam is widely considered the most renowned painter from Cuba and is well known for his hybrid figure style.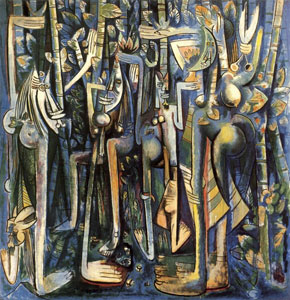 Wifredo Lam
Wifredo Lam has a unique painting style that does not fall into any one movement. Instead, his work is most known for the unique style that often has a jumble of figures. Lam's paintings often touch on Cuban themes — expressing his culture, history, and including a healthy dose of social commentary. Today, he is widely considered the most renowned painter from Cuba.
The Jungle is considered one of Lam's best works and is a perfect example of his painting style. His figures are often different body parts jumbled together, with crescent moon faces and giant hands for feet. In The Jungle, the faces are reminiscent of masks from Africa or the Pacific Islands to reflect the history of slavery in colonial Cuba. This painting embodies the spirit of Cuba, its history, and a spiritual state inspired by Santería.
Haphazard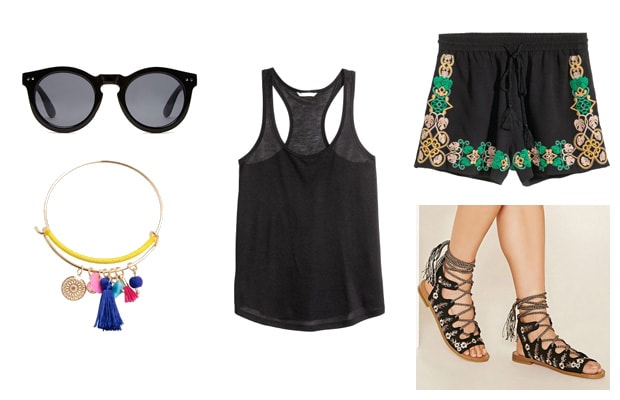 Products: Sunglasses, Bangle, Top, Shorts, Sandals
Based off the haphazard figures in Lam's paintings, this outfit features winding embroidered shapes. The embroidered shorts are a great addition to a simple wardrobe, because they're fairly neutral while still being exciting. Simply pair them with any plain colored top, like this black tank top. These tasseled sandals pair well with the embroidered shorts but can also become the star of any other outfit. Throw on some sunglasses for style and this fun bangle for a pop of color.
Sugarcane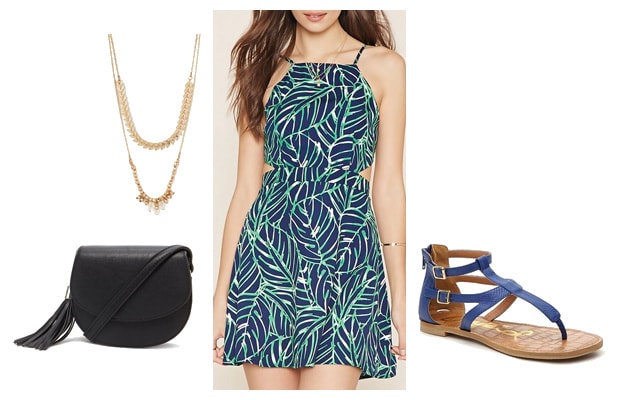 Products: Necklace, Bag, Dress, Sandals
This outfit is inspired by the prominent sugarcanes that represent the struggle of Cuban farmers. Leaf prints are popular now, and this dress is the perfect centerpiece of an easy outfit. The print steals the show, making it great for days when you don't want to plan a whole outfit. Just throw on some comfy sandals and a layered necklace. This small tasseled bag is a great mix of simple and trendy.
Jungle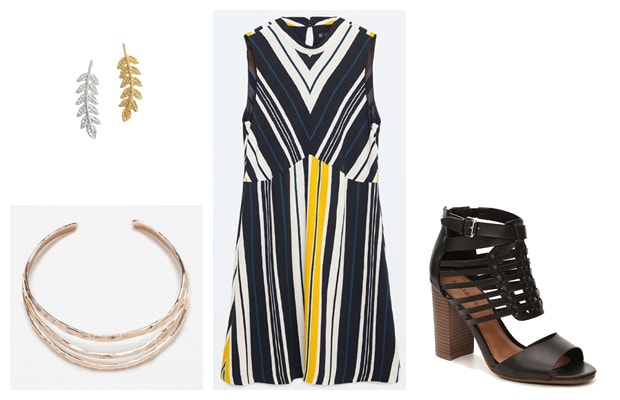 Products: Earrings, Choker, Dress, Heels
This outfit is based on the striped clothing hanging on the figure in the bottom right that caught my eye. This simple striped dress is great for a variety of occasions. For this outfit, I kept it fairly casual with some heeled sandals and minimal jewelry. This choker is unique on its own but doesn't compete with the striking pattern of the dress. The leaf earrings are also a lovely small accessory.
What are your thoughts?
Have you seen Wifredo Lam's work before? What are your thoughts on The Jungle? What is your favorite outfit above? Let me know what you think in the comments below! I always enjoy reading comments and feedback.