In this week's Fashion Inspired by Art, we'll be taking a look at Jackson Pollock's Autumn Rhythm (Number 30) and three outfits inspired by it. Even though it's abstract, Pollock's work translates surprisingly well to fashion. Plus, maybe some of the energy from the painting will rub off to get you through the week. (Daylight Savings week always drags!)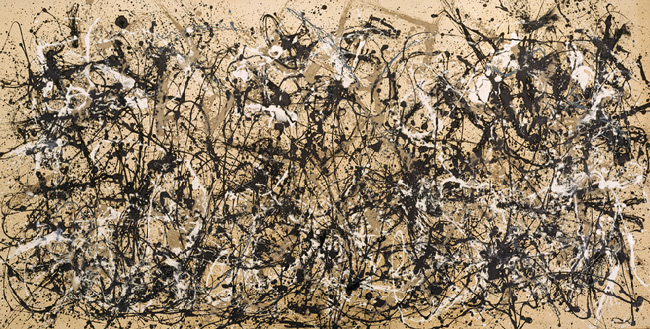 About Jackson Pollock
Jackson Pollock was an influential American painter and a major figure in the abstract expressionism movement in the 1940s. He made headlines with his then-revolutionary approach to abstract art, and has become a household name in the years since.
Pollock became known for his unique drip technique. Unlike most paintings — even other abstract paintings — which at the time involved at least some degree of planning, Pollock let the paint fall where it may. The canvas was placed on the floor, and he used hard paintbrushes, sticks, and basting syringes to drip or fling the paint onto the canvas. This was later given a name, action painting.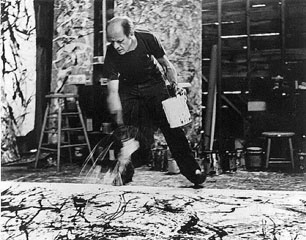 Jackson Pollock's work impacted the art world because it was unplanned and emotive. The paint was not placed carelessly; much of each work's meaning came from the movement involved in creating the piece. Later in his career, Pollock switched from titling his work to numbering it, in order to leave the meanings even more open to interpretation.
Outfit 1: Impressionist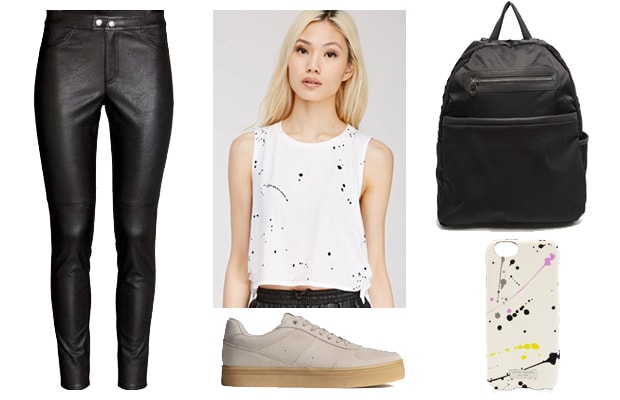 Products: Pants, Muscle Tee, Sneakers, Backpack, Phone Case
Make a bold statement with this paint splattered street style look. I love that the paint is minimal on the shirt, so it looks intentional, not over-the-top. Add some faux leather pants for edge, as well as some interesting fashion sneakers. The phone case is cute on its own, but a plus if it matches your shirt!
Outfit 2: Drip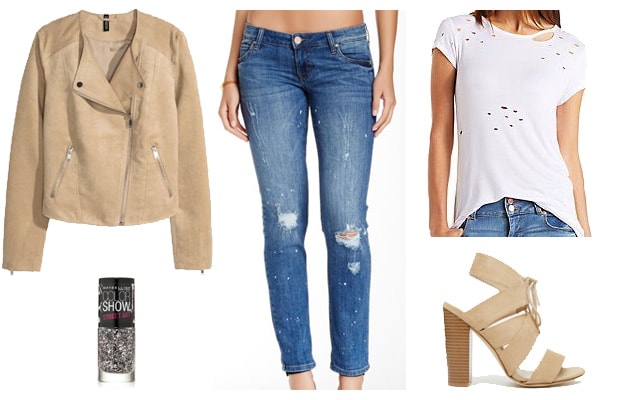 Products: Biker Jacket, Nail Polish, Jeans, Shirt, Heels
This outfit is based off of the beige and brown tones in Pollock's painting, above. The jeans have paint marks on them, which adds to the distressed vibe. The shirt has small holes to make it interesting, but you could also switch it out for any white tee. Throw on a beige biker jacket and some cute heels and you're good to go! And if you want to try splattered nails without all the effort of blowing through a straw to DIY it, look for a top-coat nail effect polish.
Outfit 3: Action Painting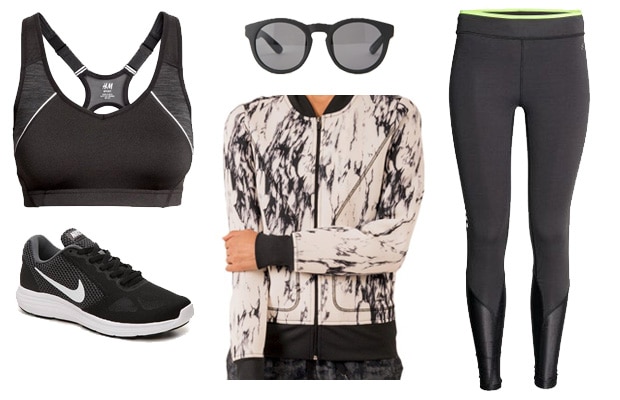 Products: Sports Bra, Sneakers, Sunglasses, Jacket, Running Tights
Pollock's work is all about movement, and what better way to channel it than by moving yourself? For this exercise outfit, the jacket has a fun paint effect that doesn't look too out-there. (Honestly, I would even wear that jacket casually.) Keep the rest of your outfit monochrome for a sleek look, or just throw on the gym clothes you already own. Add sunglasses for a casual sporty celeb look.
What are your thoughts?
Do you like the splatter effect on clothing? (If you do, also check out our DIY paint splatter heel tutorial!) What are your thoughts on Jackson Pollock? Do you have any interpretations of his work? Let me know what you think in the comments section below! I love hearing your feedback.