One of my favorite places in my college town is this greasy spoon a few blocks from campus. It's a teeny place, with maybe 16 stools at a counter, run by one hilarious lady who serves playful doses of side-eye with your hashbrowns – especially when you've stumbled in at 1 in the morning with the drunk munchies.
My favorite thing about the place wasn't the food or the owner, though. I loved that you never knew who would be sitting at the counter when you stumbled in. My friends and I broke bread with our professors, rubbed shoulders with philosophical lax bros, and swapped stories with alumni who graduated 50 years ago.
So now, when I look at Edward Hopper's "Nighthawks," all I can think about are my fond memories of that tiny diner and the people I met there. This Fashion Inspired by Art post, based on the nighthawks in the painting, is all about going-out looks that will still hold up at 1 in the morning when you never know who you'll bump into.
About "Nighthawks"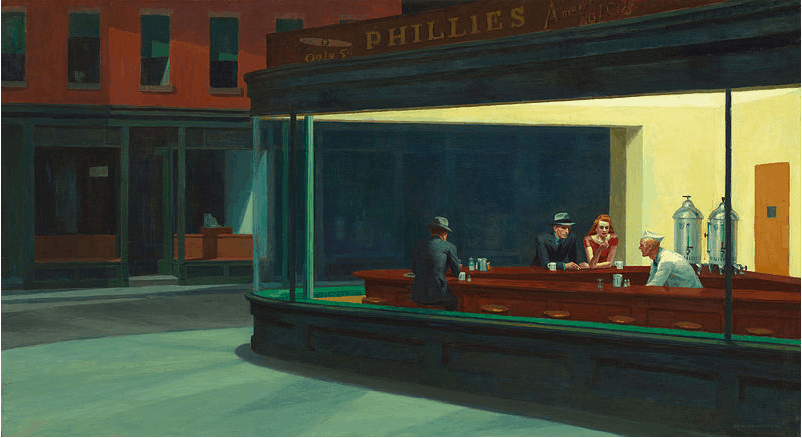 "Nighthawks" is one of the most famous works of art by Edward Hopper, a painter who depicted scenes of American life that suggested themes of isolation and loneliness. This is suggested in "Nighthawks," which depicts a diner and its patrons from the vantage point of an eerily empty New York City street.
Like many of Hopper's paintings, the small diner is based off of a diner in Greenwich Village near Hopper's home. The female diner is modeled after Hopper's wife, Jo, who was also a painter and served as a model for many of his paintings.
Not only is "Nighthawks" Hopper's most famous painting, it is also considered one of the most recognizable pieces of American art. It has inspired countless poems, short stories, plays, and music since it was created, and has been parodied countless times, by everyone from The Simpsons to The Breakfast Club to Cowboy Bebop to, of course, Legos.
Outfits Inspired by "Nighthawks"
The Lady in Red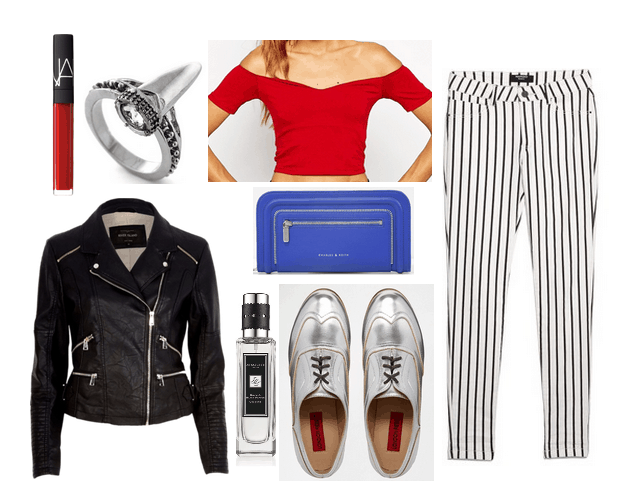 Lip Gloss, Ring, Top, Jacket, Bag, Perfume, Brogues, Pants
The lone lady nighthawk has always fascinated me. Not because she's the closest to the light source, or that her shirt and lips are the only true reds in the painting – I want to know what she's wearing underneath the bar! I like to think that, as a forward-thinking lady, she'd be the kind of woman who wore pants on the regular, if not simply to stand out in a sea of circle skirts and A-line dresses.
For an outfit inspired by the mysterious redhead, start with a red blouse, like this Bardot-cut crop top. Then add a pair of cigarette-cut pants, like these retro-inspired pinstripe skinnies.
Add tougher, menswear-inspired pieces, like a moto jacket and metallic brogues, then temper that androgyny with feminine touches, like a bold clutch, a cocktail ring, and a slick red lip. A spray of a peppery, masculine perfume rounds out this playful look, which is perfect for a house party or a retro-inspired mixer.
Borrowed from the Boys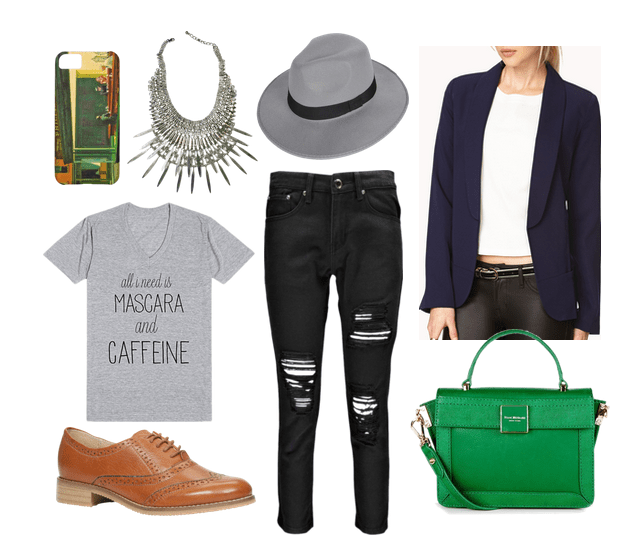 iPhone Case, Necklace, Hat, Blazer, Tee, Jeans, Bag, Brogues
Edward Hopper's use of color and light is masterful, and I particularly love the way the green in the diner sings against the navy suits of the two men inside. That unexpected combo of navy and emerald green is perfect for creating a cool-girl look to wear to your favorite dive bar or a local show.
A base of a sassy statement tee and ripped black jeans won't compete with the stars of your outfit – a gorge emerald crossbody bag and a spiky statement necklace. A blazer lends a bit of polish to the look, while a fedora and camel-colored brogues nod playfully back to the suited men in "Nighthawks." Grab your phone and you're ready for your night on the town!
Closing Time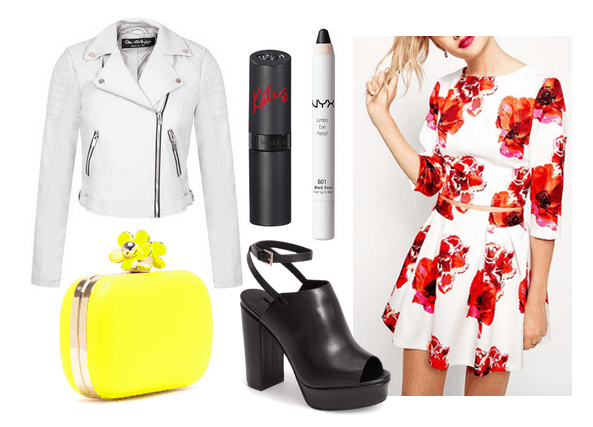 Jacket, Lipstick, Eyeliner, Top, Clutch, Heels, Skirt
This one's for the folks who serve us our scrambled eggs and waffles at 2 am, because their nights out don't start until well past closing time. The server in "Nighthawks" wears an entirely white uniform, which I've given a spring-y update here for a feminine and trendy look.
For a vintage-y but modern vibe, start with bold floral coordinates in a flirty silhouette, then add platform peep-toe booties and a white leather jacket. Finish the look with a highlighter yellow clutch, which is reminiscent of the bright walls of the diner.
A coat of red lipstick and a smear of the blackest black eyeliner will give you a sweet but edgy getup that's perfect for a late-night date or a night on the town with your girls.
What do you think?
How do you feel about "Nighthawks?" What's your favorite place to get night breakfast? What's your go-to look for a night on the town? Let us know in the comments below!