For this week's Fashion Inspired by Art post, I selected a few fantasy pieces from the internet-famous artist, Canaryko.
A modern wave of artists are gaining exposure through sites like Deviantart and Tumblr. With technological improvements on the rise, many budding artists are also turning toward digital media. Paint on canvas translates to pen on tablet as young illustrators and designers begin to expand their artistic possibilities.
When we think of digital art, many envision photo manipulations or geometric layouts. New artists on Tumblr and Deviantart, however, are challenging this stereotype. Today, I introduce you all to one of my favorite artists: Canaryko.
Canaryko, or Canary, or Alison, is an artist who posts fantastical and whimsical pieces on her blog, doodlesfromthebird. In describing her character designs, she says:
"I've been slowly building up a sort of fantasy world of my own and it's only now that I've been (just as slowly) taking it from my mind and putting it on to paper (or digital canvas)."
Scroll down to see three chic outfits inspired by Canaryko's work:
Princess Astraea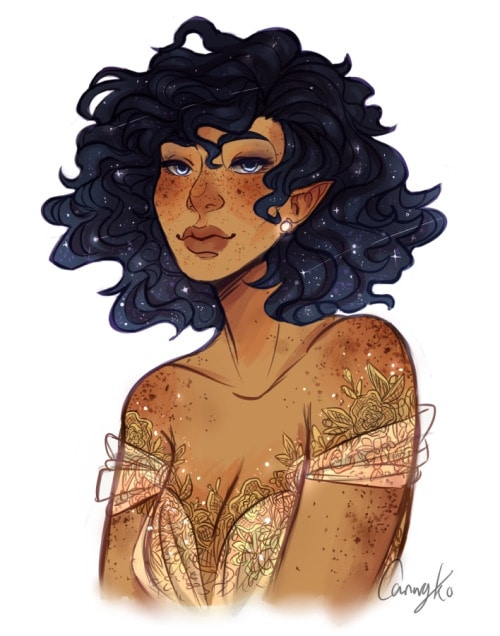 Canary created this piece as a commission for the blog, Twelve Realms. Princess Astraea is a character from a Twelve Realms novel, a novel where 97% of the characters are people of color.
Softcore Space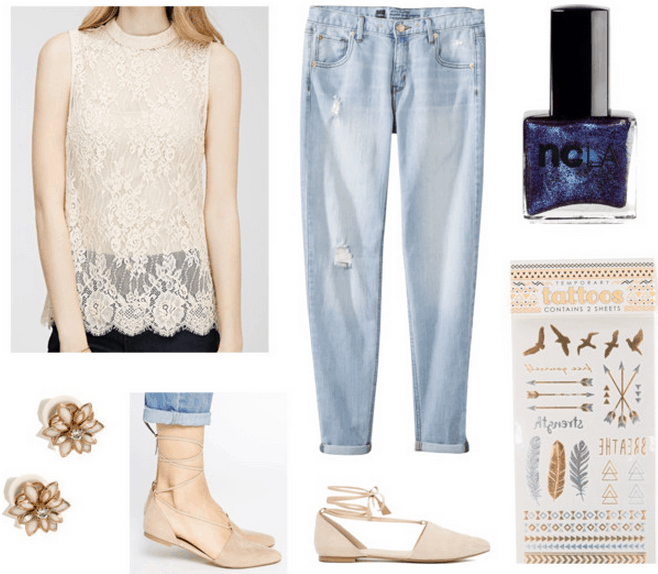 Blouse, Jeans, Flats, Nail Polish, Flash Tattoos, Earrings
This outfit is a feminine, proper, and dressy daytime look. I envision Princess Astraea wearing this outfit if she were to visit a café or a park. The high-necked blouse with lace detailing could come off as formal, but I kept the look casual by pairing it with boyfriend jeans. Usually flats don't really add to an outfit, so I included ones that have interesting, ballerina-inspired strings.
For accessories, sport some gold flash tattoos and gold flower earrings to mimic the gold floral pattern on Princess Astraea's skin. The blue and green duochrome nail polish is an homage to her star-studded hair.
Celestial Fairy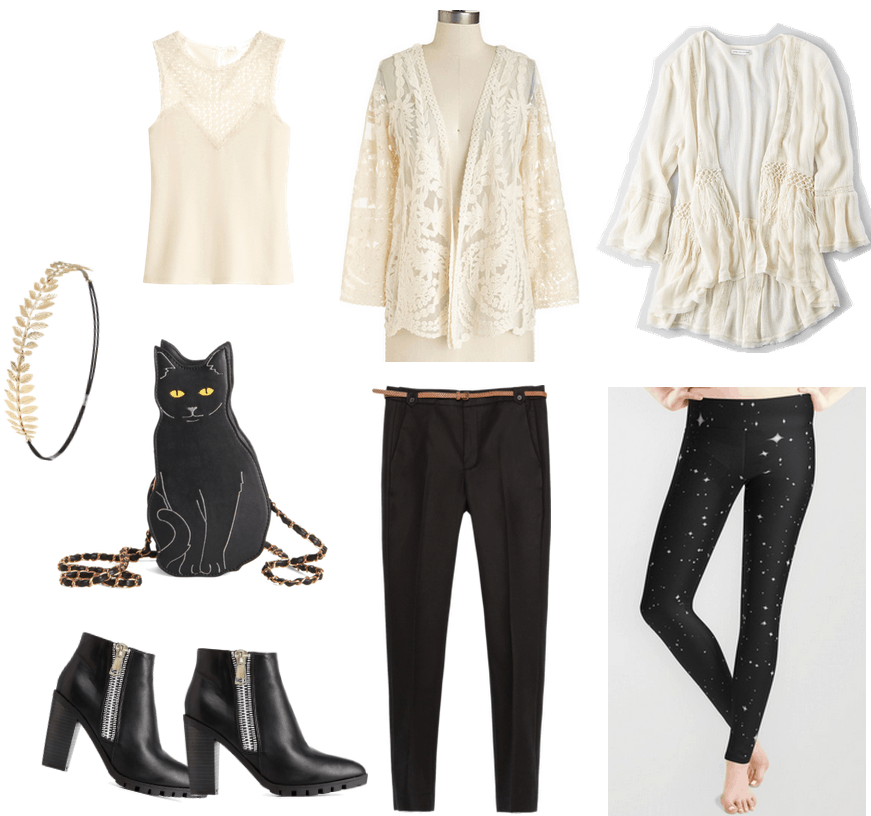 Blouse, Kimonos (left, right), Headband, Bag, Pants, Leggings, Boots
This outfit transitions Princess Astraea to a night out. The look is still feminine thanks to a dainty kimono inspired by the princess's sheer, draped top. The light fabrics contrast interestingly against the darker, more structured elements of the outfit.
I added two different outfit options depending on your comfort level: choose either proper pants or fun, constellation-printed leggings. Chunky boots tie the look together by giving the outfit some sass.
Night Guardians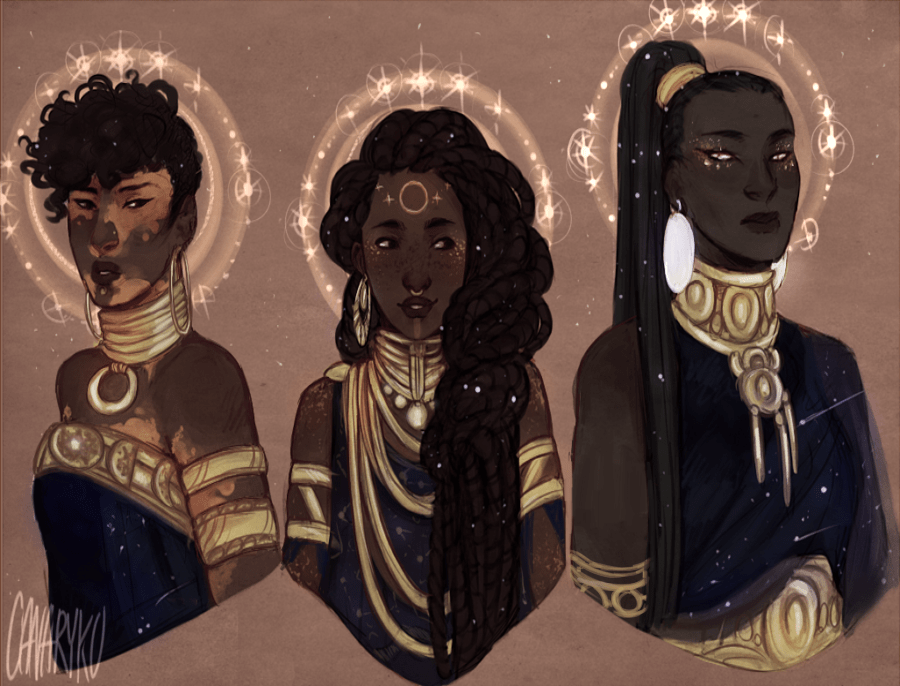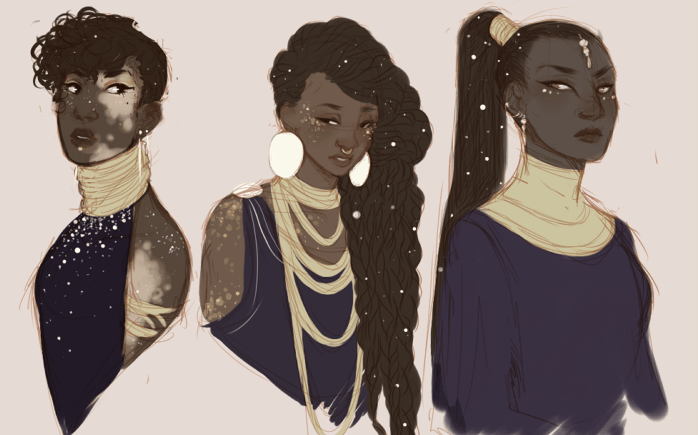 This piece is Canary's most famous to date, with 72,000 reblogs and counting on Tumblr. Its fame is probably due to the women looking like they are seamlessly a part of a celestial narrative.
Canary wrote to me about this piece adding:
"The night guardians piece was originally just simply me working out ideas for what was to be a single character. I ended up enjoying all three designs a lot since their personalities seemed so different to me and saw them as three different people all together. What was originally supposed to be one character split into three sisters who would be personifying the night."
Nocturnal Cosmos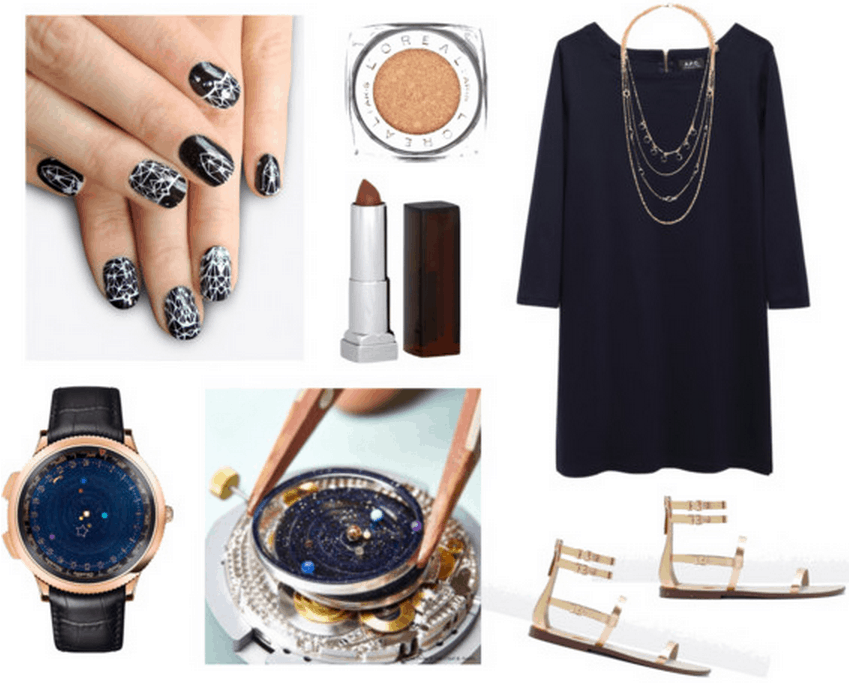 Dress, Necklace, Sandals, Nude Lipstick, Eye Shadow, Watch, Nail Stickers
For this last look, I spiced up a solid-colored dress with unique accessories. The straight neckline of the shift dress works well with layered necklaces, as exemplified through the costume design in the guardian sisters. I found these awesome constellation nail stickers that beautifully capture these space women. Gold/copper eye shadow and a neutral lipstick complement the rest of the outfit.
The Van Cleef & Arples watch I included in the outfit set retails for $333,000 (move over Rolex). Called the Midnight Planetarium Poetic Complication watch, it bears several precious gemstones representing every planet visible to the naked eye. I stumbled upon it online and found it to be an absolutely amazing piece of art. Since we're not rolling in cash though, I also found a much more affordable celestial watch from Claire's.
Final Thoughts
Adding elements of space to your outfit can generate a point of intrigue. Moreover, works from up-and-coming internet artists can provide an endless supply of inspiration.
Canaryko was kind enough to answer all of my questions about her art. Her direct communication with her fan base also embodies this modern age of artists: they are easily accessible to their community and can create a feedback loop of support.
What do you think?
Did you know about the digital art revolution? What do you think about new mediums of art? Would you wear a cat bag? Let me know in the comments section below!