This week's Fashion Inspired by Art is based on August Riedel's "Judith," one of the many paintings inspired by the biblical story of Judith beheading Holofernes.
Off With his Head: About August Riedel's "Judith"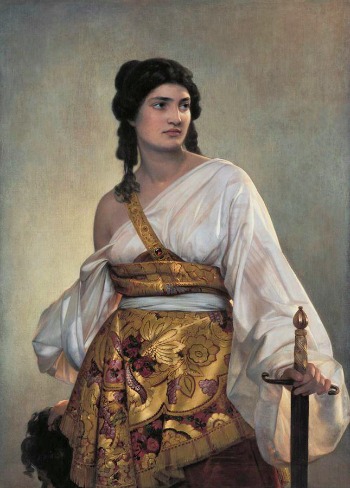 August Riedel's "Judith" (1840) via Wikimedia Commons | Click to enlarge.
August Riedel (1799-1883) was a German painter that resided in Rome for much of his career and is known for his Italian genre paintings.
According to the Bible, Judith was a beautiful widow who saved her city by seducing Holofernes (the general sent to capture the city) and then beheading him. Modern, Baroque, and Renaissance interpretations of Judith vary greatly, but all depict her performing the gruesome act or victorious and carrying her trophy, often with a female servant by her side.
Early paintings largely celebrated Judith's stand against tyranny, though towards the later Renaissance, she became a more sexualized figure. Baroque renderings were considerably more graphic than predecessors.
While not the most famous "Judith" painting, Riedel's is one of my favorites. Unlike many other interpretations, Holofernes' head is not prominently featured, but instead relegated to the back, putting most of the focus on Judith. Her stance is confident and victorious, but her expression is quiet calm, unlike many other Judiths. The beautiful draping of her blouse and the richness and the glow of the brocade are highlights of the work.
Outfits inspired by August Riedel's "Judith"
Glow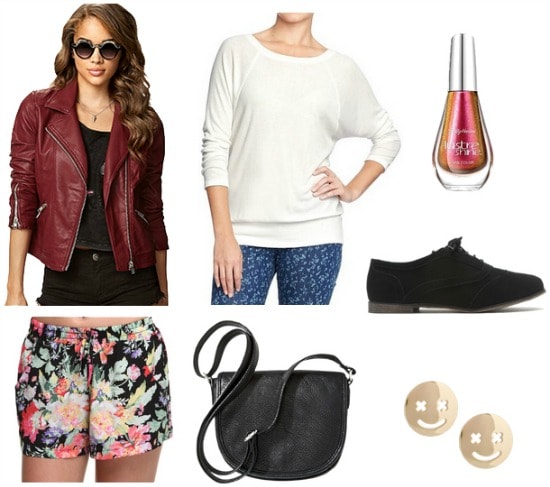 Jacket, Shorts, Top, Bag, Nail Polish, Shoes, Earrings
Mimic the florals found on the brocade with a pair of floral shorts, then copy the fabric's richness with a supple leather jacket. A raglan top and cross-body bag let the statement pieces shine. Brocade can be a heavy fabric, but a duochrome nail polish has the same luxurious look without the stuffy formality. Smiley face earrings make for a tongue-in-cheek and much cuter allusion to Holofernes' fate.
Femme Fatale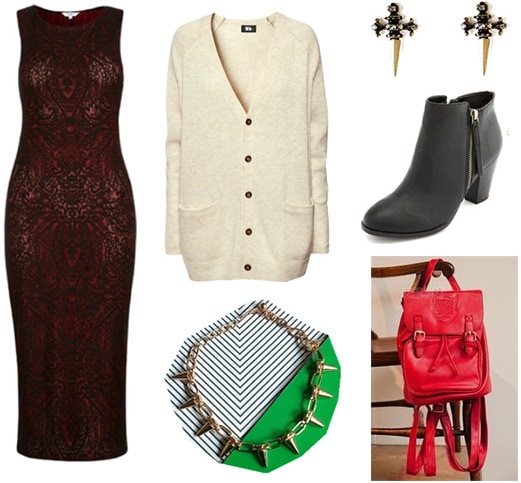 Dress, Cardigan, Necklace, Earrings, Boots, Bag
Judith started out as a "Mary" sort of figure, but eventually became a femme fatale icon. A burgundy bodycon dress might seem like more of a nighttime look, but a slouchy cardigan, leather backpack, and boots help dress it down for day. Give the outfit a dash of danger and drama with some dagger earrings and a spiked necklace.
Victory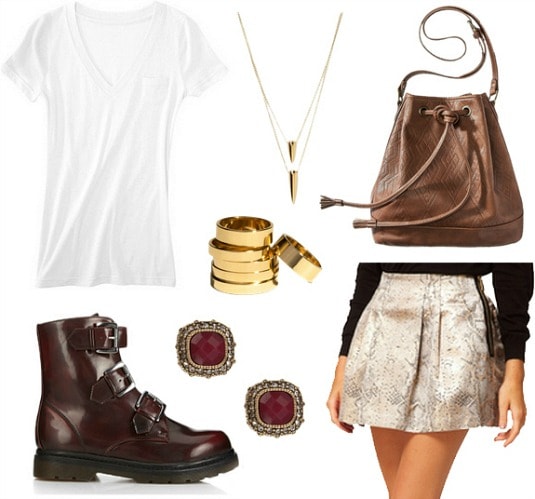 Shirt, Boots, Necklace, Rings, Earrings, Bag, Skirt
Judith's gentle expression greatly contrasts with her violent actions; channel this disparity by pairing a brocade skirt and combat boots. Some paintings depict Holofernes' head in a sack, which inspired a few interesting conceptual bags. Carrying around a head-shaped purse might be a little too avant-garde for most of us, so a bucket bag is an easy way to get a similarly inspired look. Complete the ensemble with some gold jewelry.
What do you think?
Do you like Riedel's "Judith" or is there another Judith piece you enjoy more? Or is the subject itself a little too creepy? Which outfit is your favorite? Let me know in the comments below, I'd love to hear your opinions!