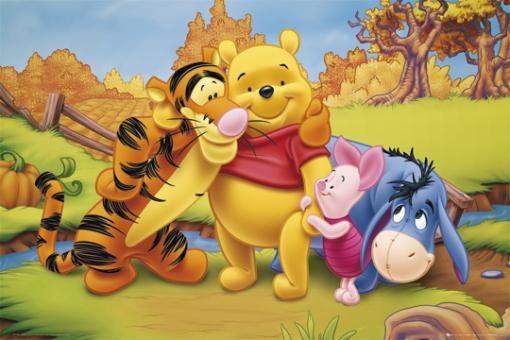 Winnie the Pooh and his friends at the Hundred Acre Wood, originally from the books by A.A. Milne, have been at the heart of the Walt Disney legacy for years. From storybooks to movies, the adventures of Pooh, Piglet, Tigger, and Eeyore have captured the hearts of kids and adults alike. Their heartwarming stories about friendship are always sure to put a smile on your face.
Even though you may not be that little kid who dresses in a Pooh bear costume for Halloween, you can use the Hundred Acre Wood gang for inspiration for your own grown-up outfits. Below, I've created some simple but stylish takes on everyone's favorite stuffed animals.
About Winnie the Pooh & His Friends
Winnie the Pooh and his friends all vary in their activities and interests. Listed below are some of the characters and things that stand out in their personalities that you may want to incorporate into your own looks.
Winnie the Pooh always has a "rumbly in his tumbly" and has a bit of a sweet tooth. His favorite thing to eat is a big pot of honey, and he tends to irritate the local bees by raiding their beehives for this sticky snack.
Piglet is the worrier of the group. Due to his size, he's easily swept away by gusts of wind. He is, however, one of Pooh's most loyal friends.
Tigger is always full of energy! He loves to bounce around and stay active. His tail is said to have a spring in it, which makes it the perfect portable pogo-stick for bouncing around the Hundred Acre Wood.
Eeyore is the humdrum loner that you can't help but love. Other than his "no matter" attitude towards life, his signature tail is always needing to be reattached.
Now that you have the basics, it's time to see the looks! The outfits and items below are inspired by each of the characters. Use them for inspiration for your casual, everyday attire.
Winnie the Pooh Outfit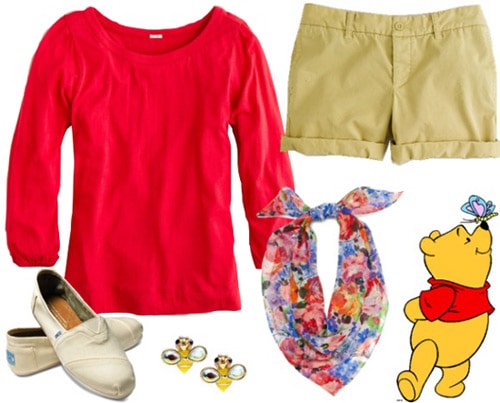 Photo Credit | Top, Shorts, Shoes, Scarf, Earrings
Pooh is always wearing his signature red shirt. Channel his look in this 3/4 sleeve top paired with soft, gold-colored shorts. TOMS keep the look simple, but the floral scarf dresses it up while winking at Pooh's playful side. To finish the outfit, add a pair of bee-shaped studs as a nod to the makers of Pooh's favorite treat.
Piglet Outfit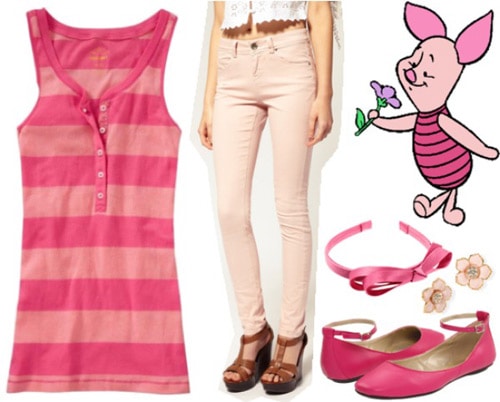 Photo Credit | Top, Pants, Flats, Headband, Earrings
Keep it sweet and simple with this outfit inspired by Piglet. The pink stripe tank top definitely hints at Piglet's signature look, but a pair of light pink skinny jeans keeps the look trendy and chic. Add ballet flats, a pretty headband, and flower stud earrings to tie off the cute look!
Tigger Outfit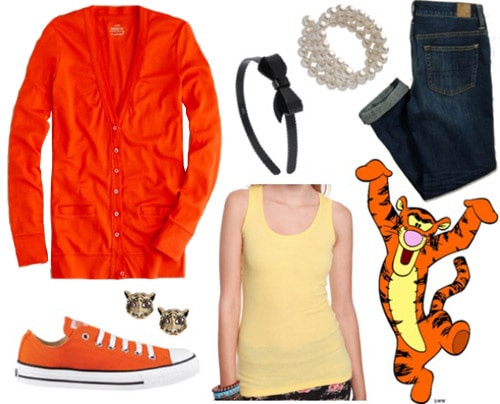 Photo Credit | Tank, Cardigan, Jeans, Shoes, Headband, Earrings, Bracelet
With this comfy casual outfit, you'll be ready to take on the day with energy. The bright orange cardigan, worn over a light yellow tank, nods to Tigger's signature colors. Pair the combination with some dark boyfriend jeans and bright sneakers for a trendy color-blocking feel. A black headband keeps the overall look girly, and the tiger stud earrings pay tribute to everyone's favorite tiger. Finally, the coil bracelet hints at the spring coils in Tigger's lovable tail!
Eeyore Outfit
Photo Credit | Dress, Cardigan, Flats, Bow, Earrings
Capture Eeyore's subtle personality and signature color with this blue pastel dress. Layer with a light peach cardigan for a soft and pretty look. The black glitter flats nod to this season's sparkly trend while adding another one of Eeyore's colors to the look. Add simple stud earrings and a little blush-colored hair bow to complete the ensemble.
What do you think?
Did you watch Winnie the Pooh or read the books when you were a kid? Which character was your favorite? Would you wear any of these outfits? Let me know in the comments!